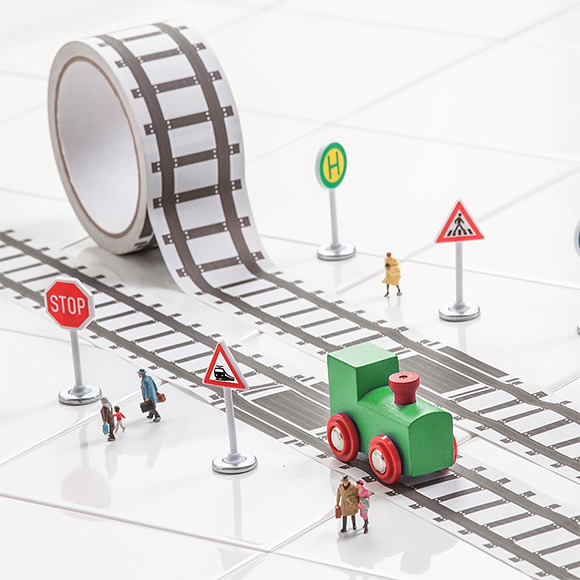 A friend of mine posted a photo of her daughter playing trains with improvised cardboard tracks on Christmas morning, and that image has stayed with me ever since. No matter how simple or sophisticated a design, some games just never go out of fashion, do they?
I used to love playing with my father's clockwork Hornby train set when I was a kid, many moons ago (a collector's item today, I believe!). Times have changed, of course, and today I'd like to share just a few of my current favorite train and car track playthings for little and big kids alike!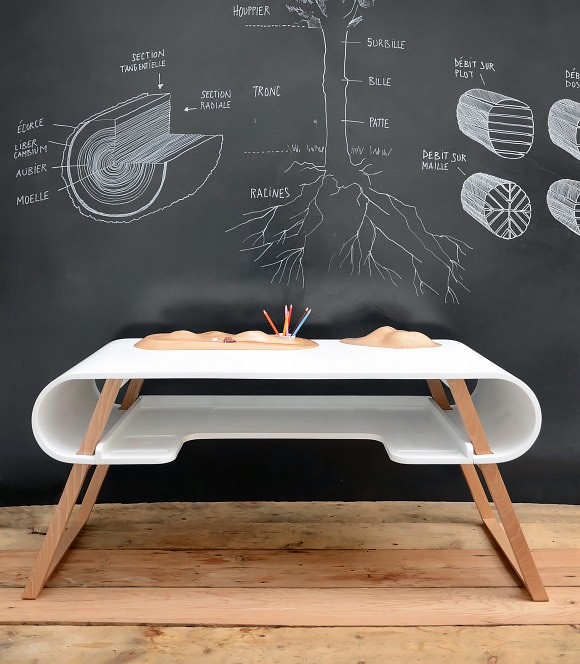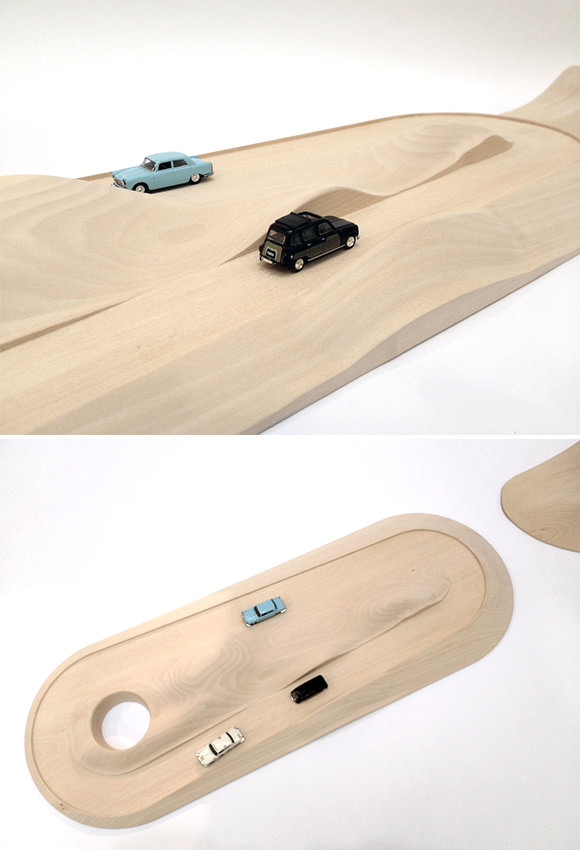 Modern Kid's Desk with Carved Wood Toy Car Track & Mountain
available from compagnie
If you're looking for something minimal and stylish for a child's room, this modern desk with wooden car track and mountain is definitely worth considering. Designed by Jean-François Bellemère and made in the Jura region in France, the good-looking desk comes in several colors and can be fitted with an optional mountain and car track, for those who believe in the importance of learning through play. It's high on our wish list at home. Ordering information is available here.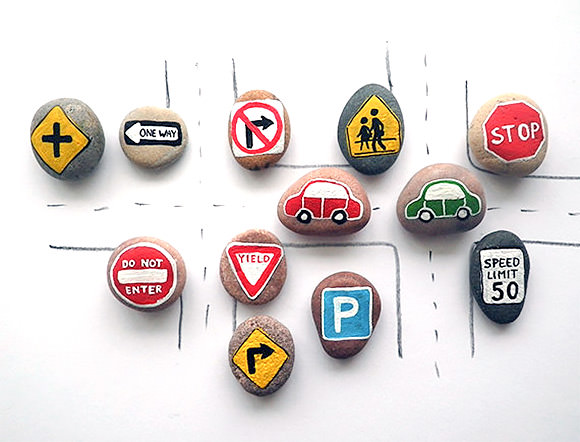 Magnetic Road Sign & Pebble Car Set
available for $30 from happy emotions on etsy
The simplest ideas are often the best! This cute set of magnetic, hand-painted pebbles includes 10 road signs and 2 little cars. The small stones (for 3 years+) can be used on their own, indoors and outdoors, or with a magnetic chalkboard. A nice set to take on holiday!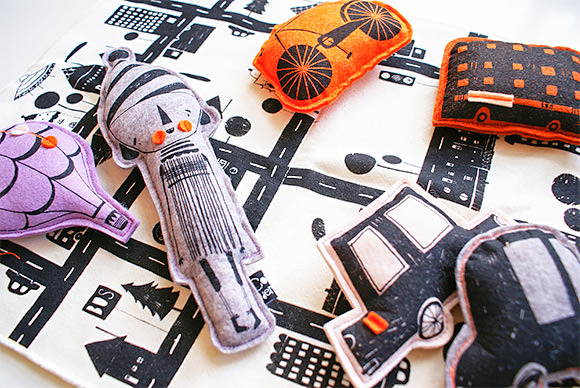 Interactive Plush Road Atlas Toy
available for $74 from corby tindersticks
Another fun play set that looks perfect for traveling is Corby Tindersticks' new roadmap toy. Handmade from organic hemp jersey, the road map comes with 5 felt vehicles, a little quirky character called Blaze, and a printed cotton bag. Love!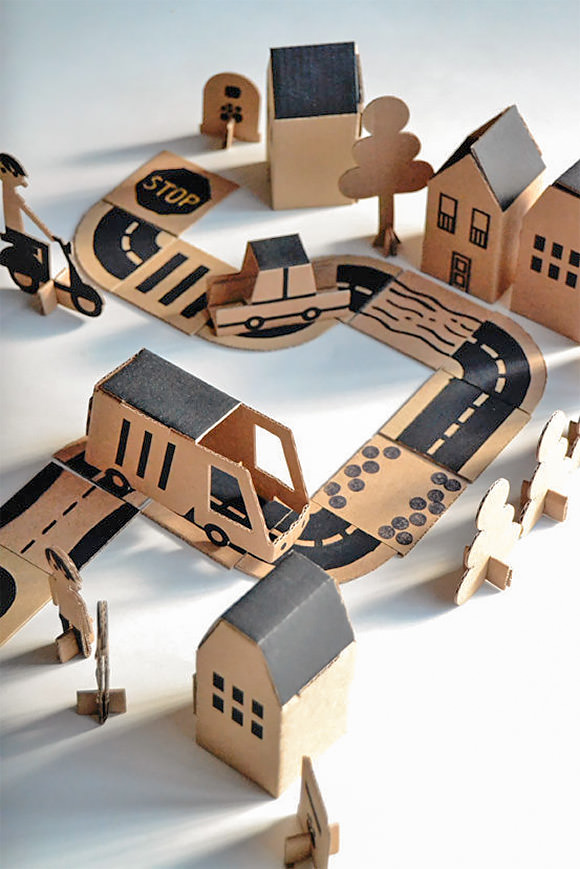 DIY Cardboard Bloc City Play Set
available for $25 from milimbo on etsy
Yes, in case you haven't heard, Milimbo's done it again! Made from 100% recycled cardboard, this simple, graphic set promises hours of creative fun. I love the fact that kids  (4 years+) can assemble this game themselves. The DIY kit contains several houses, trees, a truck, a bus, a child with his dog, etc. and, like all Milimbo's toys, encourages children to imagine their own play scenes and stories.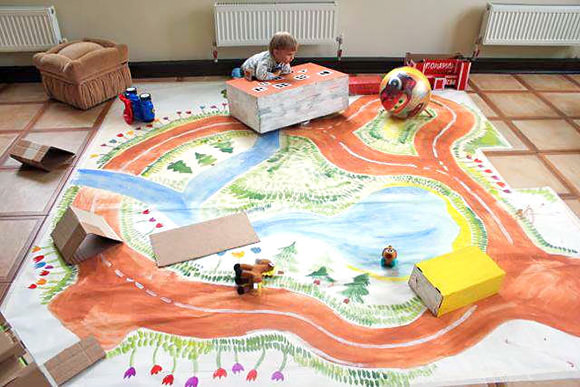 DIY Hand-Painted Road Map Play Set
via polina karpova on facebook
How about a bit of good old-fashioned family fun? Perhaps the best car tracks are on paper, virtually free, and made by the whole family? Polina made this beautiful paper map for her son's birthday party but could easily have involved all the young invites beforehand. Love the cardboard boxes houses!
Pictured at the top of this post: If your kids are bored of taking their toy cars for a spin down the autobahn, German company Donkey has a new roll of railroad track tape for hours of train play at home or on the move. The removable adhesive tape can be applied to walls and floors and comes with a little wooden train. My First Train Track Tape is available for $25 from Harmony At Home.