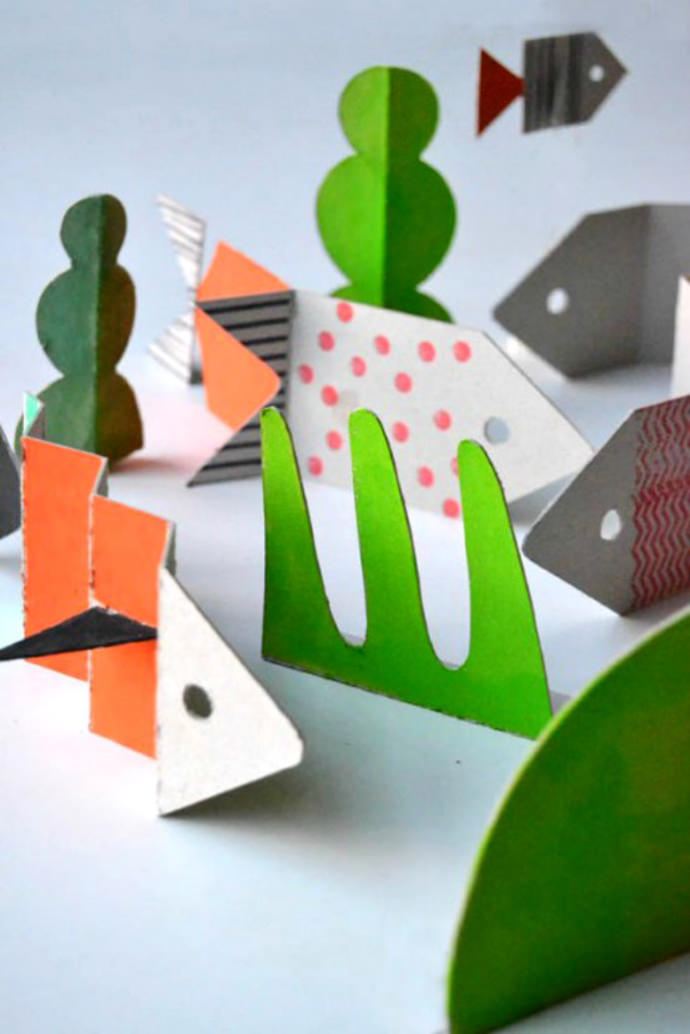 Why not make something fun and fishy like Milimbo for a change? Although not a DIY per se, I'm pretty sure your children will be inspired by the wonderful cardboard world of Milimbo. I love this water-themed art installation he designed for OPERA in São Paulo, and it would be fun to try and make something similar at home. Milimbo's entire website is a treasure trove for cardboard craft lovers of all ages!
We're just about halfway through the very long French summer vacation and I'm starting to see the first signs of boredom at home. Sound familiar? I guess it's inevitable after the excitement of breaking up at long last, enjoying the beach then going off travelling as a family. Life without schoolmates suddenly seems rather dull, and we still have another month to go!
Cardboard DIYs to the rescue I say! My kids all like to work with their hands and need to be busy creating things. I've spotted a few interesting craft projects using paper or cardboard, so I'm hoping that they will keep them occupied for an hour or two. With a bit of luck, they may even encourage them to add some color to their rooms. I'll let you know how it goes!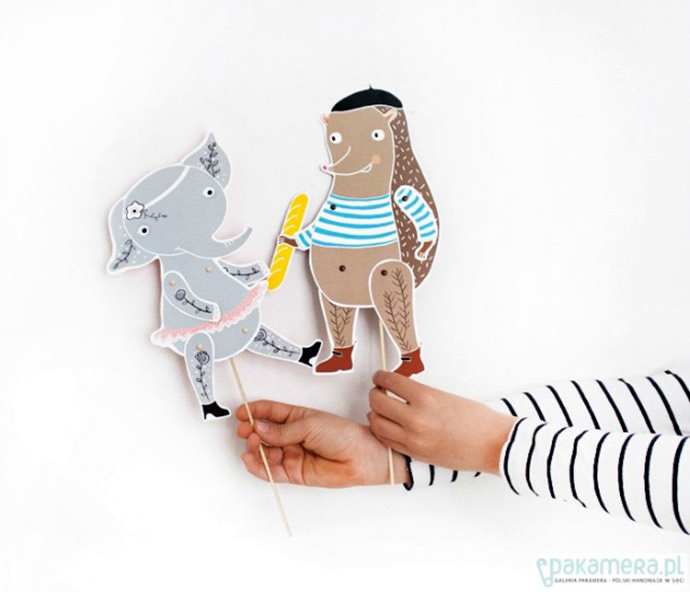 DIY Cut and Make Paper Puppets
Available for $4 from  Mia Milu
My children have just been given sets of handmade cardboard puppets crafted by a friend. They love using them as shadow puppets at night and dressing them up with paper clothes during the day. If you don't feel up to making them yourself there are plenty of easy cut-and-make designs on etsy, all of which can be left out on display.  Mia Milu's puppets are full of character and something a little bit different (send her an email for more information).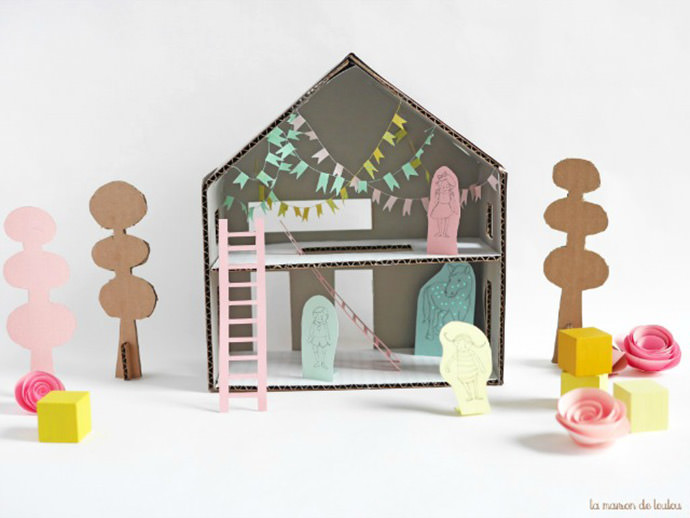 DIY Pippi Longstocking Home
via La Maison de Loulou
You really can't go wrong with a doll's house, but these free templates and tutorial designed by La Maison de Loulou for Les Enfants Terribles magazine tick all my boxes. Simple, easy to make and complete with charming Astrid Lindgren characters, this pretty pastel house is definitely for play and display.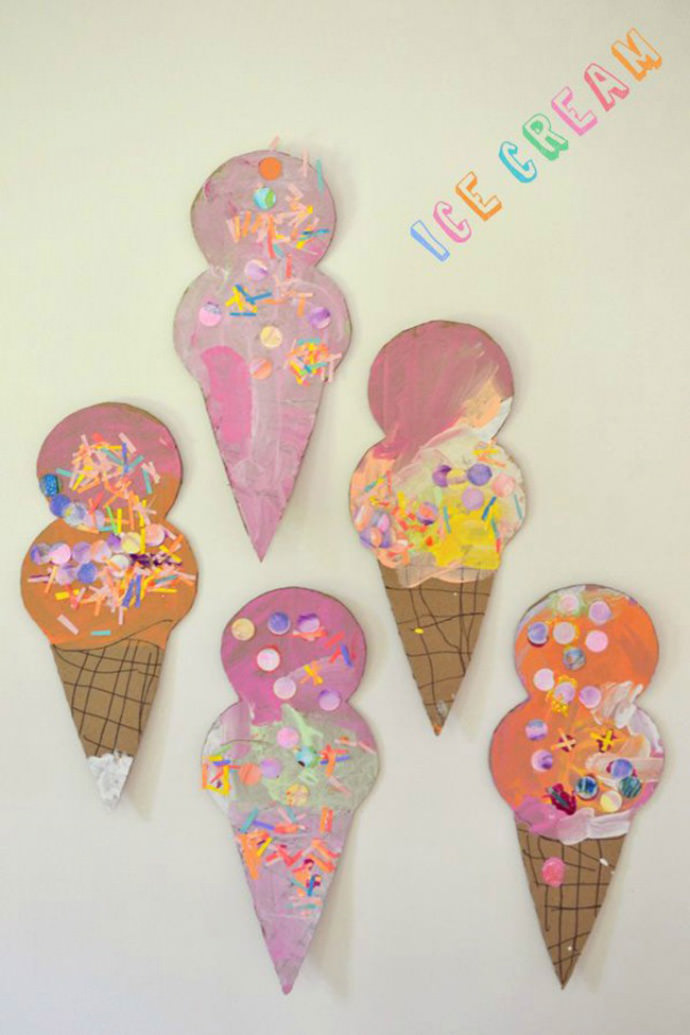 DIY Ice Cream Cone Collage
via Art Bar Blog
Hands up if your kids like ice cream! Thought so… These colorful cardboard cones shared on the Art Bar blog look great fun to make, at home or at school in art class. Kids are sure to have a fab time concocting their favorite sweet with multi-colored flavors, toppings and sprinkles. I'd love to see a whole wall covered in them – yum, the bigger the better, I say!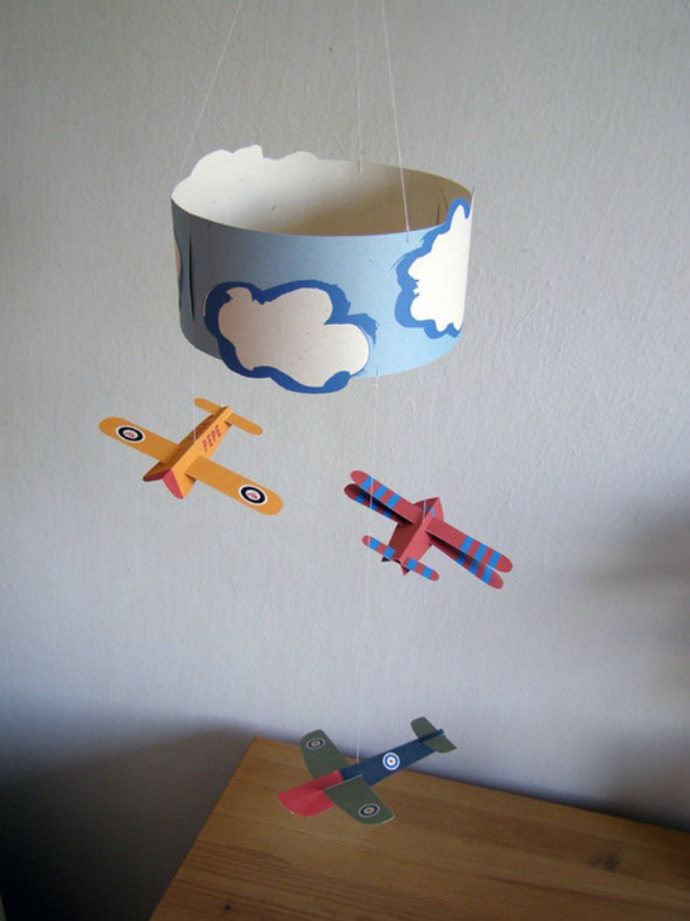 Cut and Make Paper Plane Mobile
Available for $9 from PEPE
Isn't this nice? I discovered this Czech papertoy company on pinterest recently and love the old- school feel to all their products. PEPE sell some lovely paper DIY mobile kits on FLER as well as card games and stationery. Contact them via Facebook for more information.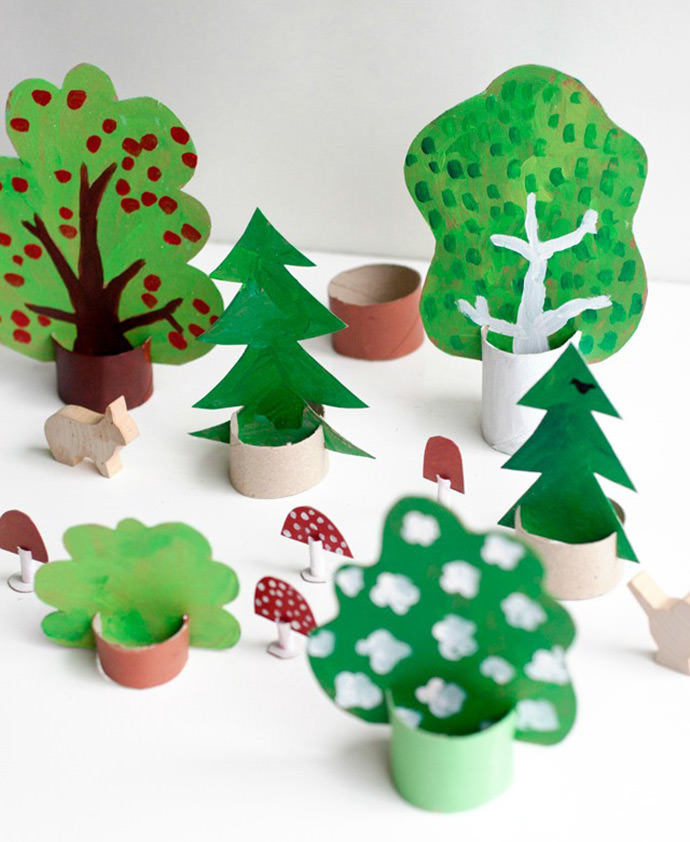 Create Your Own Cardboard Forest
via Ukkonooa
Maija has done it again! When the weather was grim she stayed indoors with her little girl to create this colorful cardboard woods. It's perfect for her daughter's farm animals and can obviously decorated as you please – have fun!
Pictured at the top of this post: cardboard fish and deep sea décor designed by Spanish artist Milimbo.