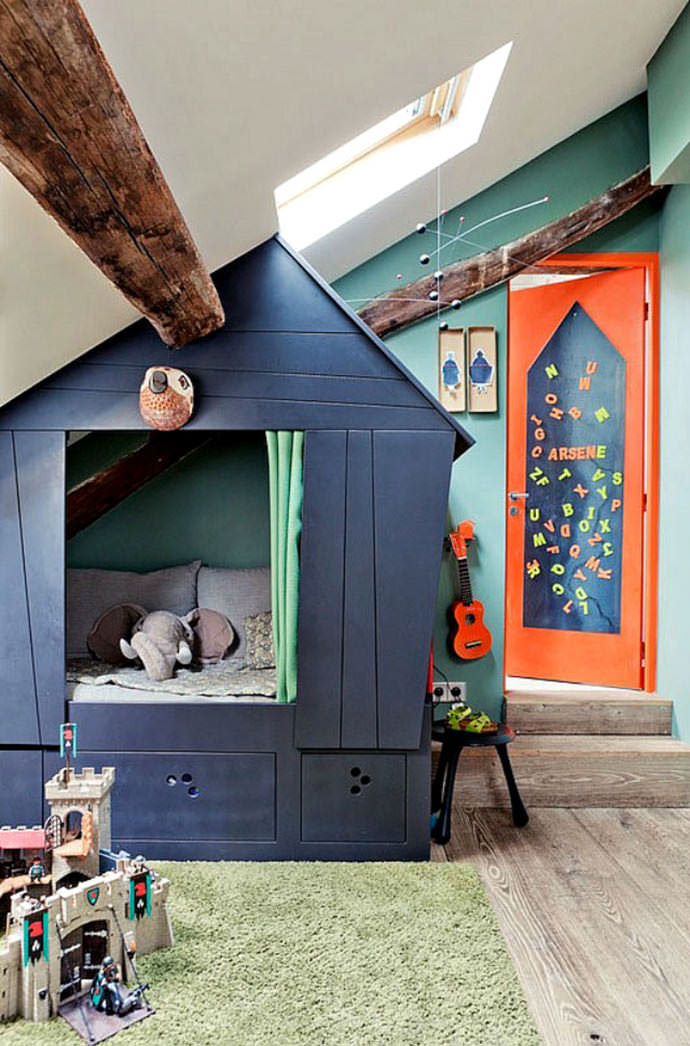 I love this playful 'name door' decorated with magnetic letters from Milk Magazine. Forget those mass-produced name plaques for children's bedroom doors! A fresh coat of magnetic chalkboard paint and some colorful magnetic letters will brighten up any kid's space. I found this fun idea in the home of two French architects, and would love to play around with something similar in our own home. Très cool!
Decorating with names has to be one of the easiest, most common ways of making a child feel special at home. Like many of you, my two youngest children (boy & girl) shared a white, gender-neutral bedroom for four years, but had their own little corners in which they were able to express their personality with toys, books, and drawings. Each area was "customized" with their names, lovingly crafted in art class at school.
If you're thinking of freshening up your child's bedroom for the new school year, why not start with something simple like adding their name. There are hundreds of personalized décor accessories for sale in online markets like Etsy, but also plenty of easy, creative ideas to experiment with on sites such as Pinterest. I hope this small selection of finds will encourage you and your kids to try something different!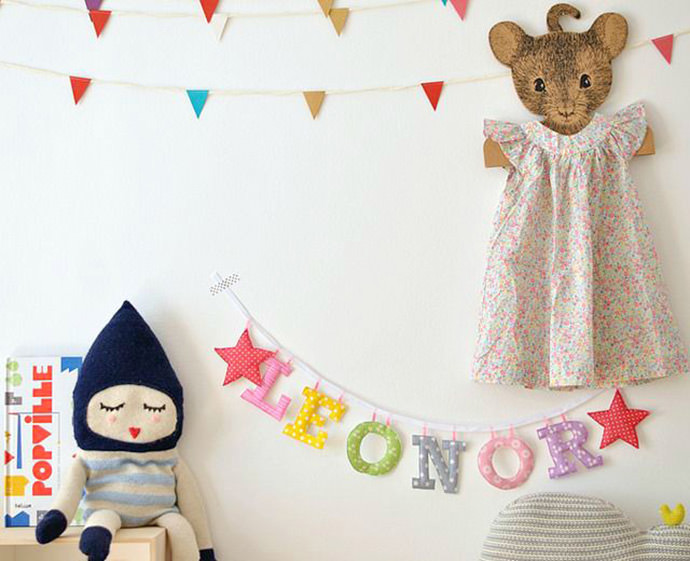 Personalize a nursery with a pretty fabric letter garland (via Paul & Paula)
Peggy's sweet daughter Leonor has an equally sweet name garland hanging in her nursery—love! Paul & Paula is one of my favorite children's blogs, so I wasn't surprised to find this adorable fabric garland featured on there the other day. Handmade by Love Pretty Garlands on etsy, these customized padded letter garlands come in all patterns and colors and can be hung horizontally or vertically. You could also have a go at making your own using this DIY.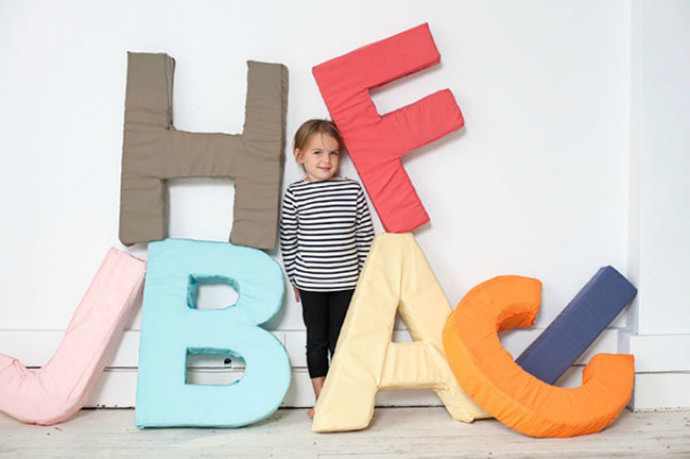 Giant Foam Alphabet Letter Pillow DIY via Oh Happy Day
If you really want to go to town with name decorating, why not make some super large alphabet pillows for your kid's room? These giant ones are crafted from soft foam, but you could also use fabric and make them smaller to display on a shelf, sofa, or bed following this DIY.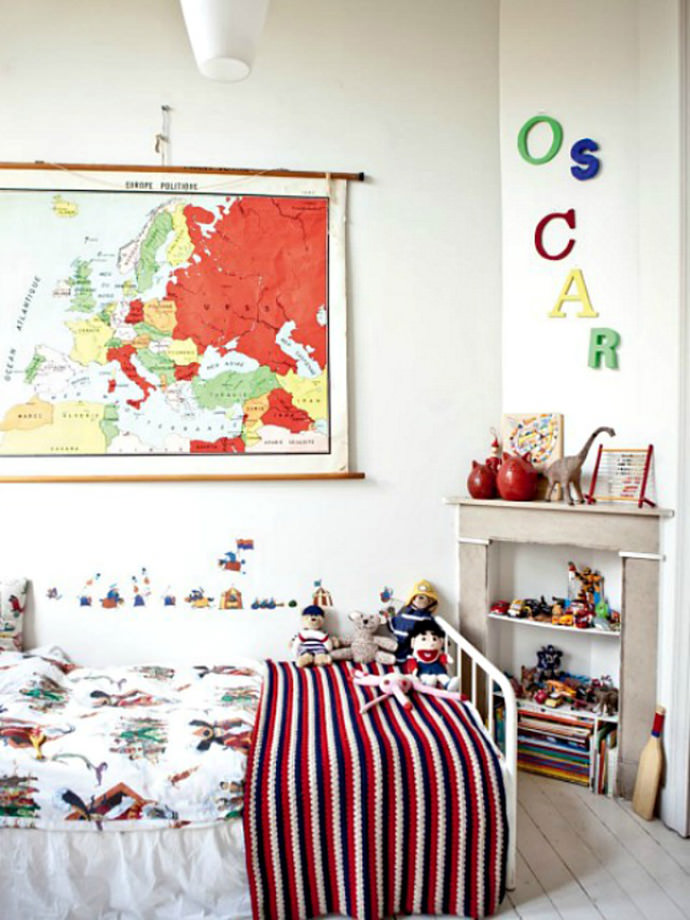 Oscar's room as shown in Milk Magazine
Different sized, multicolored letters spell out Oscar's name loud and clear in this beautiful Brussels-based bedroom. I love the color palette created by Oscar's parents, French photographer Vincent and Justine Glanfield (of Cotton & Milk fame). The old school map and lettering have a unifying effect on this simple space, packed with a jumble of toys, patterns, and vintage accessories. For a similar look, check out specialist stores like Kidimo, or scour your local flea markets until you find your unique combination of letters!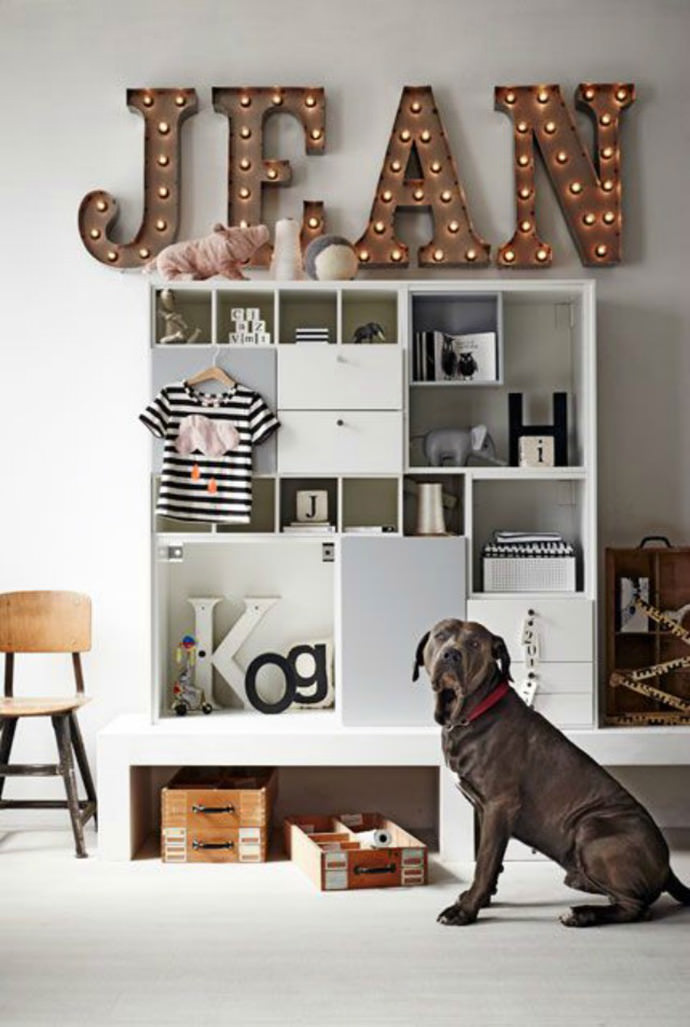 A name in lights from vtwonen—every kid's dream!
Marquee lights add a modern, magical touch to this child's room styled by Cleo Scheulderman. Highly sought after and seldom affordable, vintage marquee lights are the ultimate name décor for kids' rooms. You can sometimes find mini versions on Etsy but personally I think this DIY name light shared on Dos Family looks just as striking for a fraction of the price.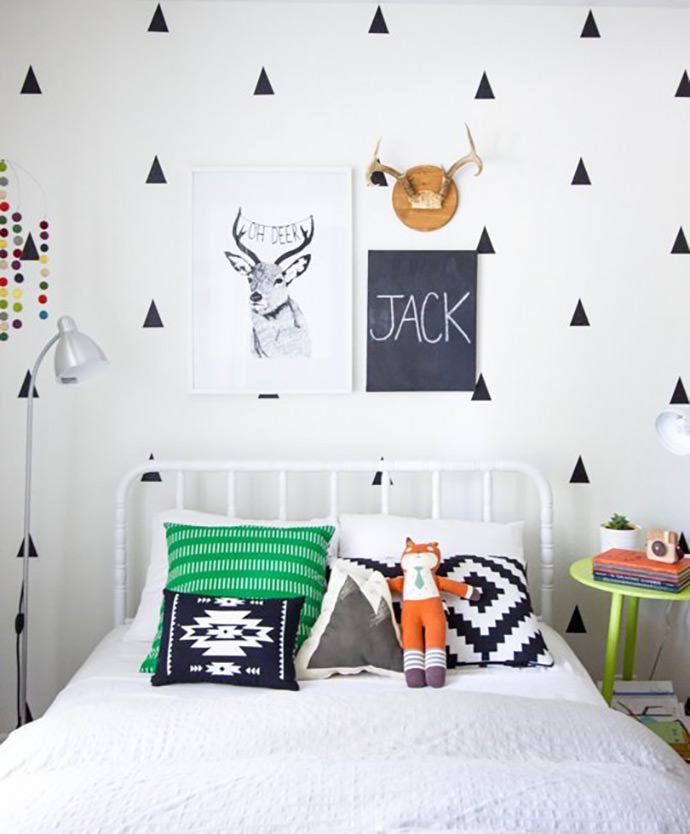 Chalkboards make great name wall decorations too! (via Apartment Therapy)
Last but not least, if you prefer to keep things simple, why not just write your little one's name on a chalkboard like Ginny Chase? This wall decoration stands out so well in the modern, graphic black and white space she designed for her son, and her idea can be customized to the style of any room. Chalkboard paints exist in various colors, and you could even try using one board per letter as shown here.