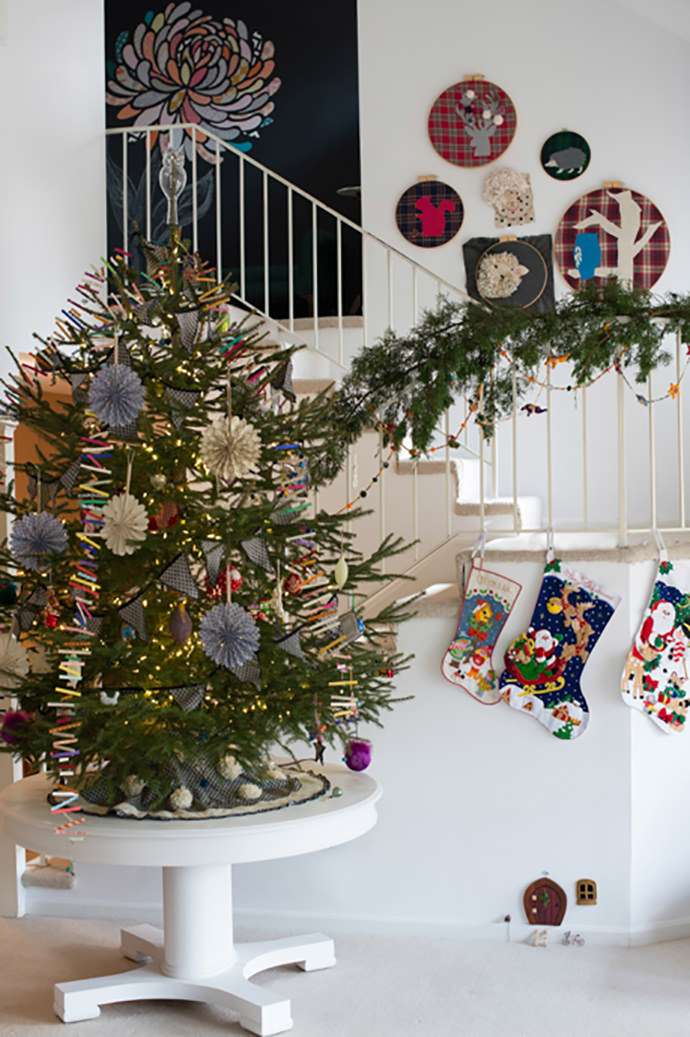 Hello! My name is Alessandra Gutierrez and I am a maker of all sorts of things. I live in the beautiful Virginia Piedmont with my husband and two remarkable teenage boys. I own a little company called Lala's Pequenos, where I make cozy baby items for newborns. Through a happy coincidence, I am also the social media director for the children's clothing line Olive Juice. You could say I am all about kids!
Christmas is one of my favorite holidays. That's why we make sure to celebrate all twelve days! I take a very hands-on approach to our holiday decor and many pieces end up turning into permanent year-round fixtures. It's important for me to take time to create, so you'll find projects that I am working on at varying stages all over our house. Let's call it slow crafting.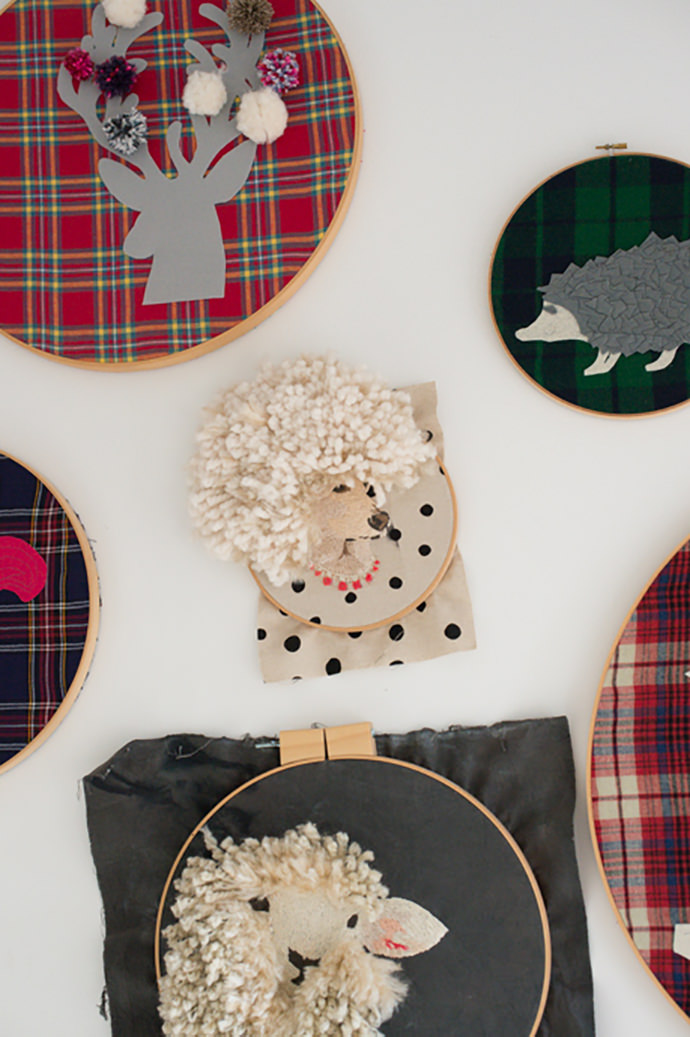 It is also very important for my husband and I to maintain a sense of wonder for the boys. Even though they are older now, they allow me to relish in the joy of the season and put up with my unusual quirky requests. Although, I did stop forcing them to have their picture taken with Santa Clause at the mall (sigh).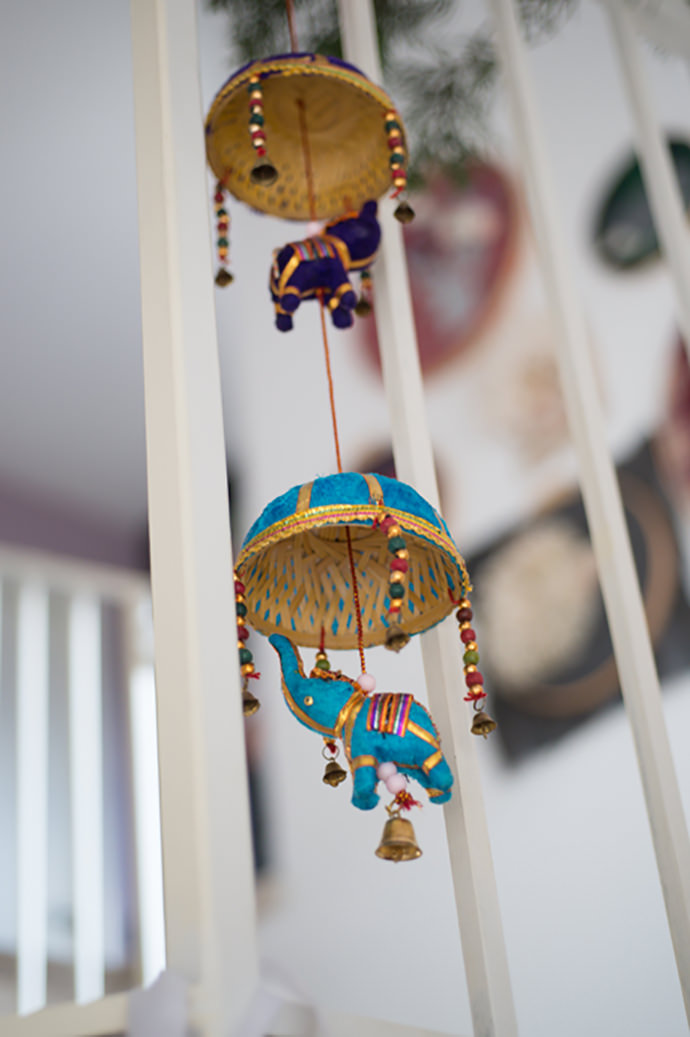 Part of our holiday tradition includes chopping down our own tree from a local Christmas Tree farm. We bundle up and take our time choosing just the right one. When we find the tree that speaks to us, dad takes the hand saw and we count how many times it takes to saw it down. This year it was 38!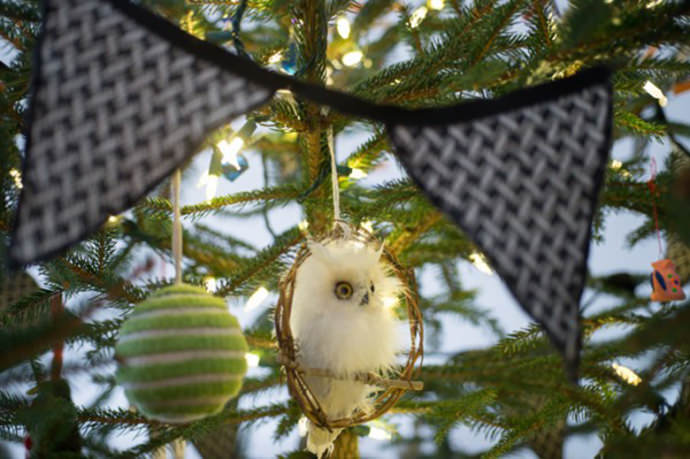 I always keep an eye out for trees that have nests in them. Those are especially wonderful. One year, we unknowingly brought home a tree with a praying mantis nest attached to it and like a Christmas miracle, hundreds of tiny mantis hatched out and were covering the branches on Christmas morning. It was super creepy but kind of amazing.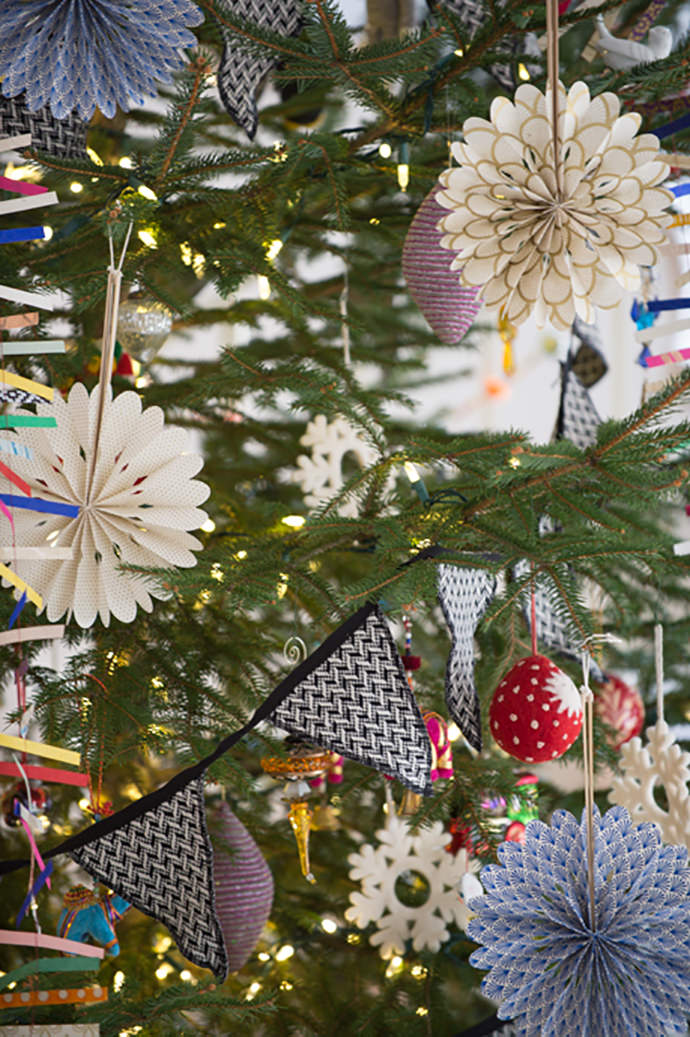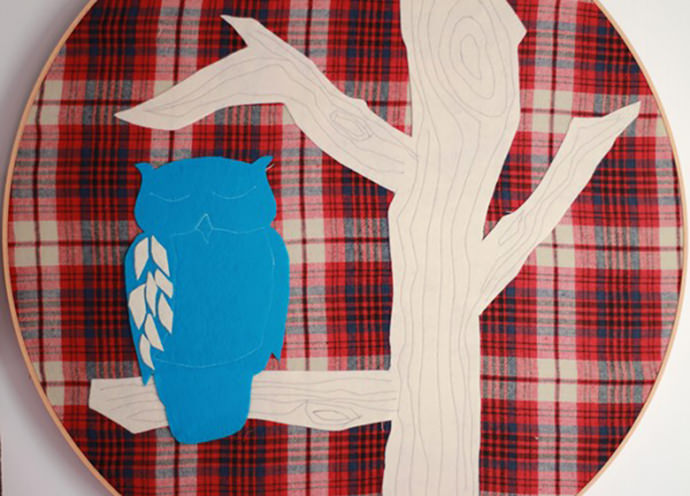 I like to place the tree atop a table, leaving plenty of room for gifts underneath and giving the tree quite a presence to anyone who sees it. We have tall ceilings, so this works well for us.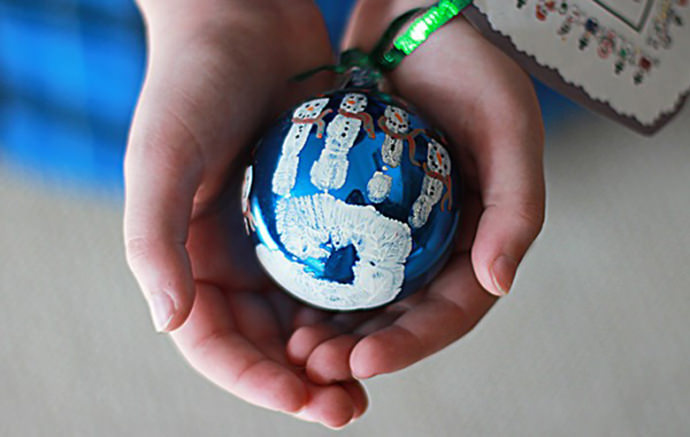 Most of our ornaments are handmade or have been collected from our travels abroad. The ones I cherish the most are those made by my boys or by my crafty mother. A particularly favorite ornament of mine is of a handprint my son painted on a glass ball when he was two. Every year I look at it and can't believe how much he has grown since that little hand was first imprinted.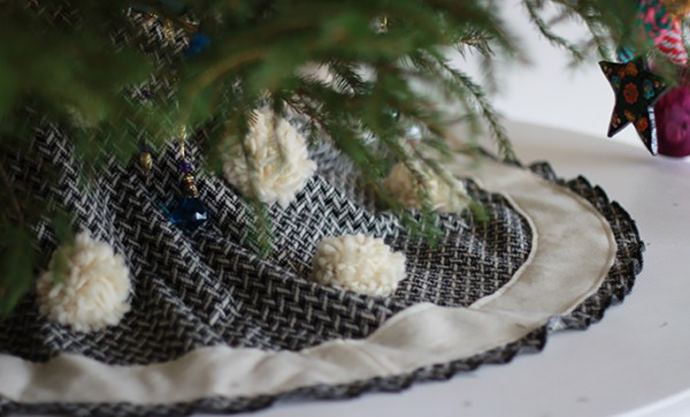 I made the tree skirt and bunting out of some wool fabric I found and added fluffy pompoms to the skirt. I have a small obsession with pompoms, so they occasionally show up in unlikely places around our home. This will likely turn into a table skirt, table cloth, or even possibly a wall hanging after the tree comes down.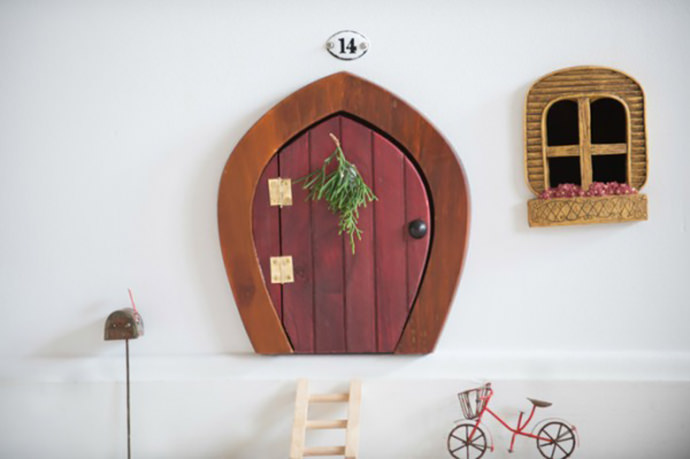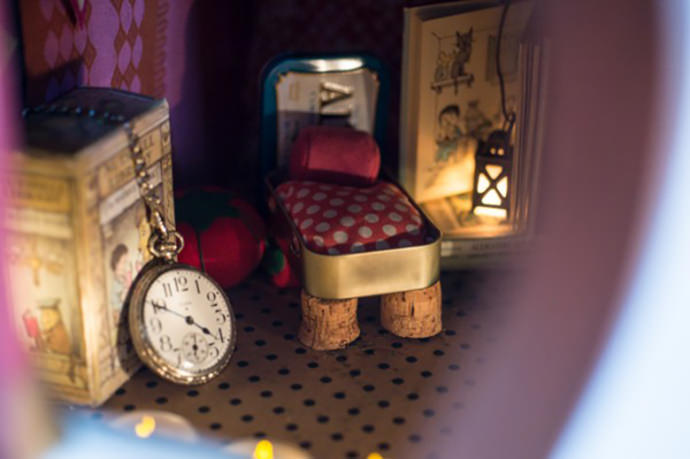 This year we have added a tiny addition to our home. A mouse house! More specifically, Santa Mouse's home. When he's not busy helping Santa, he lives with us under the stairs. Every year, he'll get a new piece of furniture fashioned out of tiny somethings that we find around the house. I have to thank my husband for going along with this one.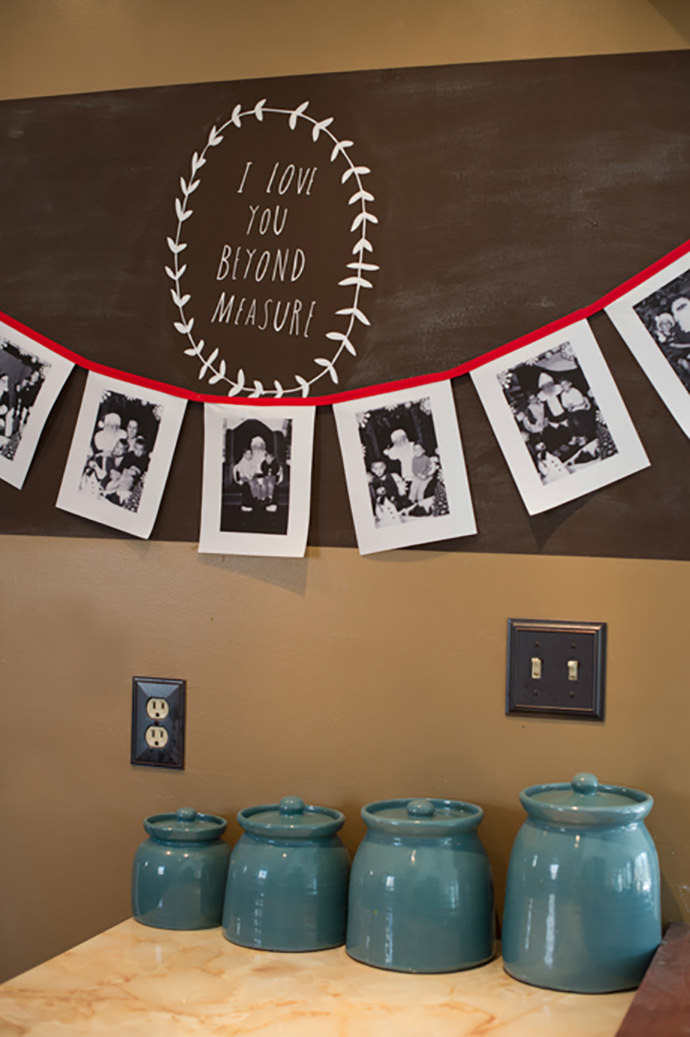 Since the boys were babies, I have always taken them to get their picture made with Santa at the mall. Every year has been documented and when the images are all together, it provides a wonderful history of holidays past. We don't do it anymore, as sitting on Santa's lap surrounded by crying babies is the last thing they care to do, but I still appreciate that they were patient with my sentimental requests for so long. I now have 11 years of Santa pictures. I noticed this year that the images were fading so I scanned and printed them on special fabric sheets designed for printers. I sewed them together and plan to embroider the year underneath. It will take some time, but I'm perfectly fine with that. Remember, slow crafting.
Thanks for taking a peek into my little nest and I hope your 2015 is filled with joy, wonder, and a little bit of crafting!