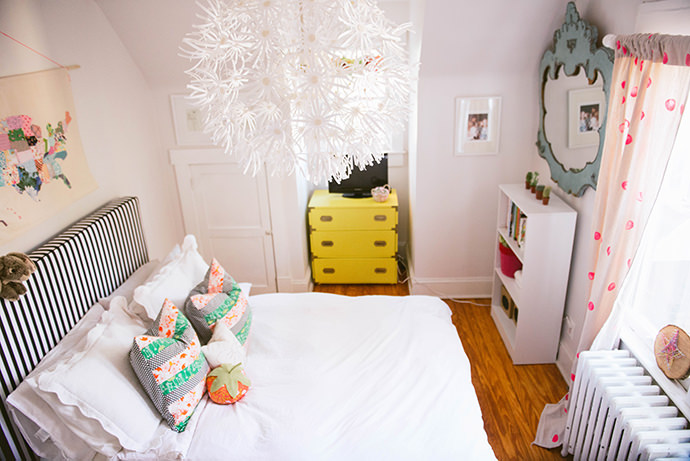 Hi there! I'm Annabel—an Aussie mom living in rural Virginia and owner of Little Pincushion Studio, where I teach little sewing pixies everything they need to know to go forth and conquer the world of creating. It's a pretty sweet space, if I do say so myself. I think perfection is for the birds and encourage children to think outside the box and to use color and print in ways that personally inspire them.
I thought the perfect way to show this was by taking you into my daughter's room. We have recently taken her room from tween-to-teen and wanted to show how girls can personalize their space in clean and creative ways. Come on in and see for yourself!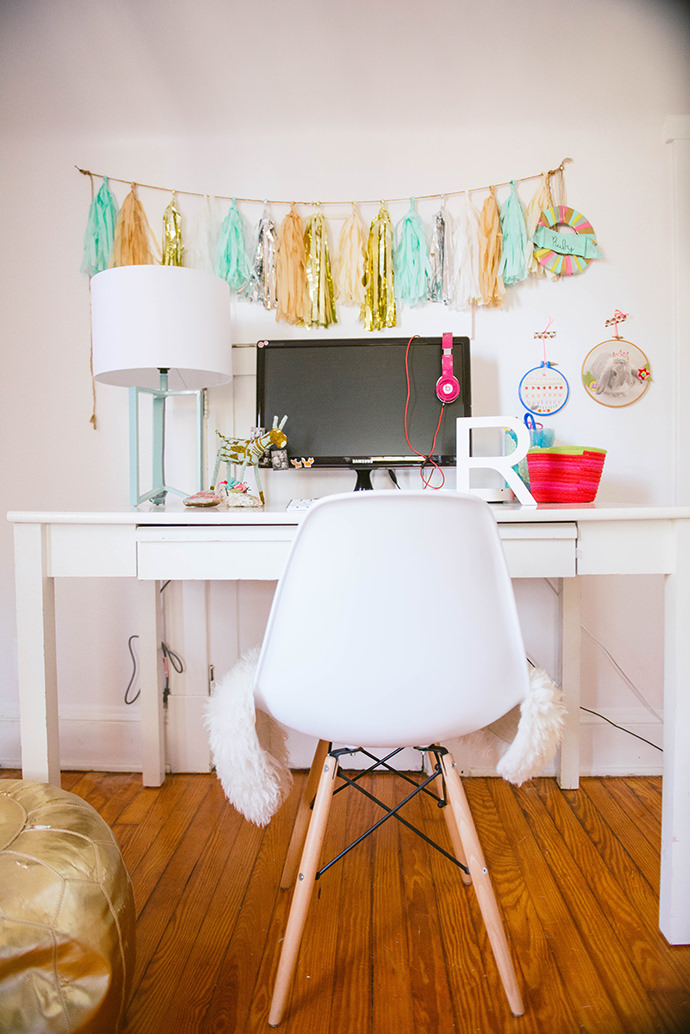 We knew it was time to make a change when bedroom inspiration boards started popping up all over her walls. From top to bottom, Ruby designed the entire space herself. She wanted her room to be clean and airy, so she chose a soft silver gray for the walls and ceiling. She loves color but didn't want it to be too much, so the gray was the perfect backdrop for all of her sewing and artwork. When it came to decorating, we pulled from things we already had and I helped her make the curtains from drop cloths stamped with neon polka dots.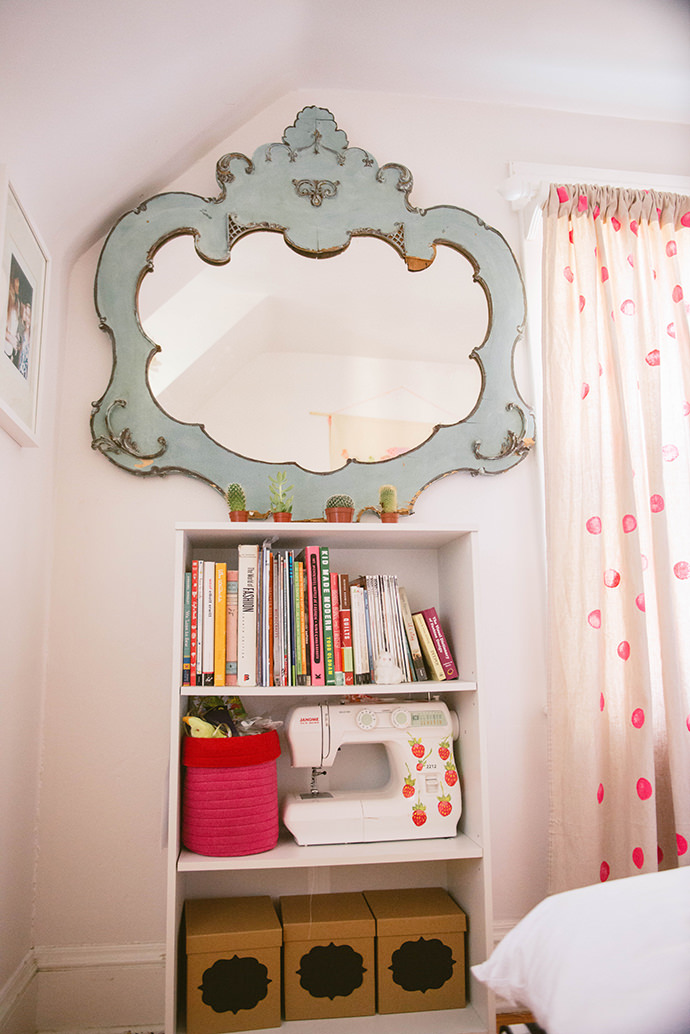 Ruby has a love for decorating and pored over Pinterest images for inspiration when designing the space. She is an avid crafter (wonder where she gets it from!) and works as my teaching assistant at the studio several days a week. I guess you could call her my apprentice. She dreams of being an interior designer one day and was therefore over the moon that she was getting to create her own space. What better place to play with design than your very own room?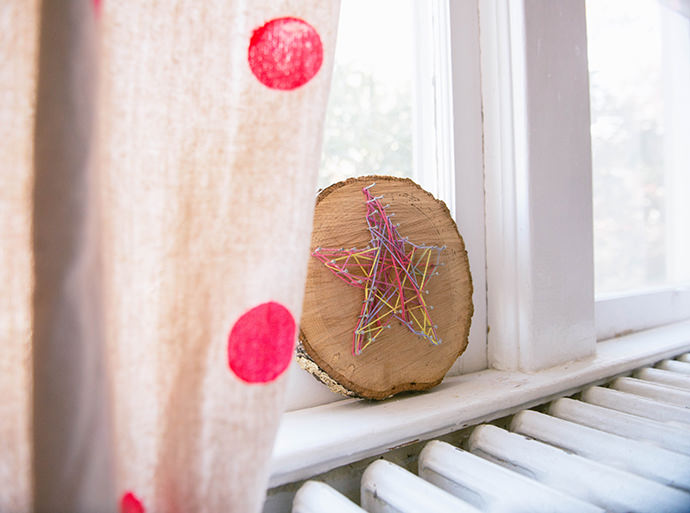 I think the biggest challenge was creating a room that would capture Ruby's innocence and creativity, but still transition with her as she grows into a young adult. We purchased the bed for her birthday and felt it was a piece she could keep forever. We really wanted to use that as a focal point and build the room from there. She has certainly inherited my addiction to stripes!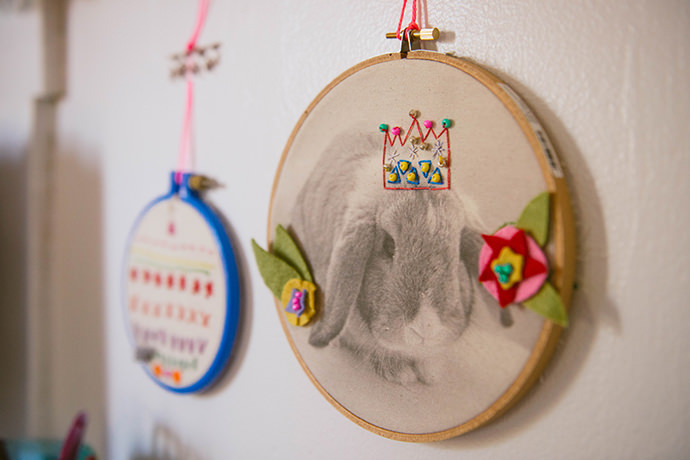 I teach a workshop where I ask children bring in a photo of their pet and we print an image of the animal onto fabric. We then explore embroidery techniques to add crowns, bow ties, necklaces, and other fun accessories to the photos. It honestly may be my favorite project ever! The string art star was made with some colored string, nails, and a slice of wood. It's so simple and I adore how it turned out.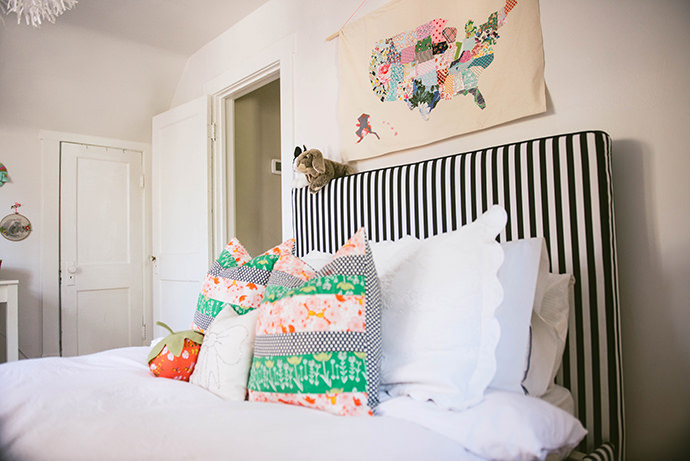 Ruby's favorite part of the room is her map of the USA artwork and framed line drawings. I personally love the drapes. I have always wanted to use drop cloths for a project and after scouring fabric stores not finding what we wanted, we decided we could make our own with some leftover drop cloths from my studio. We gave them a couple of washes to soften them up and then used an extra large sponge pouncer to stamp the brightest of bright neon pink textile ink.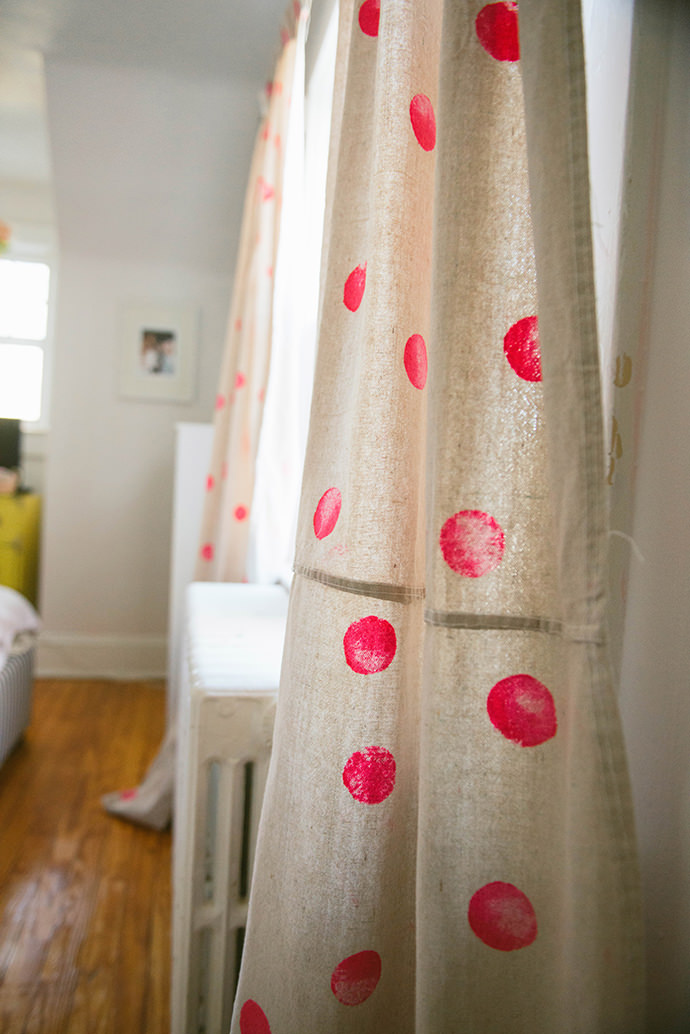 Our home is constantly evolving, Sometimes I feel like it is my blank canvas and is constantly being painted or changed in some way. It drives my husband and son crazy, but Ruby definitely inherited my "let's see how this would look" gene. Her room flows well with the creative nature of the rest of the home. It has definitely been Ruby-fied and expresses her individuality, but at the end of the day, she is my child.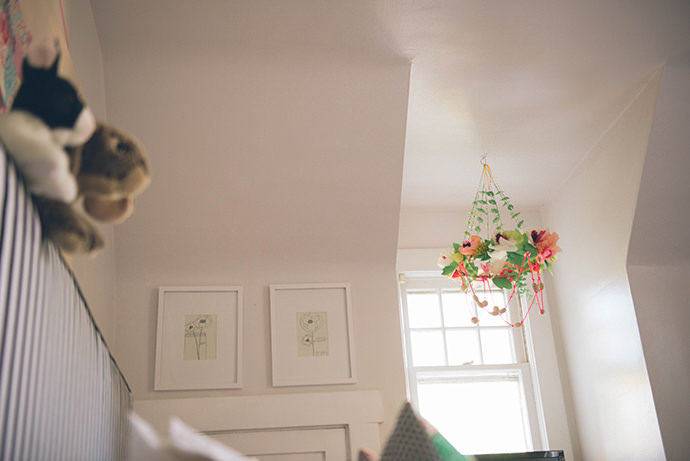 Before you go out and spend tons of money, look around at what you already have in the basement, garage, or other parts of your home. You would be amazed how furniture you already have can completely change when used in another space.
Explore your local thrift stores and junk shops — they are full to the brim with great pieces just dying to be painted and loved.
Encourage your child to create mood boards with color schemes and styles. Being well prepared saves you a lot of teenage angst at the paint store.
Make your own set of drop cloth curtains. Embroider them with lovely large crewel embroidery or stamp them with handmade stamps.
Don't be tempted to over clutter. Pick one central piece and work around it. Encourage your child to pick a handful of their favorite things to display and pack the others in clear bins. They can rotate their favorite things so they never tire of their space.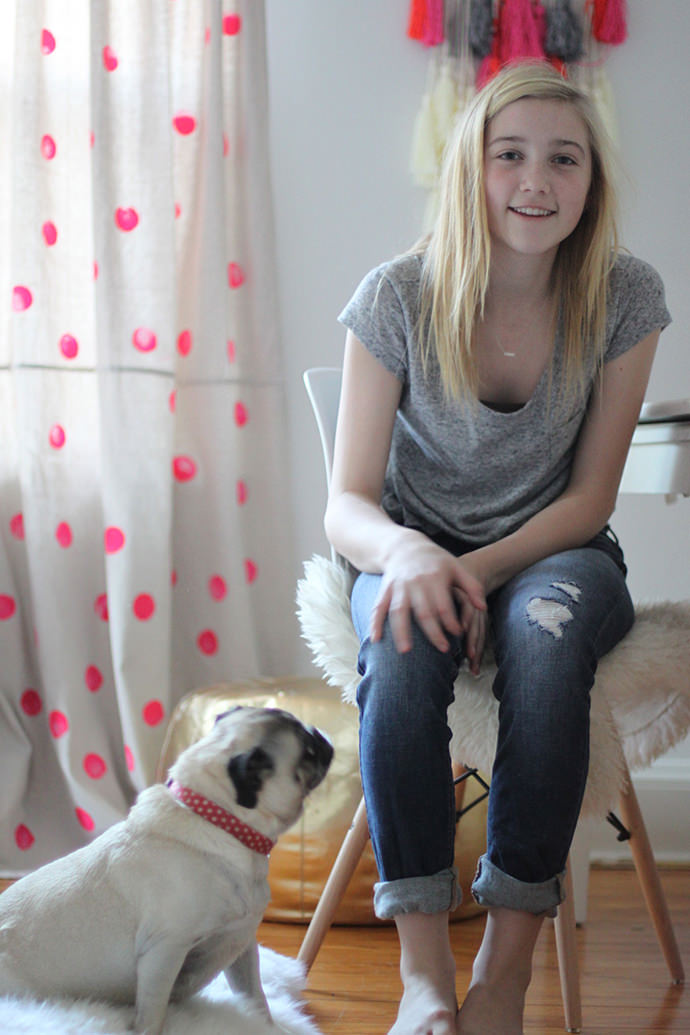 Annabel's first book, "We Love to Sew" was released in Spring 2013 by C&T Publishing, followed by "We Love to Sew – Bedrooms" in Spring 2014. She has two more titles in the "We Love to Sew" series due out in 2015. She is also an instructor on Creativebug, making instructional craft and sewing videos for children.
Photography by Sunny King photography