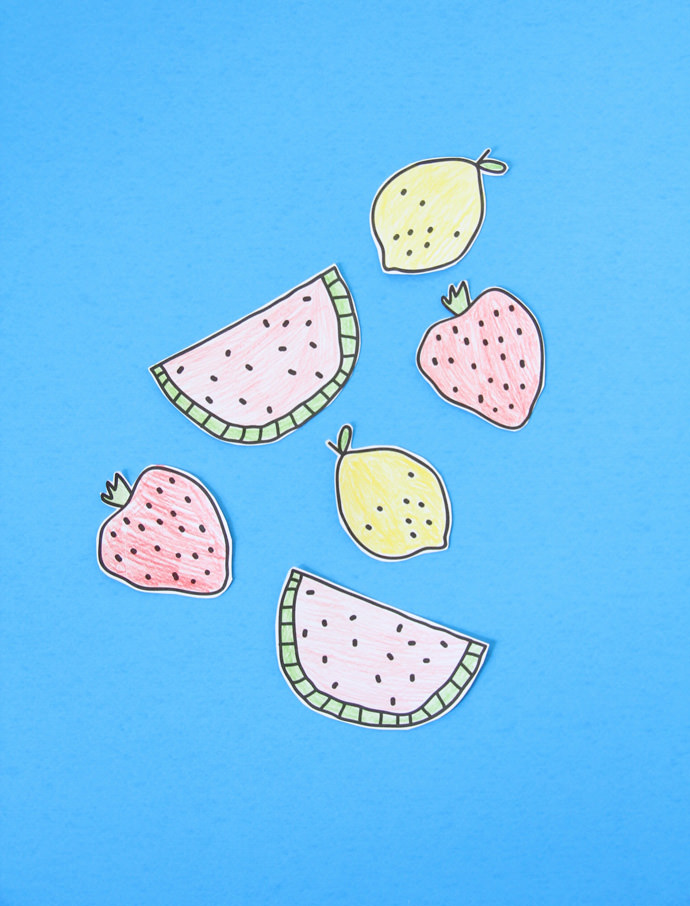 Using your shirt to wipe away juicy watermelon as it runs down your chin. Picking bright red strawberries from a roadside field. Squeezing lemons into a big glass pitcher in prepartion for what you are convinved will be the world's best lemonade stand. These are the things that summer is made of.
That's why DIY fruity stickers are just so perfect. They celebrate all the things we love most about this time of year! My son is mesmerized by them because they are far bigger than any stickers he's ever seen – kids can't get enough of anything jumbo! He's also a coloring book maniac (what kid isn't?!) and these are a fun way for him to get his fix while also making something he can rock around town.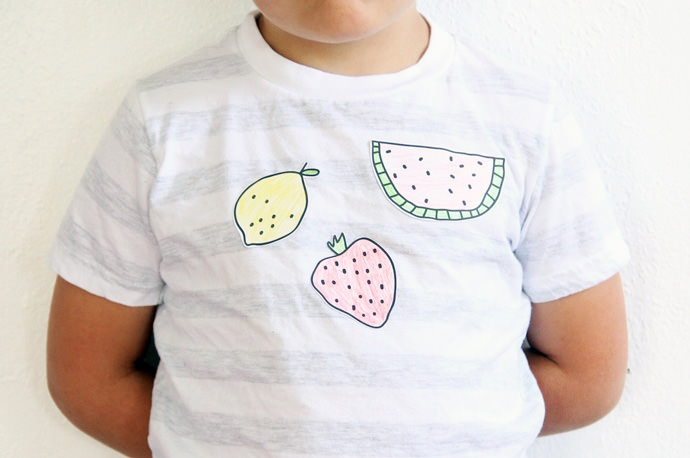 The best part about fruit printables are that you can make as many as you want! Wear them all at once, or choose a different fruit for each day of the week (Strawberry Saturday, Watermelon Wednesday, etc.) To make fruit stickers of your own, all you have to do is download (here), print, and color! When your kids have completed their masterpieces, cut them out and start sticking them onto everything in sight – clothes, bags, walls, the ceiling, the floor, yourself, each other – anything and everything! Can you tell I like fruit just a little?
(As you can see above, my little guy likes to wear his on his shirts. We've come to find out that stickers can totally transform any outfit. It's our little style secret and it's what I like to call fruity fashion.)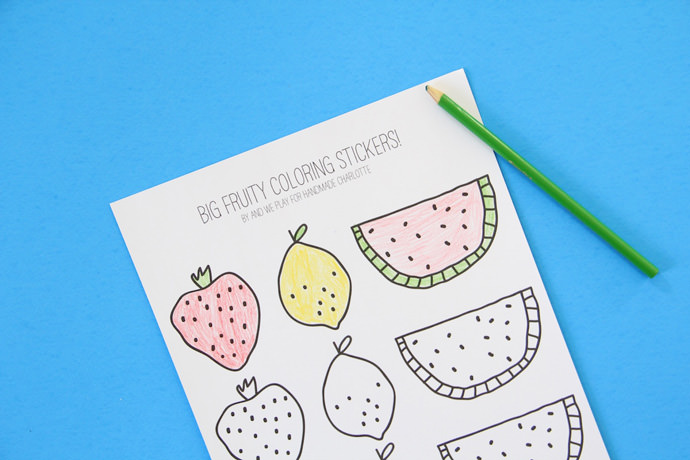 You can find sticker paper at just about any office supplies store, and it should work with all printers. We typically use colored pencils for our stickers, but these would work great with crayons, markers, maybe even watercolors! And though I do love a vibrant pink and green watermelon, don't be afraid to go a little wild! I'd love to see a purple strawberry or an electric blue lemon :)
Download printables here: Big Fruity Coloring Stickers
Wishing you and your family a happy, juicy, fruit-filled summer!