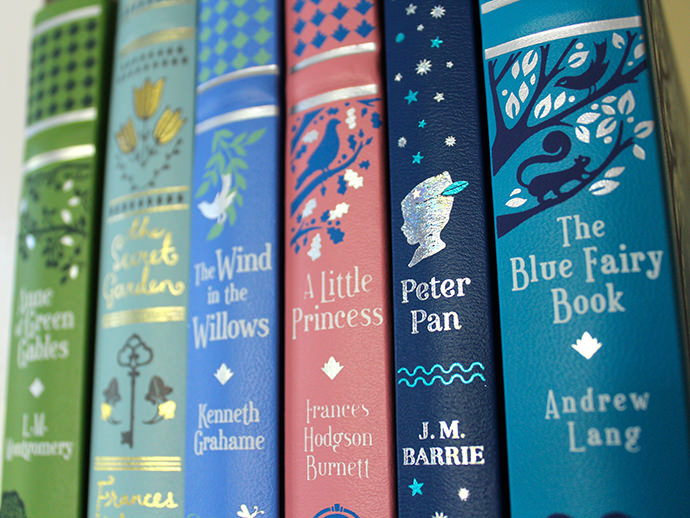 Books played a major role in my childhood. I was completely enamored with the adventures that could be found within my bookshelves (just ask my parents, who used to find me sleeping in bed every night surrounded by piles of books!). My grandmother was a librarian and my parents are book collectors, so let's just say it may be genetic.
As an interior designer, I continue to be inspired by books, not only for their content but also for their usability as decorative objects. A well-styled bookshelf is the ultimate design element. And it's a meaningful one at that. Look through people's book collections and you'll get a glimpse of who they are and what they love. And that's just what great design should be about.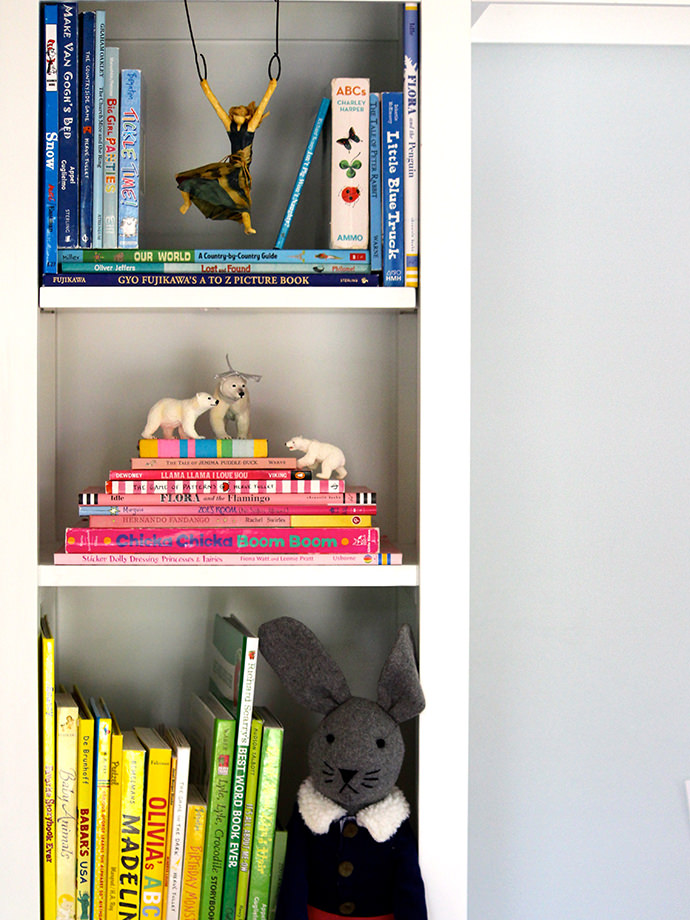 While most grown-ups have gone digital (I'm guilty of it too), kids' rooms are usually still packed with piles of real books that sing with color and teach them to enjoy the wonder of images and storytelling. When designing a nursery or playroom, I've got a few tried and true styling tricks up my sleeve, and books often take center stage.
Here are a few ways I display books in ways that function well and look great too. These are all little vignettes that you and your child can create and re-create together, to celebrate their books and the special items in their rooms. It's easy, inexpensive, and downright fun!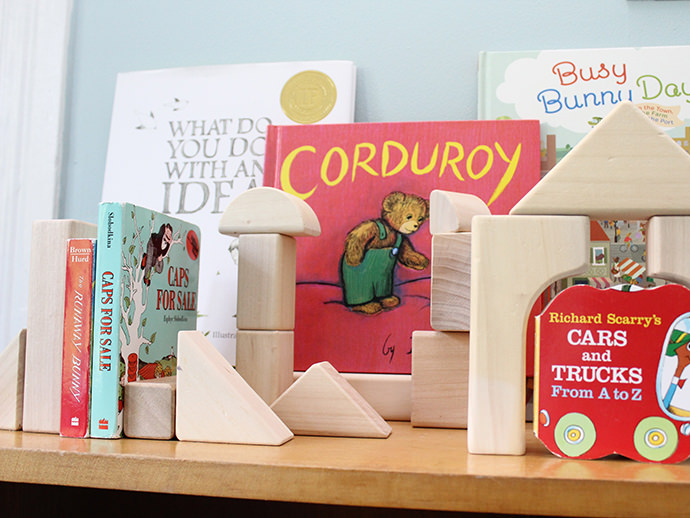 Blocks can be bookends; blocks can be toys; blocks can be castles, skyscrapers and anything else your child can imagine. But best of all, blocks can be useful decorating tools. Build a beautiful creation that sits on a bookshelf, and mix in books to make a fairy tale village. Use books as platforms and build high towers all the way up to the sky. Mix books and blocks over and over again for amazing little shelf vignettes.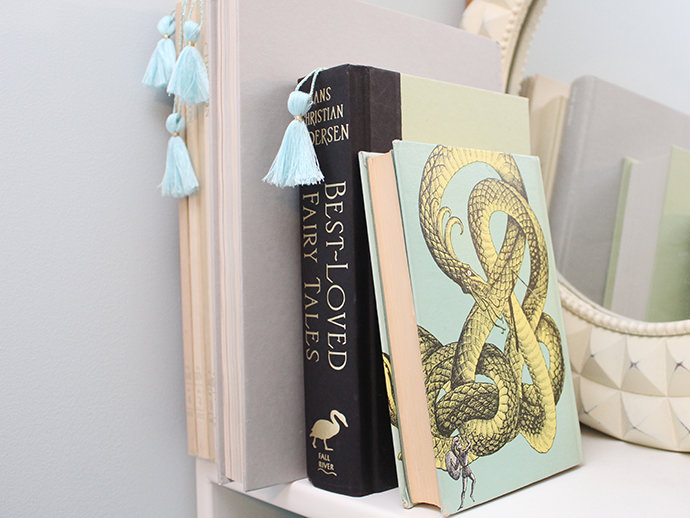 On higher shelves in a child's bedroom, it can be nice to create a more staged display with items that probably won't be accessed as much as those on the reachable shelves. Neutral books can be injected with color and style simply by placing tassels in between the pages like bookmarks and letting them hang down the spine. If you don't have many neutral books, you can always flip some around to display the pages, for a nice visual mix. It may not be the most practical setup, but sometimes being pretty is the name of the game.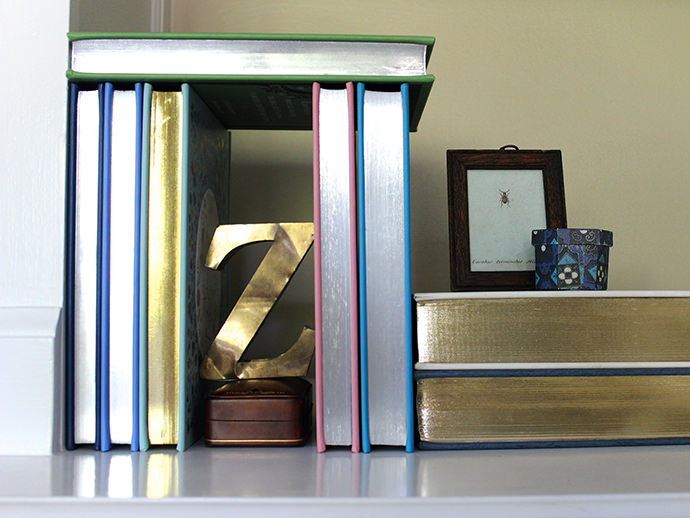 Hardcover secondhand books or those you are willing to sacrifice for the sake of crafting can be made even more gorgeous with a metallic makeover. Here's a great, quick tutorial on A Creative Day. Show off those metallic edges by lining books up or stacking vertically, or even use them to frame small knickknacks on the shelf. With a hint of metallic, a plain bookshelf goes from blah to bling.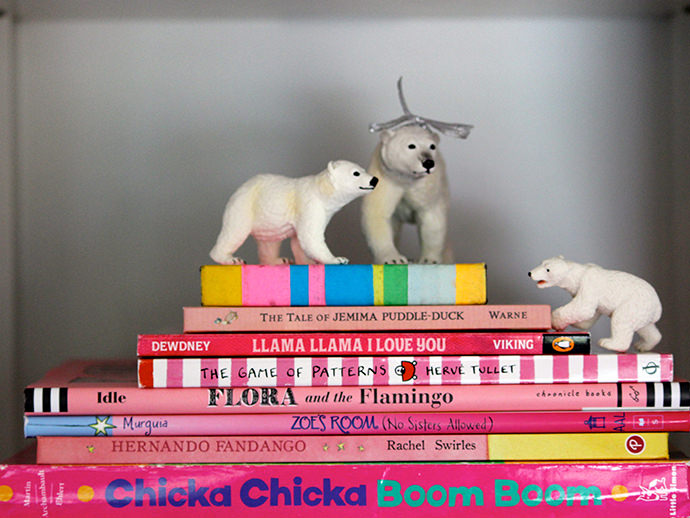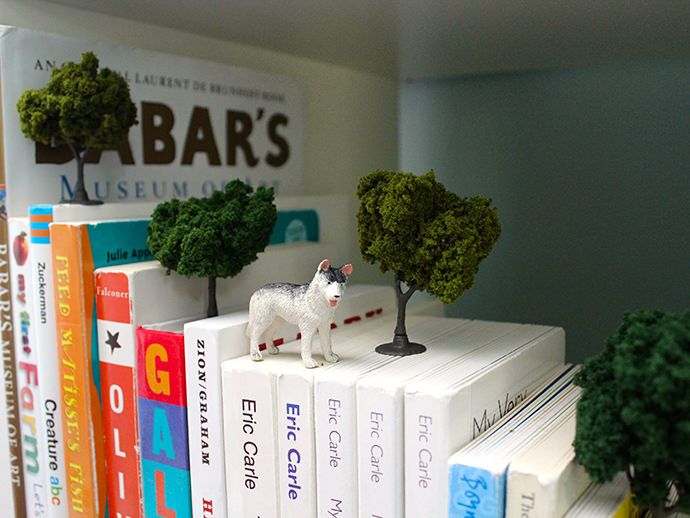 Gather all those toy animals lurking around the house and create little worlds for them to explore. Stack books to make mountains, steps for them to climb, or caves for them to live in. This project is super easy and super fun, and it's one your child will love to help with. Built a particularly beautiful book diorama? Snap a picture and frame it for instant book art!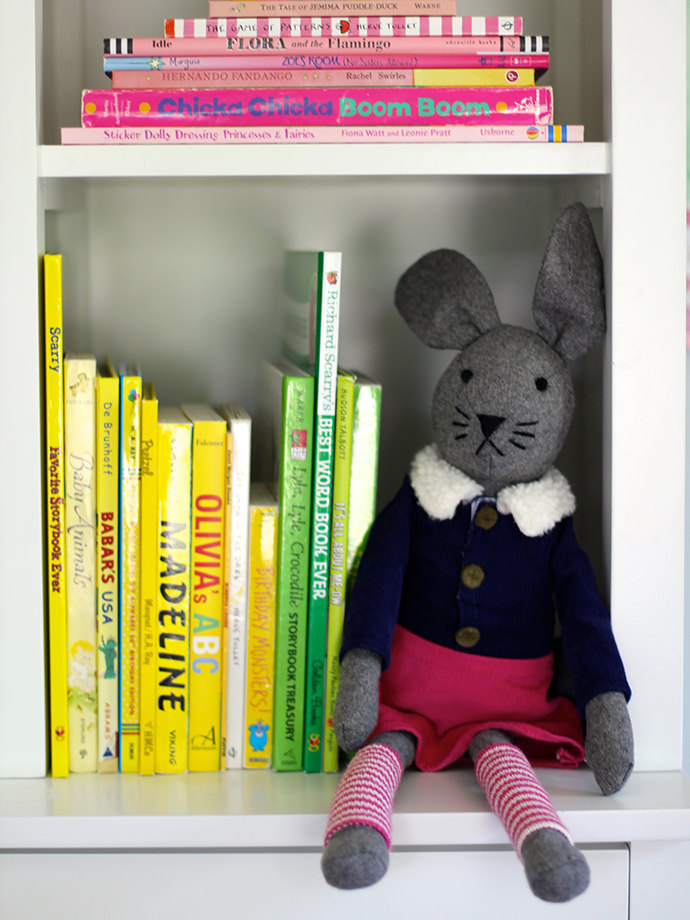 You've already seen it all over Pinterest, but we can't deny the beauty of organizing books by color. Group them together by hue for a visual pop. This is also a great learning activity for kids. Have them first help separate the books by color and then find homes for each shade on their shelves. Pretty? Yep. Color theory lesson? You betcha.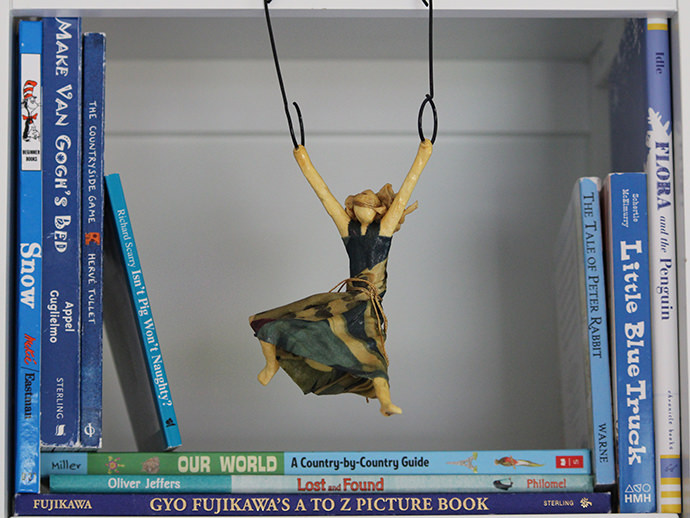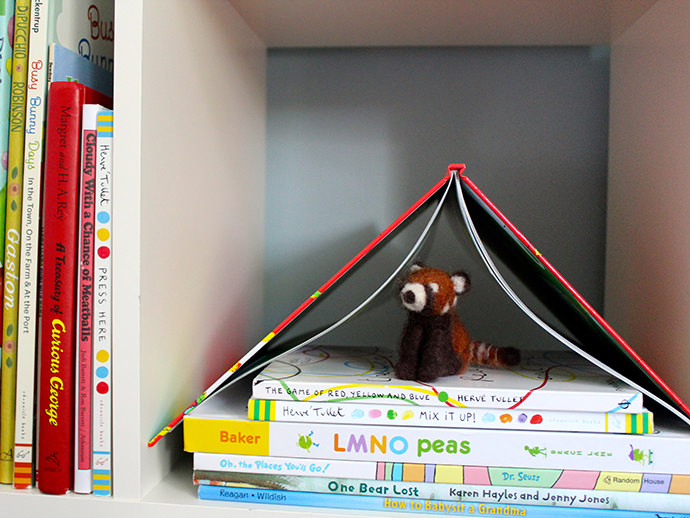 If there's a special item you want to highlight on a shelf, create a frame for it with books. A U-shape configuration can be the perfect way to display a hanging ornament or to feature favorite photos, toys, or baby memorabilia.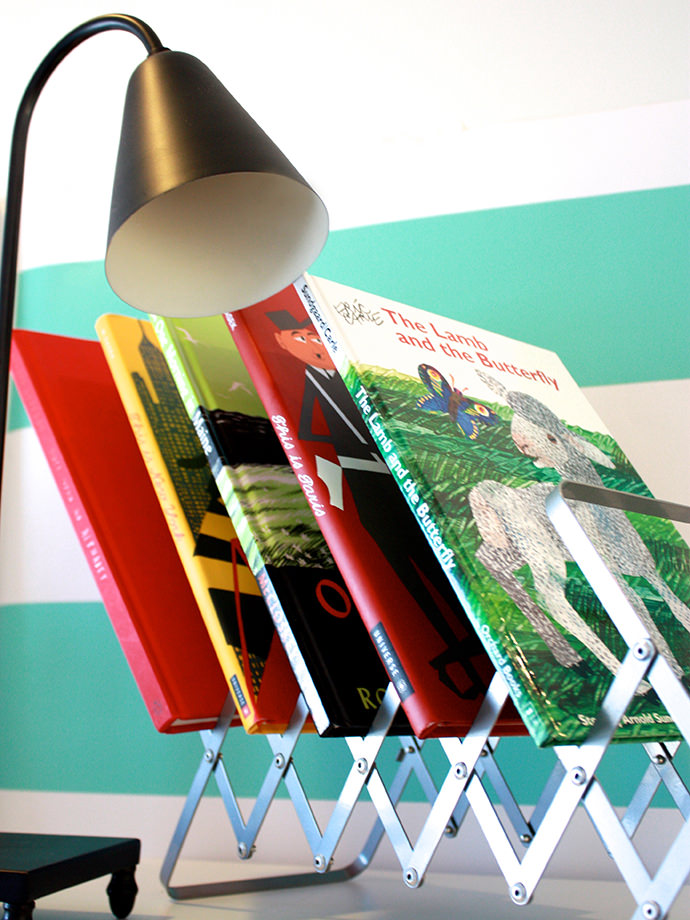 Something as simple as an accordion file holder can make a great bedside bookshelf. Every Sunday night, put a new selection of books in the holder and you've got a week's worth of bedtime stories at arms length. Cycle in old favorites and new finds to keep the reading selection fresh and exciting.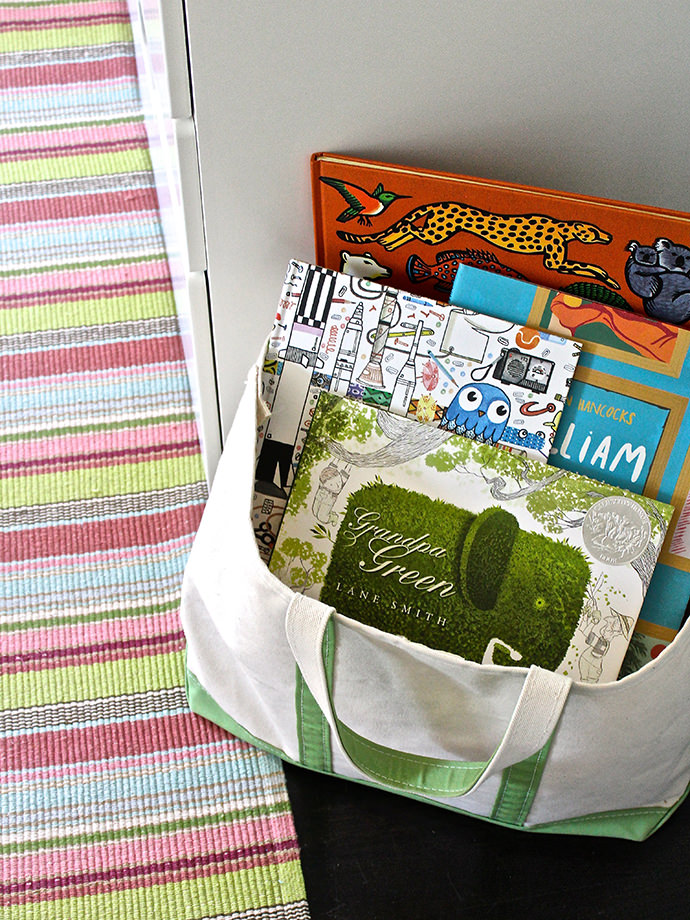 A portable bookshelf tote is a novel idea for kids who want to read everywhere from their rooms to their kitchen table forts. The bags make books easily transportable, and by adding a designated, decorative hook, either in their room or in a main living space, books are swept off the floor in a jiffy and can be easily accessed and toted to their next adventure. Jump on over to the Dear Design Diary blog to follow our decorating adventures and get more tips and tricks for decorating kids' rooms.