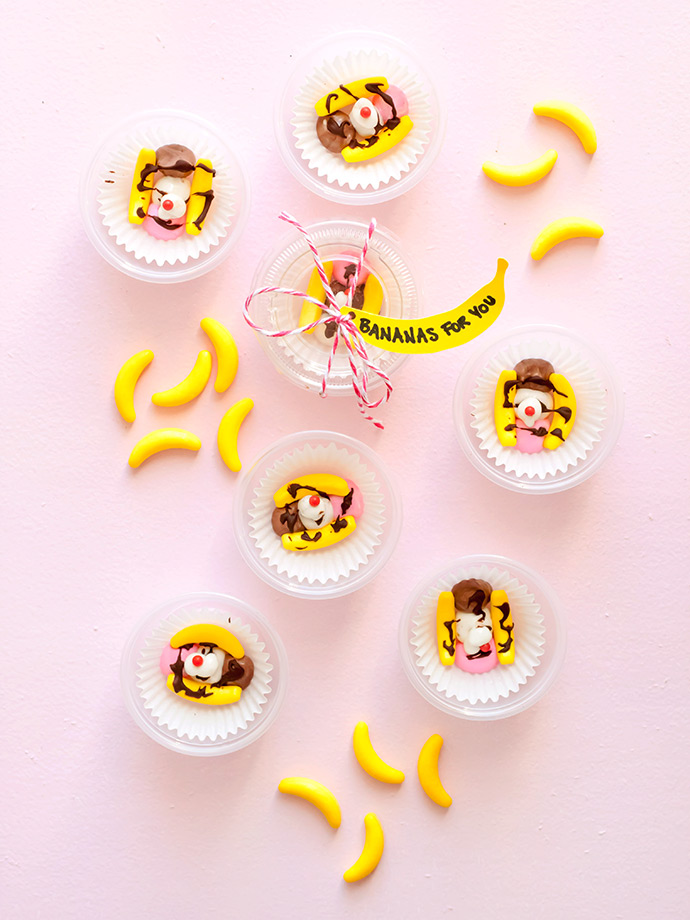 Is your Valentine going through ice cream withdrawal this winter? Win him over with these candy banana splits made of salt water taffy, banana Runts, and a red sprinkle cherry! You can even drizzle some melted chocolate chip "hot fudge" on top. Yummmm!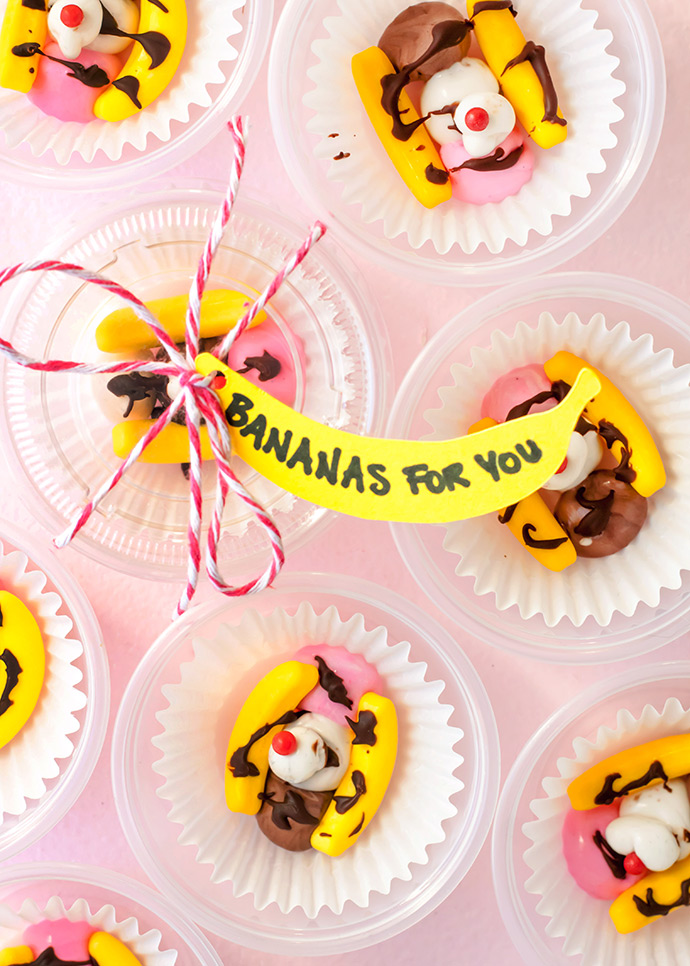 Since the "ice cream" won't melt, you can shove these in your purse or backpack to pass out to friends all day long. Add a fun little tag that says, "I'm bananas for you…let's never split!" It's a good thing ice cream is the way to my hubby's heart, because I certainly wouldn't have won him over with my cooking!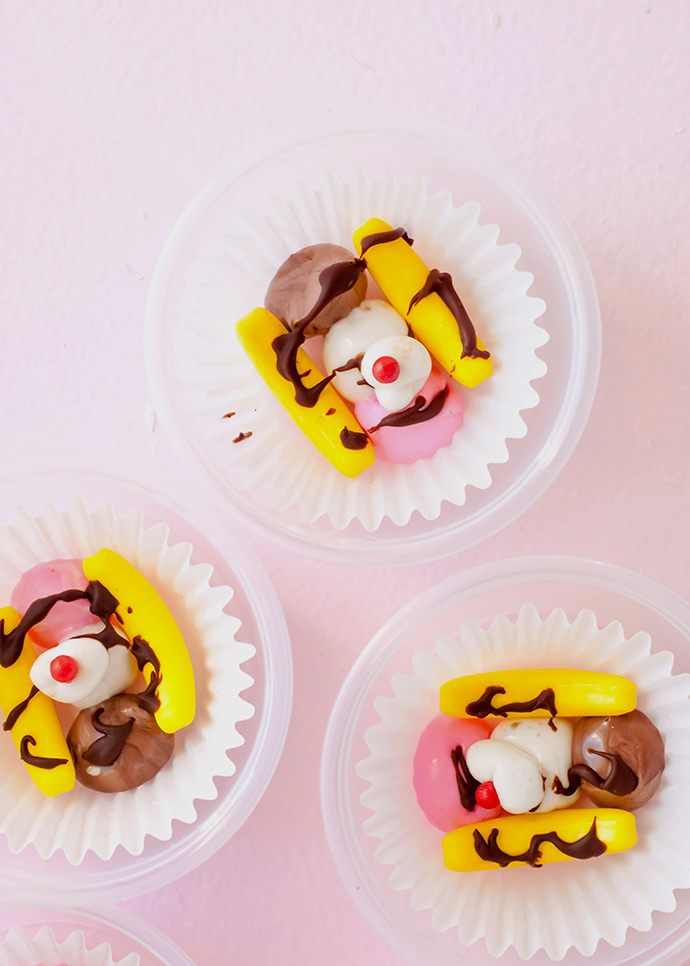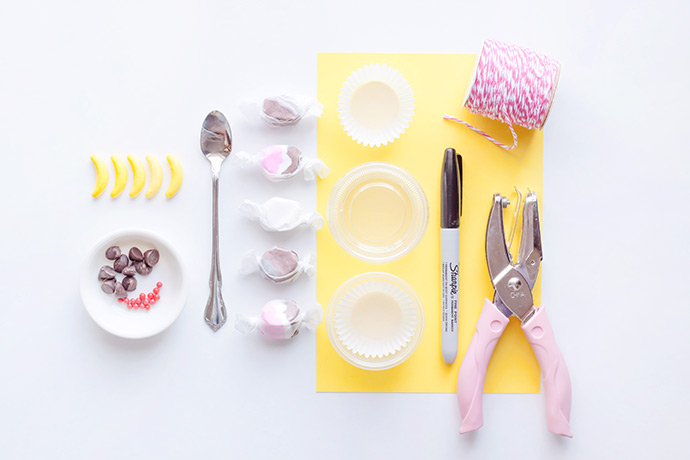 • Runts candy bananas
• Salt water taffy in brown, pink, and white (chocolate, strawberry and vanilla would be ideal!)
• Chocolate chips
• Microwave & microwave-safe bowl
• Toothpick (or small spoon) for drizzling chocolate
• Red ball sprinkles
• Portion cups with lids
• Mini white cupcake liners
• Yellow cardstock
• Scissors or cutting machine
• Marker, alphabet stamps or printer
• Mini hole punch
• Baker's twine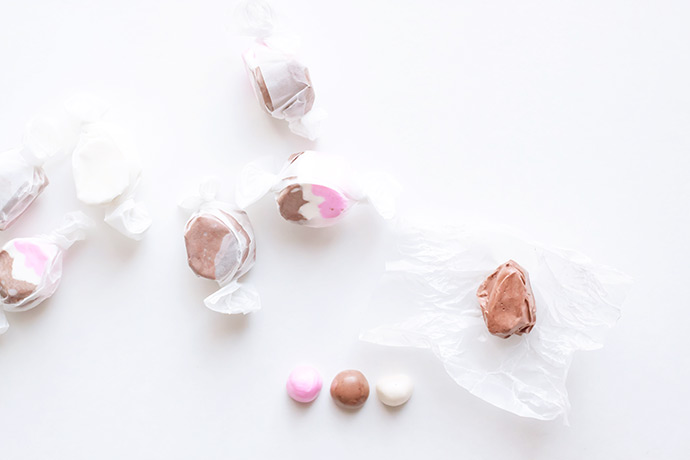 Step 1
Break off a large pea-sized (or small blueberry-sized) piece of brown salt water taffy, and roll it into a ball using the palms of your freshly washed hands! The warmth of your hands will help to soften the taffy. Repeat this step with a piece of pink, and then white salt water taffy.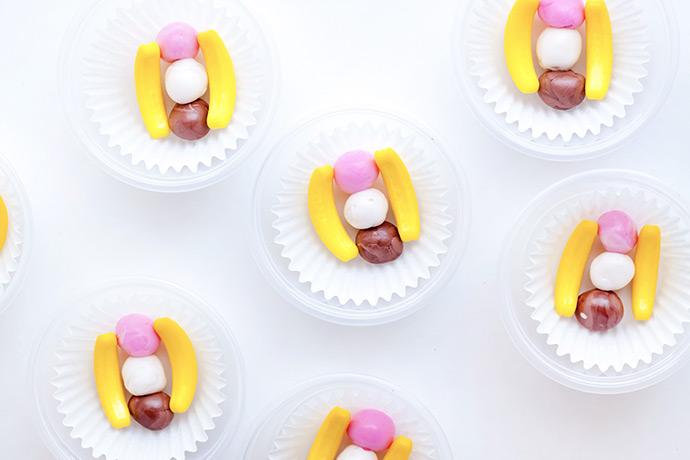 Step 2
Place the three taffy "ice cream" pieces in a row in a mini cupcake liner, and place the cupcake liner in a portion cup. Place banana Runts on each side of the scoops, parallel to each other.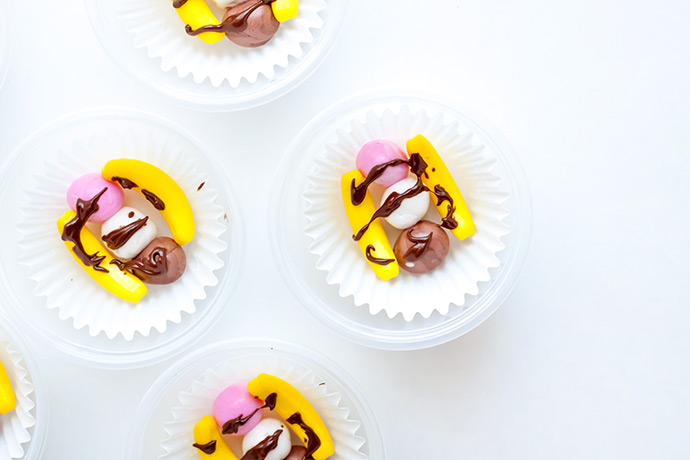 Step 3
Melt a pile of chocolate chips in a microwave-safe bowl, and drizzle the tiniest little bit of chocolate over the ice cream scoops.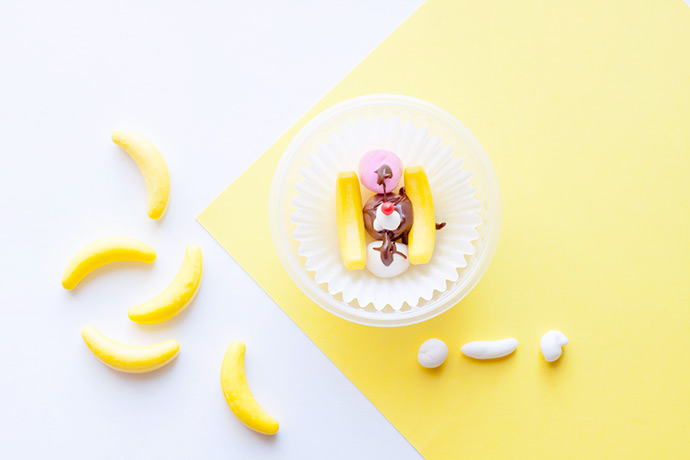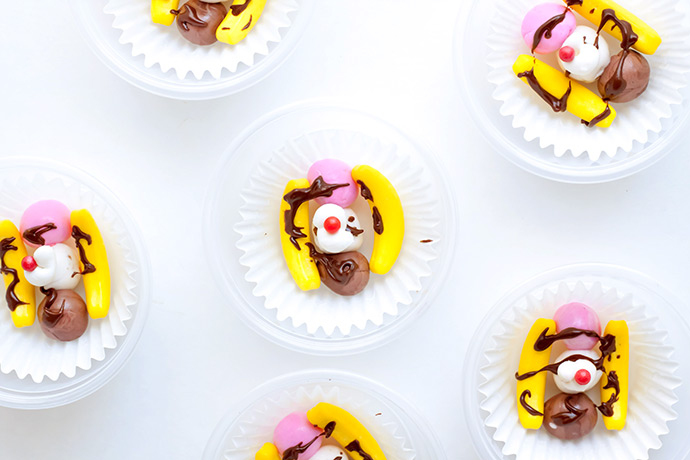 Step 4
Roll a piece of white salt water taffy (about the size of an extra-small pea) into a snake. Coil the "snake" upward, so that it looks like a tiny glob of whipped cream. Place it on top of the middle scoop, and place a red ball sprinkle (cherry) on the whipped cream.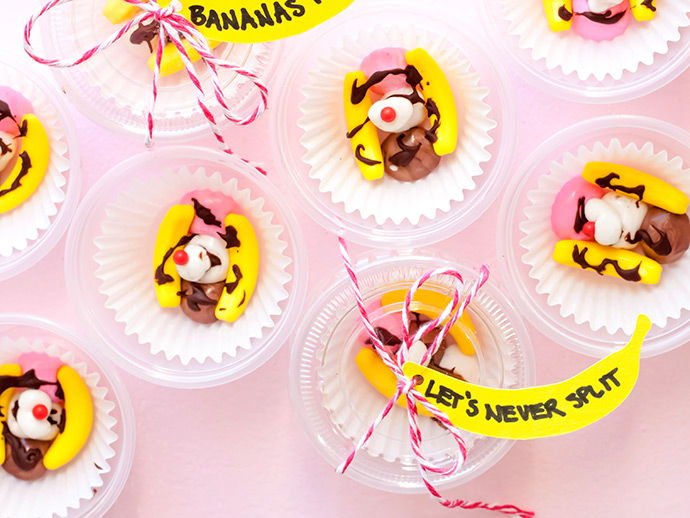 Step 5
Make a tag using cardstock and scissors, or a cutting machine. You could cut a banana shape into yellow paper, a cherry into red, or just a simple circle or square tag would be perfectly fine! Write, stamp, or print the words, "Bananas for you! Let's never split!" Lastly, punch a small hole in one corner of the tag, and use a piece of baker's twine to tie the tag to the portion cup.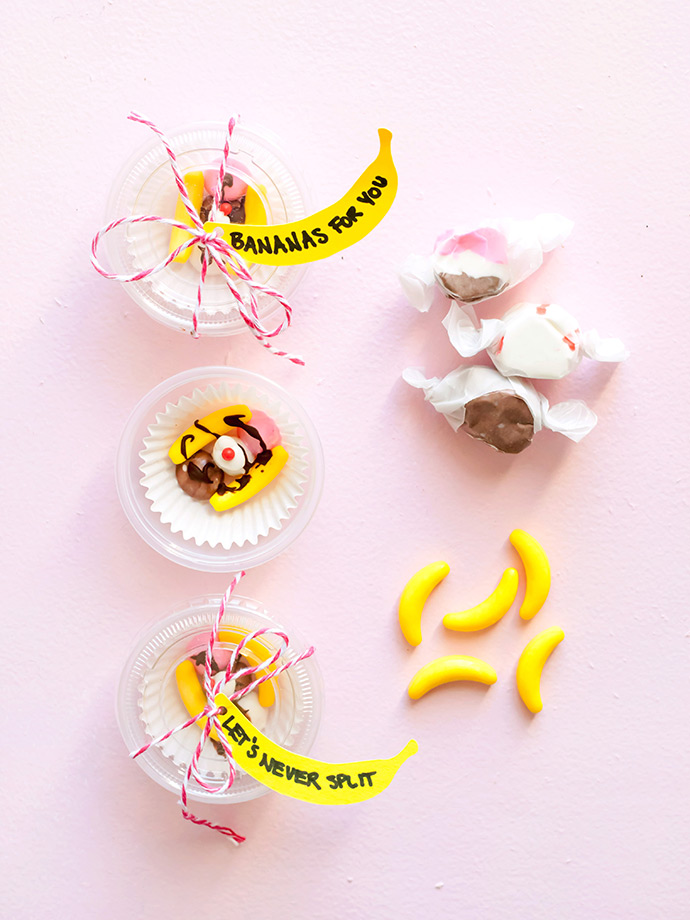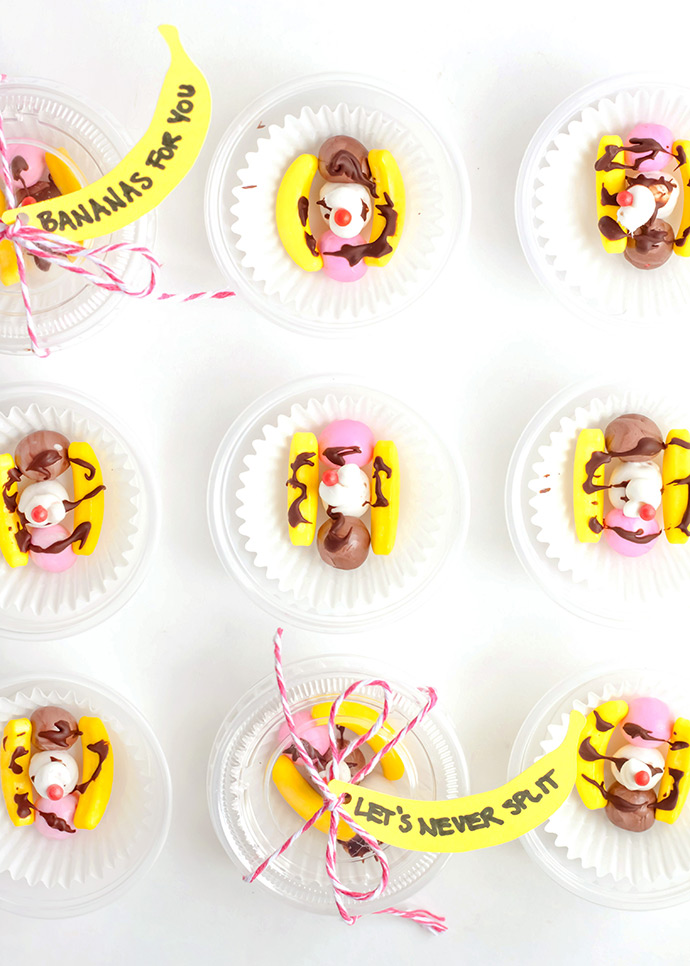 Now you have a very ap-peel-ing treat to share with friends! Happy Valentine's Day!