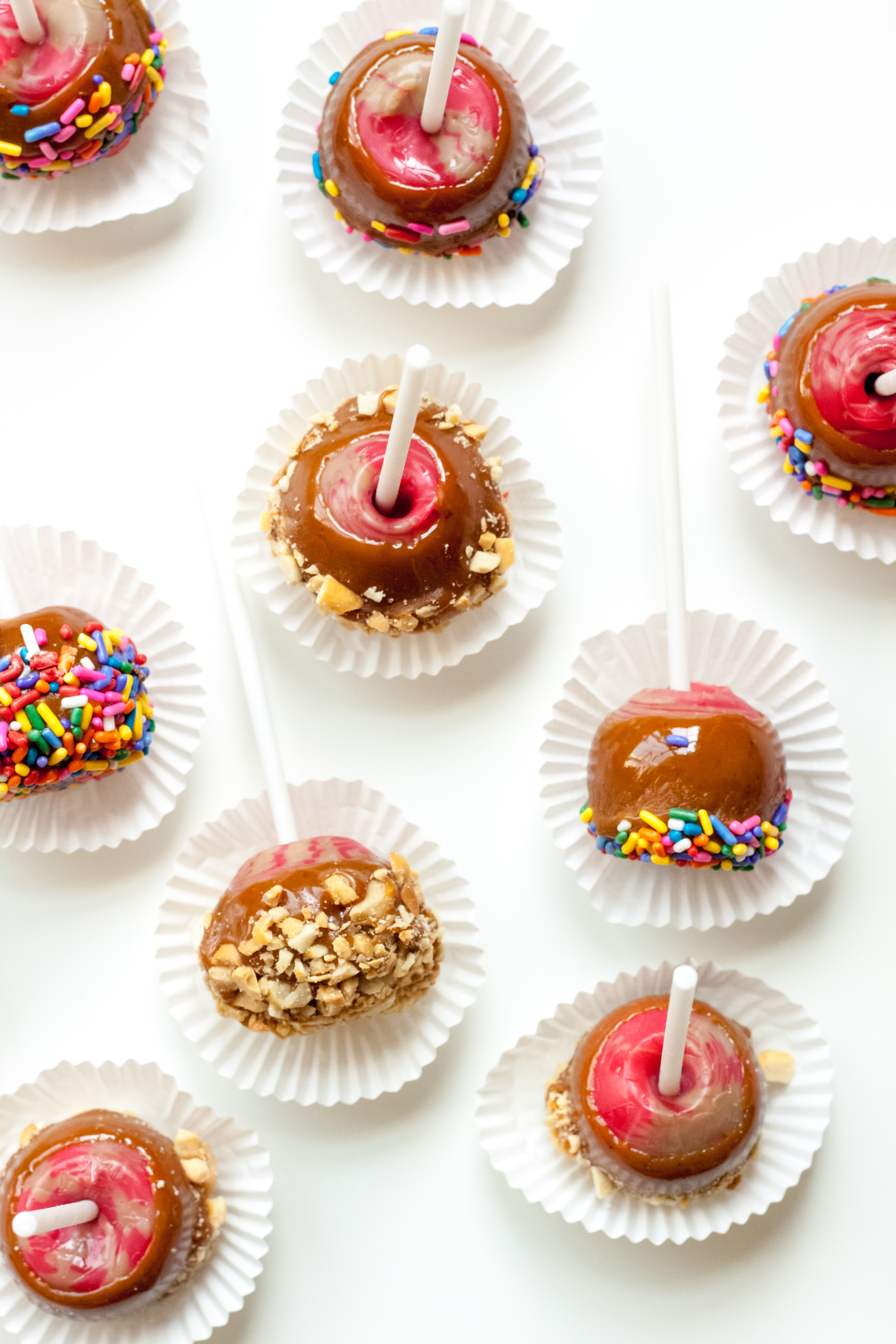 Fall is the perfect time to gather with friends around a bonfire, meet at the apple orchard, or host a backyard campout! No matter what excuse you use for getting together, it's always fun to have a little treat or favor to pass out to young guests. I'll be honest, I'm not a huge fan of slaving over anything in the kitchen. However, these caramel apple lollipops are SO easy, it's almost embarrassing!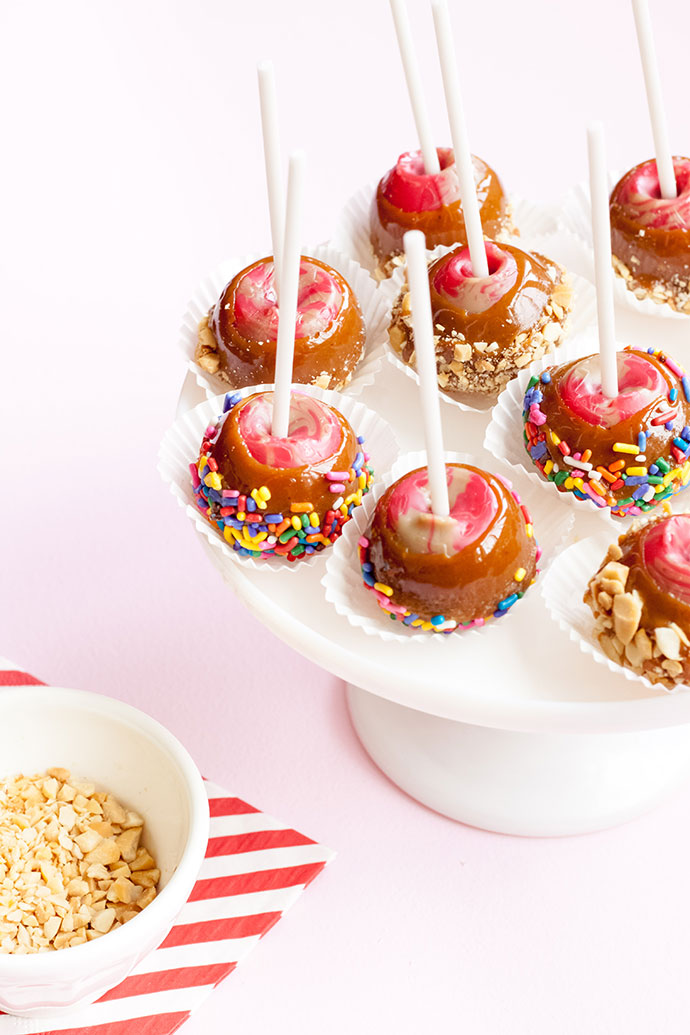 Also, it's always fun when you can get little kids involved in making or baking. It gives them a feeling of accomplishment, and builds their confidence – and this particular treat won't make a disaster of your kitchen! It would be fun to have the kiddos help make these "caramel apples" to pass out at a fall or Halloween class party, or just to share with their favorite teachers and friends. They would also be adorable for a fall carnival!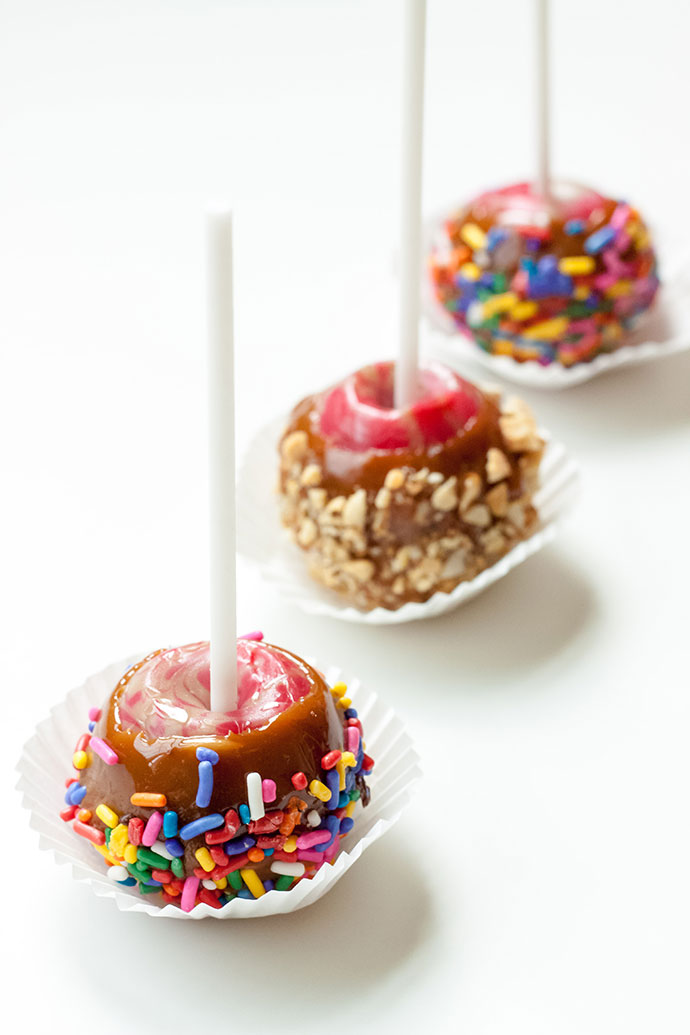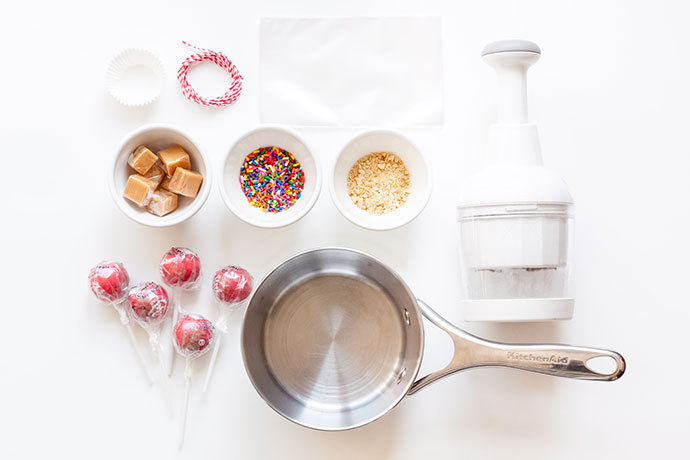 • Gourmet lollipops in red or green (NOTE: Choose perfectly round lollipops with no ridges, and a flavor that pairs well with caramel. We actually used caramel apple lollipops, but a green sour apple would taste good too!)
• 1 bag Kraft caramels
• 2 T Water
• Saucepan / Stove
• 3 Small bowls
• Peanuts
• Food chopper
• Sprinkles
• Mini baking cups
• Clear plastic bags
• Baker's twine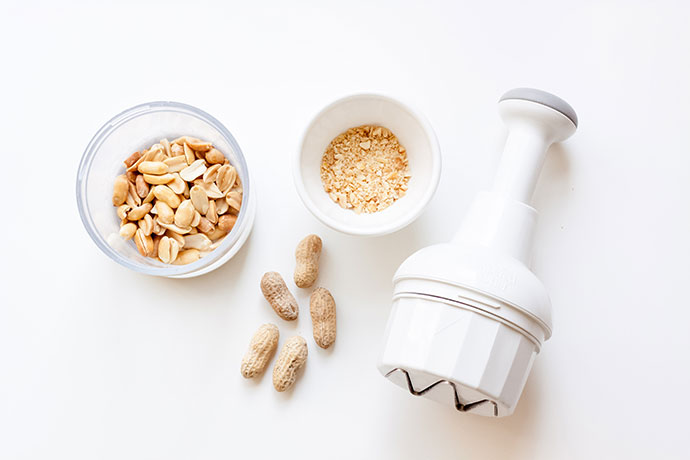 Step 1
Place a large handful of peanuts in a food chopper, and chop them up until they are in small pieces. Do not over-chop…you want mini chunks – not dust! Put them in a small bowl, and set aside. Pour your sprinkles into another small bowl, and unwrap your lollipops.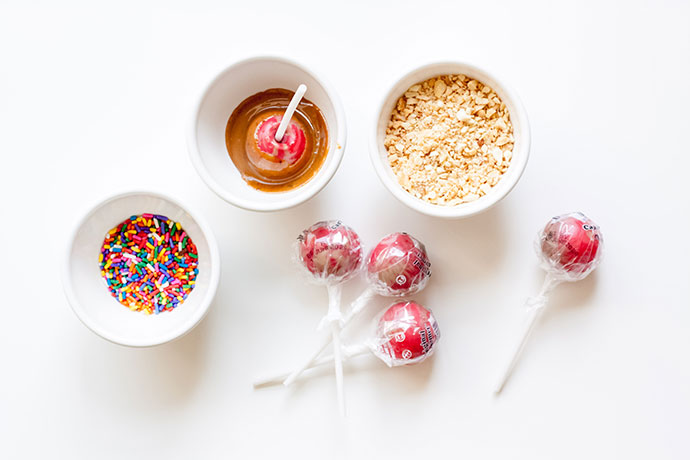 Step 2
Melt 2/3 bag of caramel squares (about 2 per lollipop) mixed with 2 Tablespoons of water, in a saucepan over low heat. Stir until completely melted, and remove from heat. While the caramel is still hot, pour it into a small bowl. Dip and roll a lollipop into the hot caramel, and then immediately begin step 3.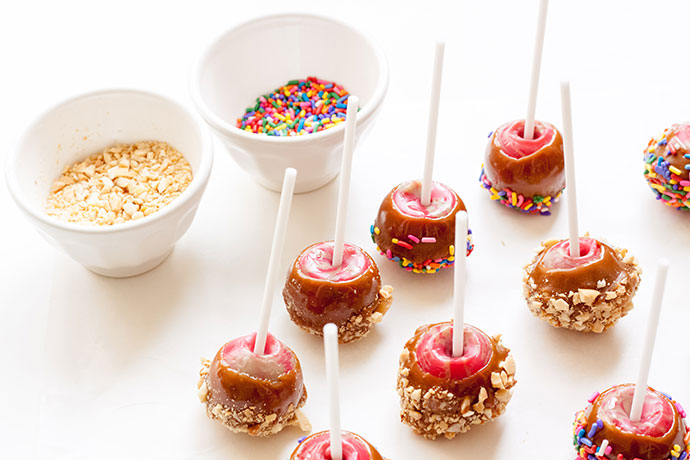 Step 3
Roll the lollipop into the peanuts or sprinkles while the caramel is still hot, so they stick. You may want to place the lollipop on a piece of wax paper, and allow to cool. Next, place it in a mini baking cup, and then put it in a clear, plastic bag and tie the top with a piece of baker's twine.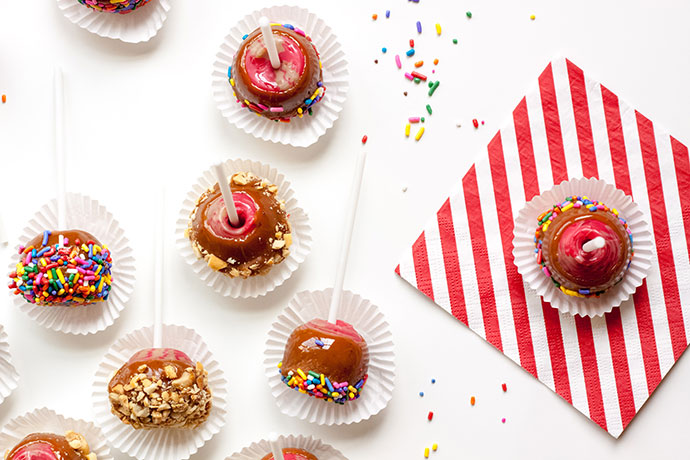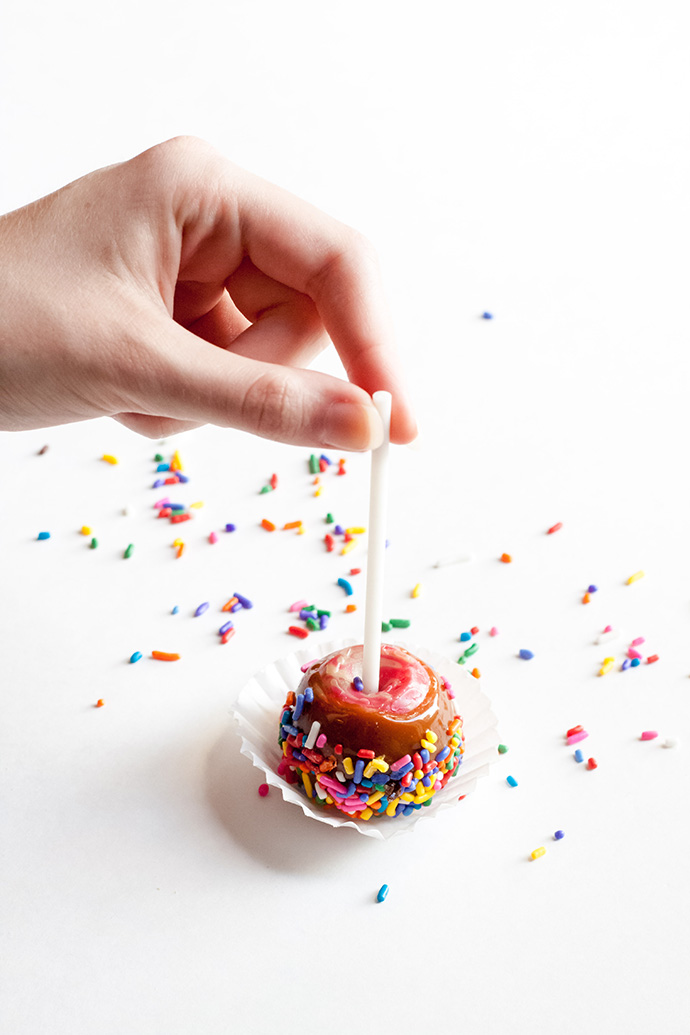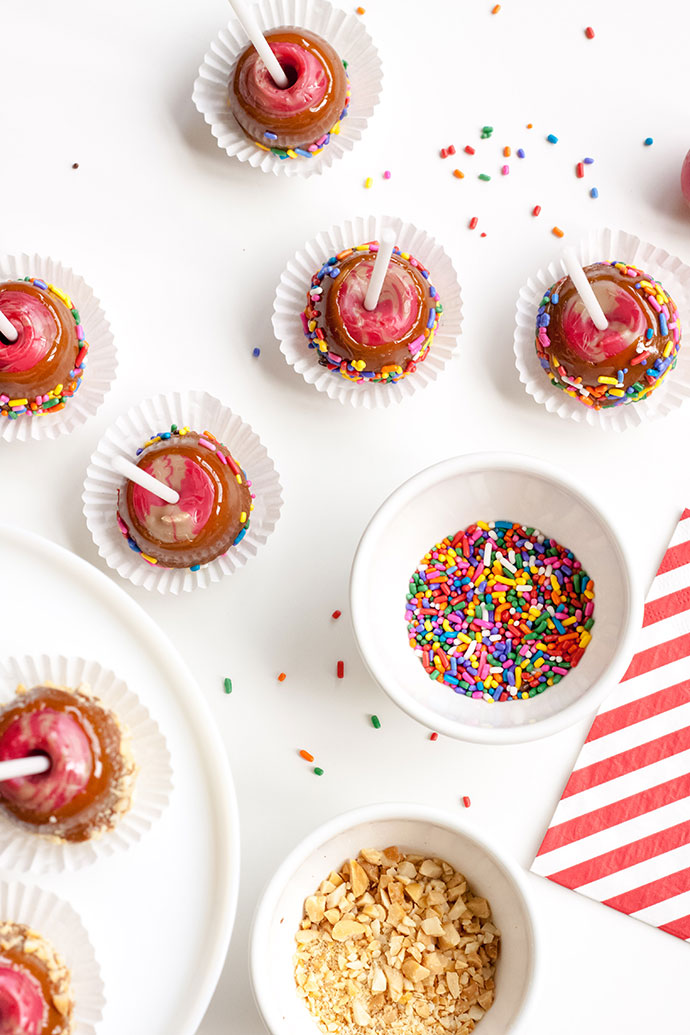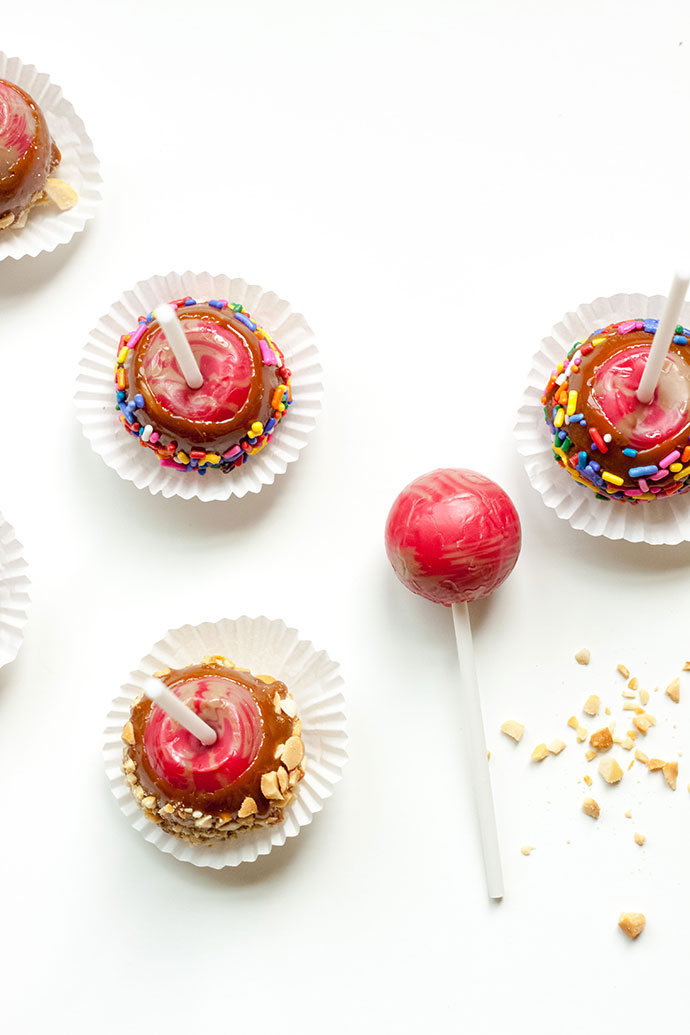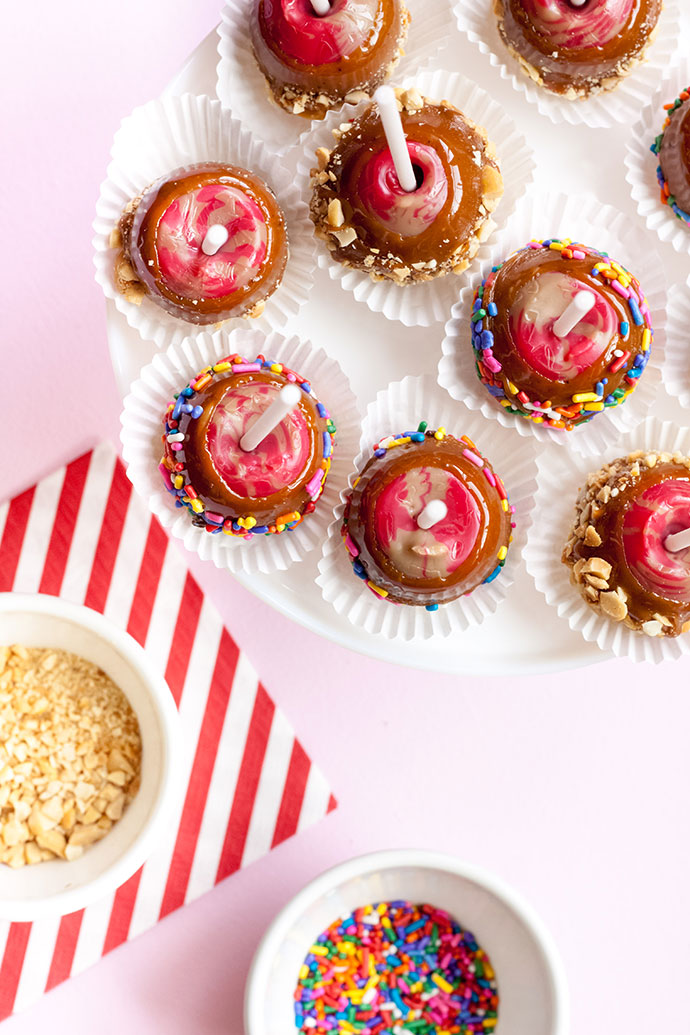 Your caramel apple lollipops are ready to enjoy! Happy fall!