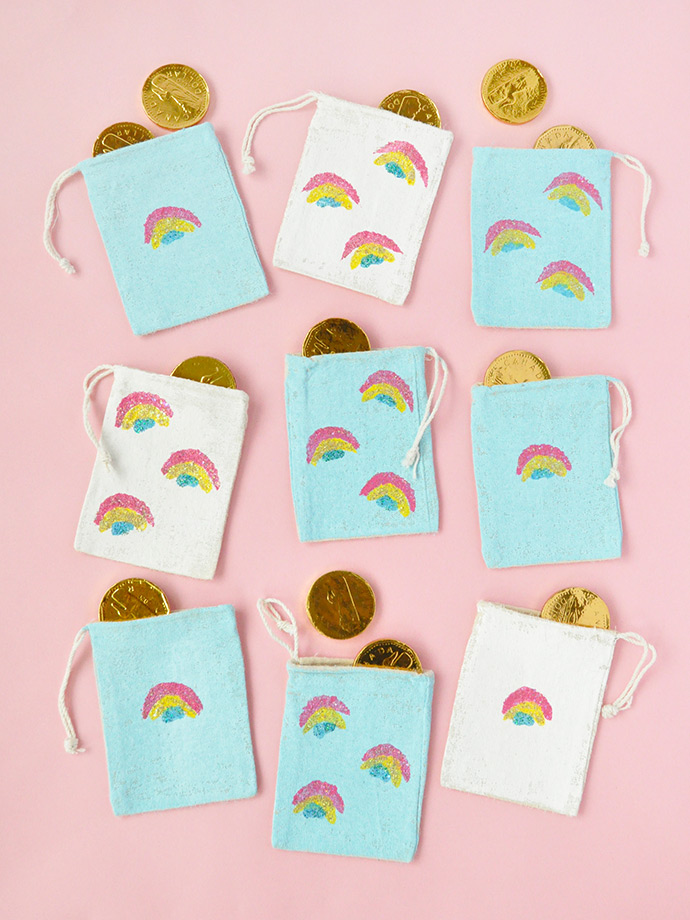 We love rainbows all year round, but we especially embrace them now that St. Patrick's Day is around the corner! Today we turned celery into crazy quick stamps to make these homemade rainbow-stamped favor bags! The arches of the celery stalks are the perfect shape for rainbows, don't you think?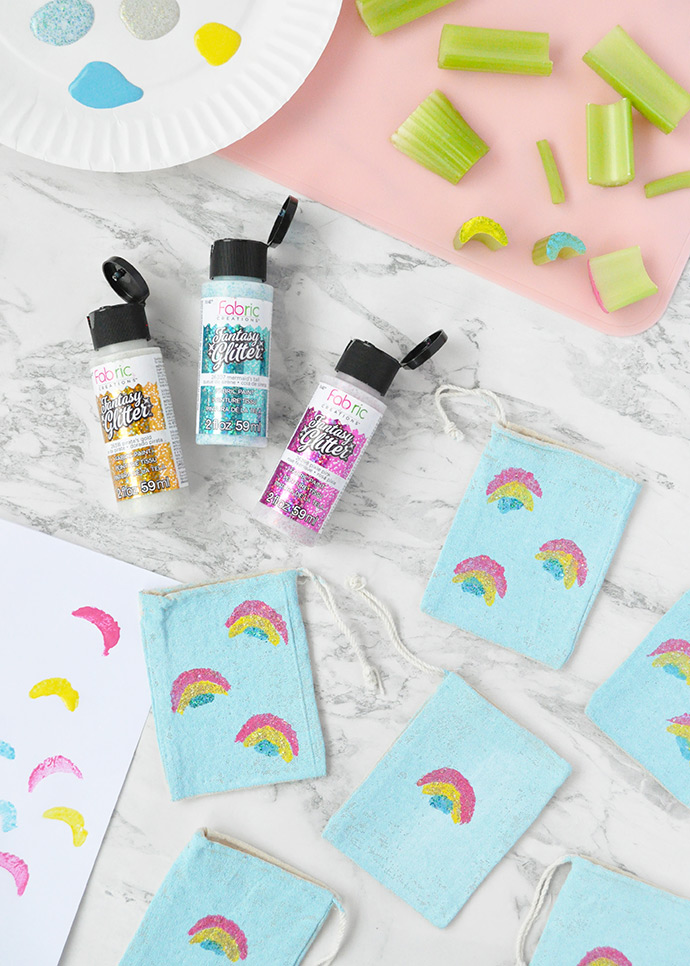 Of course we had to add a bit of glitter on top to make these bags even cuter. We love Plaid's line of Fabric Creations Soft Fabric Ink and Fantasy Glitter Fabric Paint because the fabric still is soft and flexible after the paint dries. Perfect! We filled our rainbow treat bags with golden coins for St. Patrick's Day, but you could really make these little bags anytime of year and fill them with whatever goodies you like!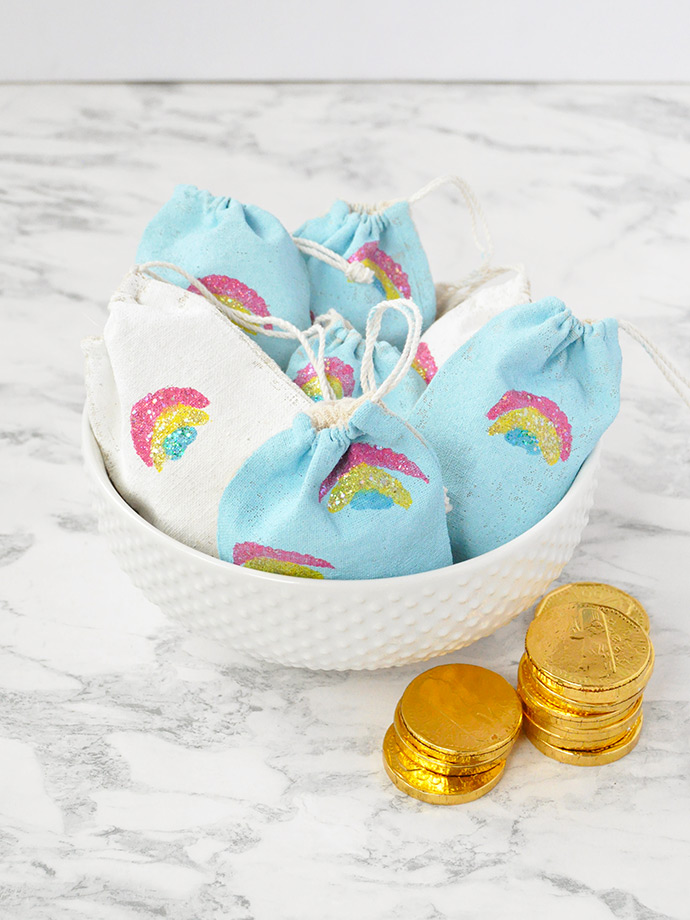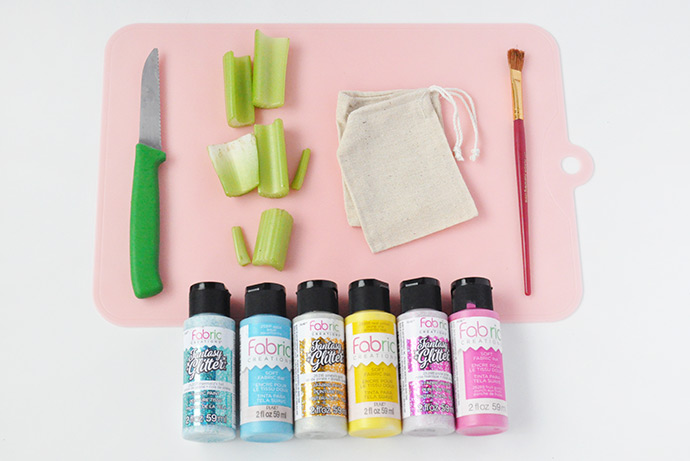 Celery stalks
Cutting board
Knife
Cloth favor bags
Cardstock / scrap paper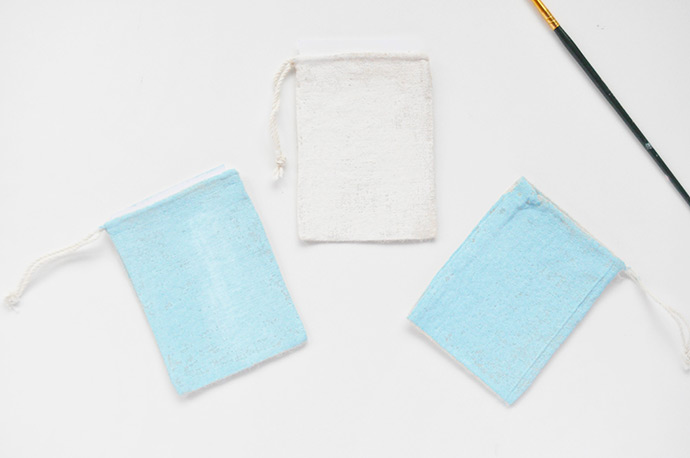 Step 1
Cut a piece of cardstock or scrap paper to fit inside each of the mini fabric bags – this will prevent the paint from soaking through to the other side. Give the bags a quick coat of white or blue Fabric Creations Soft Fabric Ink and let dry. Depending on your bags, you may not need to do this step but since ours were a natural muslin color, we decided a solid white and pale blue background would help the rainbows pop a little more.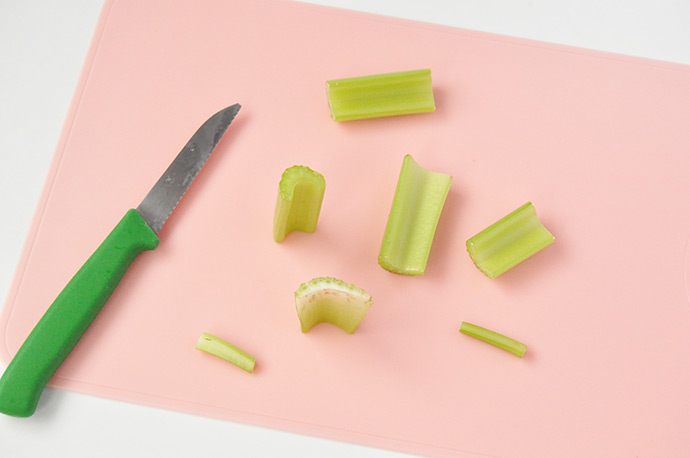 Step 2
While the bags are drying, prepare your celery stamps. You'll want one larger arch from the big end of the celery, a medium arch that fits inside that one nicely, and then a baby one for inside that. Use a kitchen knife to cut the pieces that best fit together.
Step 3
Time to start stamping! We really wanted our rainbows to pop, so we started by brushing Fabric Creations Soft Fabric Ink in Fruit Punch onto the largest celery arch, and then stamping onto the cloth bag.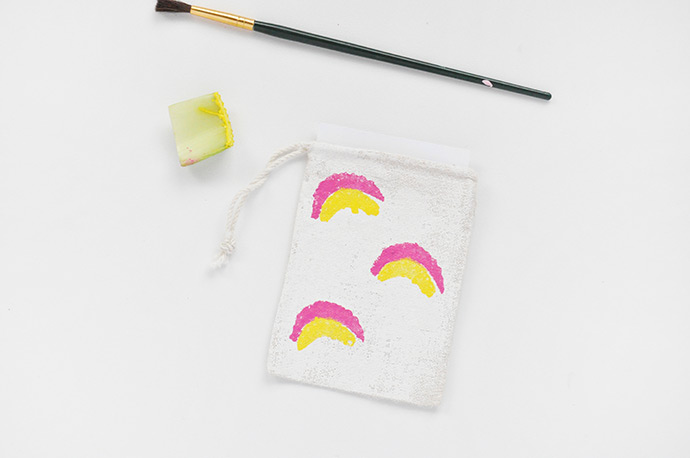 Step 4
For the medium arch, we used Real Yellow.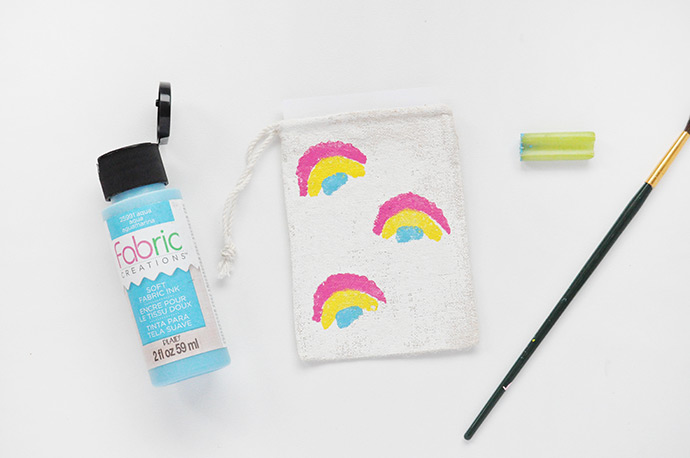 Step 5
And for the baby arch we used Aqua. Repeat these on all your bags and let dry.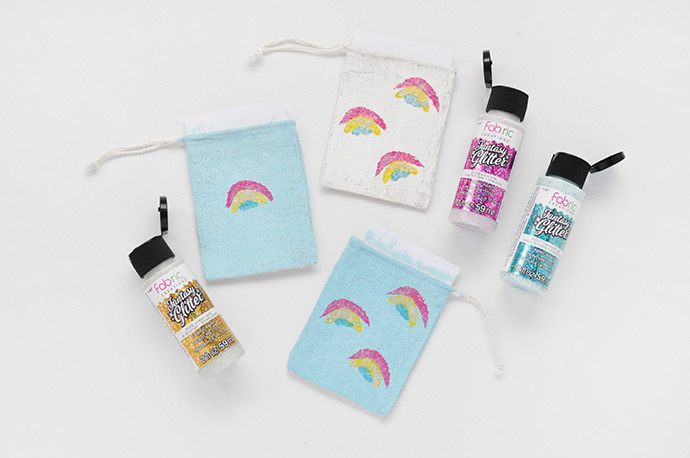 Step 6
Let's add some glitter! For this we used Fabric Creations Fantasy Glitter Fabric Paint in Pixie Pink, Pirate's Gold, and Mermaid's Tail. Use a brush to apply each color to the corresponding color on the stamped rainbow. It will look a little bit white/opaque when you first apply it, but that all dries clear and you're left with the sparkliest rainbows around! Let dry completely and remove the cardstock liners.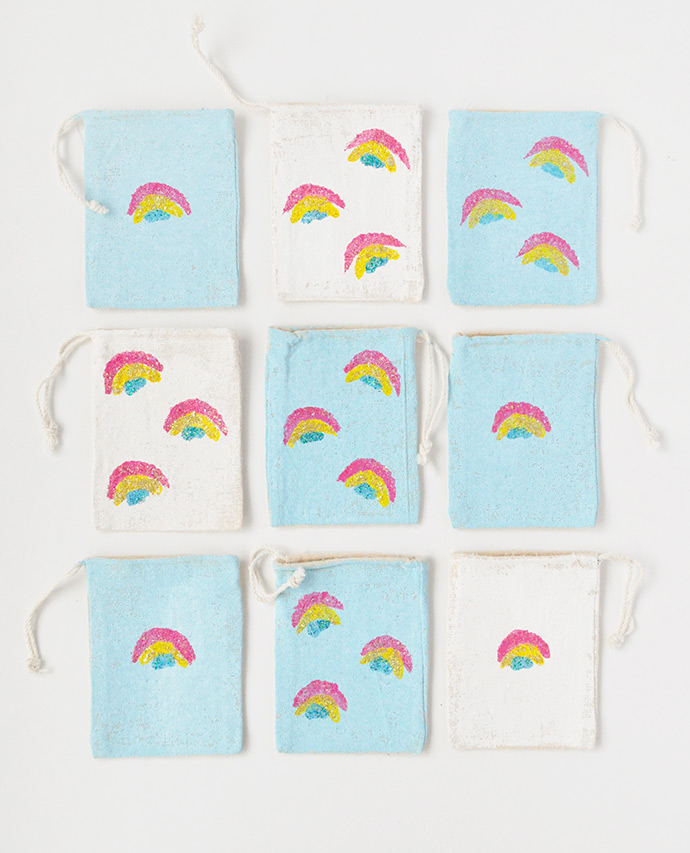 Fill your bags with St Patrick's Day treats like gold coins, rainbow colored candy, or pom pom confetti! If you want to fill them with unwrapped candy, line the cloth bag with a small cellophane bag first to keep the candies clean.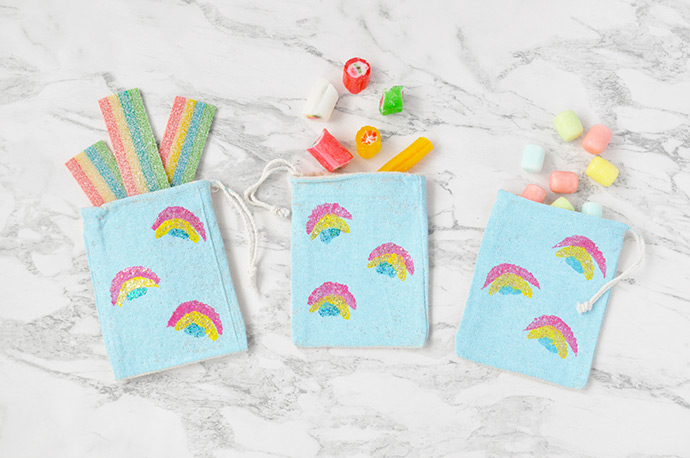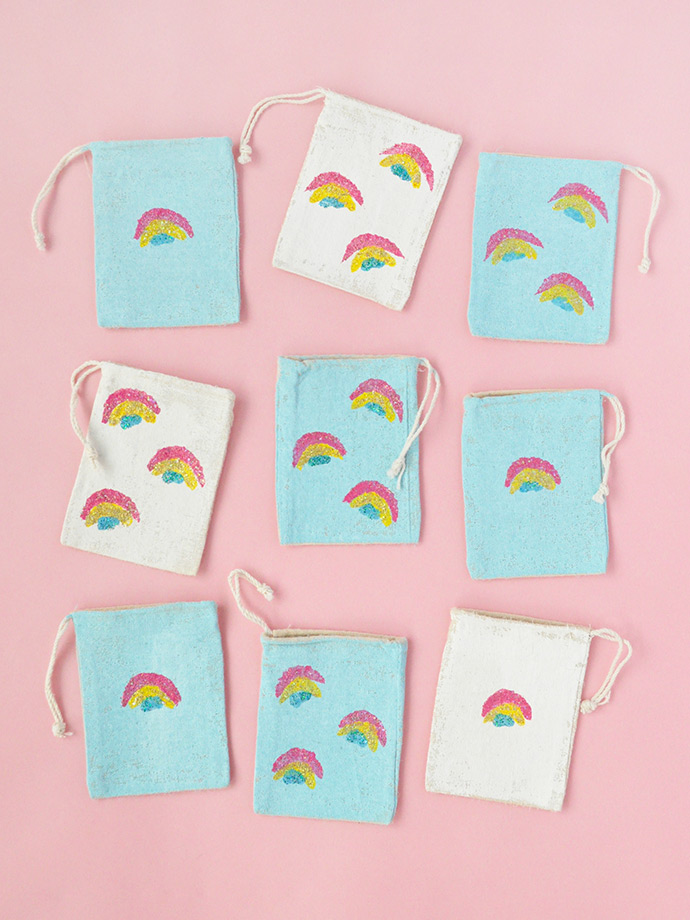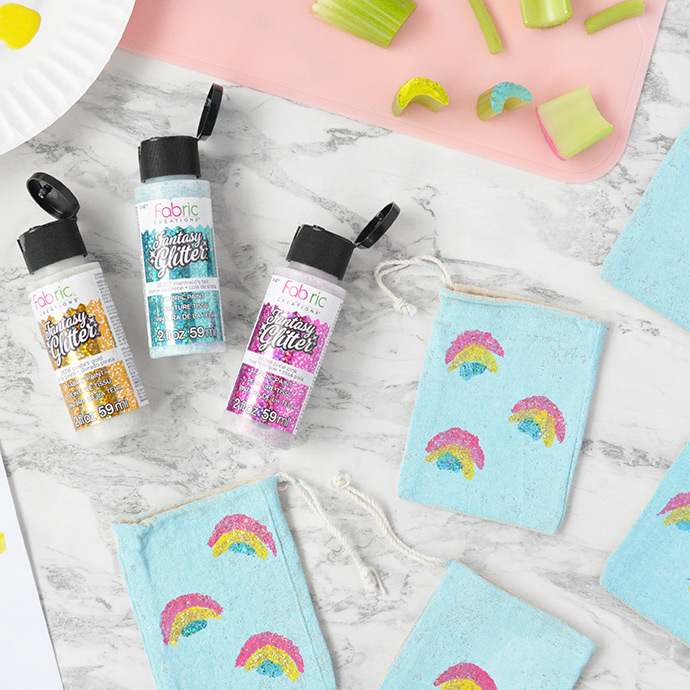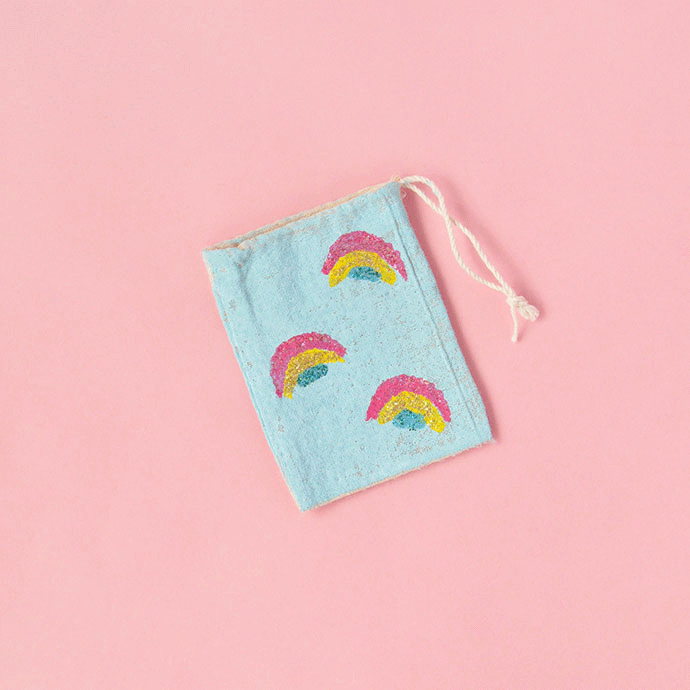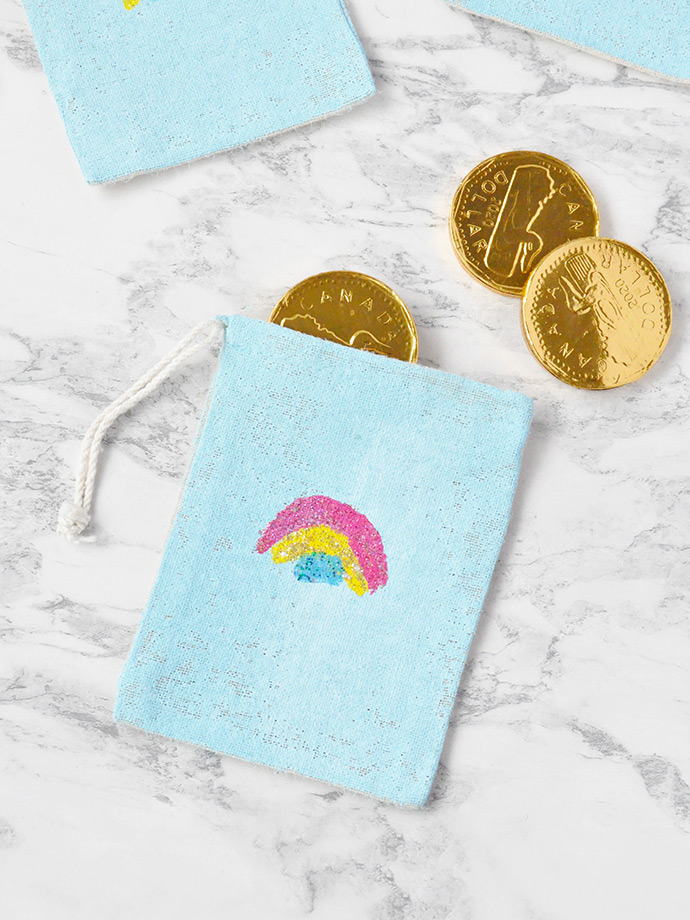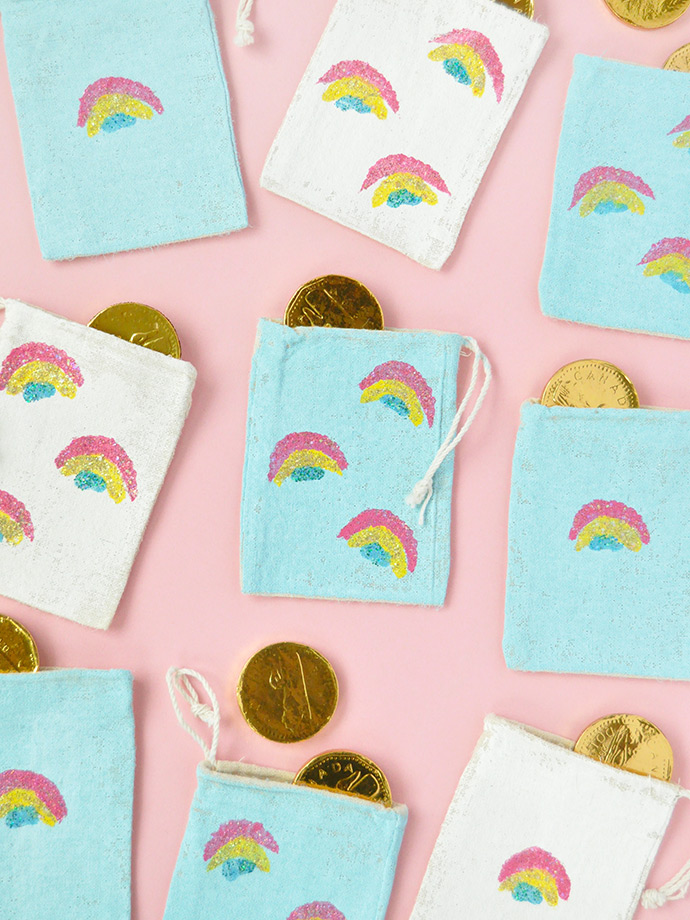 This post is sponsored by Plaid Enterprises.