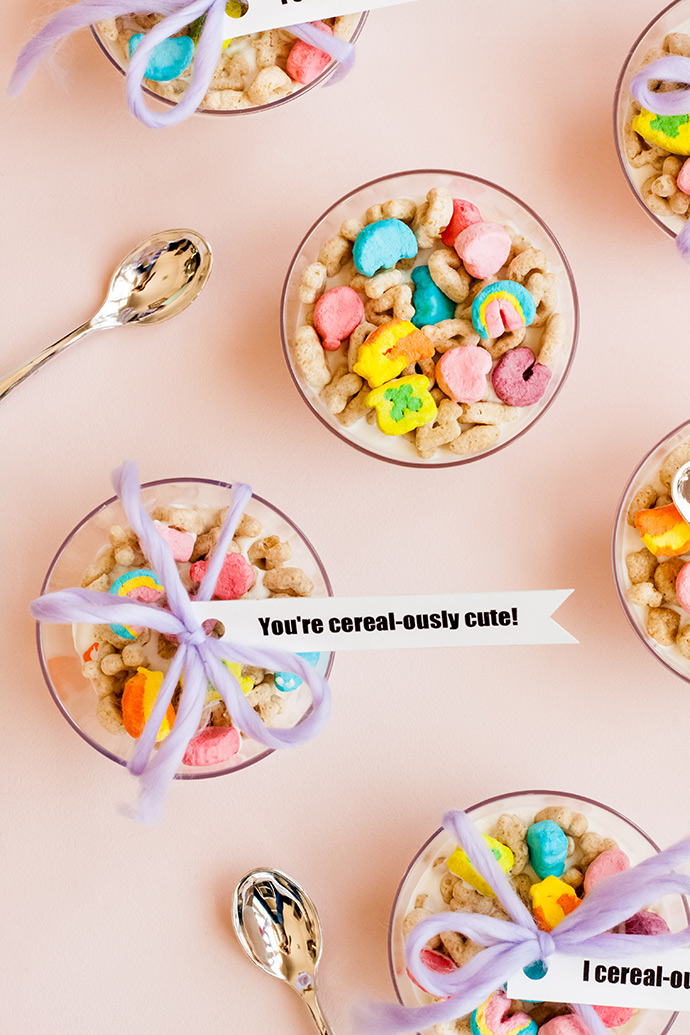 Would you agree that Lucky Charms is the cuuuuutest breakfast cereal? The colorful marshmallows can't be beat, and if you put them in teeny-tiny bowls with white candy melts, it looks exactly like cereal with milk! Add some mini spoons, and it will be too cute to handle! This is an absolutely adorable (and inexpensive) Valentine to share with friends and family. Let them know they are "cereal-ously" cute, loved, or that you are lucky to have them for a friend…Cereal-ously lucky! In order to make these treats, you don't necessarily have to touch any of the food, and they could be placed in some fun cellophane bags to protect them from germs until the lucky recipient is ready to indulge! These are also simple enough for kids to make, with no baking skills required. Even the littlest can help out, and feel included in the Valentine-making process! They will be so proud to show Grandma their homemade treats. Awwww!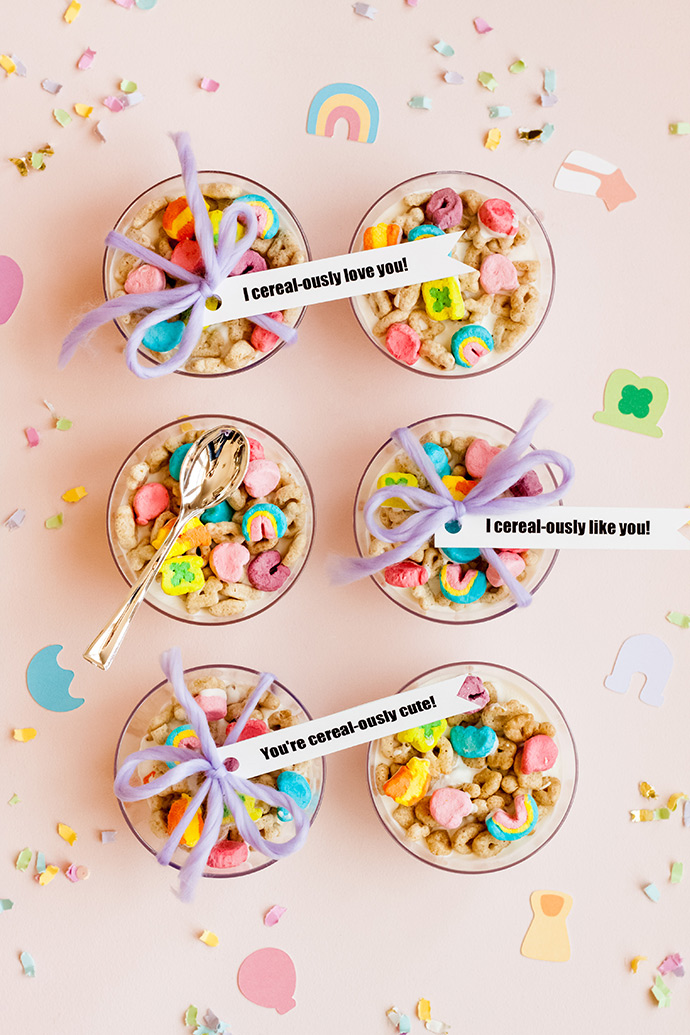 If you're looking for something to do with the box when you're done, try this mail carrier bag, and deliver Valentines to neighbors. These cereal wreaths could be shaped into hearts for Valentine's Day, and these Lucky Charm barrettes would make a nice handmade gift!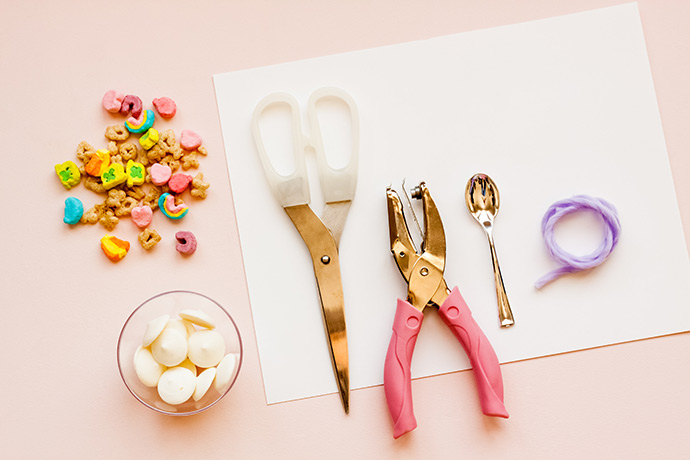 White candy melts
Lucky Charms cereal
Vegetable oil (not pictured) – optional
Microwave (not pictured)
Cardstock
Printer (not pictured) or pen for handwritten tags
Scissors
Yarn or string
Hole punch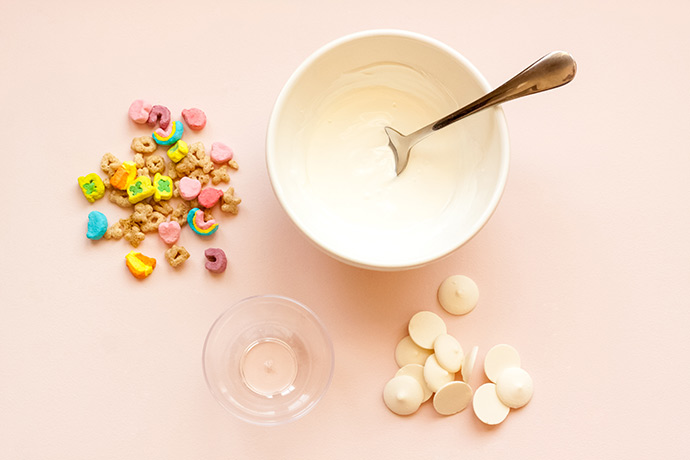 Step 1
Place about 30-35 candy melts in a microwave-safe bowl, and follow the instructions on the package for melting in the microwave.
OPTIONAL
Once the candies are melted, add a tiny drizzle of vegetable oil and stir until completely combined. This will make the candy more smooth, and may make it easier to remove the candy from the bowl at some point.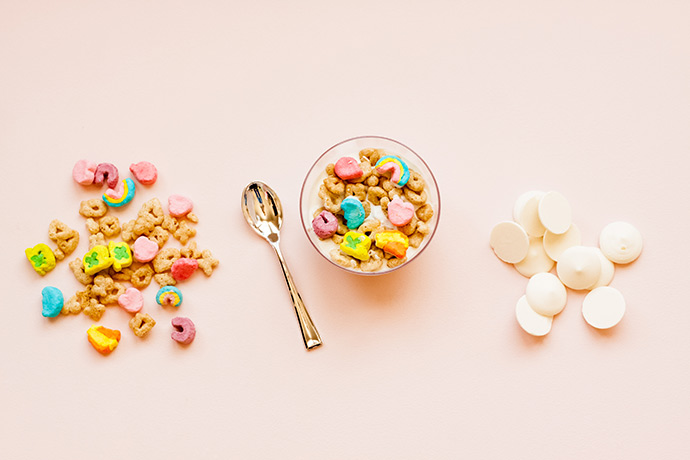 Step 2
Fill the bottom of your mini bowl with the melted candy, mixing a few pieces of cereal in the middle. Place a handful of Lucky Charms on top of the melted candy, making sure that each piece is touching a bit of the white candy. You could place a spoon in the mix, or you can place it on top, or leave it on the side. You may want to place a few pieces of cereal on top as well, so it is layered. Use the melted candy as glue, and dip the lucky charm pieces in the candy to place on top. Allow to cool and harden.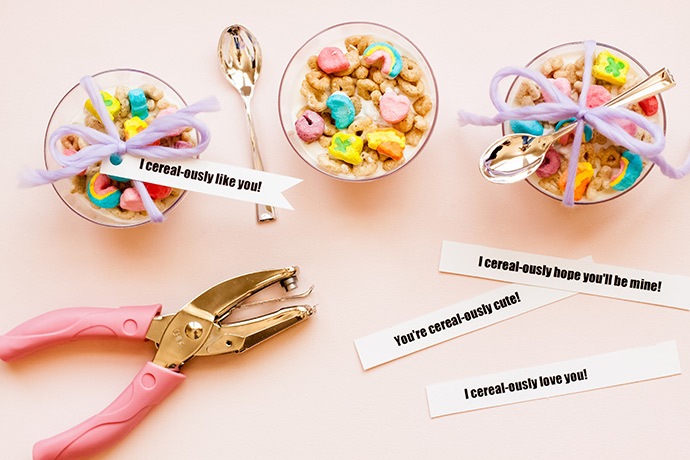 Step 3
Either type or write Valentine sayings on cardstock, such as "I cereal-ously like/love you", "Cereal-ously lucky to have you for a friend", or "You are cereal-ously cute". Cut the strips into tags. You may cut a triangle in the end of each tag, punch a hole in the opposite end, and attach to each bowl using yarn or string.
NOTE: Once the candy hardens, you will have to chip at the edges a bit with a spoon, and it should come out of the bowl in one piece.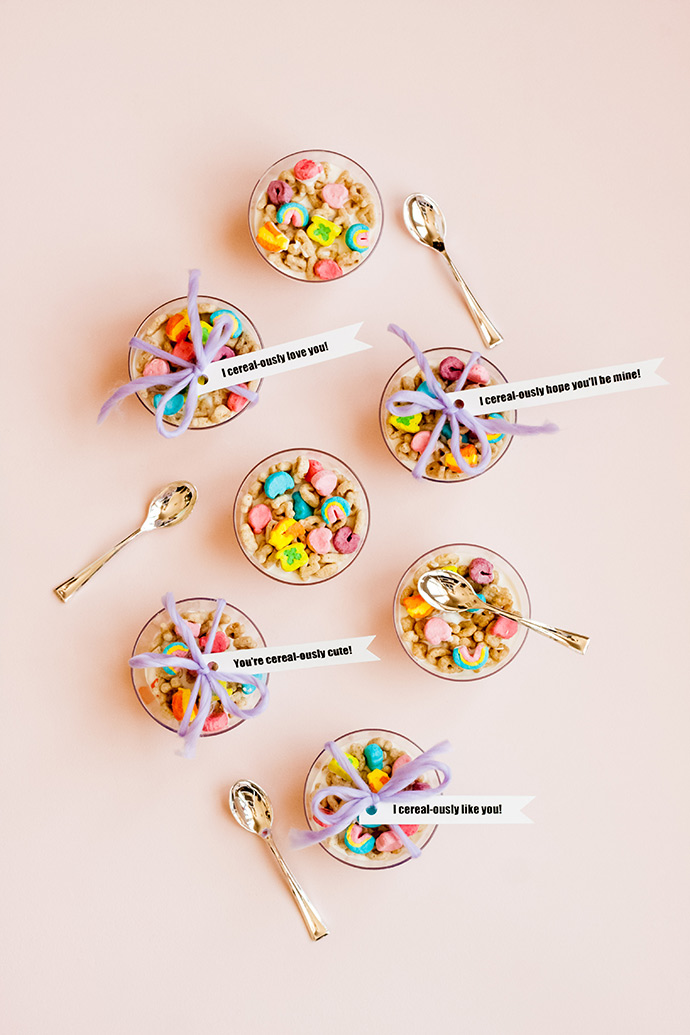 Now you have a cereal-ously adorable Valentine treat to share! Happy Valentine's Day!