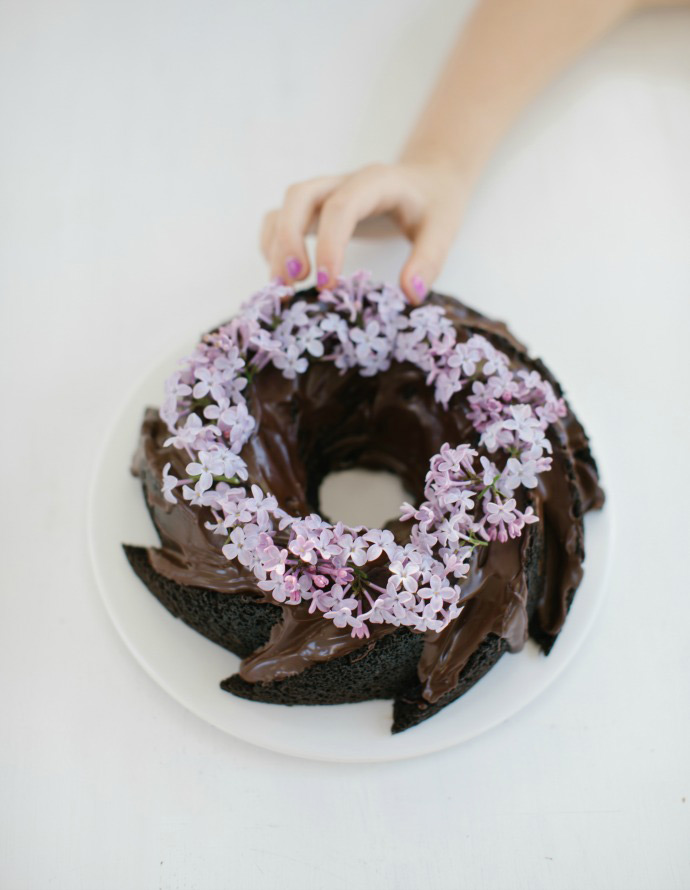 Spring is here! At least, we have our fingers crossed in Minnesota. The weather is gorgeous, the birds are chirping, but it's still possible to get a snow storm regardless. Our neighbor's lilac tree is in full bloom, and the fragrance from the blossoms drift through our open windows all day long. I decided to throw some on a simple chocolate cake I was making – the purple flowers were lovely against the dark chocolate, and just a hint of lilac flavor could be tasted (my kids weren't into actually eating the flowers, so we brushed them off just before indulging). Lilacs are edible, though, so you can go ahead and take a bite if you'd like. Either way, they make a beautiful presentation on any basic cake.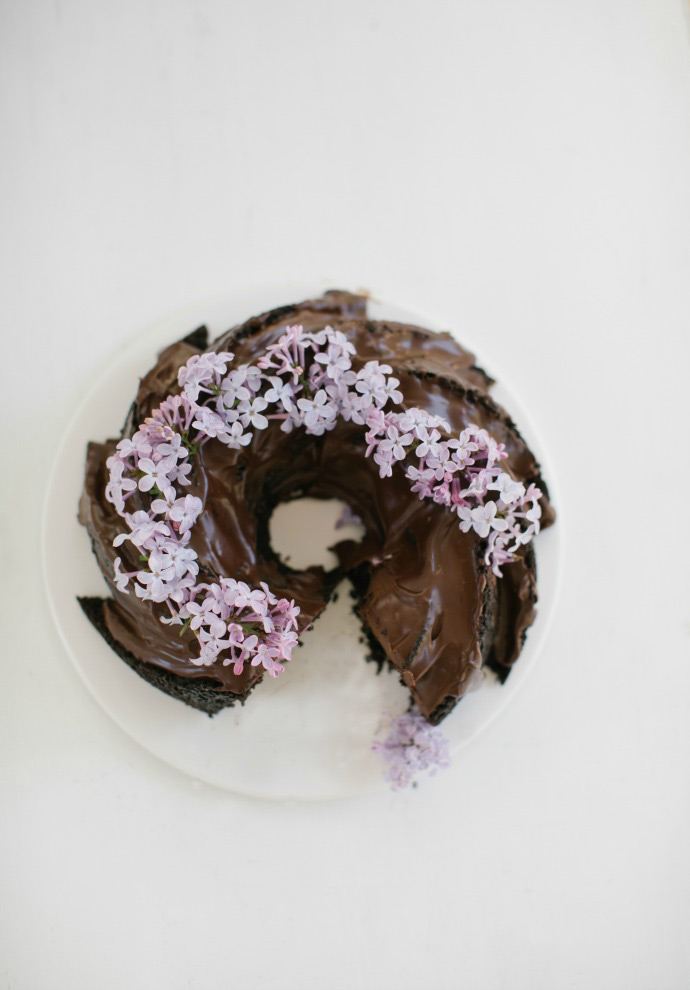 Adapted from Hand Made Baking: Recipes to Warm the Heart by Kamran Siddiqi
1 cup granulated sugar
3/4 cup all-purpose flour
1/4 cup + 2 tablespoons cocoa powder (Dutch-processed or natural)
3/4 teaspoon baking powder
3/4 teaspoon baking soda
1/2 teaspoon salt
1/2 cup sour cream, room temperature
1/4 cup canola oil
1 large egg, room temperature
1 teaspoon pure vanilla extract
1/2 cup hot coffee or boiling water
4 ounces (113g) semi-sweet or bittersweet chocolate, chopped fine
1/2 cup heavy cream
flowers for decorating (use edible flowers if desired, or just flowers for decoration. Make sure the flowers haven't been sprayed with any chemicals either way.)
Adjust an oven rack to the middle position, and heat the oven to 350F. Generously butter a 8 or 9-inch Bundt pan (you can also use an 8 or 9-inch square or circle cake pan greased and lined with parchment paper). Dust the pan with flour; tap out the excess.
In the bowl of a stand mixer fitted with a paddle attachment, mix together the sugar, flour, cocoa powder, baking powder, baking soda, and salt.
In a large liquid measuring cup or bowl, whisk together the sour cream, oil, egg, and vanilla. With the mixer on low speed, slowly add the wet ingredients to the dry. With the mixer still on low, add the coffee (or water) and stir just to combine, scraping the bottom of the bowl with a rubber spatula. Pour the batter into the prepared pan and bake for 27-35 minutes, until a cake tester comes out just a few stray crumbs attached. Cool in the pan for 20 minutes, then very carefully (the cake is very tender) turn out onto a cooling rack and cool completely, removing parchment paper.
Place the chocolate in a small bowl. Heat the heavy cream in a small saucepan until it is simmering and just about to boil. Pour the cream over the chocolate, cover bowl with plastic wrap, and let sit for 5 minutes. Remove the plastic and whisk until completely smooth. Let cool slightly, then pour over the cake.
Let the ganache set, and then decorate with edible flowers.