Every year at this time, I'm stunned by the frenetic pace that comes with the new school year. After the slow days of summer, everything needs to be quick, quick, quick. Mornings require precise orchestration so breakfasts can be made and eaten, and lunches packed before the school bus pulls up. Afternoons are a bit easier, but I still find myself scrambling for healthy snacks as we rush off for after school activities.
One thing that helps keep me sane is prepping a healthy snack over the weekend. That way, I'm armed with something healthy and quick, no matter what comes up.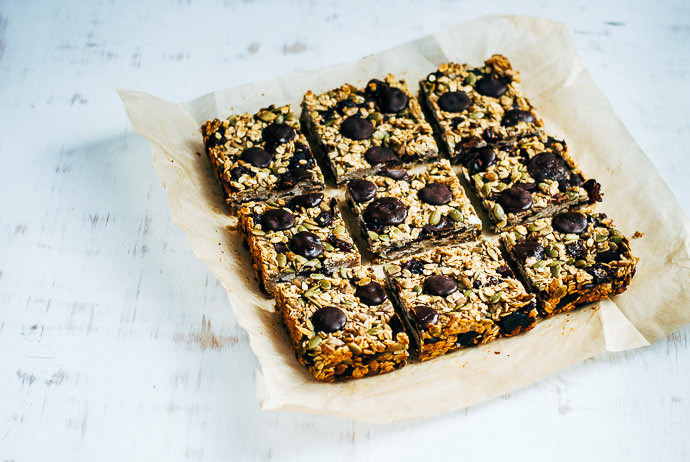 These granola bars are a fun twist on an old favorite, and feature a hearty mix of seeds and oats, dried cherries, plus applesauce, honey, and semi-sweet chocolate discs. They're the perfect combination of crispy and chewy, and the little bits of chocolate throughout make them feel like a special treat any time of the day.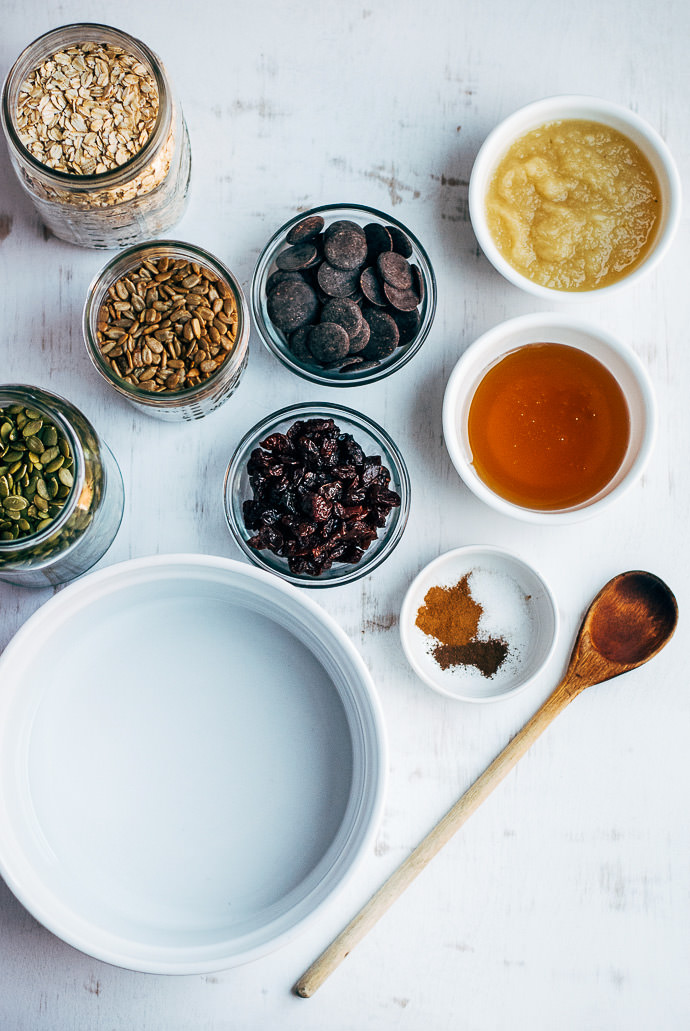 Makes 9 granola bars
2 cups old fashioned rolled oats
1/2 cup raw, hulled pepitas
1/2 cup raw sunflower seeds
1 cup tart dried cherries
1 teaspoon ground cinnamon
1/2 teaspoon allspice
1/2 teaspoon sea salt
1 cup applesauce
1/2 cup honey
4 ounces round semi-sweet chocolate chip discs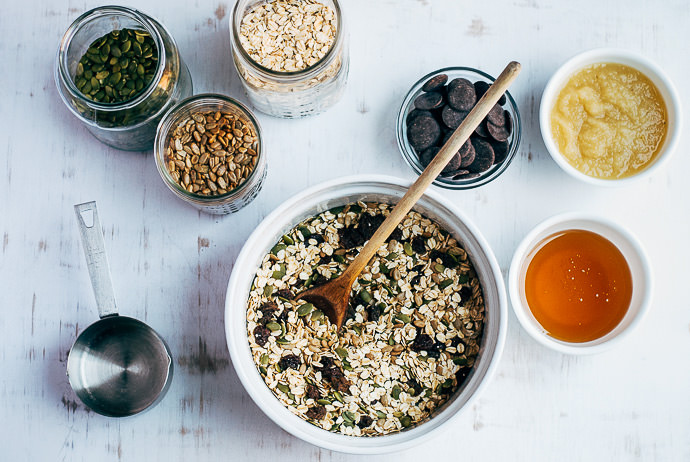 1. Preheat oven to 350 degrees F. Line a 9 x 9 x 2-inch square baking pan with parchment paper.
2. In a large bowl, combine the oats, pepitas, and sunflower seeds. Stir in dried cherries, spices, and sea salt. Next, stir in the applesauce, followed by the honey.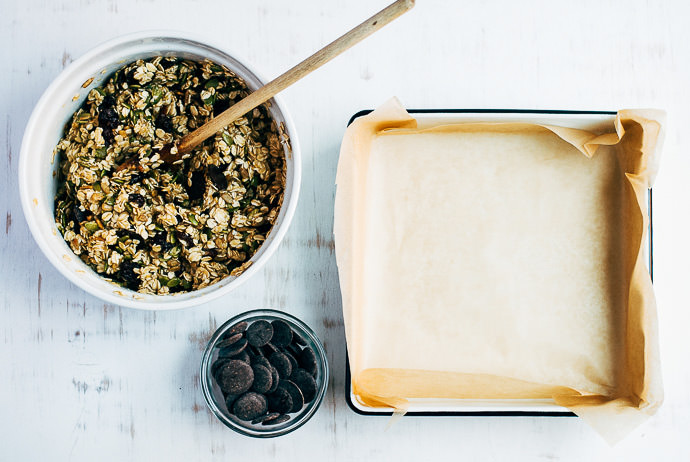 3. Press half the oat mixture into prepared baking pan.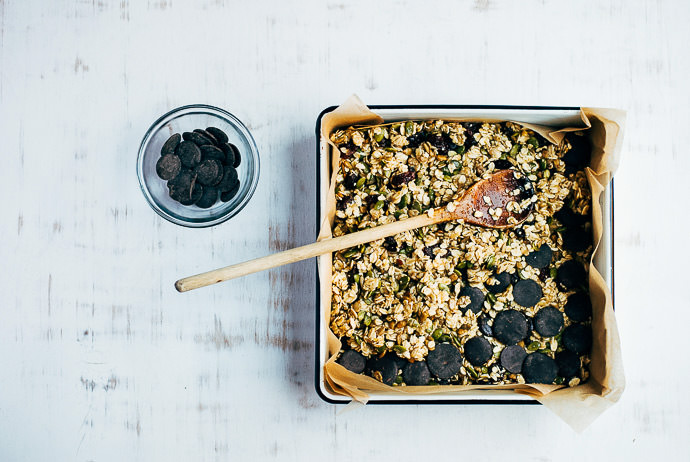 4. Using half the chocolate chips, press a layer of chocolate chips into the oats. Top with remaining oat mixture.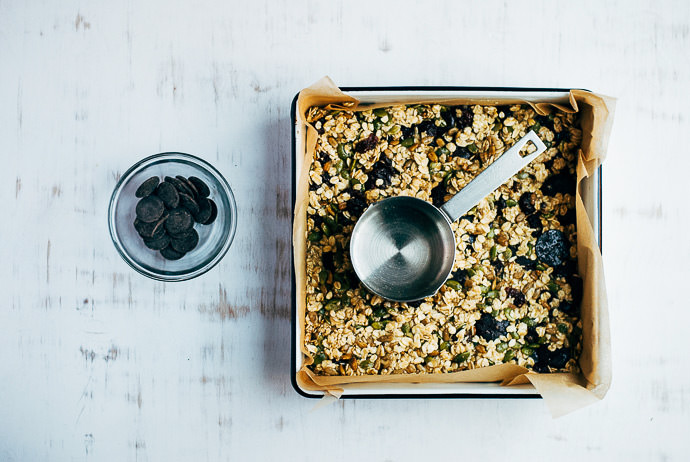 5. Use the back of a measuring cup to press down on oat mixture, so that it's firmly packed in the pan. Finally, use the remaining chocolate chips to press a layer of chocolate chip polka dots on the top.
6. Slide into the oven and bake for 30 – 40 minutes, or until top is a rich golden brown and granola has pulled away from the sides. Cool completely before cutting into squares, 4 hours or longer. For neatest cuts, set pan in the freezer before slicing. Cut bars – either 9 (3 x 3-inch) or 16 (2 x 2-inch) squares, and, if desired, wrap each individually in parchment. Bars will keep well, covered in the fridge, for 4 days.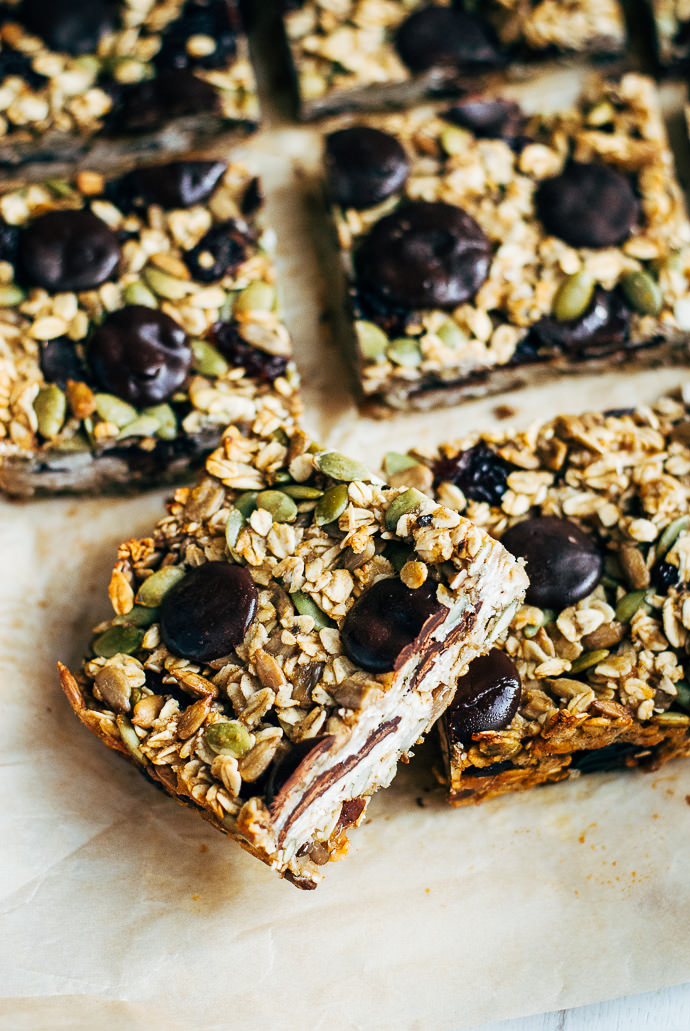 Enjoy!