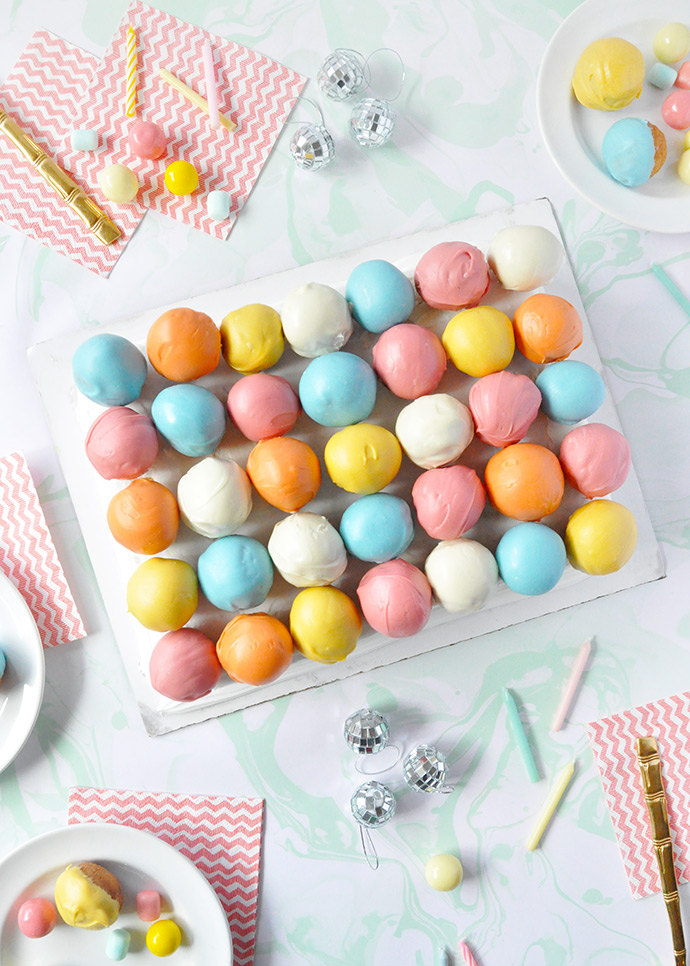 Happy International Donut Day!! We hope your day is full of tasty donuts in all shapes, sizes, and flavors. We're celebrating with this super simple grocery store cake makeover using, you guessed it, donut holes! Start with plain unglazed donut holes, dip them into melted chocolate, and give any grocery store sheet cake a whole new look.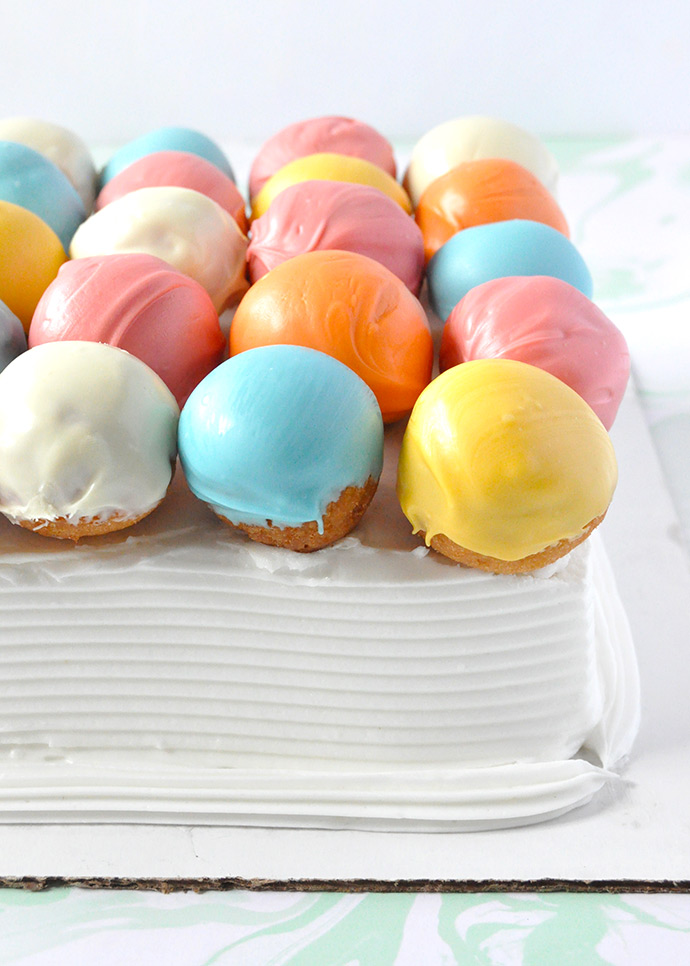 We love Melanie's gummy bear cake makeover, and with International Donut Day upon us we knew we had to do a colorful grocery store cake makeover ourselves. We used solid colors for a simple and bold look, but we think this would look amazing in marbled chocolate, or with a birthday message piped onto the donut holes. The options are endless, but however you do it we know this sweet donut cake will be a big hit!!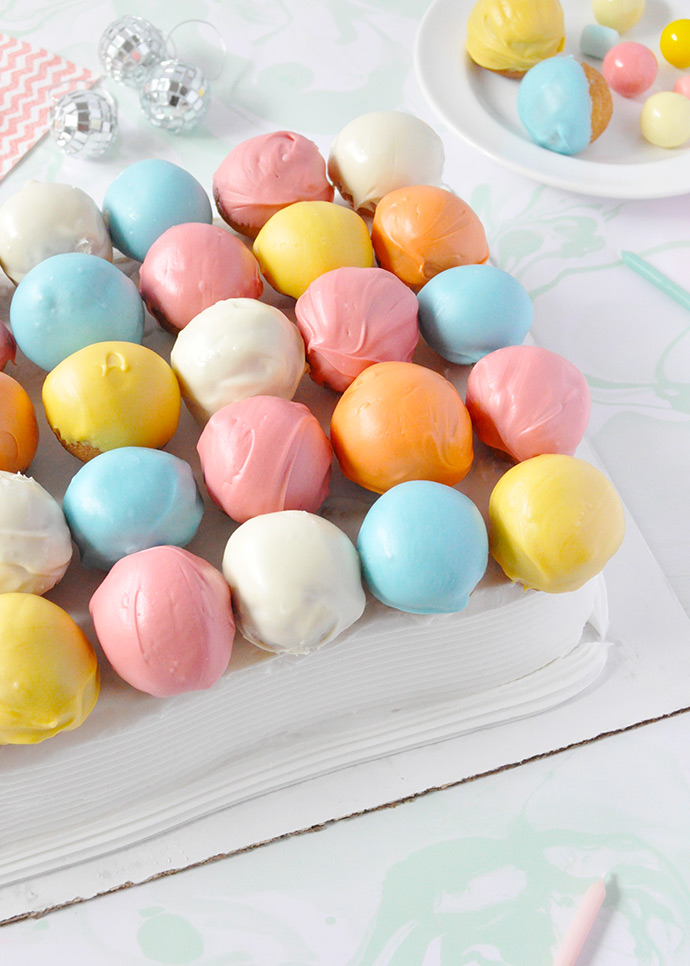 Grocery store sheet cake
Plain donut holes
Colored chocolate melting wafers
Toothpicks
Bowls
Spoons
Wire cooling rack
Spatula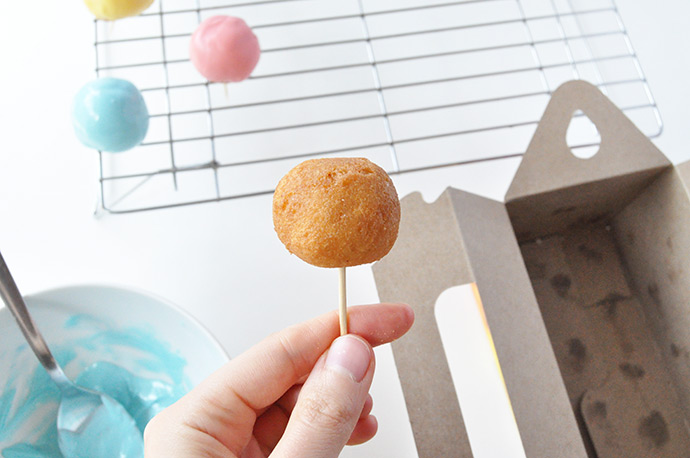 Step 1
Once you've picked your colors of melting wafers (we used white, yellow, orange, blue, and pink), melt each in a separate bowl and stir until smooth. Set up a wire cooling rack and put a plain donut hole onto a toothpick.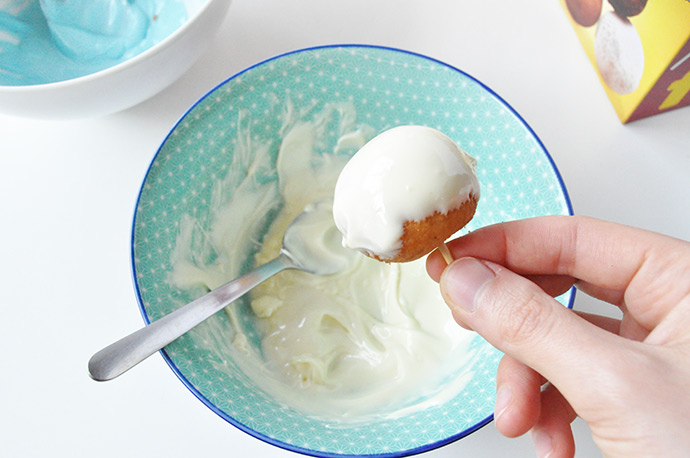 Step 2
Dip the donut hole into melted chocolate, covering the top and sides as much as possible. Use a spoon to remove and excess and try to keep the chocolate as smooth as possible. Once covered, carefully rest the donut hole on the cooling rack so that the toothpick sits below, through the wire. Repeat using different colors and let the chocolate harden completely.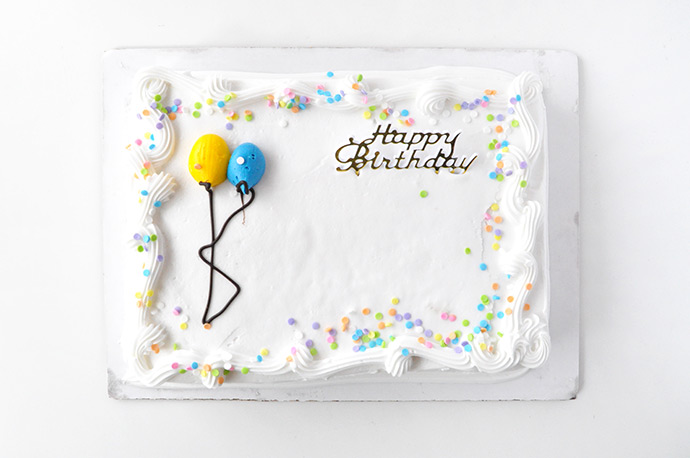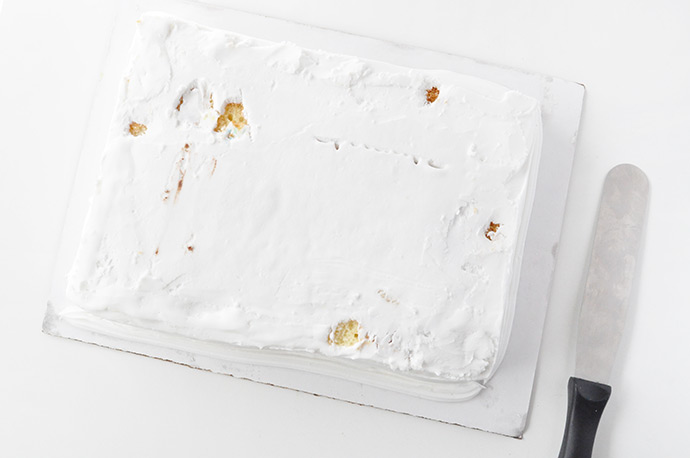 Step 3
Use a metal spatula to remove any extra icing / decorations on the top of your grocery store cake. It doesn't have to be perfect, the top will be mostly covered soon!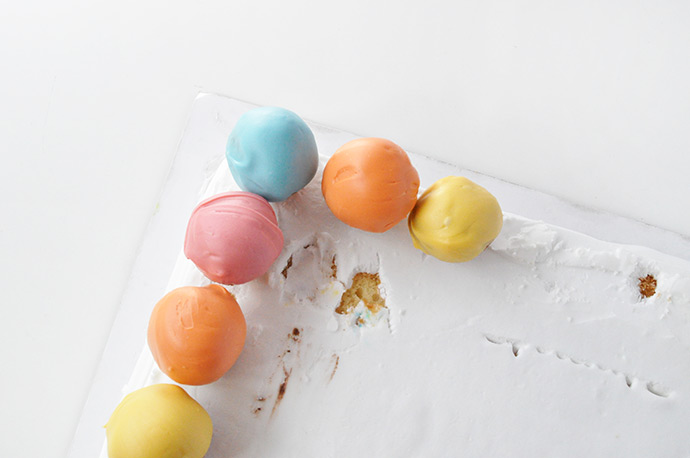 Step 4
Start arranging the chocolate-covered donut holes on the cake, using the toothpicks to keep them in place. We used a random pattern, but you could do stripes or polka dots!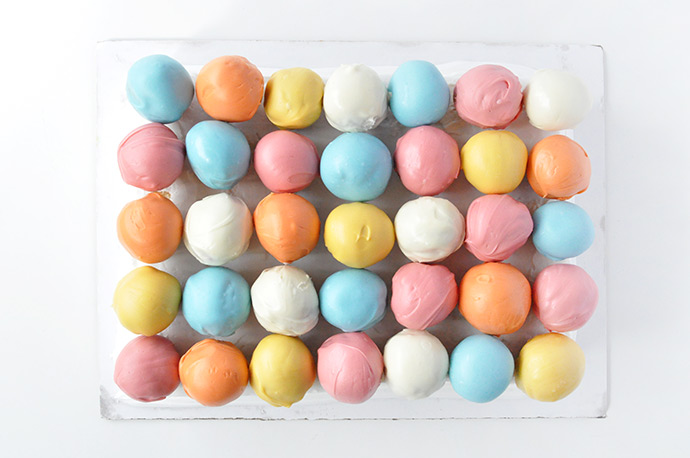 Step 5
Keep adding donut holes until the top of the cake is covered!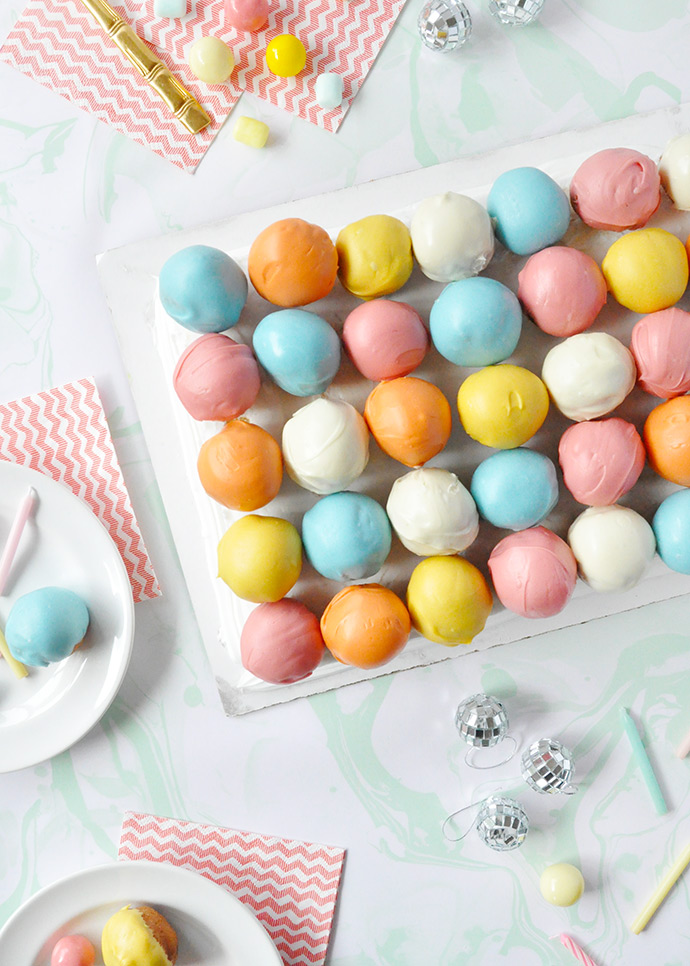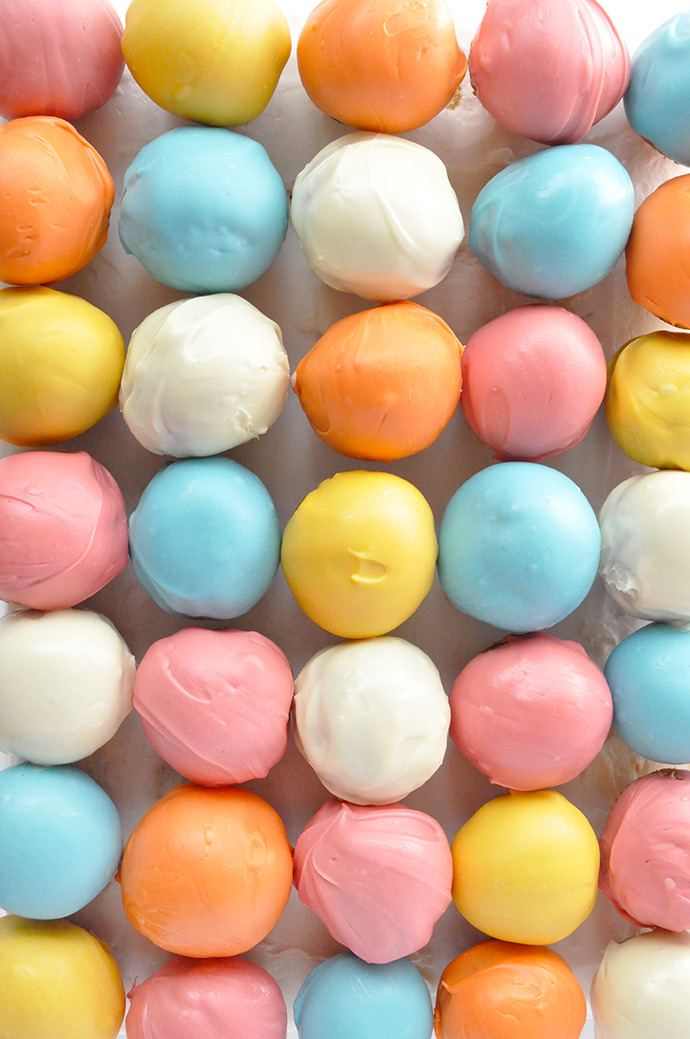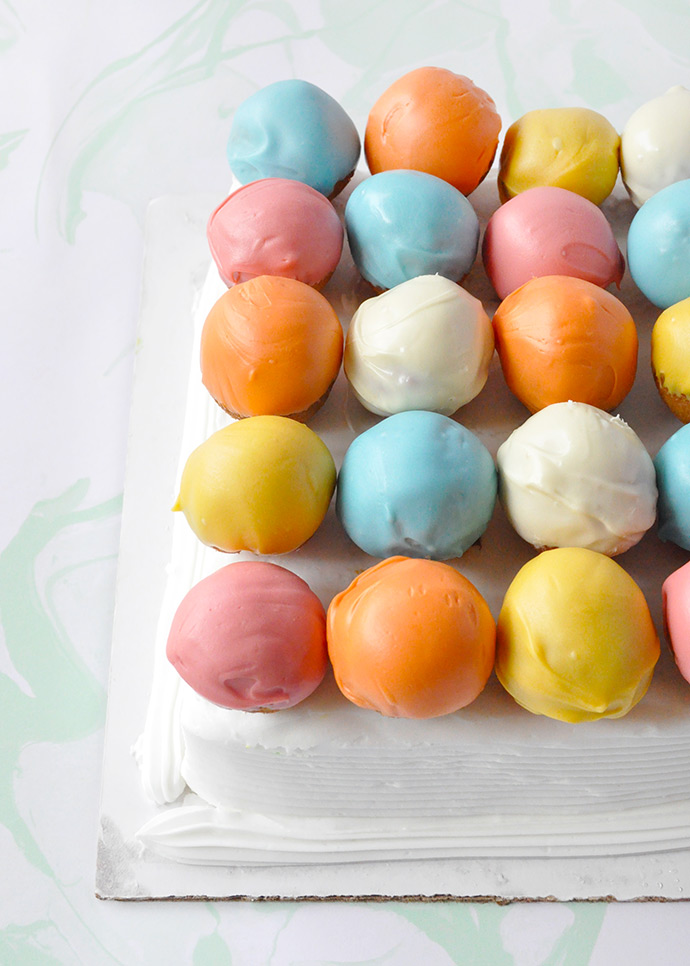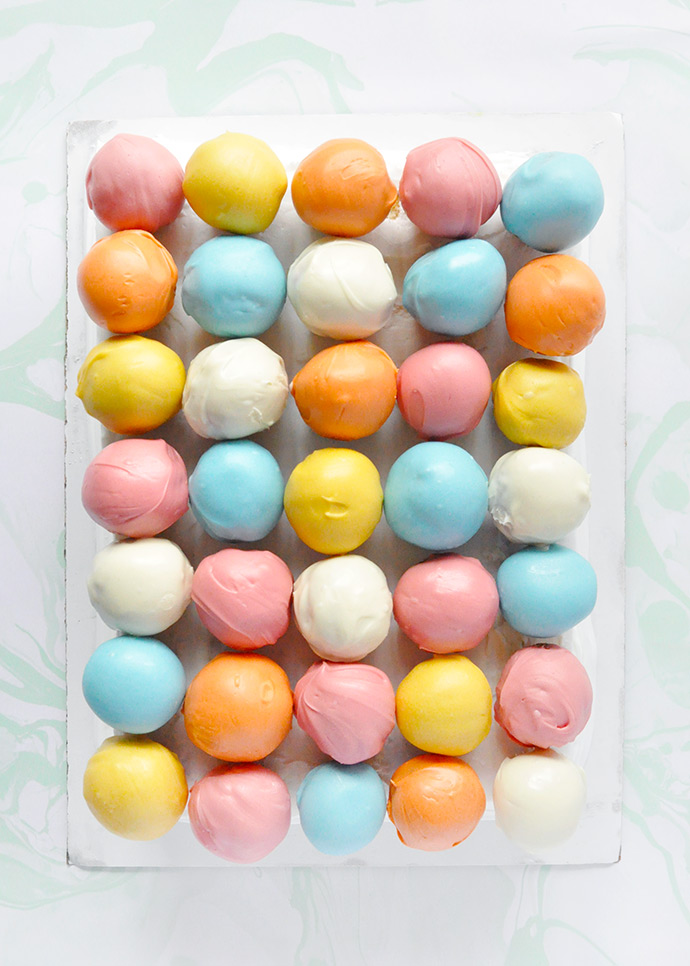 Bon appetit!!