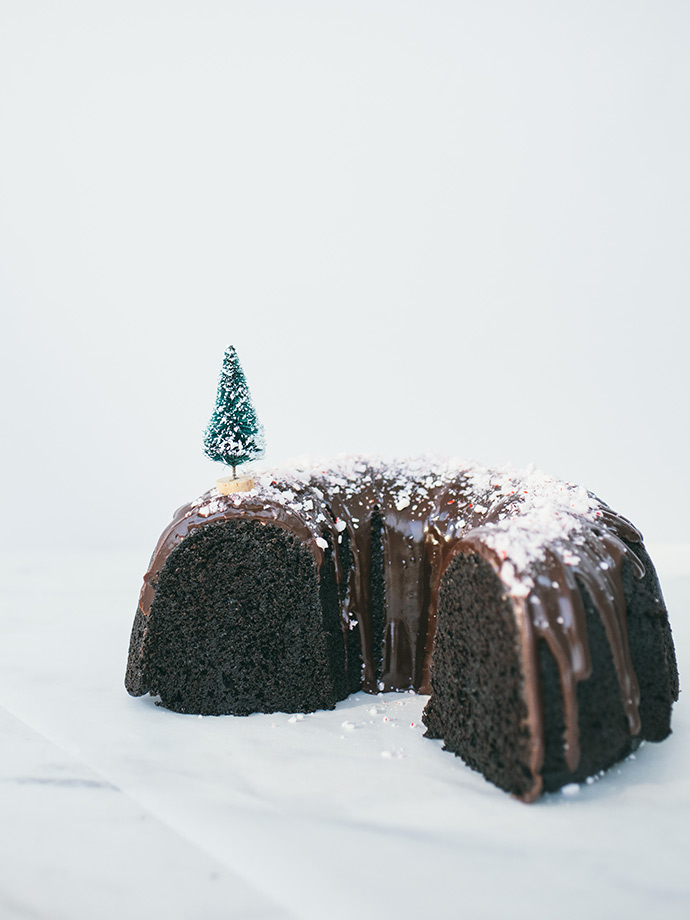 Every Christmas, I look for new ways to incorporate mint and chocolate together, as it's a favorite combination of mine. This bundt cake is a great way to showcase both flavors, and it's a bit easier to put together then a layer cake. The chocolate cake is moist, the mint-chocolate ganache rich and indulgent, and the crushed peppermint candies a sparkly touch.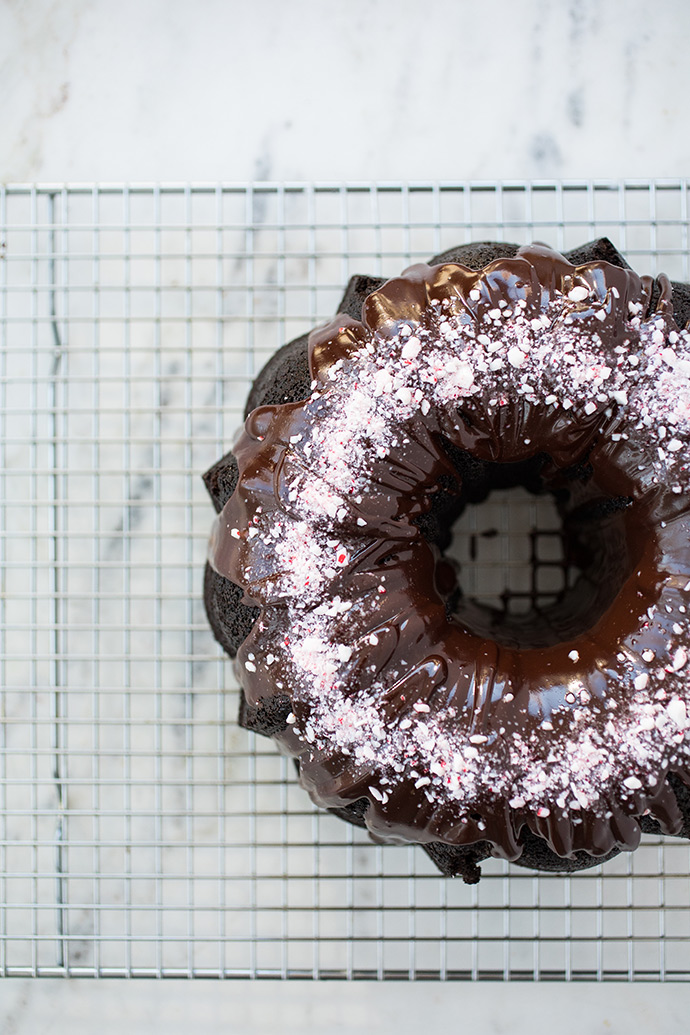 For the cake
3 oz (85 g) bittersweet chocolate
1 cup boiling water
1/2 cup sour cream
1/2 cup whole milk
½ cup canola oil
4 large eggs, room temperature
2 tsp pure vanilla extract
2 cups (284 g) all purpose flour
2 cups (396 g) sugar
¾ cup (75 g) Dutch process cocoa powder
2 teaspoons baking soda
1 teaspoons baking powder
1 teaspoon salt
For the ganache
6 ounces (170g) bittersweet chocolate, chopped fine
3/4 cup heavy cream
1/2 teaspoon pure mint extract
10 peppermint candies, crushed
For the cake:
Adjust an oven rack to the middle position. Preheat the oven to 350F. Butter and flour (or grease) a 10-inch Bundt pan.
Put the bittersweet chocolate in a small bowl. Pour the hot water over it and cover with a piece of plastic wrap. In a medium bowl or liquid measuring cup, whisk the sour cream, milk, canola oil, eggs, and vanilla.
In the bowl of a stand mixer fitted with a paddle, mix the flour, sugar, cocoa powder, baking soda, baking powder, and salt on low until combined. (If the cocoa powder is lumpy, you can sift it into the other ingredients.) With the mixer running on low, slowly add the sour cream mixture. Increase the speed to medium and beat until combined, 20-30 seconds.
Whisk the chocolate and hot water together until completely smooth. With the mixer running on low, slowly pour the mixture into the batter and mix until just combined. Using a spatula, give the batter a couple of turns to make sure it is fully mixed.
Pour the batter evenly into the prepared pan. Bake 35-55 minutes, until a wooden skewer or toothpick comes out with a little bit of crumb.
Transfer the cake to a wire rack and let cool for 30 minutes. Turn the cake out onto the rack, and let cool completely. Once cool, the cake can be topped with chocolate ganache and crushed peppermint candies.
For the ganache:
Place the chocolate in a small bowl. Heat the heavy cream in a small saucepan until it is simmering and just about to boil. Pour the cream over the chocolate, cover the bowl with plastic wrap, and let sit for 5 minutes.
Remove the plastic wrap and whisk until completely smooth. Coat the cake with the ganache while the ganache is still warm, but the cake has cooled. Let the ganache set before slicing the cake.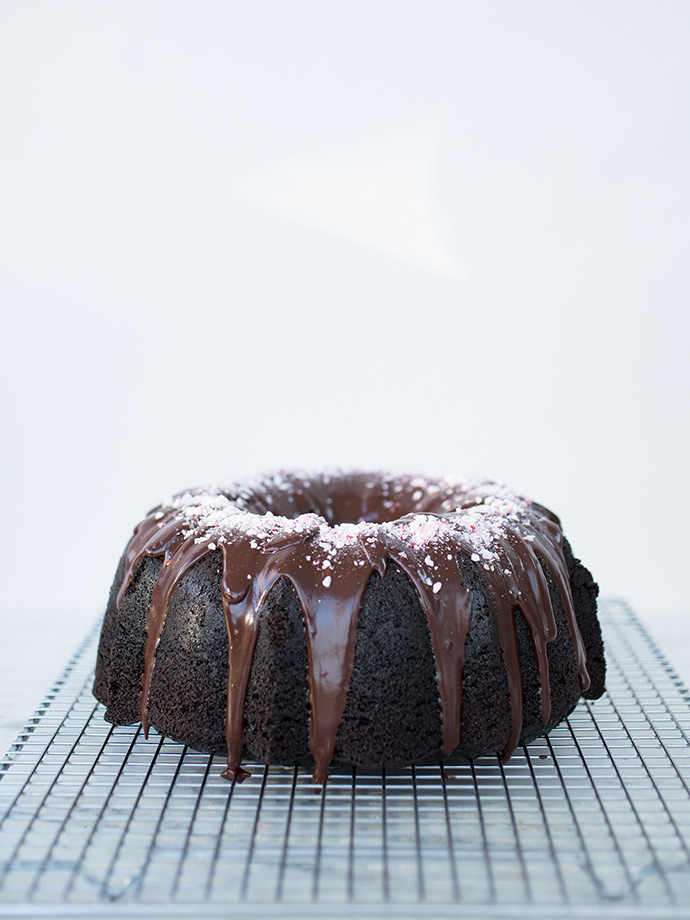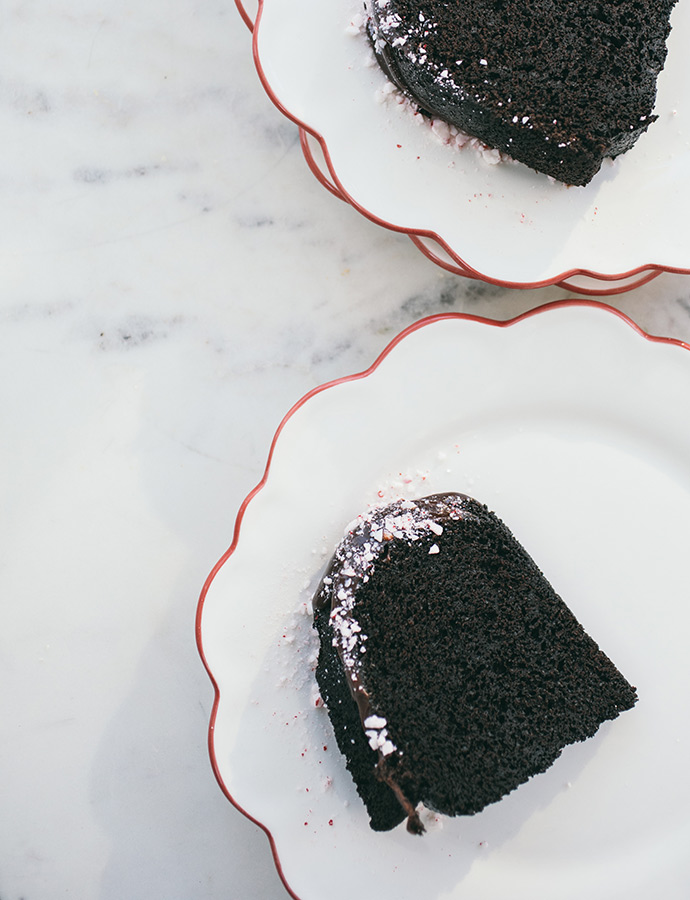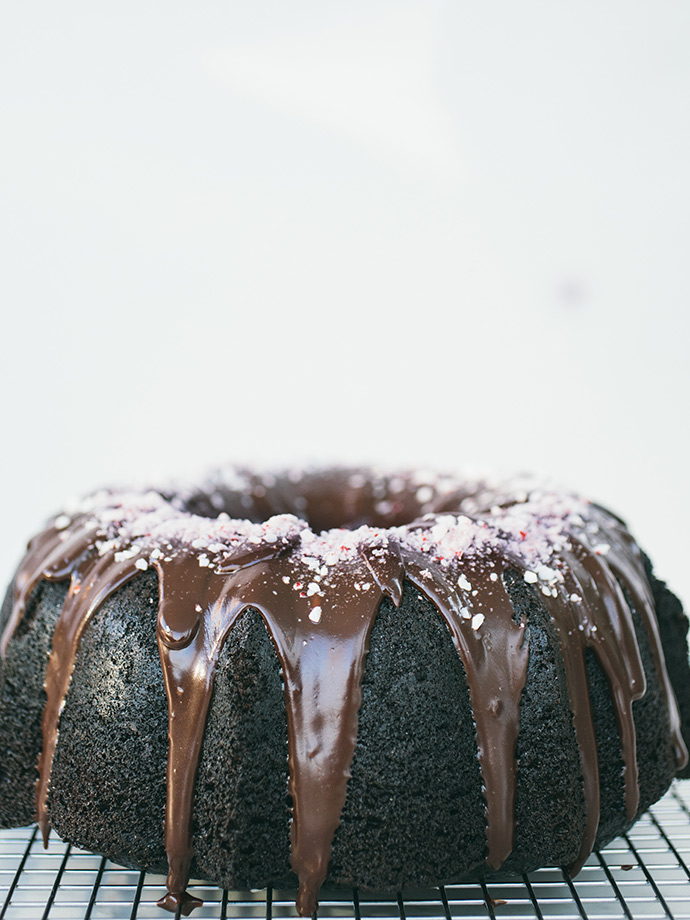 Enjoy!