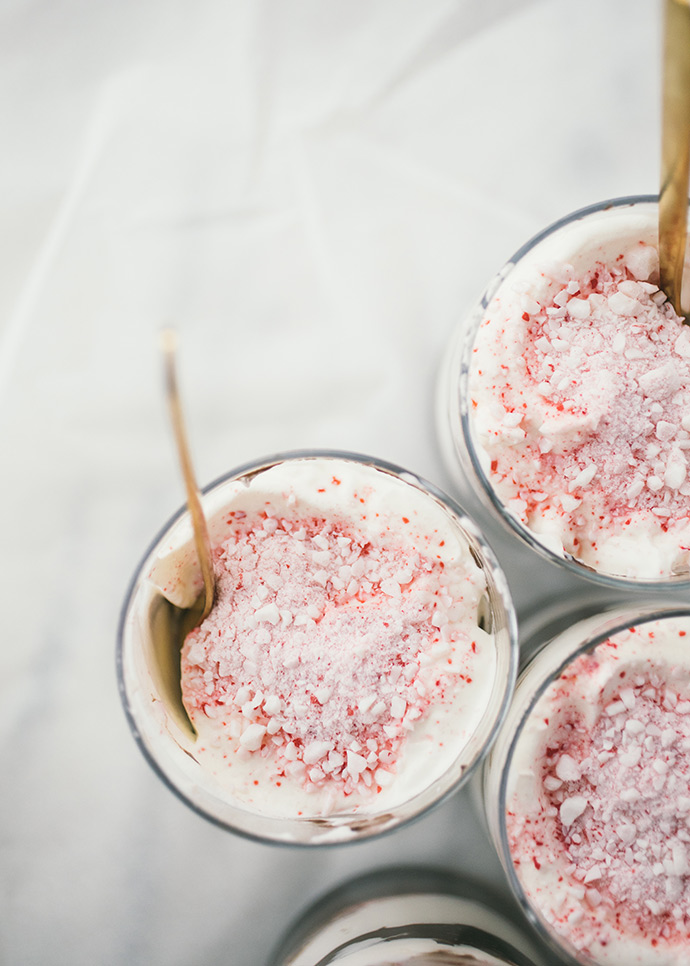 Between the ages of 7 and 10, the most exciting thing to happen at dinner was the nights my mom made us layered pudding cups for dessert. Something sweet after our meal usually only happened if guests were over, but every once in a while she would make us something special: a cup full of alternating layers of pudding and whipped cream. it would be assembled it in her fanciest glasses; a moment of utter magic to my sister and I. These pudding cups are based on that memory, although I've made the pudding and whipped cream from scratch (my mom used boxes and containers) and I've added some mint flavoring just in time for Christmas.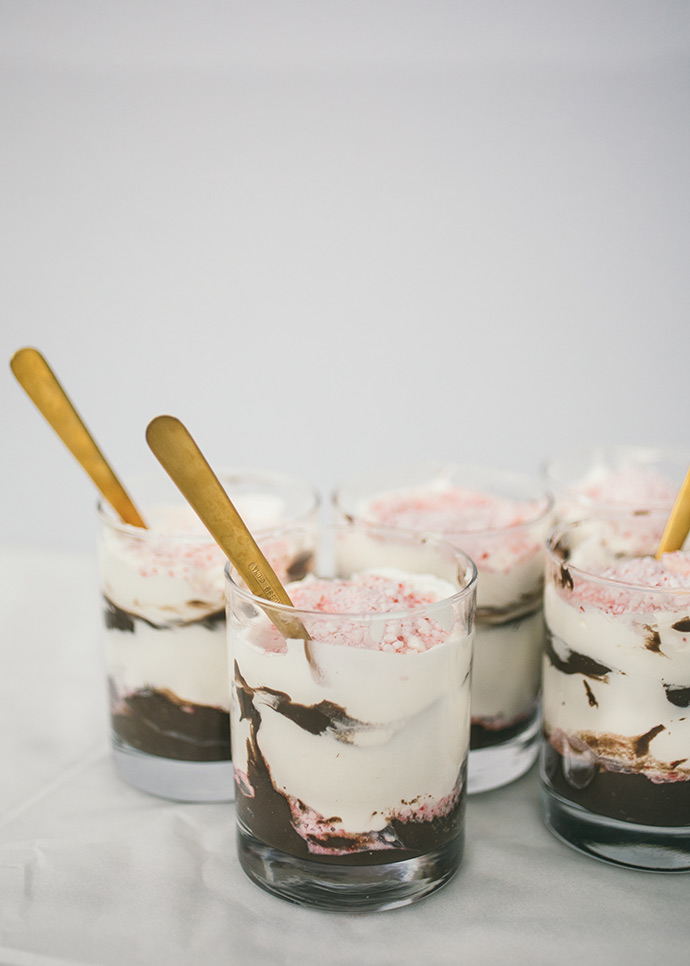 Chocolate pudding
2 ounces semisweet chocolate, melted and cooled
1 cup granulated sugar
1/4 cup cocoa powder
1/4 cup cornstarch
1/4 teaspoon salt
2 cups whole milk
1/2 cup heavy cream
4 tablespoons butter
1 teaspoon pure vanilla extract
Mint whipped cream
2 cups heavy cream
1/4 cup granulated sugar
Pinch salt
1 teaspoon mint or peppermint extract
1/2 teaspoon pure vanilla extract
25-30 peppermint candies, crushed in a food processor
For the pudding
Melt the 2 ounces of semisweet chocolate, and set aside.
In a medium, heavy-bottomed saucepan, whisk together the sugar, cocoa powder, cornstarch, and salt. Slowly add the milk and heavy cream, and using a whisk, combine until smooth.
Over medium-high heat, whisk the mixture until boiling. Once it begins to boil, keep whisking constantly, another 3-4 minutes, until the cornstarch is cooked out (the mixture should be thick and glossy at this point).
Remove from the heat, and add the melted chocolate, stirring until combined. Add the butter and vanilla, and stir again until completely combined. Pour the mixture into a bowl and place plastic over the top (put the plastic right on top of the pudding if you don't want a skin to form). Place the pudding in the fridge and let chill at least 4 hours or overnight.
For the whipped cream
Add heavy cream, sugar, salt, mint extract, and vanilla to a chilled mixer bowl. Beat on low speed until small bubbles form, about 30 seconds. Increase speed to medium and continue beating about 30 seconds. Increase speed to high and continue beating until cream is smooth, thick, and nearly double in volume, and 30 seconds.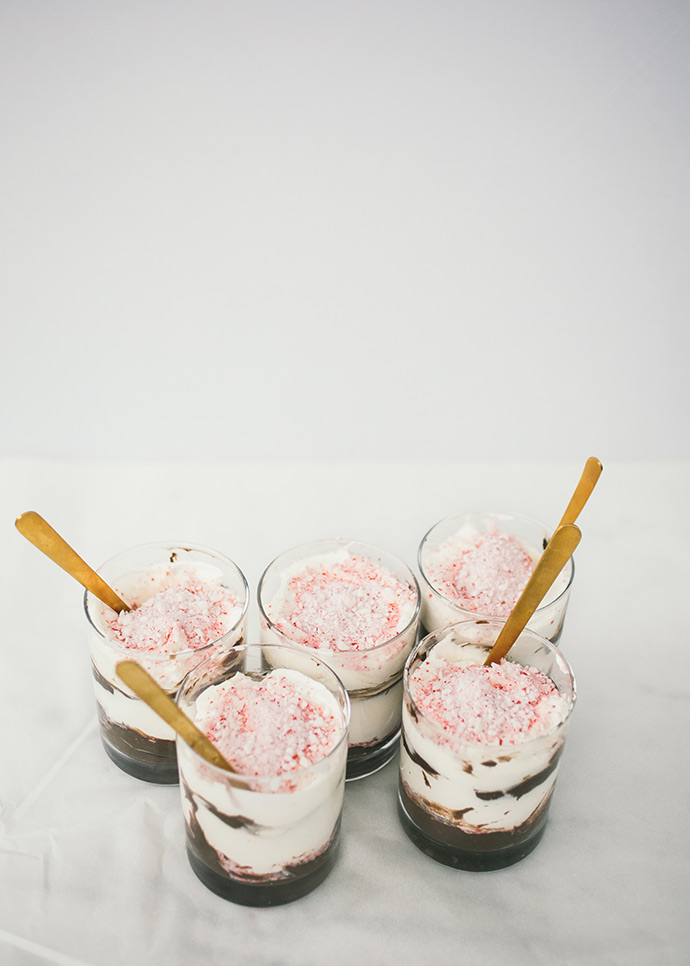 To Assemble
Layer the chocolate pudding, whipped cream, and crushed candies in serving glasses. Makes 4-6 servings, depending on the size of your glass.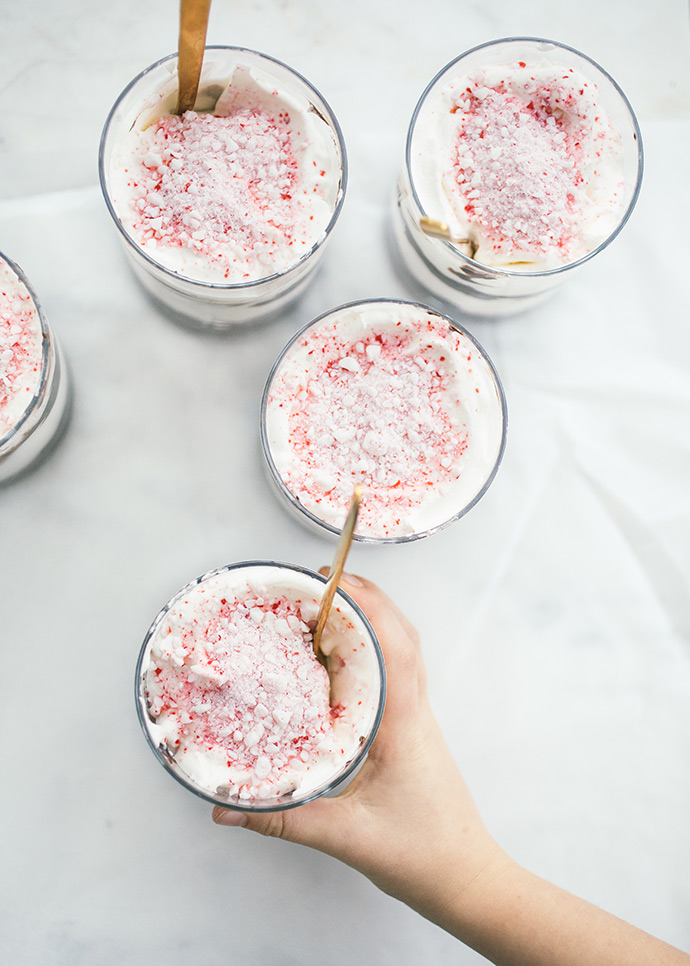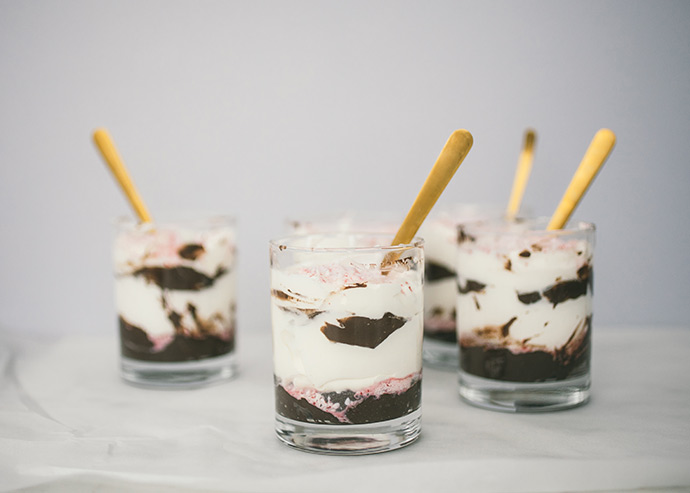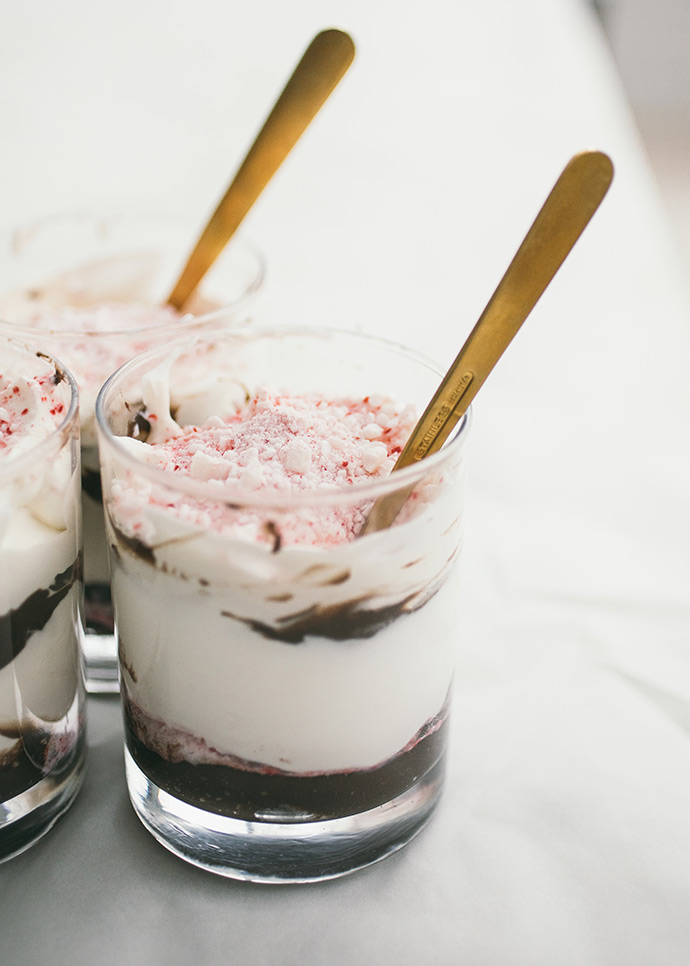 Enjoy!