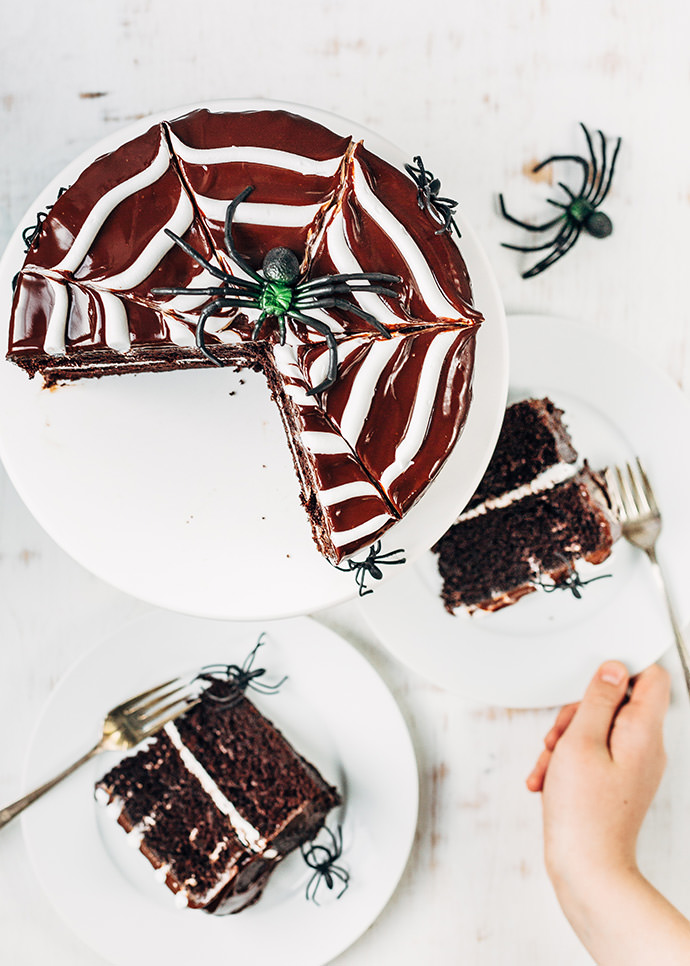 Halloween is a season of scary delights and creepy-crawly crafts, and this chocolate spiderweb cake offers the best of all possible worlds! With a host of decadent flavors like a rich chocolate crumb, velvety dark chocolate ganache, and classic buttercream, you'll find this cake is as delicious as it is spooky. Whether you're hosting a Halloween gathering or just celebrating the arrival of real-deal fall, a playful chocolate spiderweb cake captures the moment perfectly!
The cake itself is brimming with deep, chocolaty flavor (and a hint of freshly brewed coffee), and has a moist, springy crumb. Best of all, it's easy to mix up – no need to fuss with creaming butter or hard to find ingredients. Because the cake is so moist, it's a good idea to take the time to line the cake pans with parchment paper and then grease and dust with cocoa powder.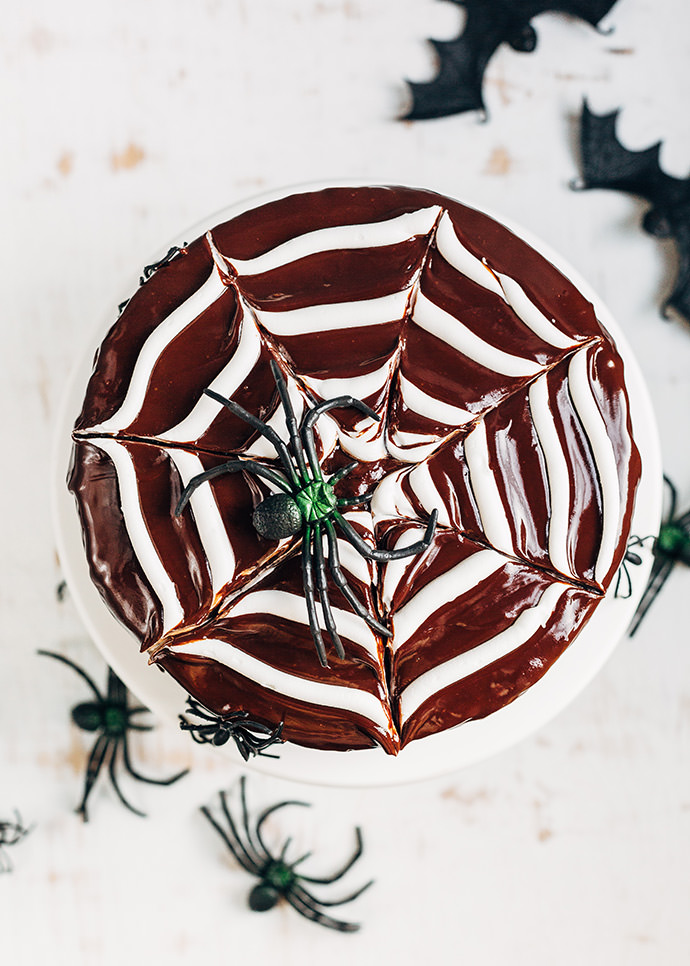 The spiderweb on top is made by piping white buttercream frosting into warm ganache. Ganache might sound fancy, but with a bit of care, it's easy to mix up and spread over the cake. Because chocolate chips have fillers to help them keep their shape, I recommend using baking chocolate to make the ganache – it yields the best stability and sheen. To make the web, simply pipe on a frosting swirl and then drag a dull knife out from the center. From there, you'll want to select a few creepy toy spiders to adorn the cake. The more, the better!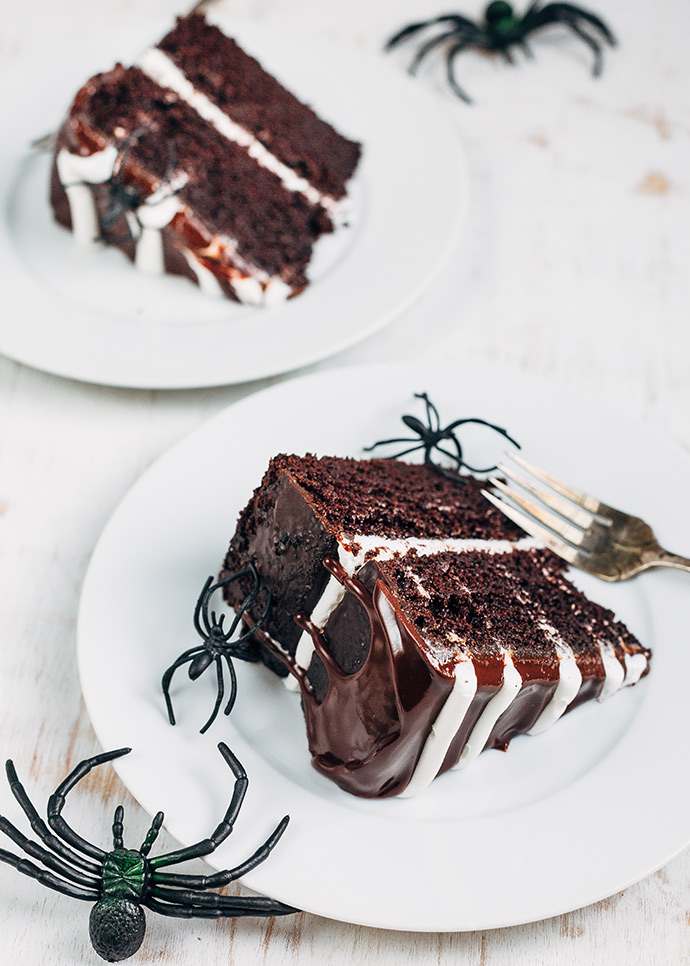 ingredients:
for the chocolate cake
Makes: 8 servings
1 3/4 cups all-purpose flour
2 cups granulated sugar
3/4 cup cocoa powder, plus more for dusting pans
2 teaspoons baking soda
1 teaspoon baking powder
1 teaspoon sea salt
1/2 cup whole milk yogurt
1/2 cup whole milk
1/2 cup vegetable oil
2 large eggs
2 teaspoons vanilla extract
1 cup freshly brewed hot coffee (decaf is fine)
3/4 cup heavy cream
6 ounces bittersweet or semi-sweet baking chocolate, chopped, divided
Pinch sea salt
1 1/2 teaspoons light corn syrup
8 ounces store-bought white buttercream frosting (or your favorite recipe)
Plastic toy spiders of varying sizes
To make the cake, preheat oven to 350 degrees F. Line 2 (8-inch) cake pans with parchment, grease liberally, and dust with cocoa powder. Set aside.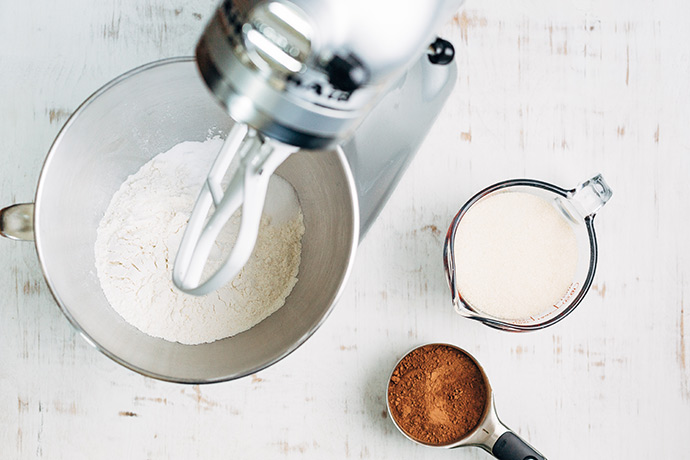 In the bowl of a stand mixer fitted with the paddle attachment, or with a hand beater, mix the flour, sugar, cocoa, baking soda and powder, and sea salt on low.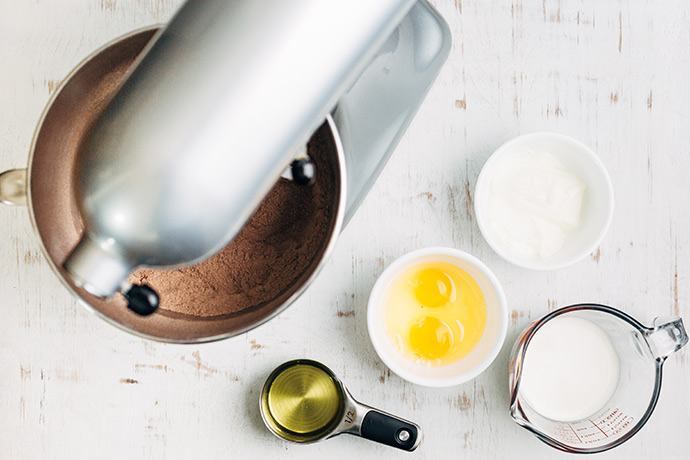 In another bowl, whisk to combine yogurt, milk, oil, eggs, and vanilla.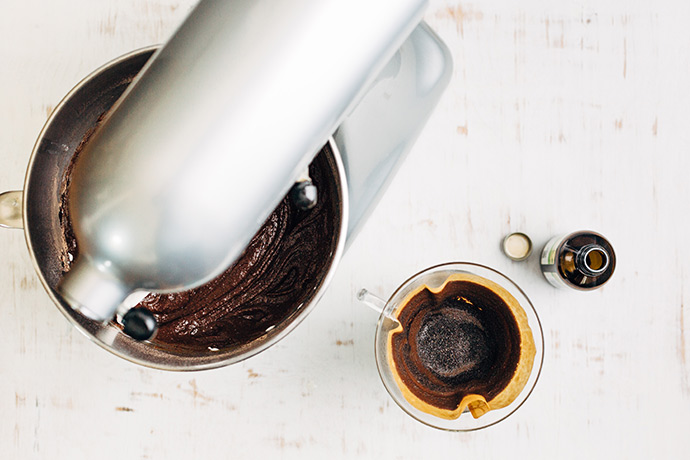 With mixer on low, slowly pour in the liquid ingredients. Next, fold in the coffee and stir just until fully combined. (Note that the batter will be quite runny.)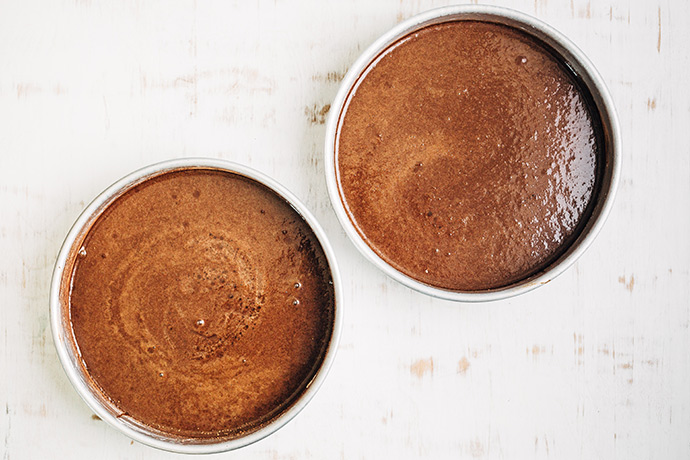 Working quickly, pour batter into cake pans, tap on the counter to dislodge bubbles, and slide into the oven. Bake 35 – 40 minutes, or until a toothpick inserted in the center comes out with just a few crumbs attached.
Set cooked cakes or a rack to cool for 20 minutes, then tip out onto a rack to cool completely, 1 – 2 hours or more.
When you're ready to assemble the cake, make the ganache.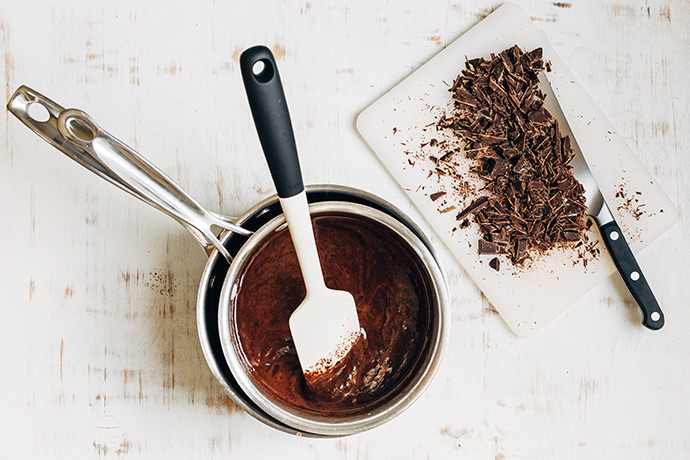 Fill the bottom of a double boiler 2-inches of water. Bring the water to a gentle simmer over medium heat. Add the top saucepan tot he double boiler and pour in the heavy cream, two-thirds of the chopped chocolate, and a pinch salt to the bowl. Stir until melted. Remove the bowl from heat, and stir in remaining chocolate and corn syrup. Stir until smooth. Remove from heat.
Allow ganache to cool and thicken for 10 minutes, then pour over cake in batches. Use a spatula to spread ganache over cake and guide down the sides. Ganache will thicken as it cools.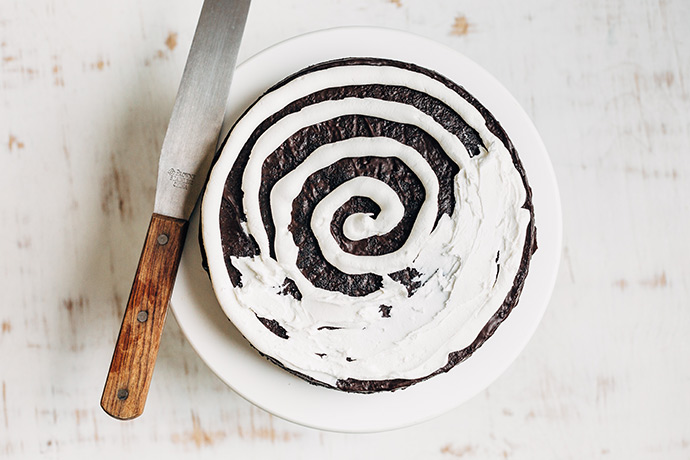 Place bottom cake layer on a cake plate. Pipe white buttercream over cake layer and smooth with a spatula. Top with second cake layer.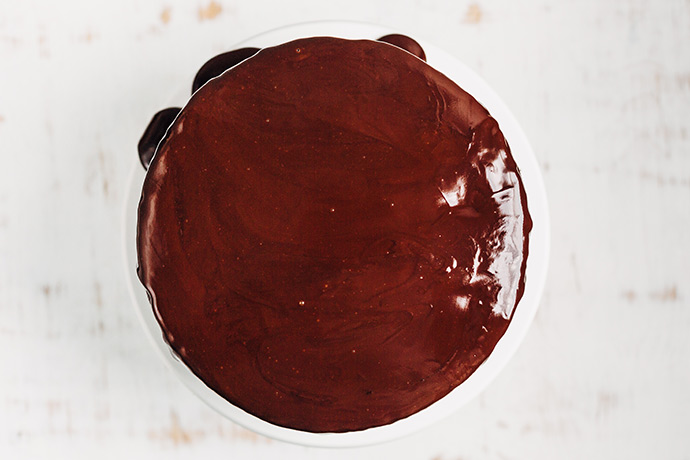 Pour slightly cooled ganache over top. Use a silicone spatula to ease ganache over the sides so it drips down evenly.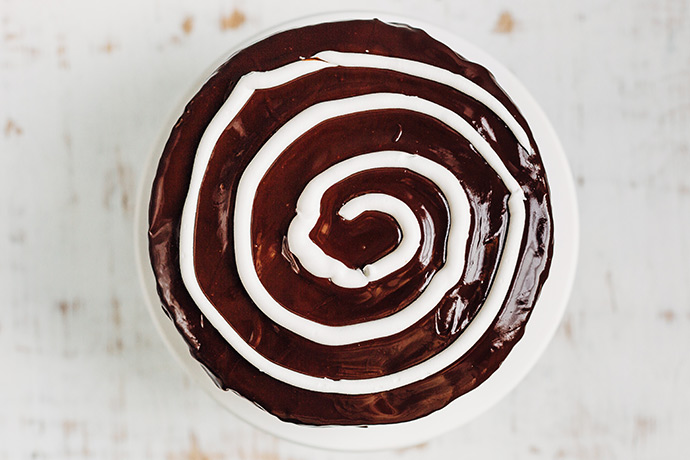 Allow ganache to cool briefly, then pipe a white buttercream spiral on top.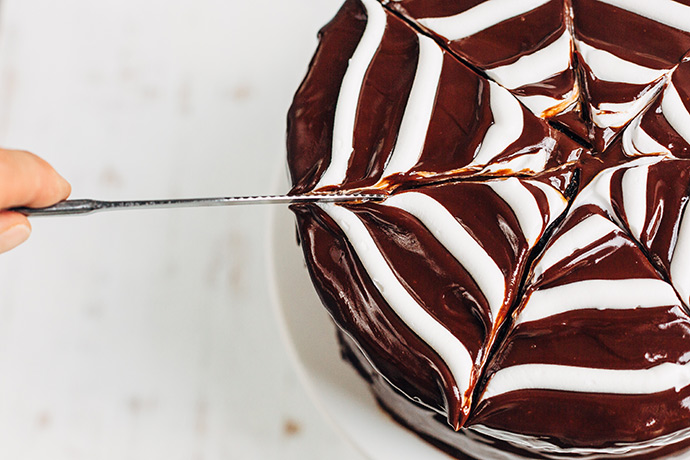 Working quickly, drag a dull butter knife or spatula out from the center of the cake to create the web effect. Decorate with plastic spiders on top and sides of the cake.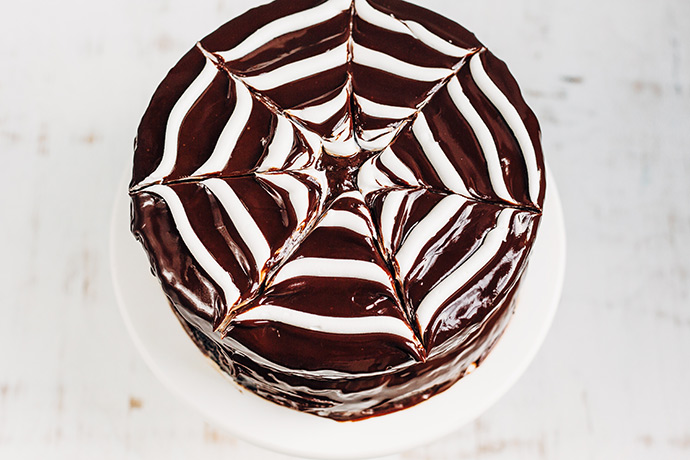 Let cake set up for 1 hour or more before serving.
Cake layers can be made ahead of time, but cake should be frosted on the same day you plan to serve it.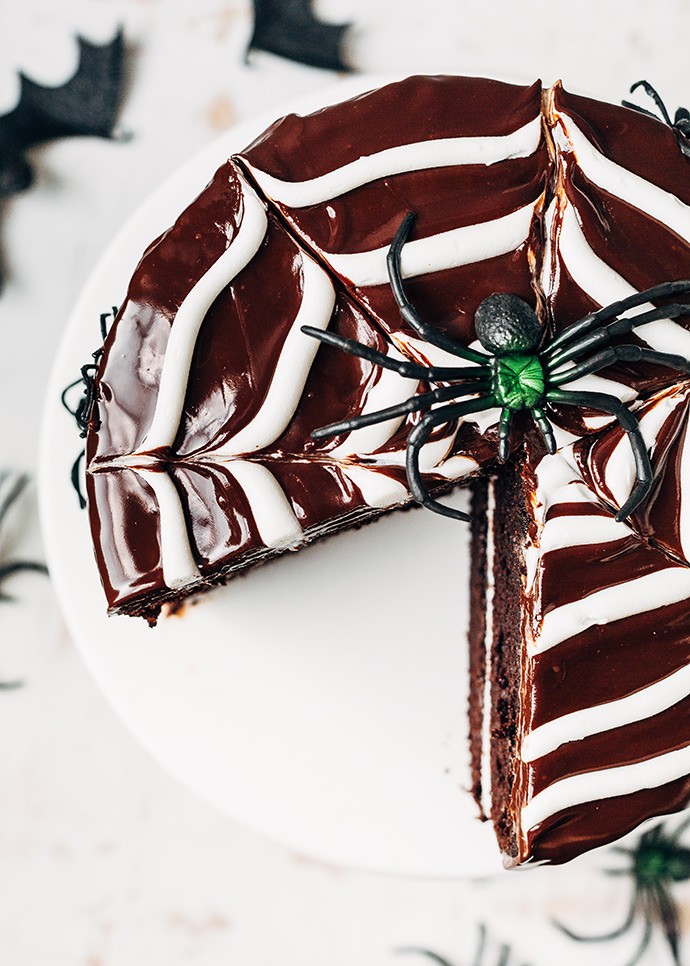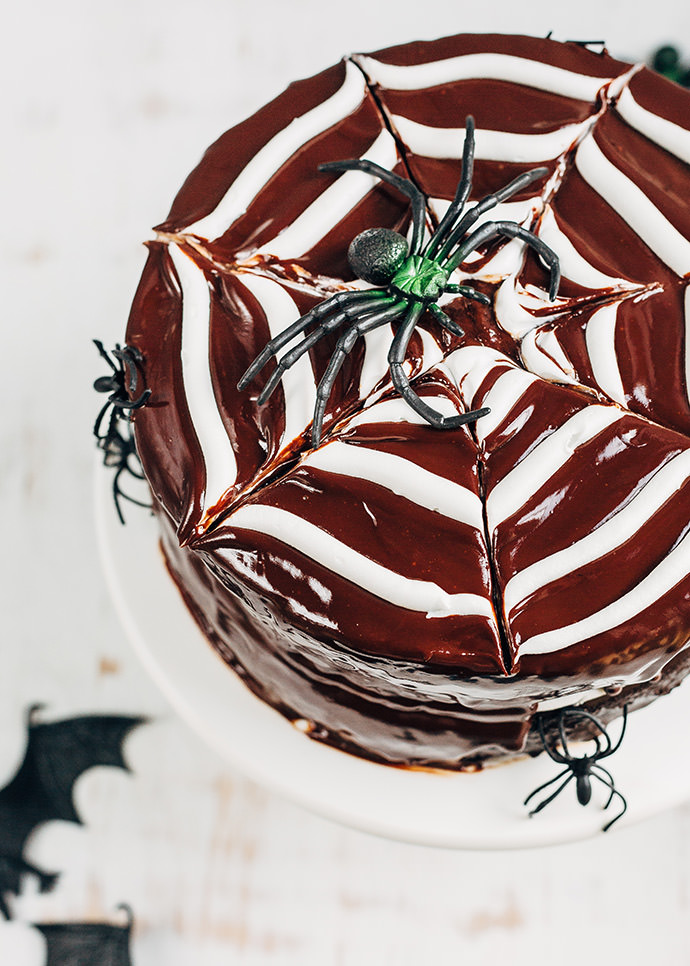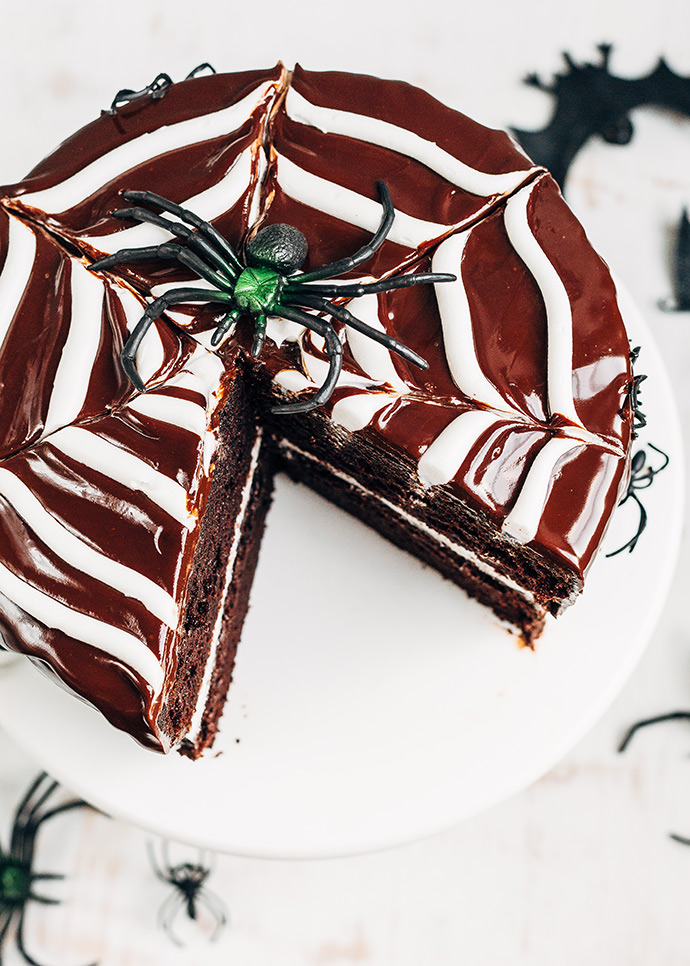 Enjoy!