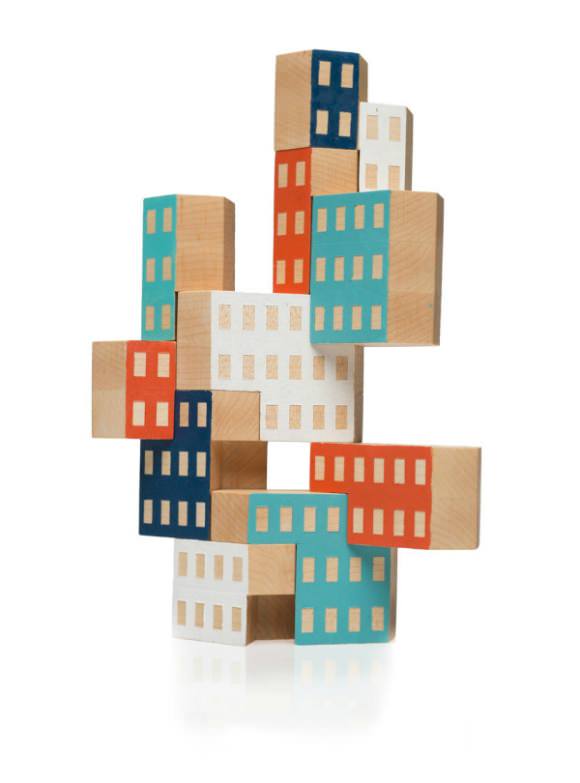 Have you ever been to Berlin? I got back from a whirlwind trip to the German capital, where I was invited to speak at The Hive European bloggers' conference. It's such an interesting city with an amazing creative energy, you really feel as if anything's possible when you're there!
I hope to take my family next year because I know they'll enjoy the buzz of fast-paced city life. Travel really is one of the best life-learning experiences for kids, especially when you live in a small village like us.
Of course, not everyone has the chance to travel or dreams of visiting a city, but I thought this would be a good opportunity to curate a small collection of architectural toys designed to develop children's spatial awareness and stimulate imagination through play.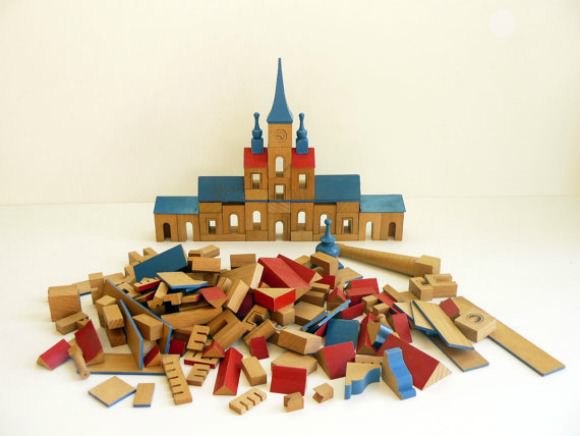 Vintage Mid Century Wooden Toy Town Set
Available for $79 from Artyfactz.
I love vintage wooden blocks, and this simple, colorful mid-century set ticks all my boxes. Made in Zurich in the 1960's, the set is complete and comes in its original pine case. For vintage toy collectors and budding architects, these birch town blocks will provide hours of town-building fun for sure!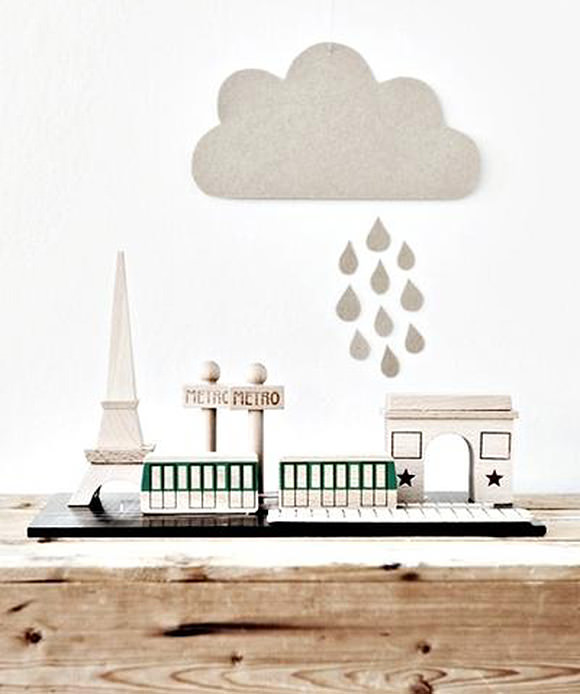 Paris Toy Set
Available for $52 from Mokkasin.
Who hasn't dreamt of visiting Paris one day? Well, thanks to Japanese toy maker Kiko +, little ones can pretend to stroll down the Champs Elysée and climb the Eiffel Tower before breakfast. Made from beech wood, each mini magnetic town set (you can buy London and an original machi scene too) contains all the key monuments and a magnetic chalkboard to hold them steady while you play – a perfect game for travelling this summer!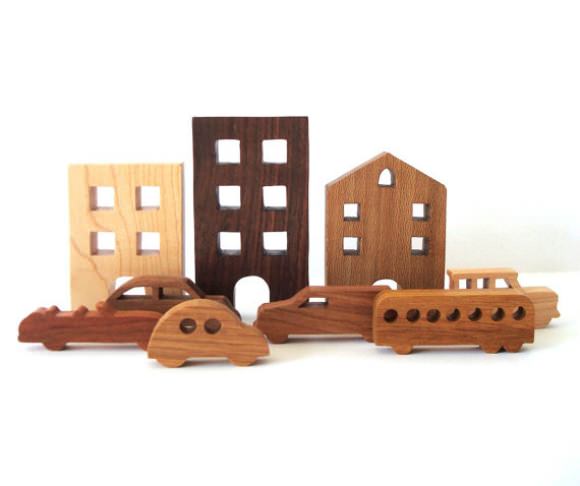 Miniature City Toy Set
Available for $55 from Ooh Look It's a Rabbit.
I love Waldorf-inspired wooden toys and this nine piece beauty is no exception. Hand-cut on a scroll saw then finished with a natural beeswax and jojoba oil polish, each set includes a bus, a small car, a jeep, a delivery truck, a convertible, a passenger and three different buildings. Plenty of scope for imaginative city play here!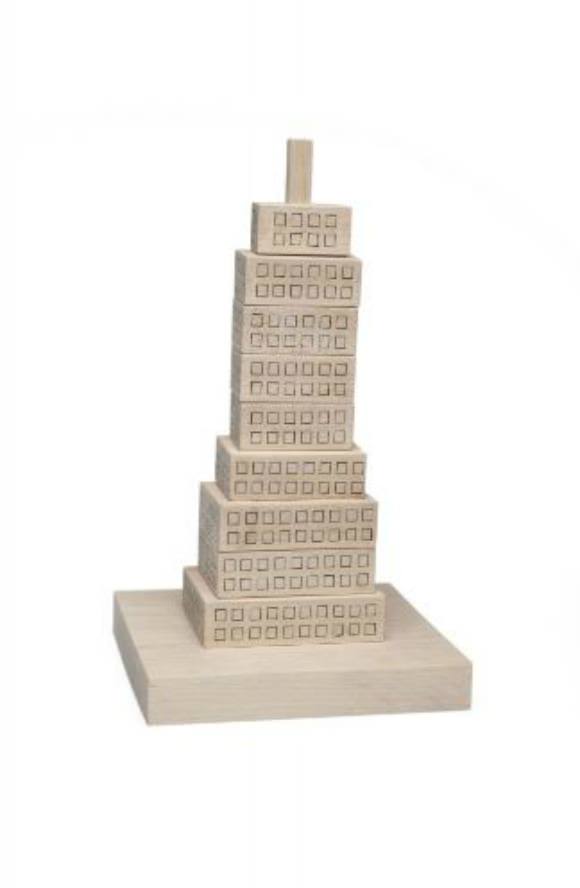 Stacking Skyscraper
Available from Gonzalo Ciurlizza.
The simplest toys are always the best, don't you think? Young designer Gonzalo Ciurlizza wanted to create a fun, enduring toy, and his minimalist wooden stacking blocks were inspired by looking up at the enormous skyscrapers in New York City.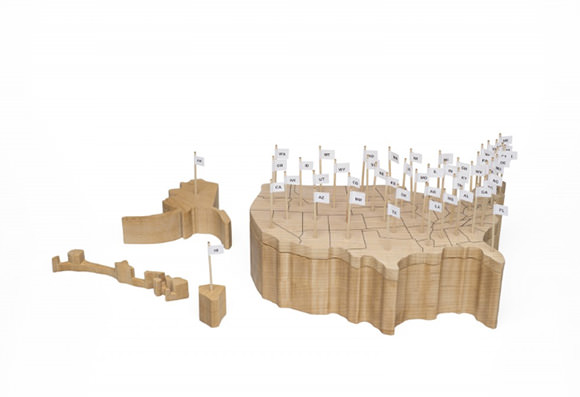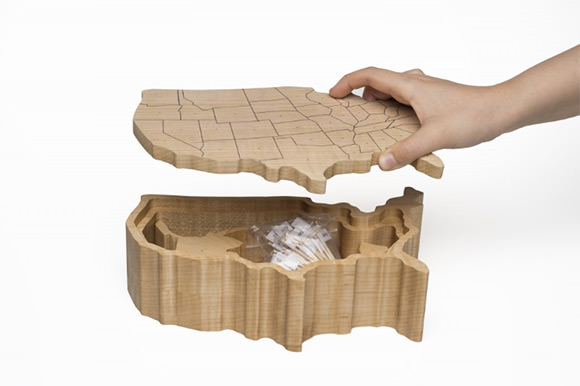 USA Box
Available from Paula Garcia.
I know this isn't really a city play set, but I really like the idea of this USA Box designed by Paula Garcia for Metaproject 03. I'm sure kids would love storing their vacation treasures in this wooden box and would equally enjoy mapping their past and future travels on the lid. I would love to see this go into production!
Pictured at top of post: Blockitecture by James Paulius, winner of Metaproject 03 organized by the RIT School of Design & Areaware (via NOTCOT / Design Milk).