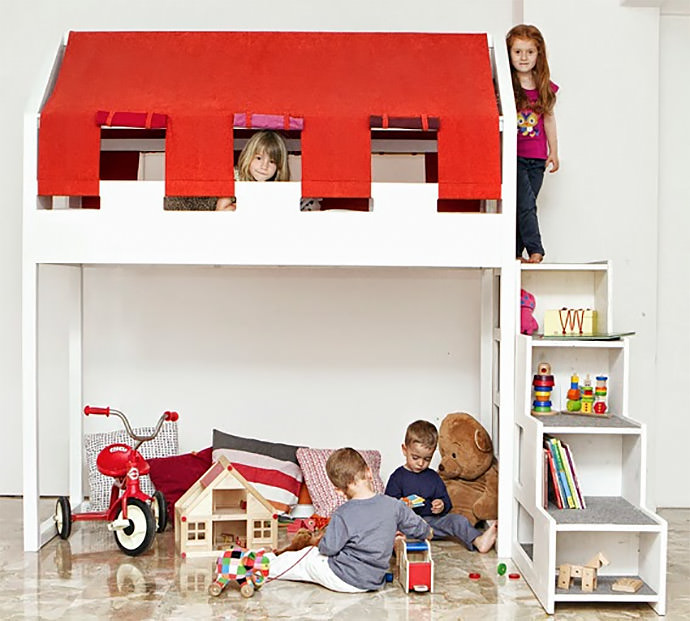 Paola Noe from Unduestrestella has done it again! KidsRoomZoom has just closed the doors of its fourth edition at Fuorisalone in Milan, showcasing some of the finest, most original products in the children's design world today.
Set in a cool, chic apartment in central Milan, the theme of this year's exhibition was "My Superpower is….", giving Paola ample scope to prepare superhero snacks, organize artist-led superhero workshops and of course, curate a super collection of fun, cutting-edge design by up-and-coming and established international creatives.
Although I was unable to attend the show myself, I admire Paola's work immensely. She has a terrific eye for fresh talent and puts her heart and soul into promoting their new work. I hope you enjoy my small selection of favorites from KidsRoomZoom4!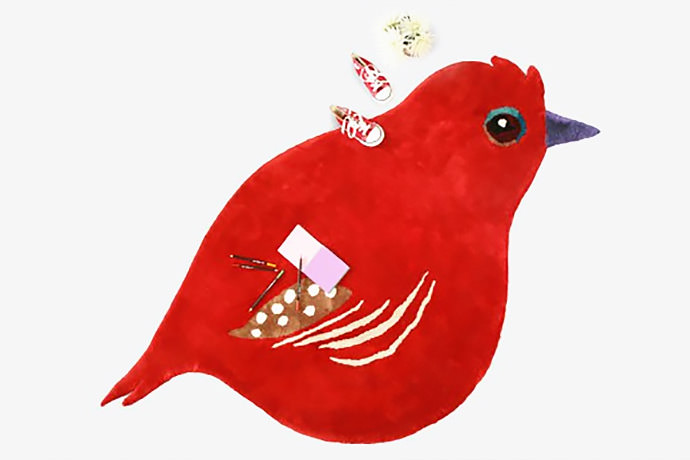 Handmade Cardinal Bird Rug
Available from Little Cabari
The entire Little Cabari rug collection is stunning! A high-end brand specializing in luxury items for kids, Little Cabari offer wallpaper, bedding, furniture and toys. Their rugs are handmade in Portugal from 100% eucalyptus, and would certainly make a striking feature in any very lucky child's room.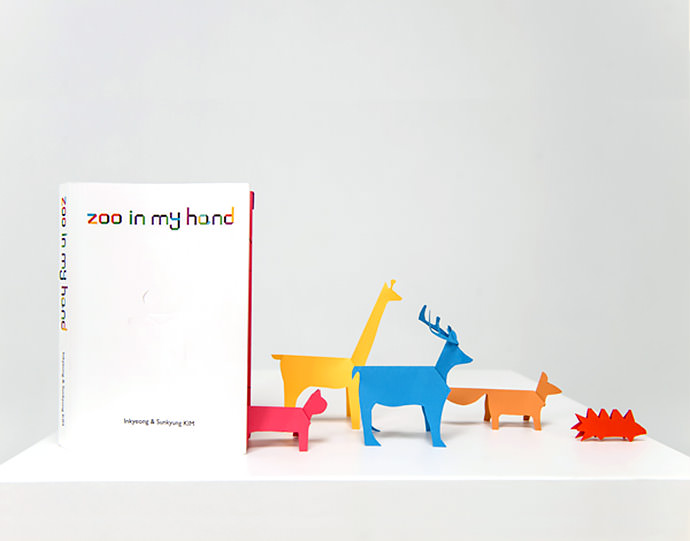 Zoo In My Hand Book
Available from IK&SK Design
You may have already seen this very simple cut and fold zoo book which I love, but I hope you will take 5 minutes to browse these two talented Korean sisters' other work (the cardboard castles, popup cities, craft stickers – all truly amazing). For play and display, this zoo book would make a lovely gift for a child or graphic design lover.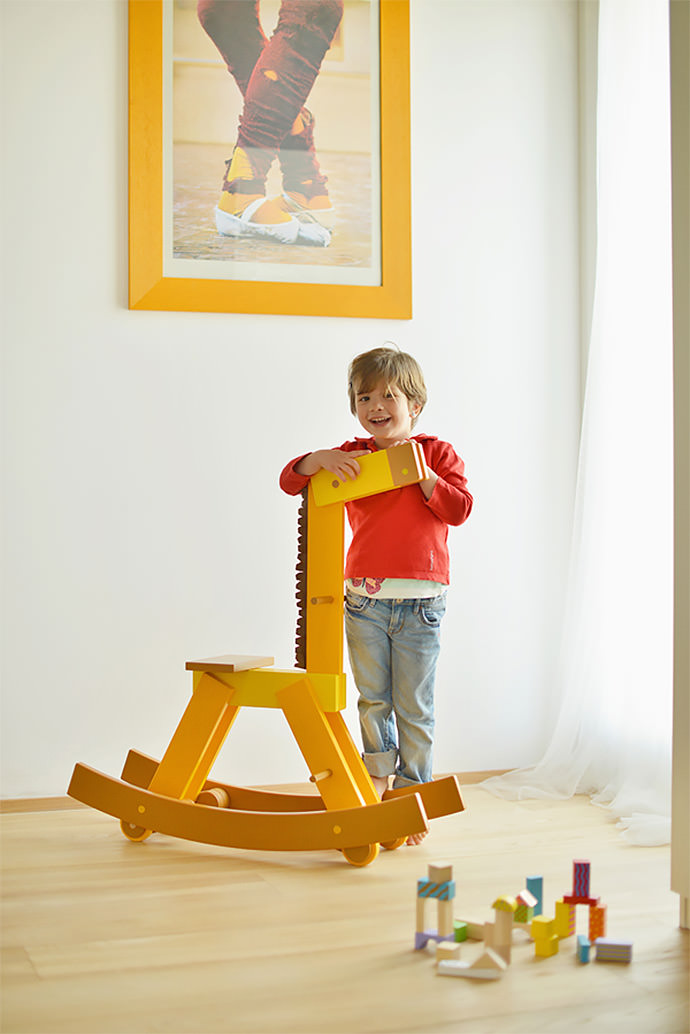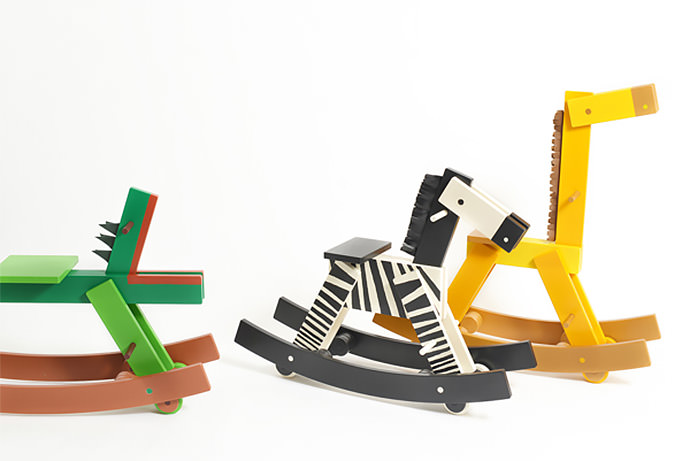 Cavalcade Rocking Animals
Available from Luca Boscardin
What an amazing collection of rockers! Each animal is built starting from a single piece of wood and is painted in bright, eye-catching colors. Italian graphic designer Luca Boscardin has an impressive portfolio of toys to share, and I love this clean, modern look.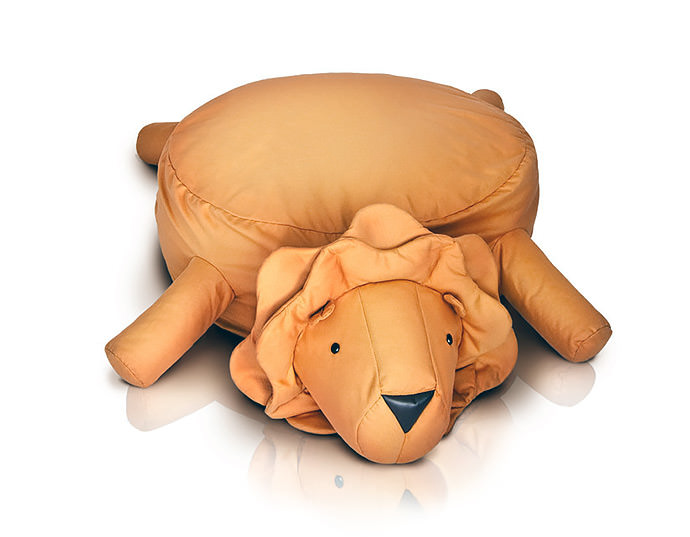 Giant Lion Bean Bag Chair
Available from Antonio Scarponi / Conceptual Devices
TANTOOO®'s fairytale bean bags are huge. They're big enough to nap on, read on or play on, and of course, as well as being extremely comfy, they're also cuddly and cute! Made in Italy, each TANTOOO bean bag is 100% kid-friendly with two double waterproof and stain-resistant linings. Hours of fun there I'm sure!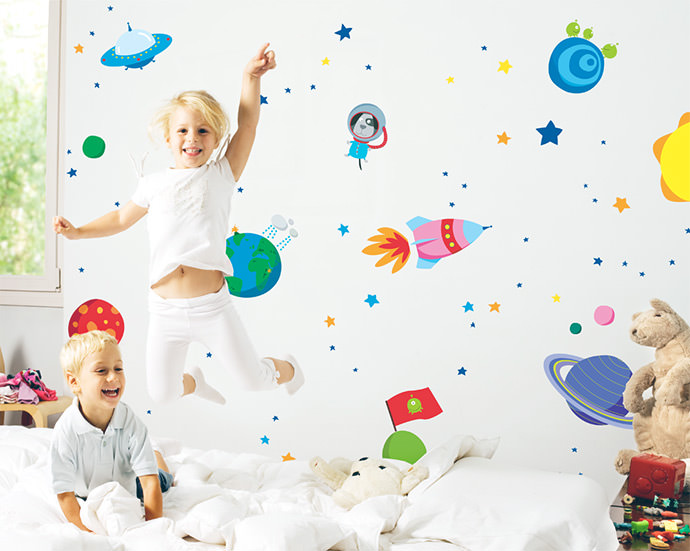 Space Wall Decal Set
Available from Bumoon
Who doesn't love a colorful space scene? Italian company Bumoon offer an original collection of wall stickers for kids but this uplifting, gender-neutral set is my favorite fun find. Look past the sun, moon and earth and you might spot an astronaut dog, a UFO and 3 little aliens – much better than counting sheep I say!
These few products really are the tip of the kidsroomzoom4 iceberg! If you are interested in kids' design, and like to keep your finger on the pulse of the European kids' design industry, Unduestrestella is an excellent authoritative site to visit.
Pictured at the top of the post: Casita loft bed from Kid's Modulor, a super bed for super heroes! Designed by Adrianna Correa, this convertible loft structure is made from FSC solid wood and plywood, and is suitable for children of 5 years and up. I love the fun house tent up top!