This post is in partnership with Universal Pictures Home Entertainment.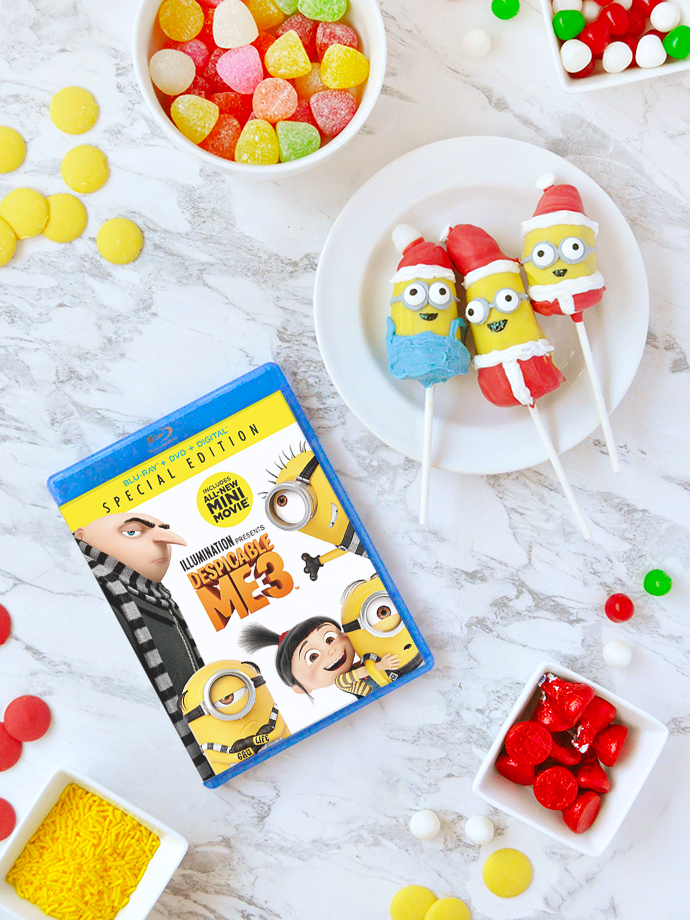 Who needs gingerbread men when you can make your own Minion pops? We're big fans of Despicable Me and are so excited to sit down as a family and watch the heartwarming Despicable Me 3 Special Edition movie together this holiday season – it's available on Blu-Ray and DVD December 5th! Now that it's December, it's usually about now that we start thinking about Christmas baking and decorating gingerbread houses. Our kids love all the characters in Despicable Me 3: Gru, Lucy, and their three daughters Margo, Edith, and Agnes, and of course the Minions, so this year we decided to put a Minion-themed twist on our baking tradition and decorated these Minion banana pops while we watched!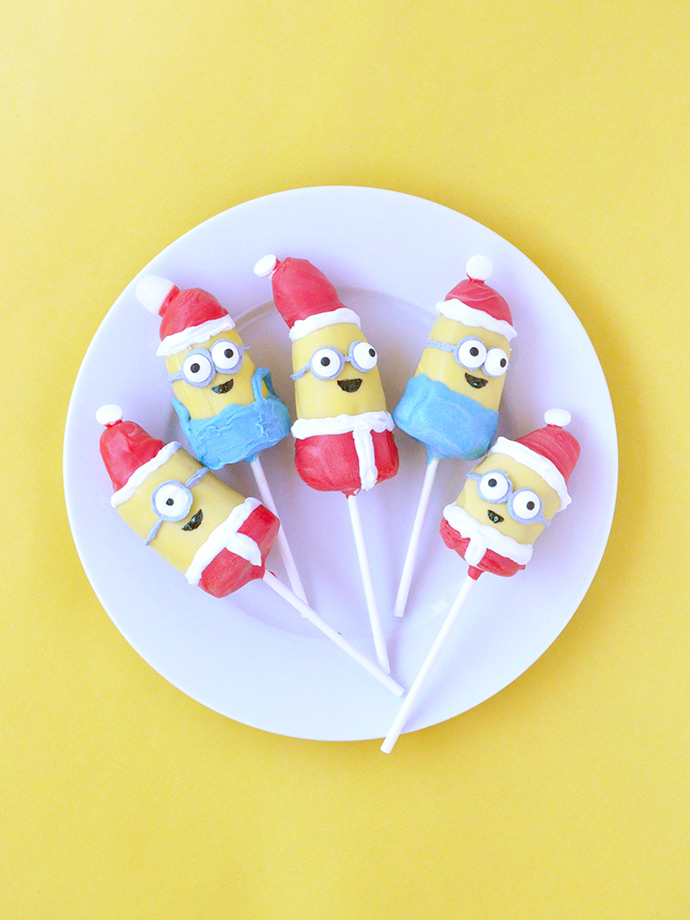 Despicable Me 3 is the #1 animated comedy of the year! The Target exclusive features a brand new mini movie, 20 minutes of bonus features, Despicable Me collectable cards, and a set of Minion temporary tattoos! We loved decorating our Minion pops while we watched the movie – it was the perfect activity because once the kids were done decorating, the chocolate pops hardened as we continued to watch, and then we snacked on a few of the Minion pops before the movie ended. You can even use the pops as mini puppets to play along with the movie! We had a great time – Despicable Me 3 is an amazing holiday gift that provides hours of family fun!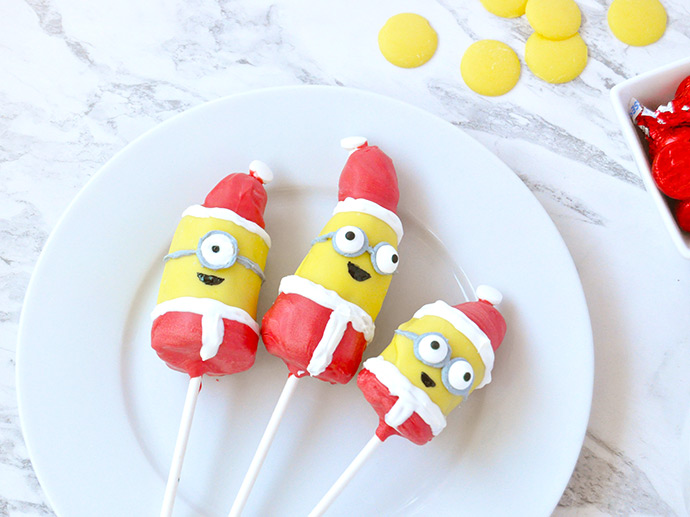 Bananas

Lollipop sticks

Colored melting wafers (yellow, red, white, & blue)

Candy eyes

Black food coloring

Toothpick

Red gumdrops

Small white candies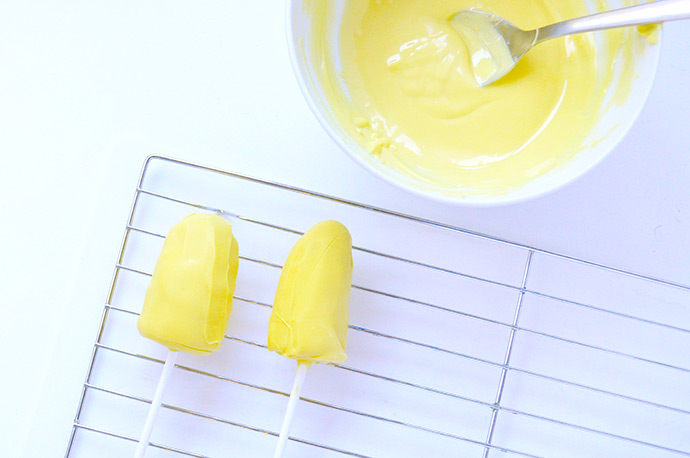 Step 1
Cut your banana into pieces so that the rounded ends are the tops of the Minions' heads. Stick a lollipop stick into the bottom. Put yellow melting wafers in a bowl and microwave in 30 second increments, stirring after each, until fully melted. Dip the bananas into the chocolate and let dry on a cooling rack or piece of wax paper.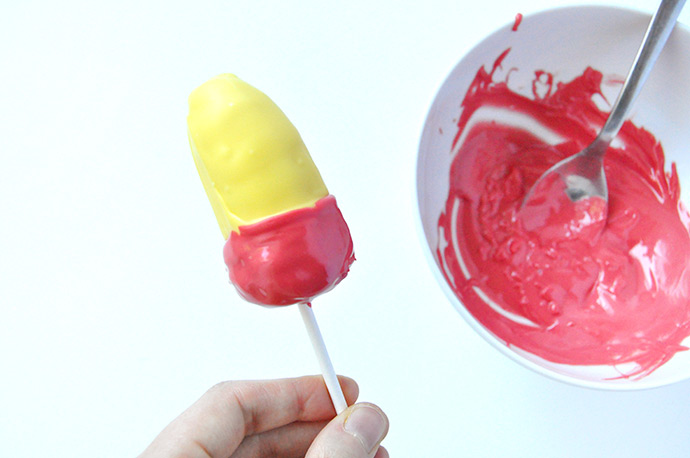 Step 2
Now it's time to dress up your Minions! You can get creative with this part – we used red melted wafers here to make a Santa suit, but we also used blue chocolate on some of the others to look like overalls.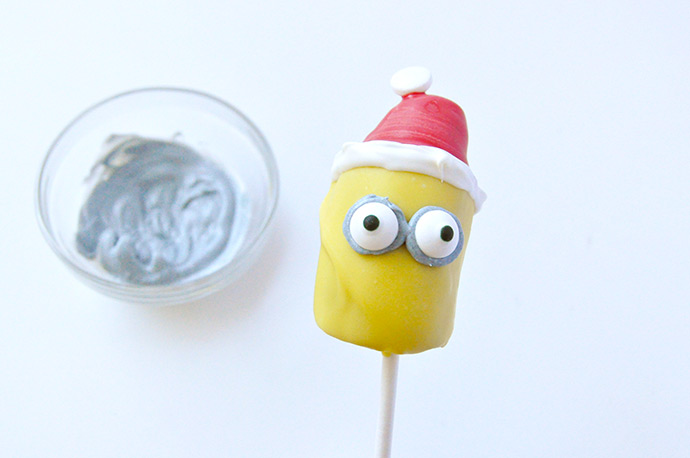 Step 3
You'll also need to add a Santa hat and of course a set of eyes! For the hat, you can dip the Minion's head in melted red chocolate as shown above. Let harden and then drizzle a line of white chocolate across the base to make the fur trim. Use chocolate to stick a white candy on top as the pom pom! If your banana doesn't have a great shape for a hat at the top, stick a red gumdrop on top of the Minion's head, let harden, and then dip that in red chocolate.

For the eyes and goggles, start by melting white chocolate wafers and add a drop of black food coloring, stirring, so that you end up with a pale grey/silver. Use a toothpick to apply two big drops onto the Minion's face and then press a candy eye into each grey drop so that it expands past the edges of the eyes. Then use a toothpick to apply more grey chocolate as the strap going around the head.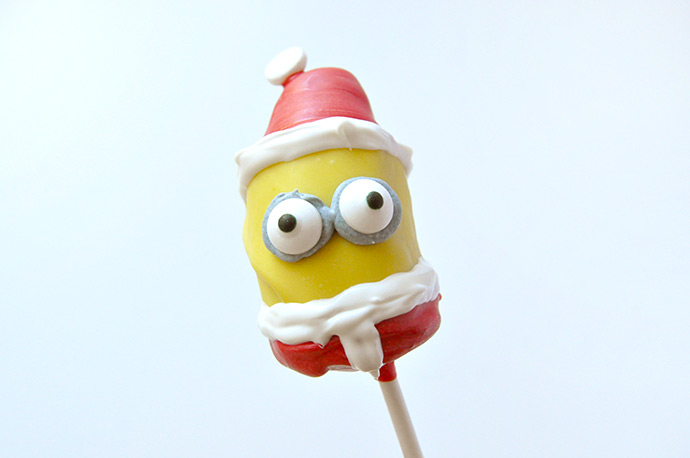 Step 4
You should now have something like this! The great thing about these Minion pops is that you can customize their outfits as you like, so there isn't really a wrong way to decorate them.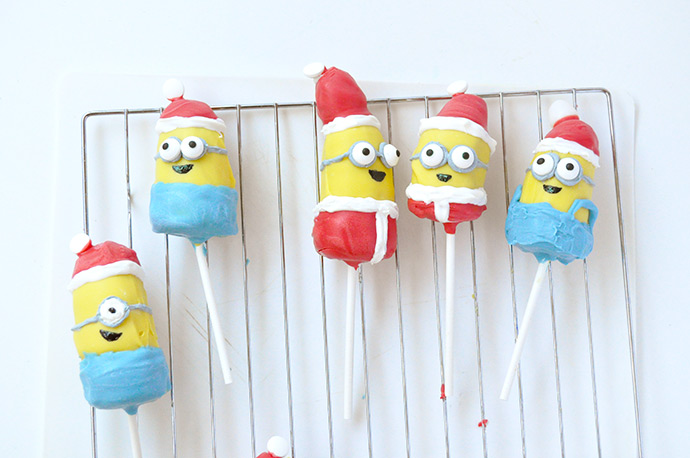 Step 5
For the mouth, dip a toothpick into black food coloring and simply draw it onto the Minion.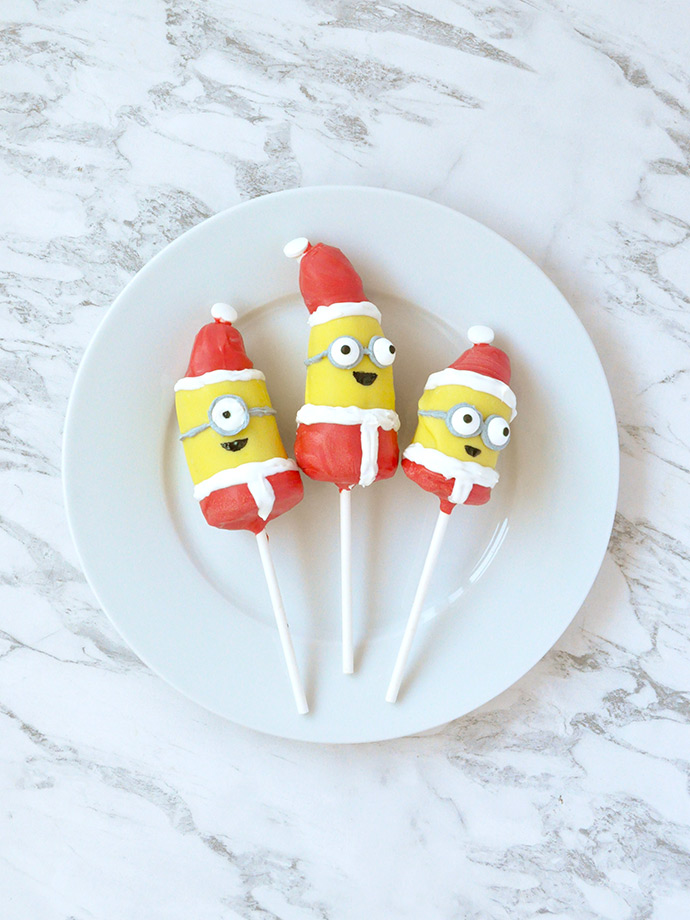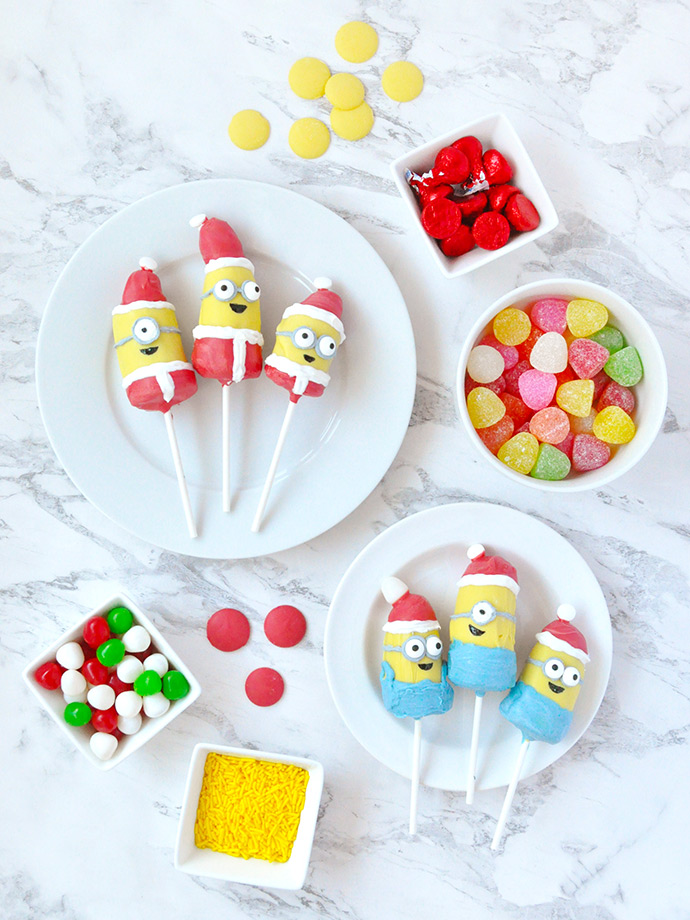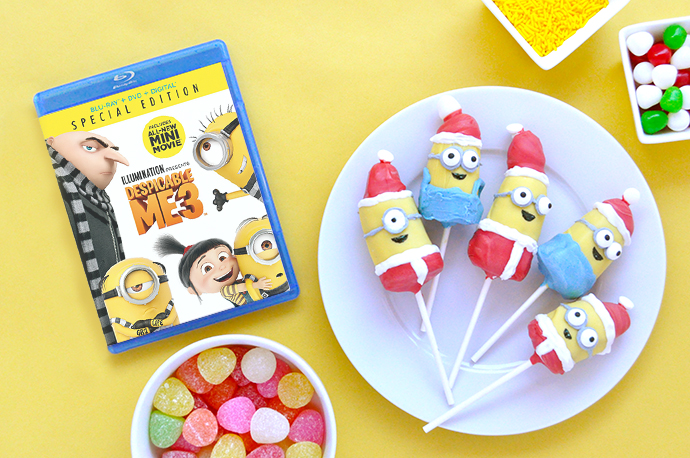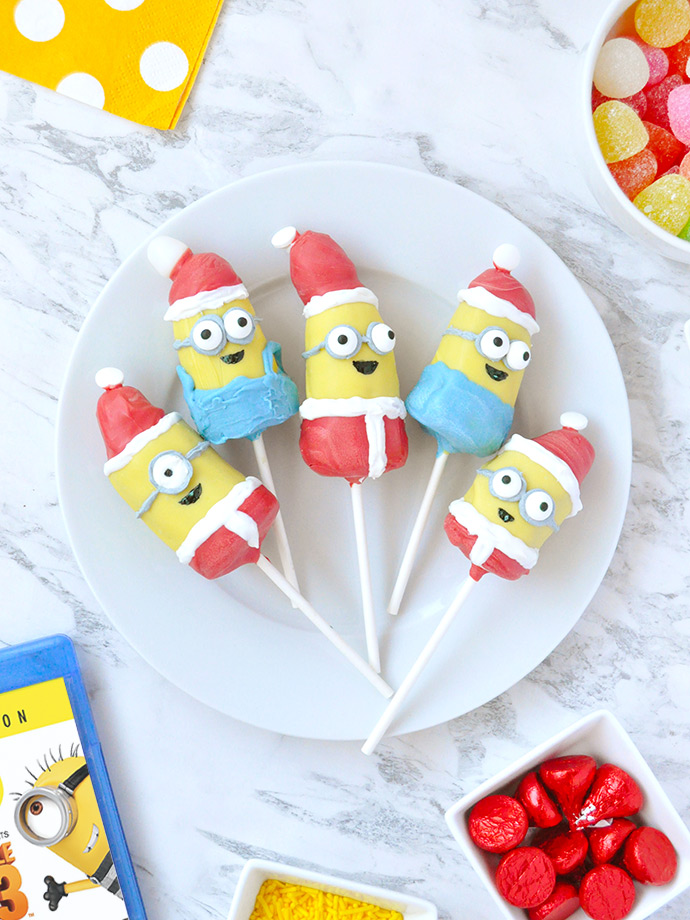 Yum yum – enjoy your delicious Minion pops! Despicable Me 3 Special Edition is available on Blu-ray and DVD December 5th.