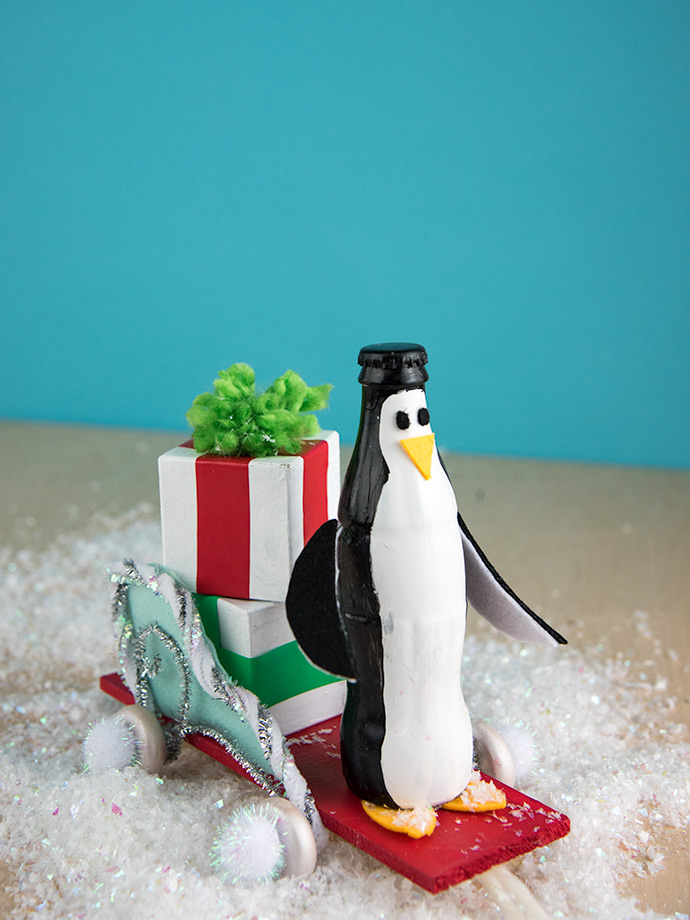 This time of year, perhaps more than any other, is a time tradition and reveling in thoughts and feelings of nostalgia: that handmade ornament your Grandma always put up on her tree, that plastic light-up Santa that adorned your front porch, that special mug your Dad always drank out of on Christmas morning.
Now that I'm grown, I find myself reminiscing about the simplicity of the gifts I received as a child – few toys evoke a sense of nostalgia the way traditional wooden pull toys do. Kids of all ages can appreciate a pull toy, and even as an adult, you can admire its simplistic beauty. We thought it might be fun to make our own pull toys this holiday season. And what says "holiday" better than penguins in scarves?
For these pull-along penguins, we used empty Coca Cola bottles, a few craft supplies, and a lot of creativity!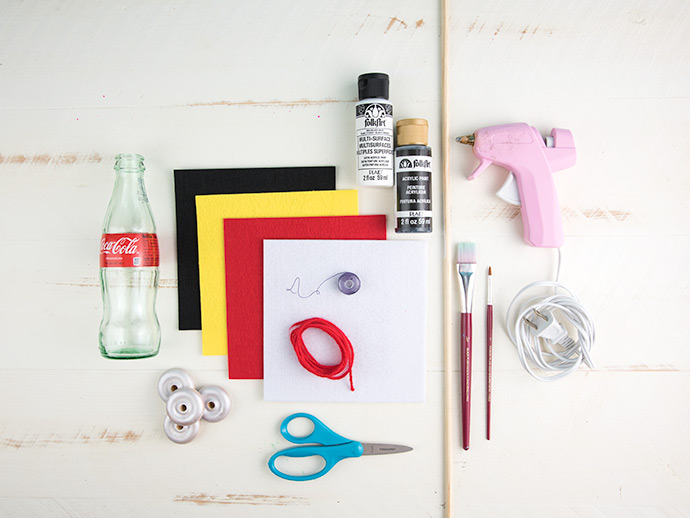 Glass Coca Cola bottles
8×11 sheets of felt (green, red, white, and yellow)
1 1/2 yards of thin wire
Wooden toy wheels
Thin wooden dowel
Paintbrushes
Hot glue
Scissors
Acrylic paint
Yarn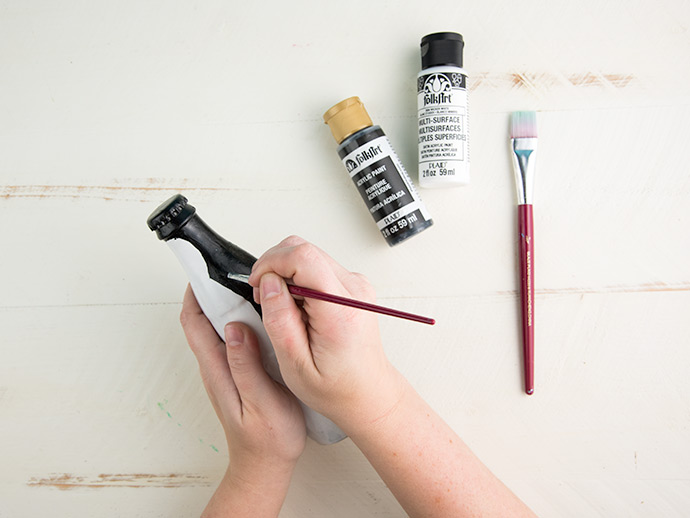 Step 1
Coat your glass bottles with white paint. Once the layer of white paint is dry, lightly sketch the outline of a penguin body on the glass bottle, then fill in with black paint. We chose to paint our penguin bodies on 3 different ways: with the base of the bottle as the feet, with the base of the bottle as the head, and with the bottle horizontal.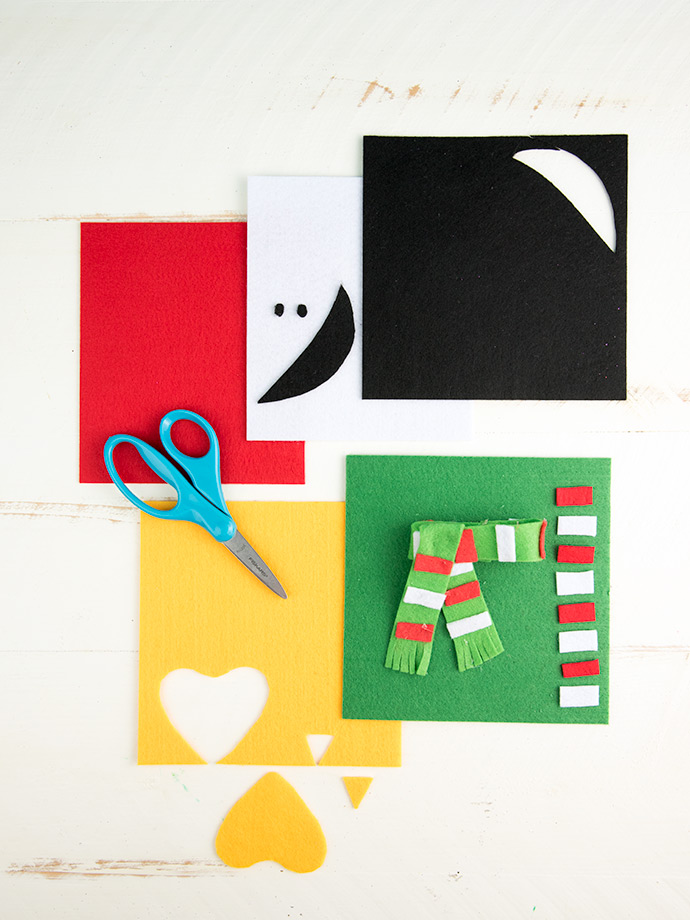 Step 2
While you're waiting for your penguins to dry, you can begin the prep-work for the felt accessories. Cut several strips of felt 1"x4" for the penguins' scarves. Keep one of the strips whole, but cut the others into tiny strips 1" tall – these will become the stripes on the scarf. Glue the stripes onto the scarf and set aside.
Cut several small, black circles for the penguins' eyes. Cut yellow triangles for their beaks and a heart-shape for their feet.
Finally, cut several half-moon shaped pieces of black and white felt for the penguins' wings. Glue the black wing top to the white wing bottom.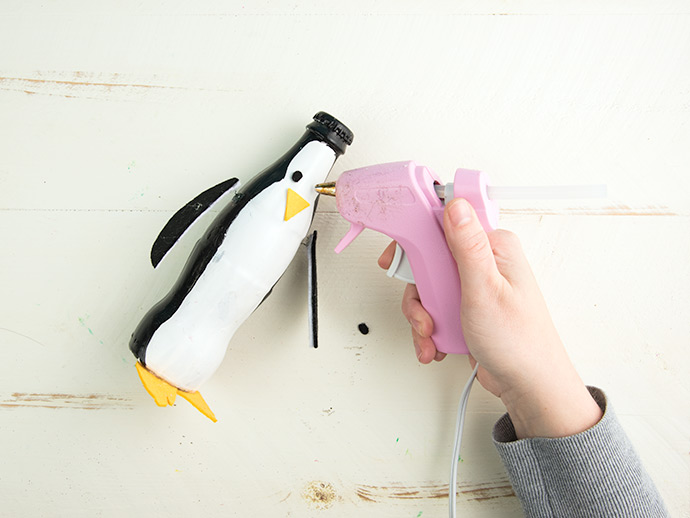 Step 3
When your penguins are dry, you're ready to decorate them! Take a thin piece of wire and wrap several times around a pencil to create a small spring. Hot glue the spring to the base of the penguin wing, then hot glue the wing and the spring to the penguin's body. This will allow the penguins to "wobble" their little wings!
Hot glue the eyes, beaks and feet onto your penguin. Finally, wrap the felt scarf around your penguin and hot glue.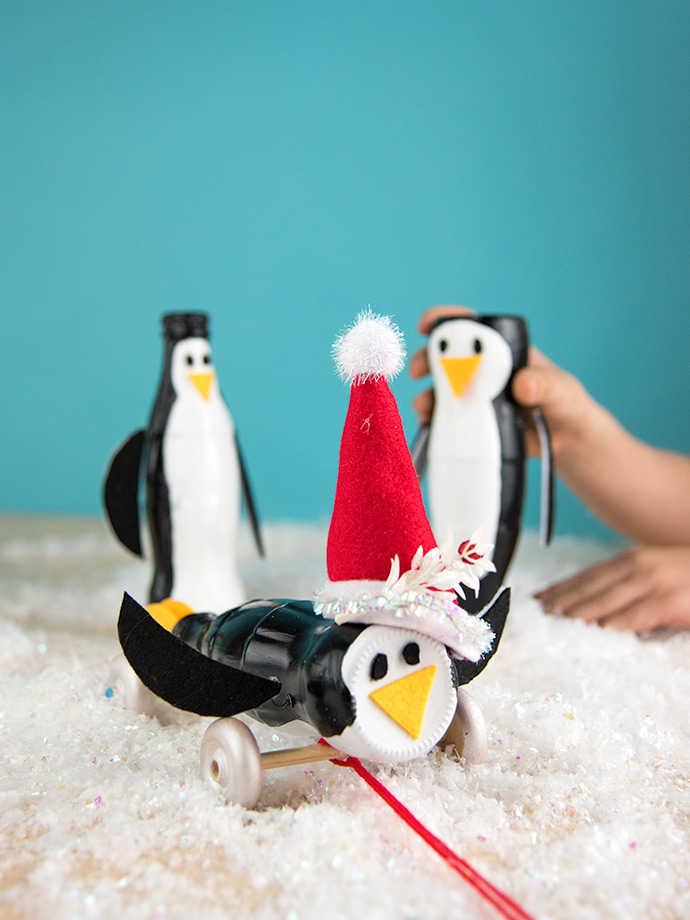 Step 4
To turn your penguins into pull toys, simply cut your wooden dowel slightly wider than your Coca Cola bottle and pop on 2 wooden toy wheels, then hot glue in place. Depending on which penguin you plan on converting into a pull toy, you may need to duplicate this dowel rod with wooden wheels. Hot glue the dowel rods to your penguin in whatever manner is necessary so that the penguin is evenly balanced. Tie a piece of yarn to your dowel and add a wooden bead to the end.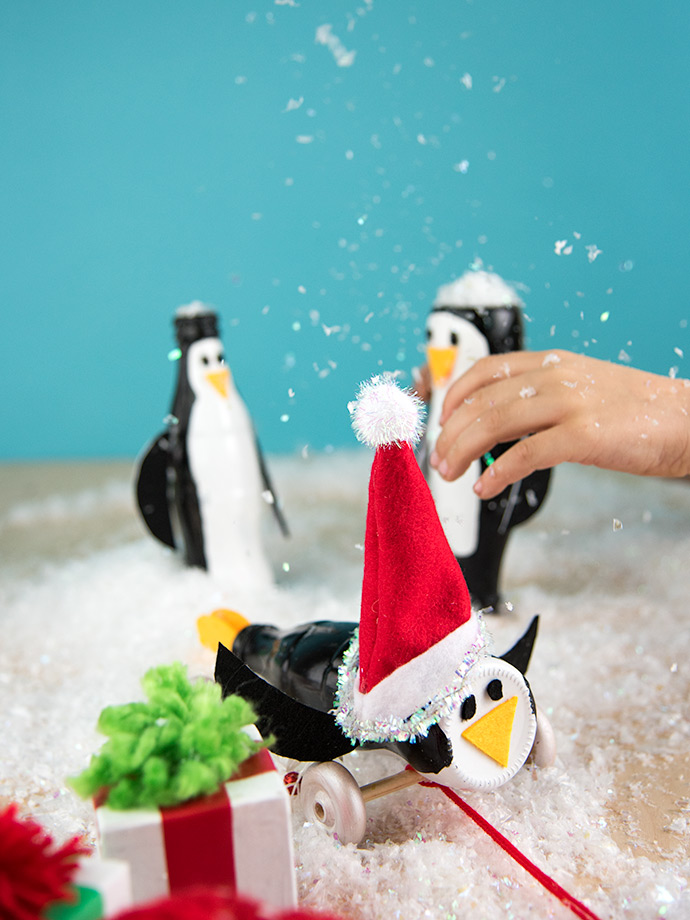 Give your penguins a little tug all around your home, or let them sit stationary on your mantle or dining room table!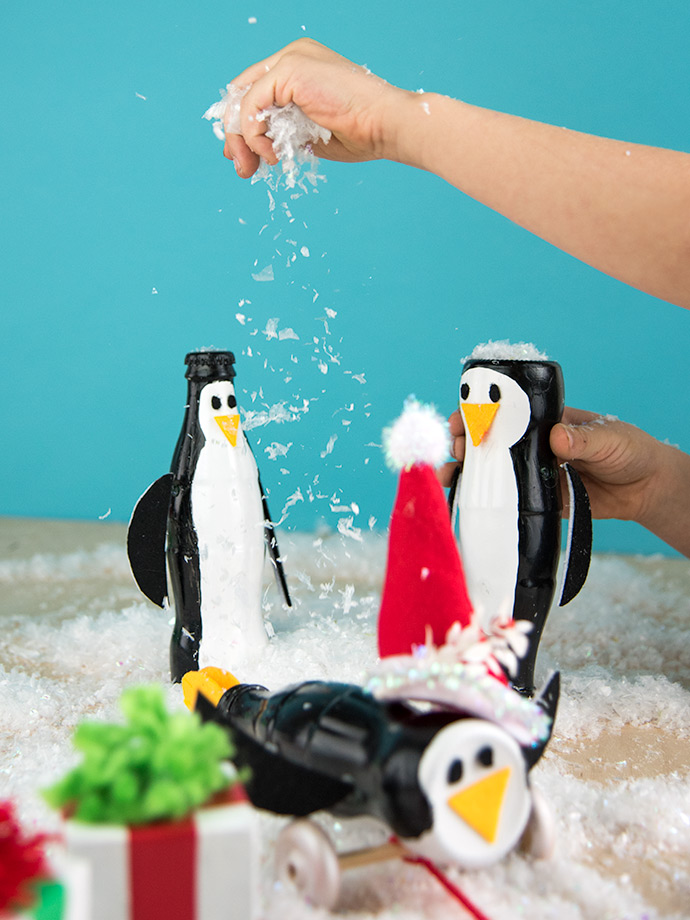 This post is sponsored by Coca-Cola.