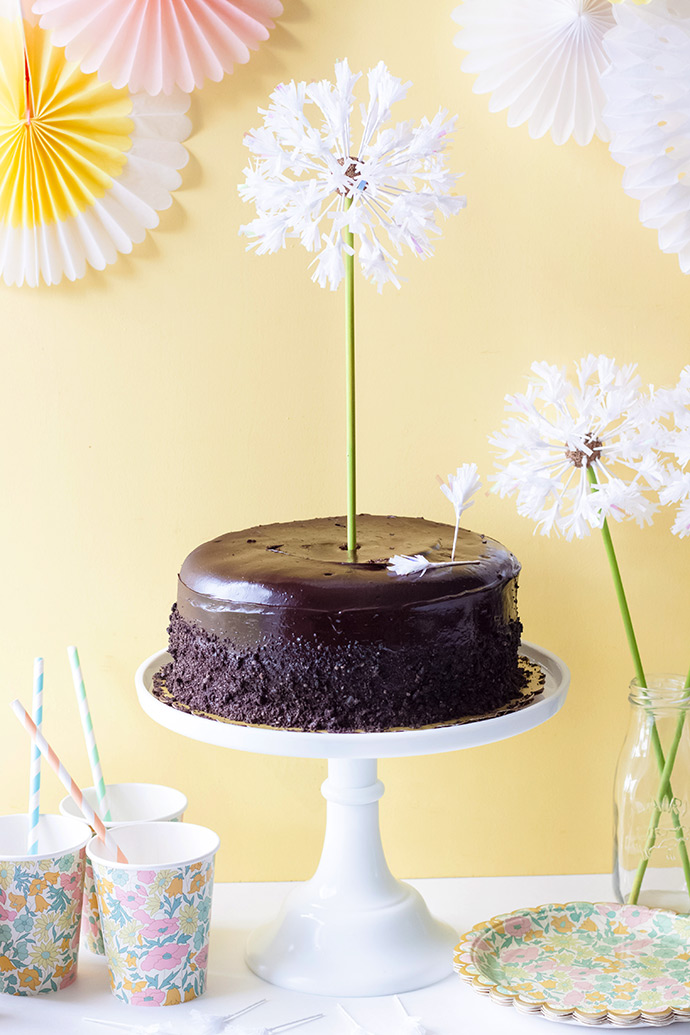 Nothing says "spring" like a field full of dandelions! There is also nothing sweeter than receiving a bouquet of them from a child. I am sure we all remember making a wish, and blowing the fluffy white ones all over the yard – to our parents' dismay!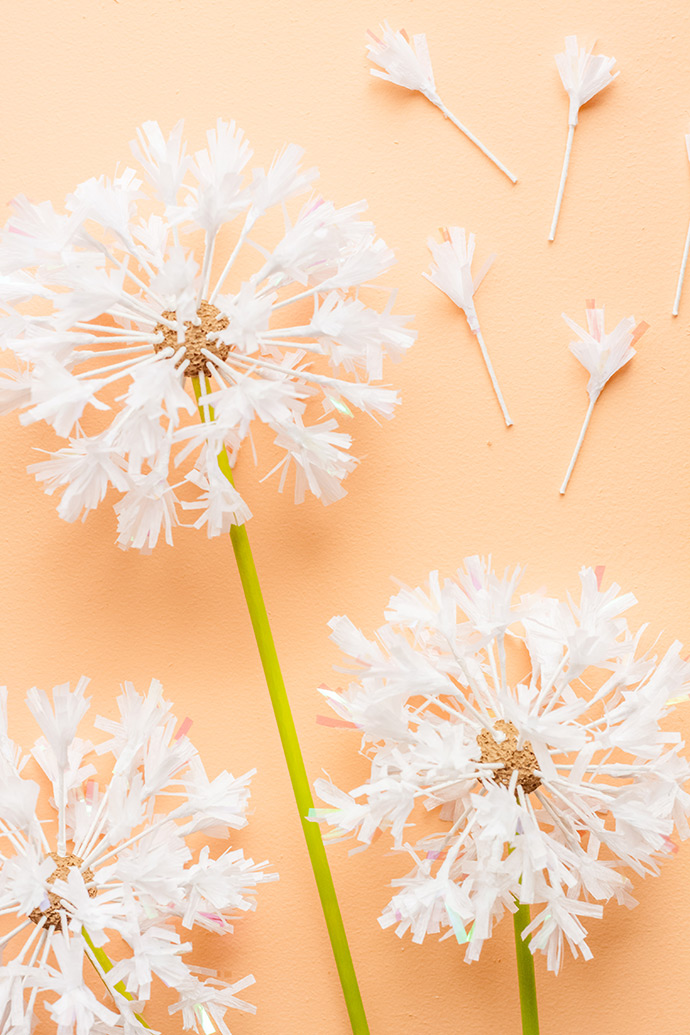 Although I don't want them growing on my lawn (or my neighbor's), I have to admit, they're a pretty cool weed. I have always wanted to try making a dandelion, and thought it would look really fun on a cake! They're also pretty cute in a vase, as a centerpiece. When we finally get some warmer weather around here, it will definitely be worth celebrating! Why not invite some friends to join you for a spring party or picnic, and craft some giant dandelions?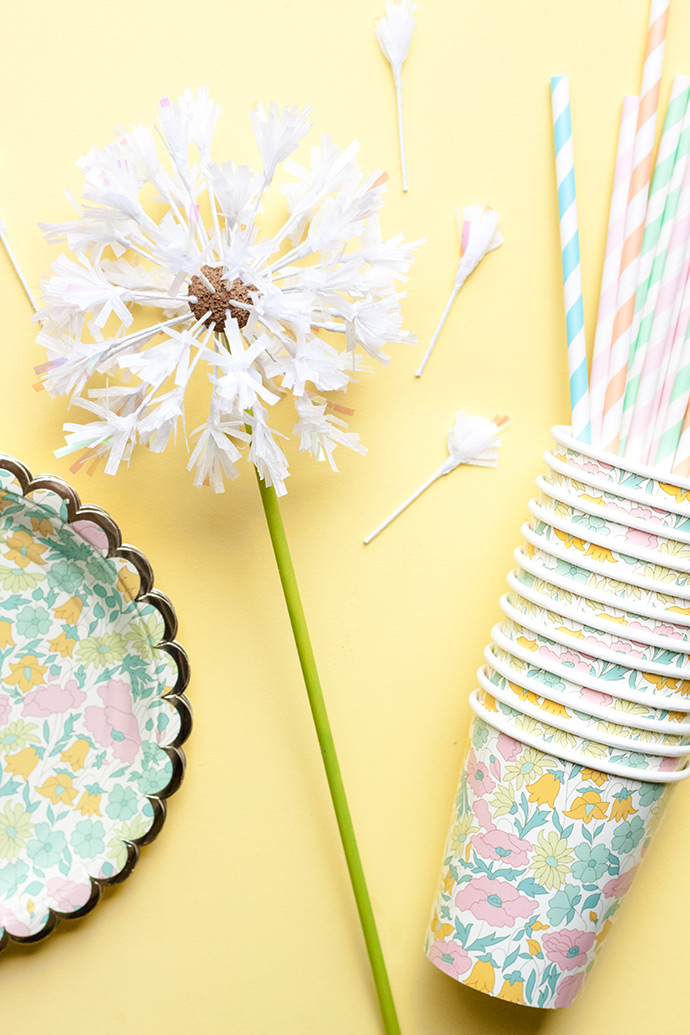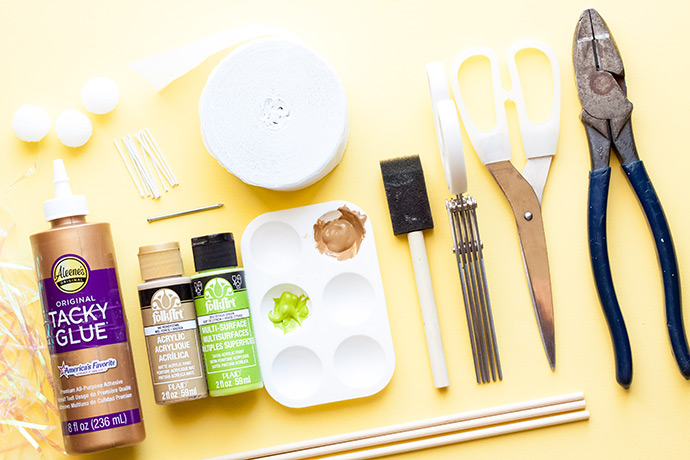 • 0.9" Styrofoam ball
• White floral stem wire
• White streamers
• Iridescent shred (optional)
• Dowels (3/16" x 12")
• Folk Art acrylic paint (honeycomb and citrus green)
• Sponge brush
• Tacky glue
• Scissors
• Fringe scissors (optional)
• Wire cutters
• Nail (we used a 2" fastener)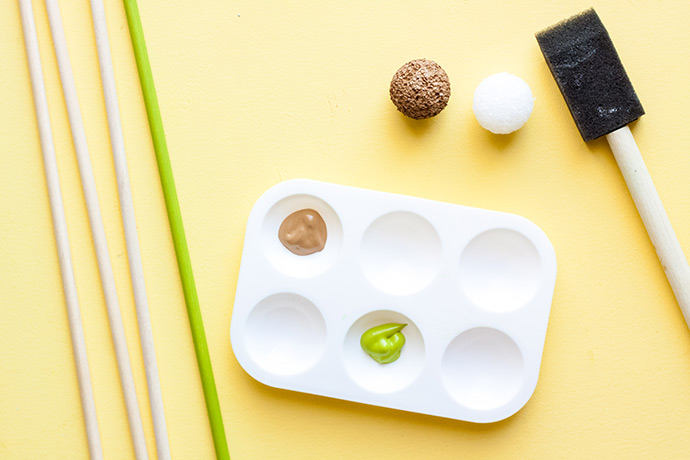 Step 1
Paint a wooden dowel in citrus green, and set aside to dry. If you are planning to put the dandelion in a cake, leave several inches unpainted on the bottom. Paint the Styrofoam ball in honeycomb, and set aside to dry as well.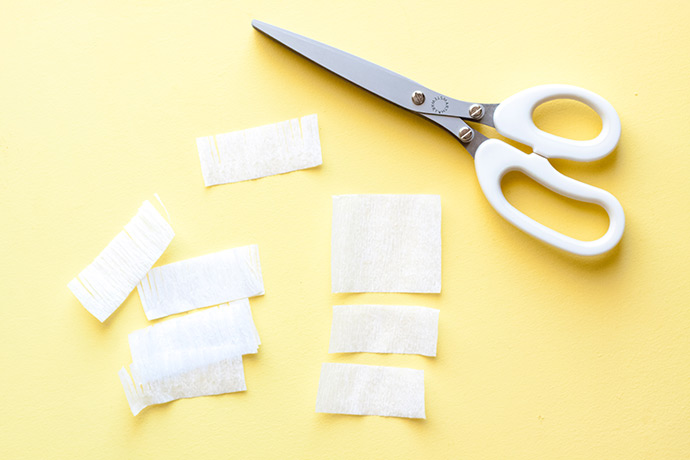 Step 2
Cut off a 2 ¼" piece of streamer, and cut that piece in half so that you now have two pieces that are slightly less than 1" wide. Use fringe scissors to create fringe on one edge of each piece of the streamer strips. Leave about ¼" uncut at the bottom. Regular scissors work as well, but it will take longer.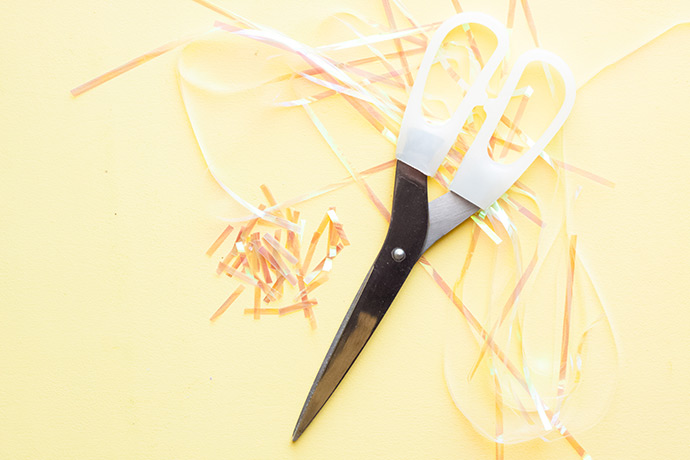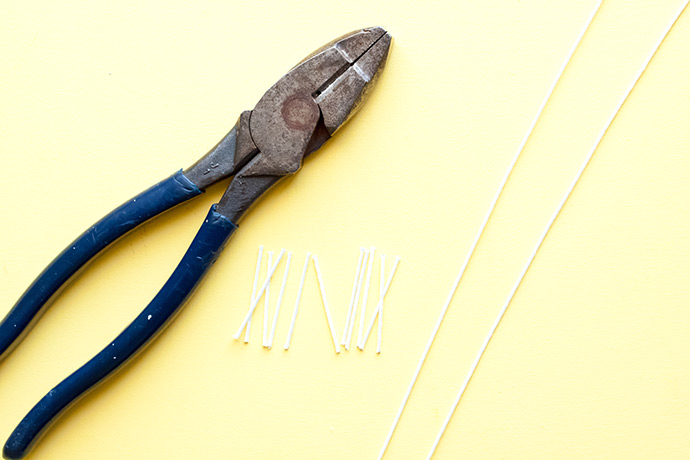 Step 3
Cut some iridescent shred into slightly less than 1" pieces, and cut your white floral wire into 1 ½ – 1 ¾" pieces using wire cutters.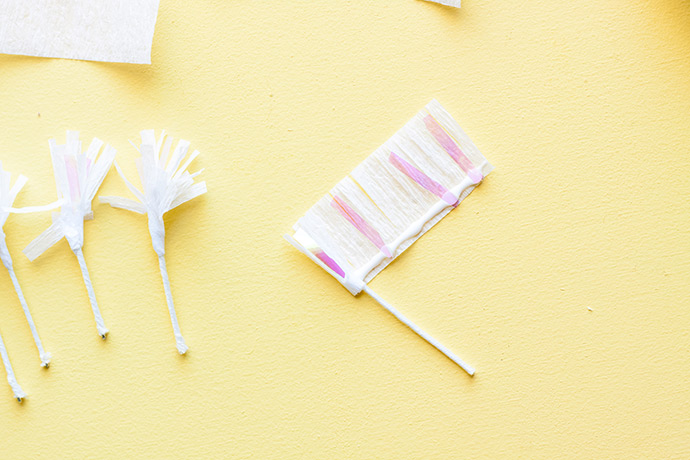 Step 4
Place a line of tacky glue along the uncut ¼" strip at the bottom of the streamer piece. Randomly space out some iridescent shred pieces along the streamer, with their end tips over the strip of glue.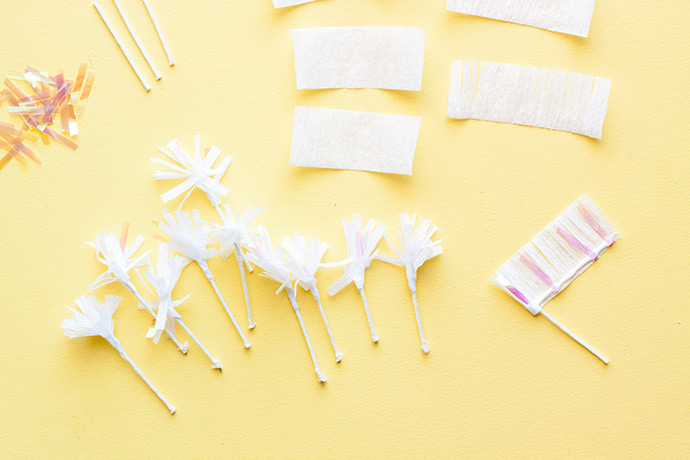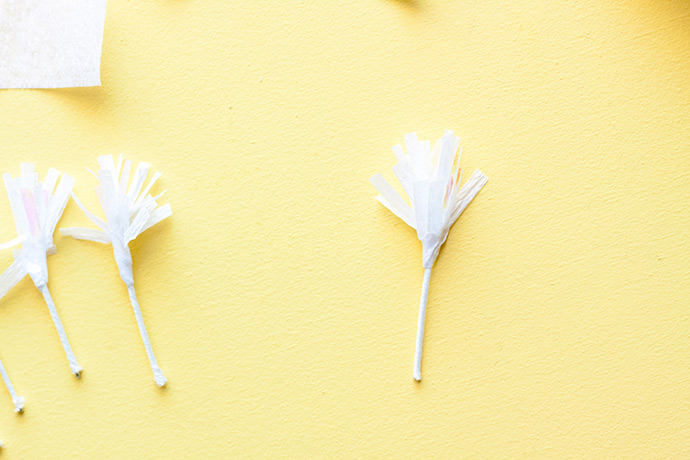 Step 5
Roll the top of a piece of floral wire along the bottom edge of the streamer (in the glue), as tightly as possible. Once the streamer is completely rolled onto the wire, pinch it together in the glued area, and twist it close to the wire until it is staying in place without being held.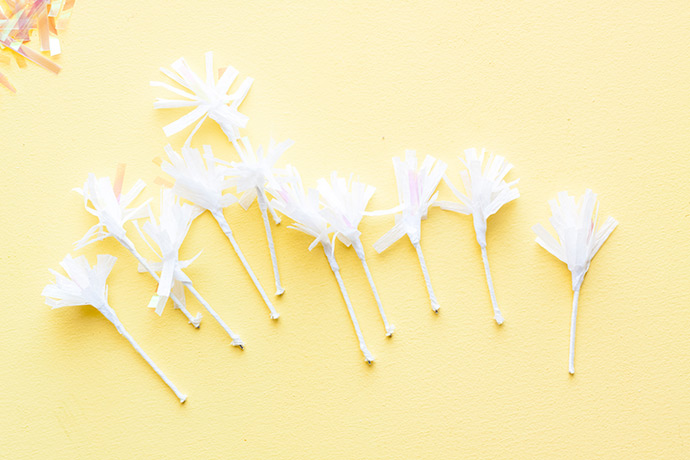 Step 6
Repeat steps 2-4 until you have a whole bunch of little wires with fringe on the end.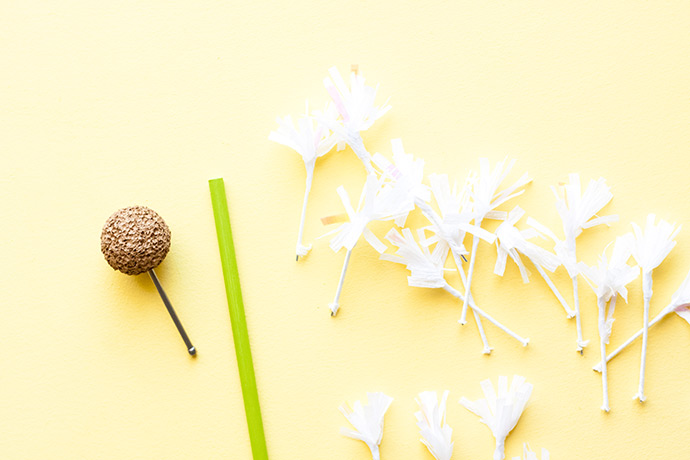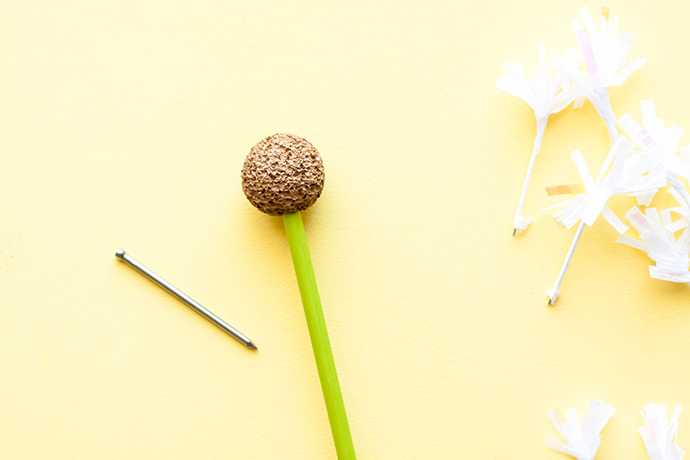 Step 7
Use a nail to poke a small hole in the middle of your Styrofoam ball. Do not go all the way through to the other side. Twist the nail around a bit, until you have enlarged the hole some. Now twist the green dowel into the hole, until it stays in place.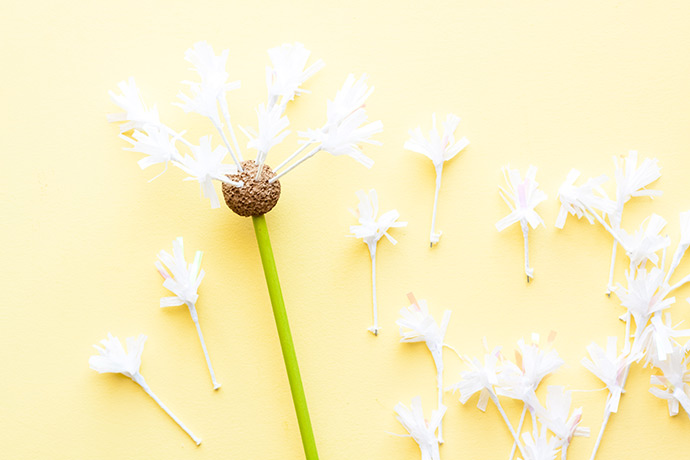 Step 8
Stick the fringe wire pieces into the Styrofoam ball, somewhat randomly, but also fairly evenly spaced. Once you are satisfied with the amount of fringe, and it resembles a dandelion, you can stop making little fringe wires. Yay!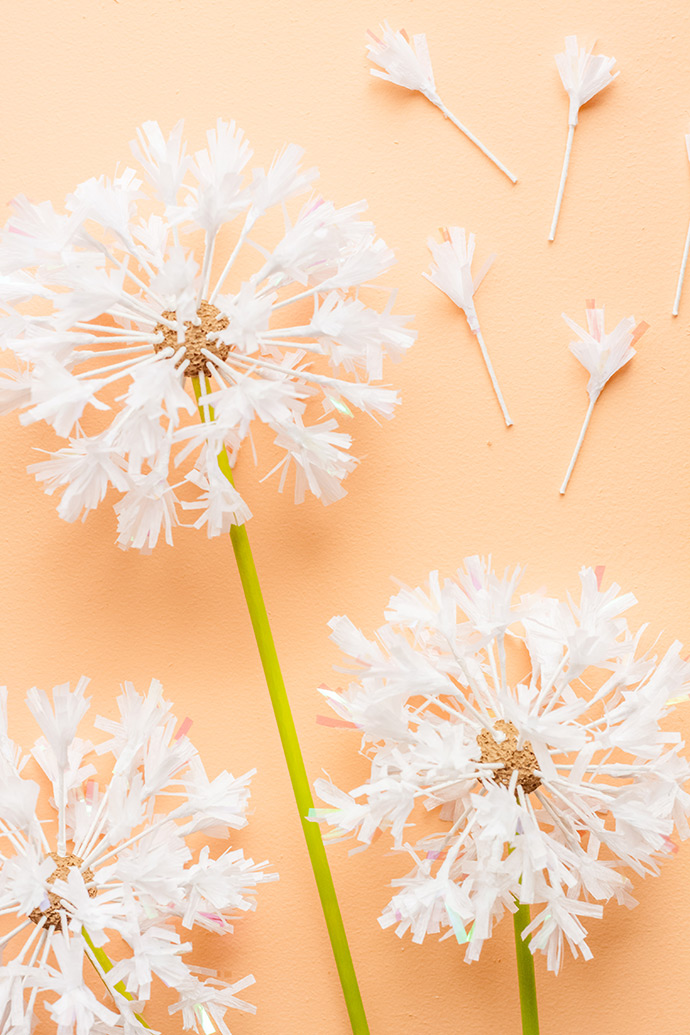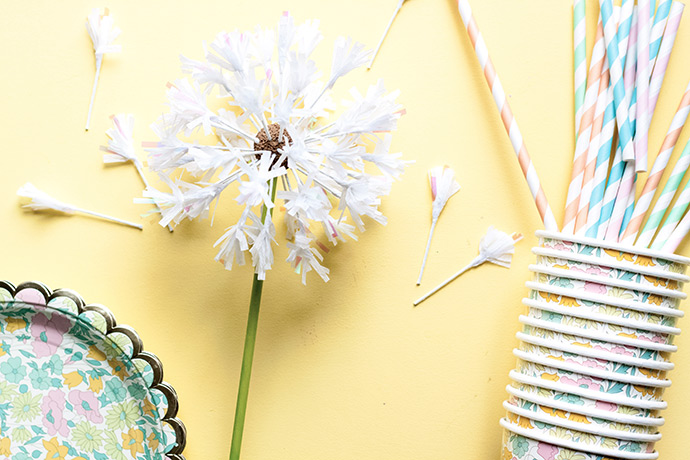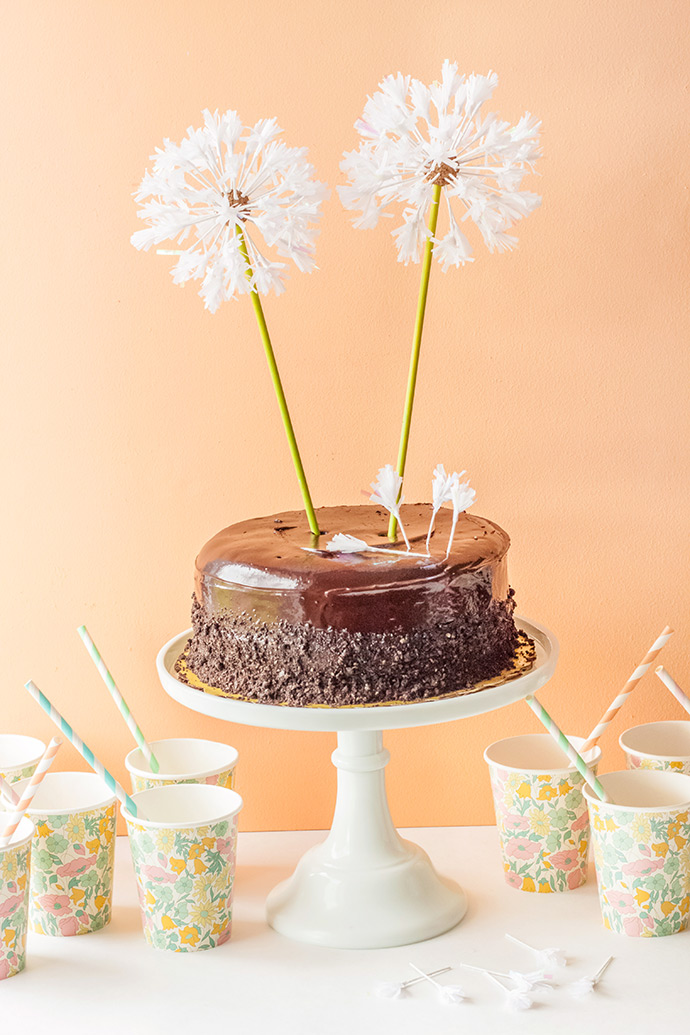 Now place the dandelion in a cake or vase, and make a wish! Happy spring!