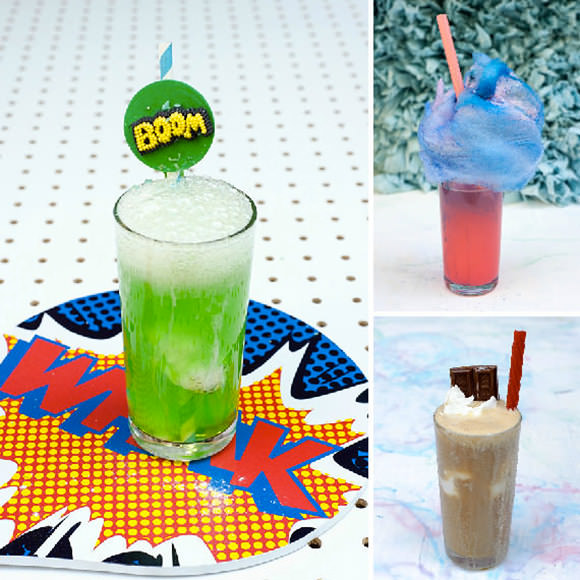 Ready to take your next summer bash over the top? Grab your lab coats, prepare your tastebuds, and get ready for a little kitchen science! Our kids had a blast creating these super slurpers in our kitchen "lab." All it takes are a few simple tools and basic ingredients to get a drink laboratory of your own up and running.
We'll show you the basic steps to make these fantastical drinks and the science behind them. You can pick up everything that you need at Target, the one-stop shop for summer fun. Gather your budding scientists in the kitchen and get ready to mix up a little magic!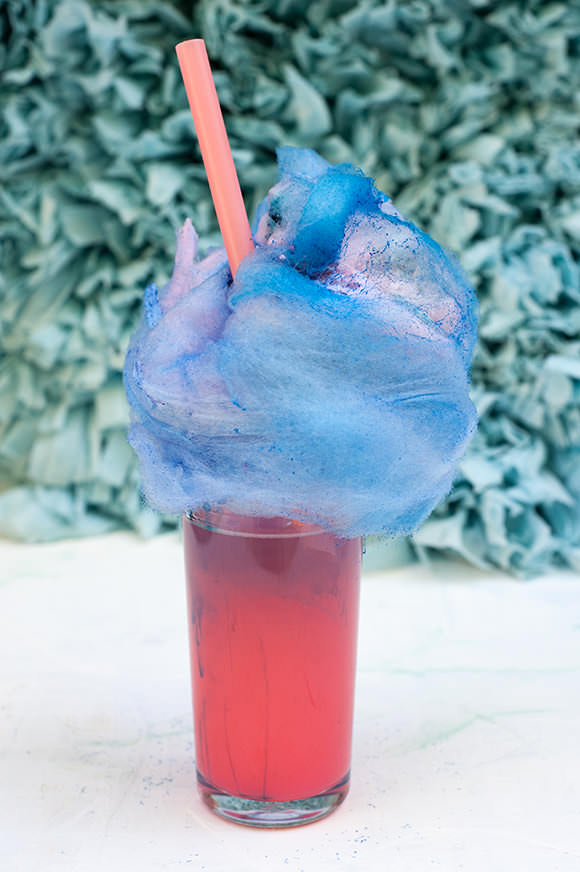 Pictured: Bella Cotton Candy Maker ($39.99), Bella Cotton Candy Kit ($9.99), Jelly Belly Cotton Candy Topping ($2.99), Kid Made Modern Tape Set ($6.99), Kid Made Modern Construction Paper ($7.99), Neon Fashion Watch ($10.99, in store only), Black Raspberry Glaceau Fruitwater ($1.99, in-store only).

Candy Floss Party Punch
There's nothing more fun than than whipping up a batch of cotton candy. We discovered something in our kitchen lab that makes it even better—melting hard candies to make the cotton candy. The fun doesn't have to end when you run out of flavored sugar! This opens a whole new world of flavor and color.
For added fun, let the kids make their own festive cotton candy holders. We used the colorful tape and construction paper from Target's Kid Made Modern collection.
INGREDIENTS
6 ounces Black Raspberry Glaceau Fruitwater (or comparable), chilled
3 tablespoons. Jelly Belly Cotton Candy Flavored Syrup, chilled
2 tablespoons orange juice, chilled
2 Mentos candies, strawberry flavored
Cotton candy
DIRECTIONS
Make a batch of cotton candy using the Bella Cotton Candy Maker. We used a variety of Jolly Rancher candies and the results were fantastic. Place the cotton candy in an airtight container to keep it nice and fluffy while you mix the drink.
Now it's time to fill your glass with the colorful & mesmerizing liquid. Start by adding a few tablespoons of cotton candy syrup. Next, add the Glaceau Fruitwater by pouring it over the back of a spoon (this helps to keep the colors separate, creating an ombre effect). Pour in the orange juice for the final layer.
To top it off, drop in a couple of Mentos and pile the cotton candy high on top of the glass. Poke a straw through the middle and start sipping! The cotton melts fast, so you'll want to drink it right away.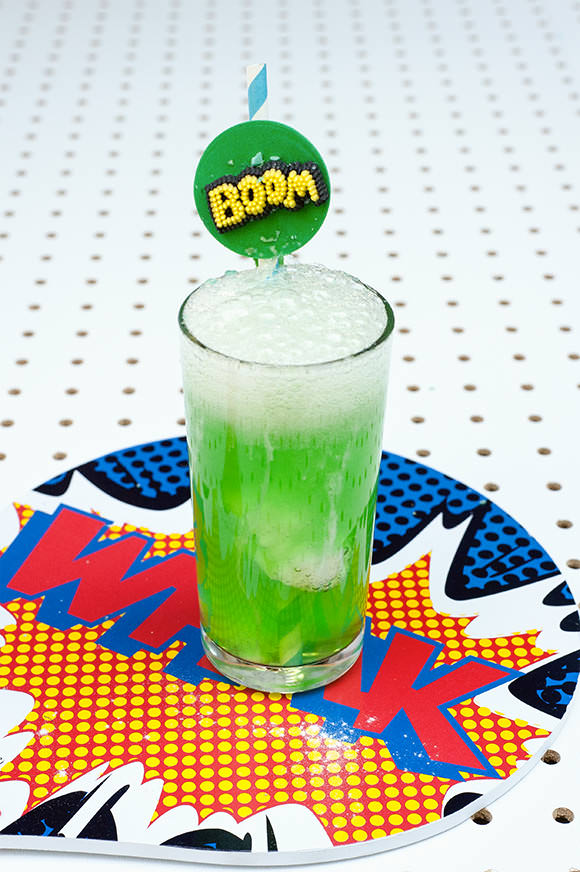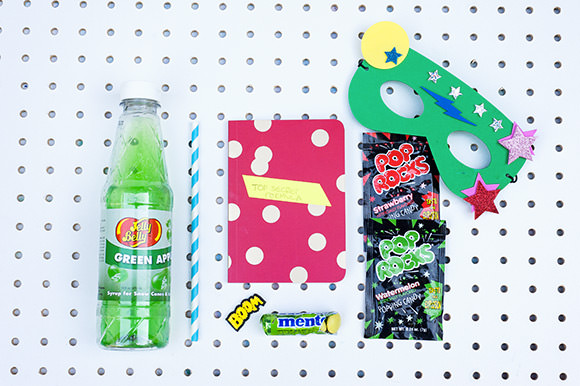 Pictured: Super Hero Paddle Tennis ($5.99, in store only), Jelly Belly Green Apple Topping ($2.99), Set of 3 Pocket Notebooks (for recipes & formulas, $4.99, in store only), Spritz Disposable Straw ($1.99, set of 20), Super Hero Foam Mask Kit ($4.99), Boom! Super Hero Candy Confections ($2.99, in store only)

The Exploding Super Hero Slammer
This is the super hero of all drinks, period! Anything using Pop Rocks is just plain awesome—this crazy drink explodes the second you add the final ingredient. Who doesn't like a little chaos? Your kids will be smiling from ear to ear after completing this fizzy experiment.
Believe it or not, the explosive combination of Mentos and soda has baffled people for years. Even the guys from MythBusters found the mystery worthy of a closer look and came up with an explanation of their own.
INGREDIENTS
6 ounces Sprite
3 tablespoons Jelly Belly Green Apple Syrup
2 Mentos candies, green apple flavored
1 pack Pop Rocks, watermelon or strawberry
1 tablespoon apple cider vinegar
1 pinch baking soda
DIRECTIONS
Pour the Sprite, apple cider vinegar, and Jelly Belly Green Apple Syrup into a chilled glass. Mix together with a spoon. Drop in the Mentos and let them fall to the bottom of the glass.
Now comes the fun part: add a pinch of baking soda and quickly pour in the Pop Rocks. Push a straw through the froth and start drinking from the bottom up! The concoction mixes together beautifully and tastes great.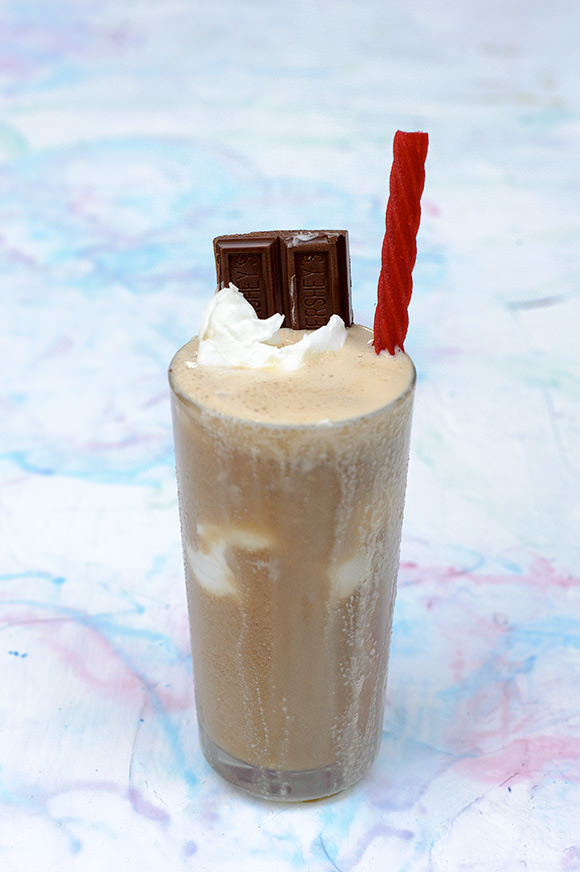 Pictured: Spritz Party Favor Novelty Glasses ($3, set of 4), Red Vines Original Red Twists Licorice ($1.99)
The Salted Caramel Monkey Entertainer
The name of this drink alone will grab everybody's attention (it's the brainchild of our eight year old, Murphy). Basically, it's a super-charged root bear float. We added a few twists of our own to take this classic favorite to a whole new level. Once you've had a taste, you'll be dreaming of your next mug of frothing awesomeness.
Check out this link for the science behind the bubbling coolness of root beer floats!
INGREDIENTS
6 ounces natural root beer soda
1/2 banana
4 squares from a Hershey's chocolate bar
1 scoop Häagen-Dazs Salted Caramel Ice Cream
1 scoop Häagen-Dazs Vanilla Bean Ice Cream
1 twist Red Vines Licorice (optional, for straw)
DIRECTIONS
Blend the banana, salted caramel ice cream, two squares of Hershey's chocolate, and two ice cubes together in a blender. Pour the mixture into a chilled glass, followed by the root beer. It will start foaming like crazy at this point—for less foam, pour the root beer into the glass first.
Next, drop a scoop of vanilla ice cream in the middle of the creamy bubbles. Follow with a twist of Red Vine Licorice to use as a straw (because drinking through licorice is totally awesome). Top it off with the extra squares of Hershey's chocolate and enjoy!
---
This summer inspiration is brought to you by Target's Short Shorts Sale Buy One, Get One 50% Off all women's shorts Friday & Saturday only. Find more fun and surprises all season long on Target's #SummerUp Pinterest board. Link to: http://pinterest.com/target/summerup.