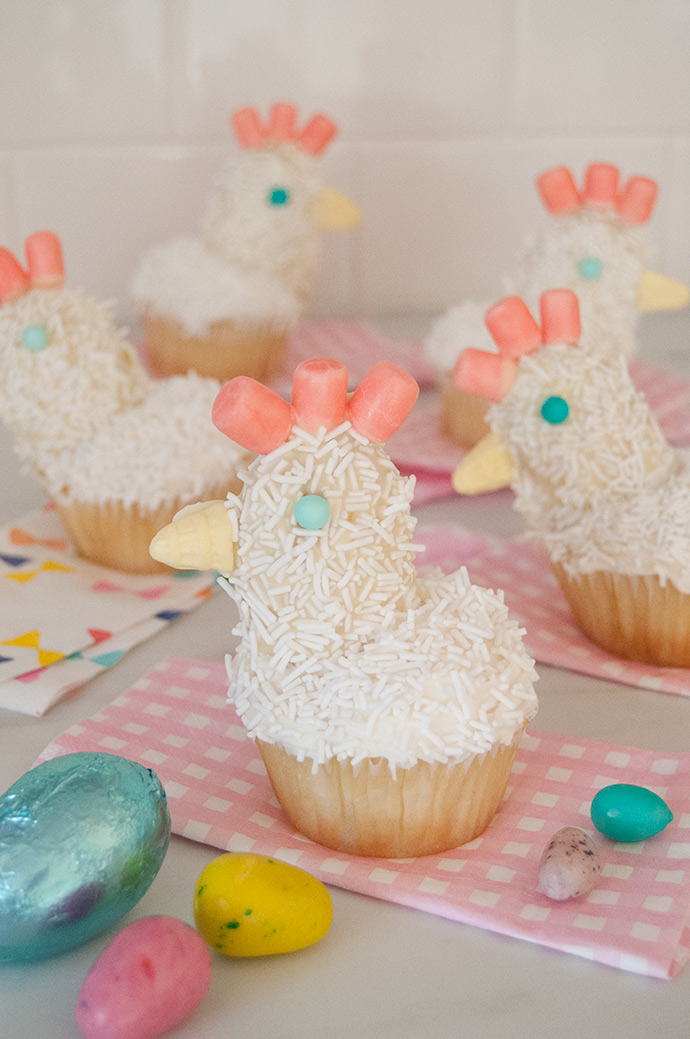 Easter is usually all about bunnies, which is totally fine in my books, but it got me thinking – the poor, unappreciated chicken gets pretty overlooked, and they're the ones giving us all these eggs! I was reading Peekaboo Little Chick to my daughter and realized that the mama hen in the book was perfectly shaped to turn into a cupcake if I used a ladyfinger cookie as the head, so that's exactly what I did here.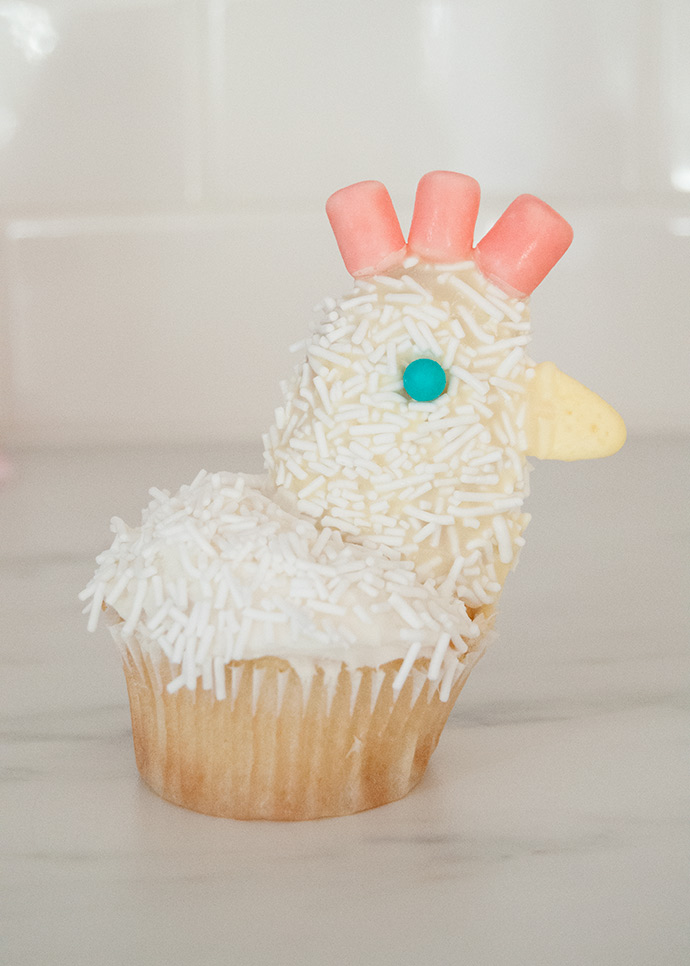 Originally I hadn't planned on covering this chicken cupcake with sprinkles, but since my white candy melts didn't quite match the white frosting, I tried adding the sprinkles to look like feathers. You could embrace rainbow-colored chickens too – wouldn't pastel hen cupcakes be adorable for Easter? Fair warning though – I did attempt a pastel pink hen and it ended up looking a bit like a plucked chicken, so pale blues, purples, and yellows might be your safest bet if you choose the rainbow route!
Cupcakes
White frosting
White sprinkles
Giant ladyfingers
White chocolate melts
Round sprinkles (blue or black)
Small red candies
Yellow candies
Kitchen knife
Parchment/wax paper
Step 1
If you're baking your own cupcakes, do this first and let them cool completely. I used boxed white cake mix for these and they're almost too fluffy/lightweight – if you have a richer/more dense cupcake option, that will help keep the hens' heads secure a little easier.
Step 2
Melt white chocolate in the microwave, stirring every 30 seconds or so to prevent it from scorching. Stir until it is melted and smooth.
Step 3
Pour your white sprinkles into a shallow bowl and use a knife to cut off about 1/3 of a giant ladyfinger.
Step 4
Use a spoon to pour melted chocolate over the ladyfinger so that it's nice and covered. Dip the chocolate into the white sprinkles and set onto a piece of parchment paper.
Step 5
While the chocolate is still soft on the chicken head, dip three small red candies into white chocolate and place atop the chicken's head. Do the same for a yellow candy to act as a beak. You can use whatever candy you have on hand for these – the yellow beak pictured is the bottom of an ice cream shaped marshmallow and the I made the red comb using candy-coated mini marshmallows. Jujubes or jelly beans would also work great for both!
Step 6
Pick out a round sprinkle and dip one side of it into more white chocolate, and then nestle it onto the chicken head to secure among the sprinkles. Leave the chicken head on the parchment to completely harden.
Step 7
Once the chocolate is dry and everything feels secure, frost the cupcake and then use a knife to cut a slot into it, about the width of the ladyfinger. Carefully wedge the chicken head into the slot and add sprinkles onto the frosting to match the head.
Step 8
Repeat this process to make as many chickens as you like!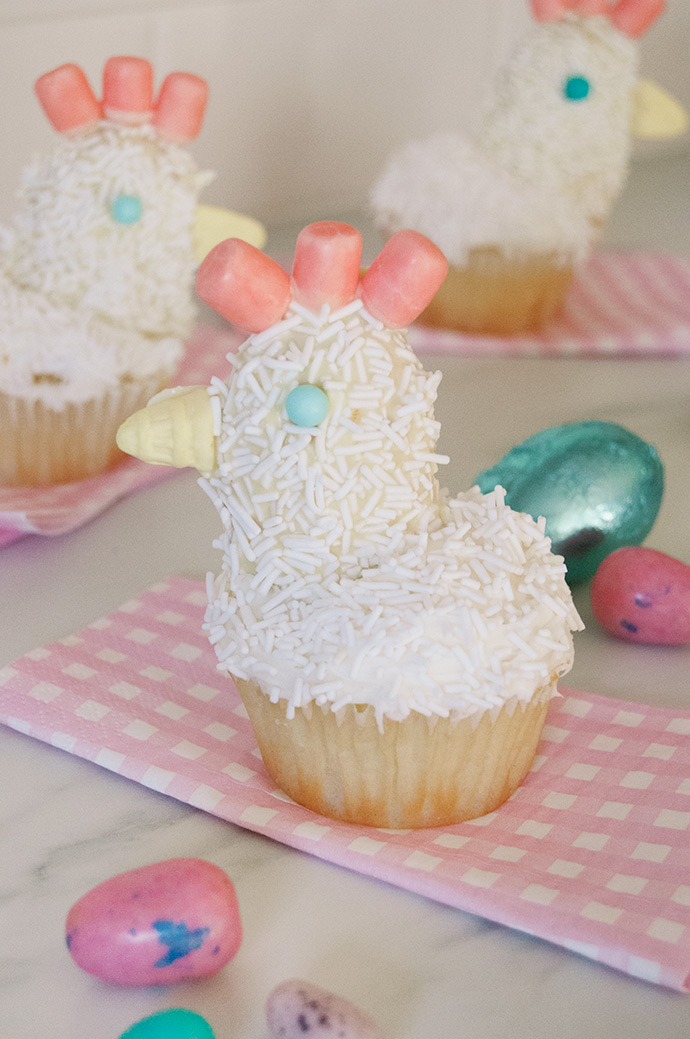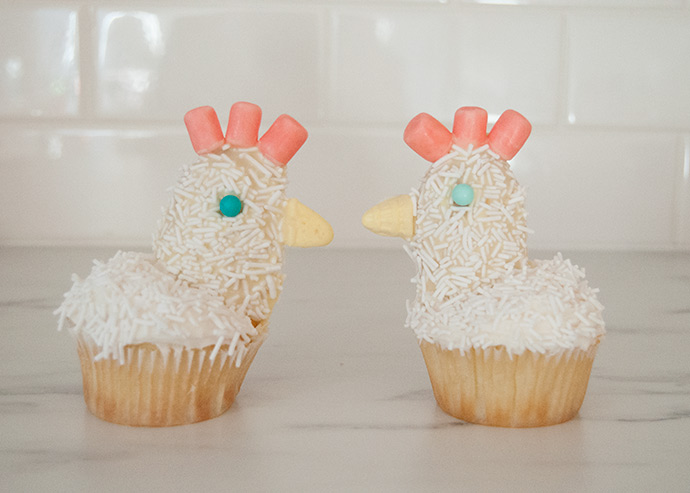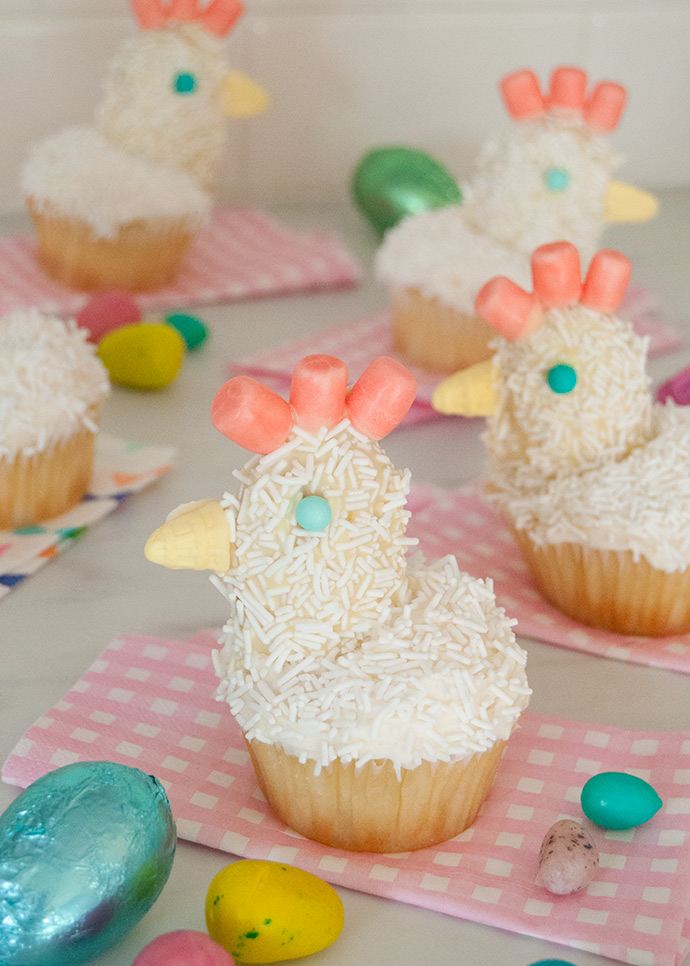 Happy Easter!