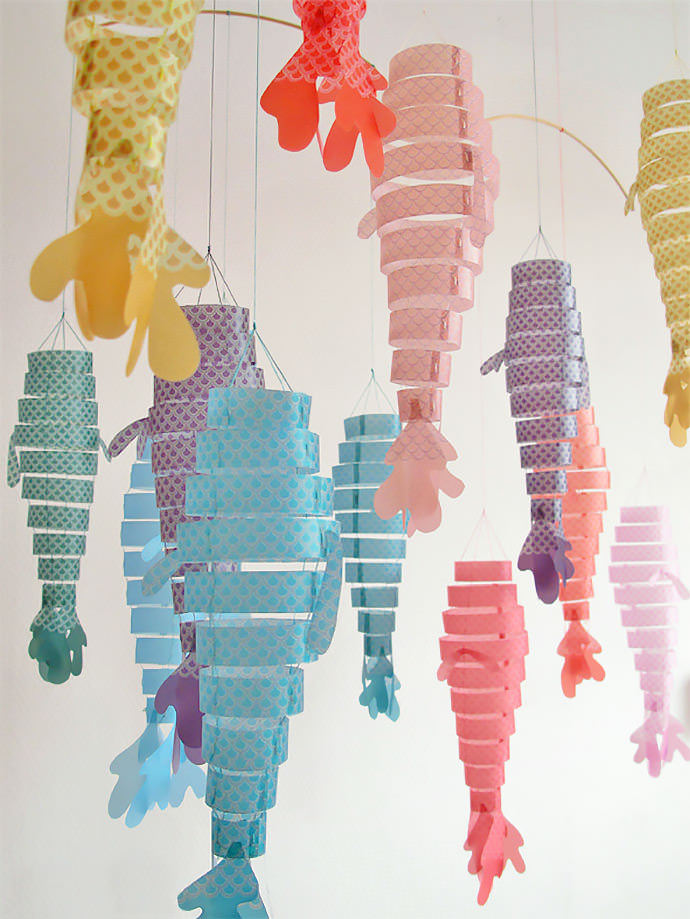 I'm lucky because here in the South of France it almost feels like summer. The kids are on half-term break, the weather's been wonderful and we're spending us much time as possible outdoors. We live twenty minutes from the beach so what better playground for us all, especially now the days are getting longer.
I've never met a child, big or small, who doesn't love beach combing, building sand castles, burying themselves in the sand… My three also love sailing with their dad. There's a vast, exciting world out there on and under the Big Blue, and that got me thinking about kids' design. The web is teeming with owl plushies, furry foxes and cuddly bunnies, but where's all the sea life?
I had to swim deep, so I do hope you'll enjoy this collection of sea creature finds!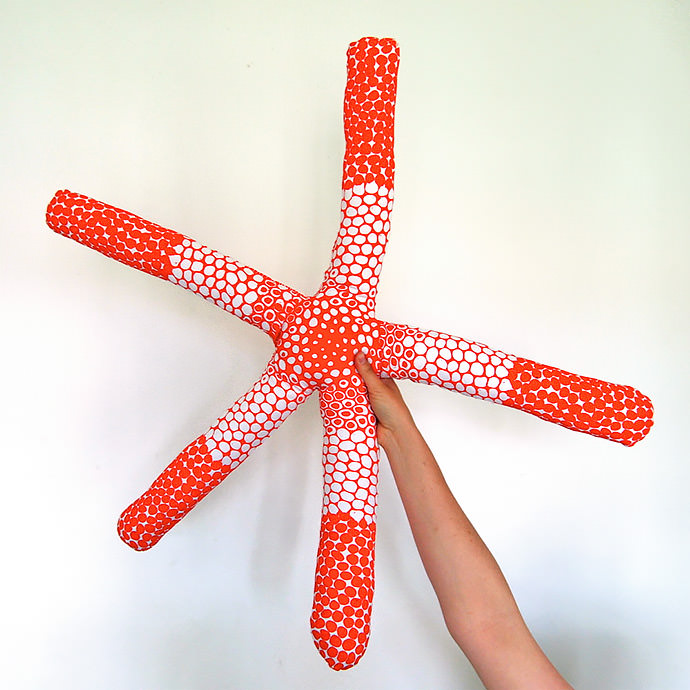 Cuddly Starfish
Available for approx. $68 from Jo Waterhouse
If you have a thing for fish I'm pretty sure you'll love the fun work of British textile designer Jo Waterhouse. Her bright long-legged starfish companion can be used as a pillow, plaything or decorative item anywhere in the home, and she makes the nicest cuddly turtle I have ever come across!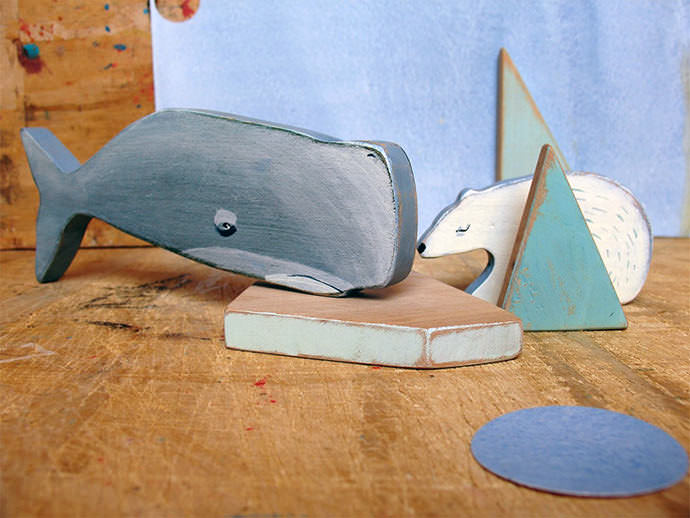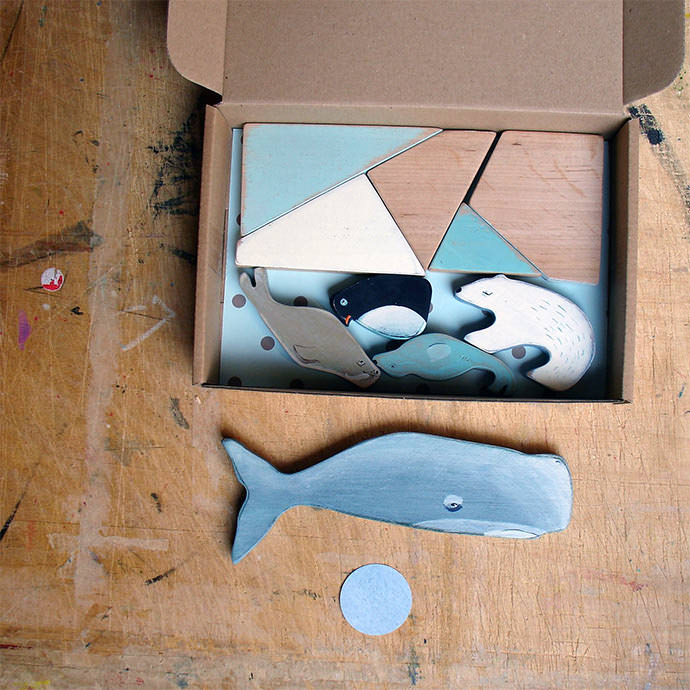 Wooden Sea Creature Play Set
Available for approx $48 from JouJou
Jana Nachlingerová is one of my all-time favorite kids' designers. Whether painting or working with paper and wood, this Czech artist has a unique, distinctive style. I love her new sea creature sets (including mini submarine) both natural and hand-decorated with non-toxic paints.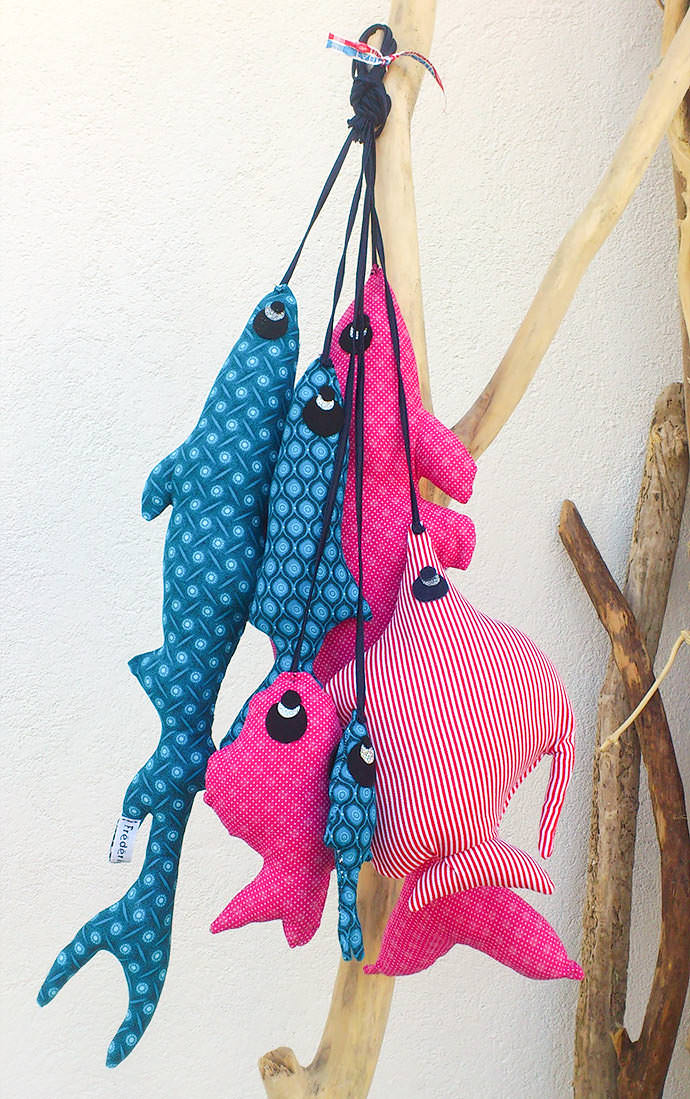 Decorative Fish Toys
Available from Les Curiosités de Fred
French designer Frédérique Petit likes fish. She likes all sea creatures in fact, and loves to craft endearing lobsters, crabs and sardine soft toys, key rings, pillows and mobiles out of beautiful, colorful fabrics. Keep an eye on her bigcartel shop or else you'll miss the catch of the day!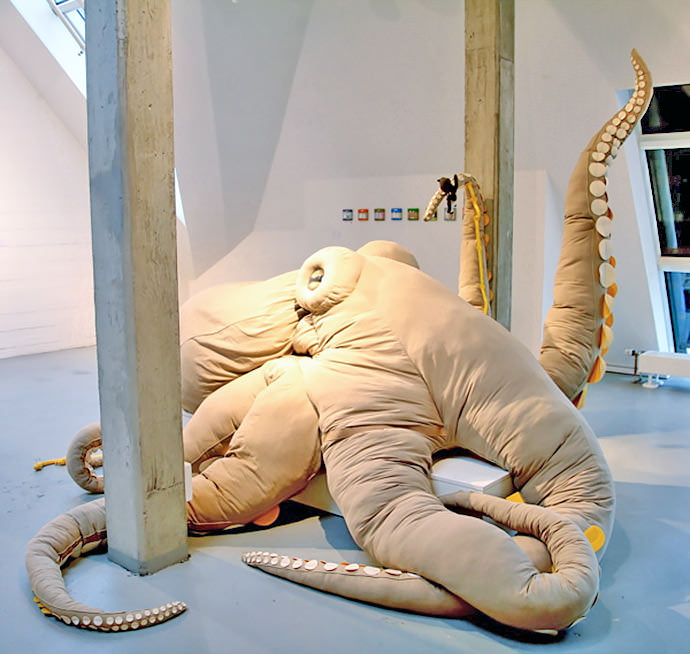 Karlo The Octopus
By Miriam Hirt
I don't expect too many of you will be buying a giant, sprawling octopus plush for your kid's room in the near future but what an amazing addition to a communal play space! Designed by Miriam Hirt for exhibition at Stilwerk Gallery in Germany, Karlo must have delighted young and old; Amazing!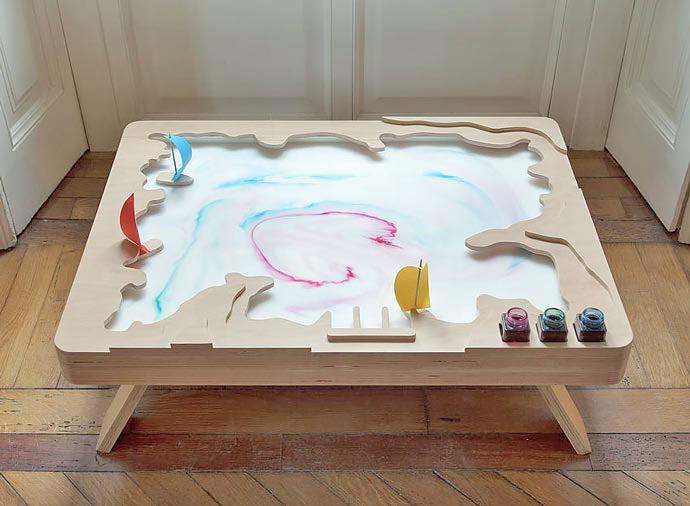 Sailing Game
By Matteo Bissaca
Last but not least, although not a sea toy, Matteo Bissaca (he of the Moose bookcase fame) designed a very special game for his two daughters last year inspired by the toy sailing boats children play with in the Jardins de Luxembourg in Paris. The game consists in adding colored inks to water on the wooden table top's surface then blowing the toy boats to spread the colors. It is available from Paola Noé's shop Unduestrella in Milan.
Pictured at the top of this post: a beautiful paper fish mobile, available for approx. $62 from Dame Belette – French designer Dame Belette makes beautiful paper fish mobiles to hang in a nursery or anywhere in your home. Each handmade wicker mobile is composed of three hand-cut and hand-sewn fish made in the color of your choice (12 to choose from in all). Send her an email for more information.