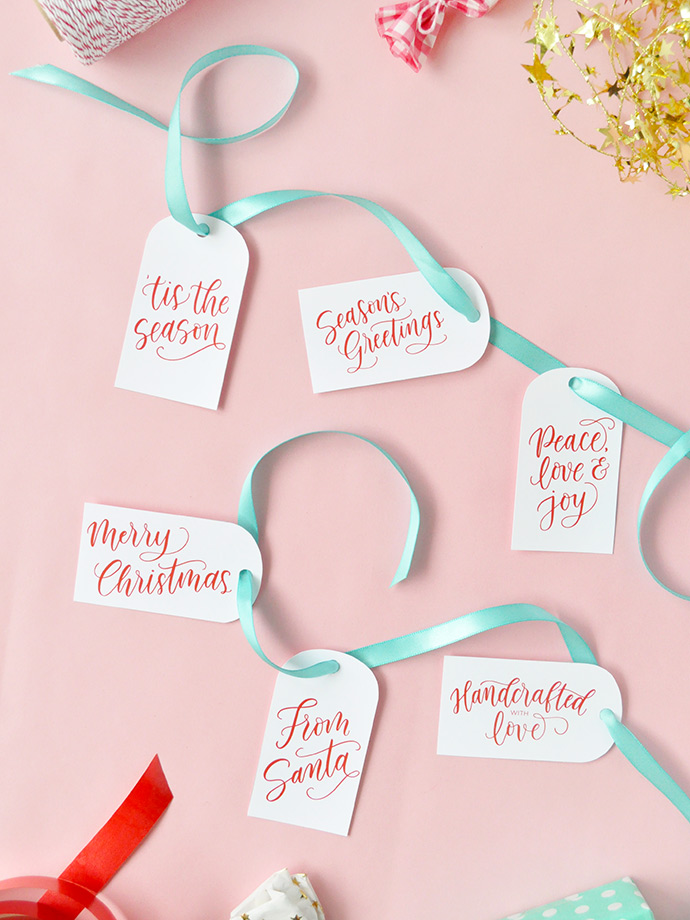 Have you started wrapping your gifts yet? Today we're super excited to be sharing a handful of exclusive printables from our friend Grace Song, author and calligrapher behind Brush Pen Lettering and Brush Pen Lettering Practice Book! Not only are these ready-to-print gift tags available below, but you can also practice your own lettering on these printable practice sheets too!
Both of Grace's books make amazing holiday gifts for all the creative friends and aspiring calligraphers in your life. Each book provides guidance on creating consistent shapes and letters to build beautiful phrases to decorate and personalize gifts, stationery, and cards. And of course, there are lots and lots of practice pages included too (which can be torn out of the book so they lay flat and at the right angle for practice!)
We had the chance to chat with Grace about her experience with modern calligraphy and get advice on how best to introduce kids and teens to brush lettering – take a peek below! And don't forget to print out your own tags and practice sheets – the download links are at the bottom of this post.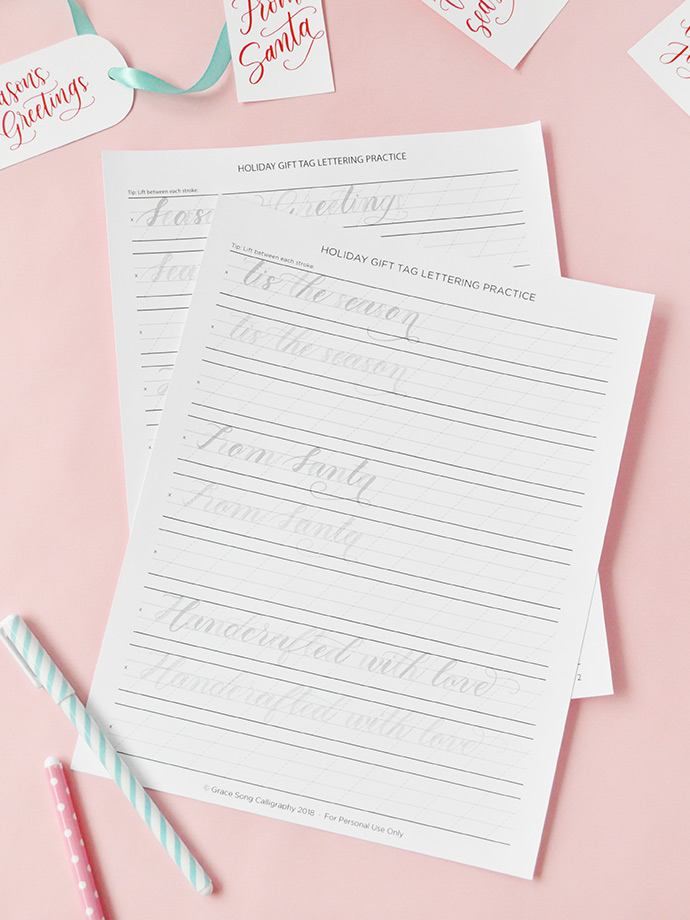 How did you first get started with brush lettering and calligraphy?
I first got started in brush lettering and calligraphy in the summer of 2015. I had just finished the school year (I'm a full-time teacher by day!) and was looking for a new hobby. Participating in a daily alphabet challenge I found on Instagram helped to jump start my learning and I haven't looked back since! I soaked up everything I could from fellow letterers and calligraphers that I "met" on the social media platform and documented my progress along the way.
Do you have any tips or tricks for anyone just getting started with modern calligraphy?
In terms of tools, I suggest keeping things simple by starting off with smooth paper and a couple of brush pens. It is easier to start with pens that have less flexibility as they are generally easier to control. In addition to the tools, how you tackle learning is important, too. In both my books, Brush Pen Lettering and now the new Brush Pen Lettering Practice Book, I stress the importance of learning the basic strokes first. They are the foundation of your letterforms. Once you get those under your belt, it makes learning the letters and connecting them into words so much easier. Of course, the more you practice, the better you will get, but more important than quantity, practicing with intent and doing it consistently will get you better results. Lastly, I want to mention that everyone's hand is different and therefore the lettering that you produce will be unique as well. So, rather than trying to copy someone's style, embrace your own!
What do you recommend as a starting point for kids or teens interested in learning brush pen lettering?
For kids and teens, I suggest all the tips I mentioned above but in addition to those, I think it's beneficial to learn along with a friend or adult that will help motivate during the learning process. Learning also does not need to start with the brush pen itself. You can use a pencil to become familiar with the shape and form of the basic strokes and then move on to the letterforms. Once familiar with the direction in which the strokes are made, it will be easier to move on with a brush pen. If you find the flexibility of the brush pen quite tricky, then use any writing tool such as a pencil or marker, to create faux calligraphy. Faux calligraphy is characterised by thin and thick strokes as those made with a brush pen, except you write the word first then go back and thicken the downstrokes. The approach is different, but the end result will be the same as if you used a brush pen. Most of all, just have fun!
What are your favorite calligraphy-based projects, techniques, or ideas for the holiday season? 
The holiday season brings so many opportunities for incorporating calligraphy. The projects can be simple, but the results can be so gratifying! My favorite way to use calligraphy is to spruce up the gifting experience. This could be personalising the gift tag, greeting card, or gift bag with the recipient's name or creating my own wrapping paper by calligraphing a cute holiday phrase repeatedly on kraft or white paper. But hands-down, a personalised ornament is sure to please; it can simply have a name, or it can commemorate an event such as "Baby's First Christmas" and it can be kept for years and years. When my Aussie family came over during the holidays last year, I surprised each of them with an ornament and they loved it!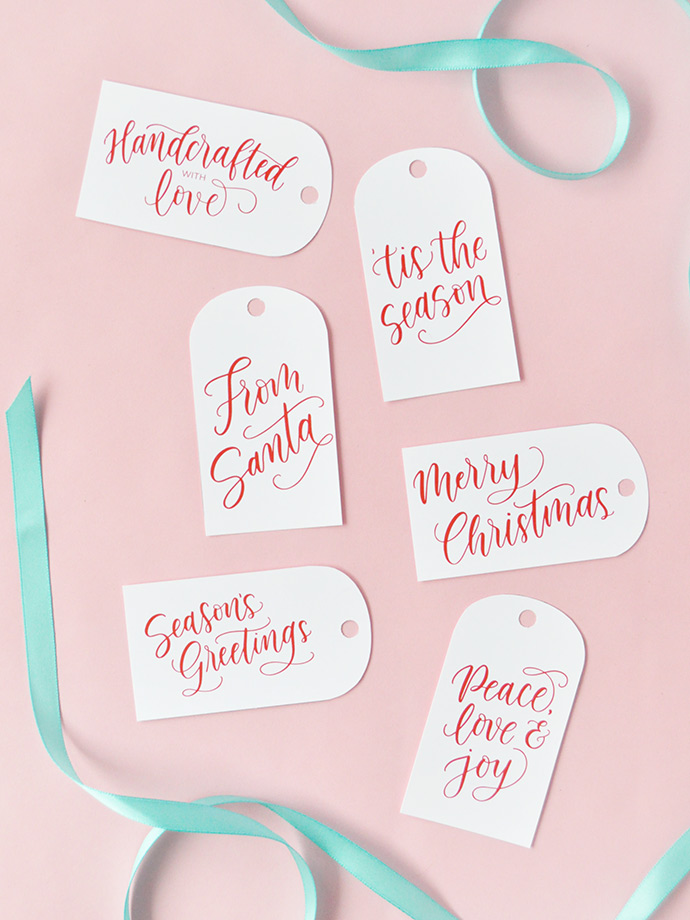 Thanks to Grace for sharing these original printables with us – get the holiday tags here and the printable practice sheets right here.
Both Brush Pen Lettering and Brush Pen Lettering Practice Book are now available online and wherever books are sold.