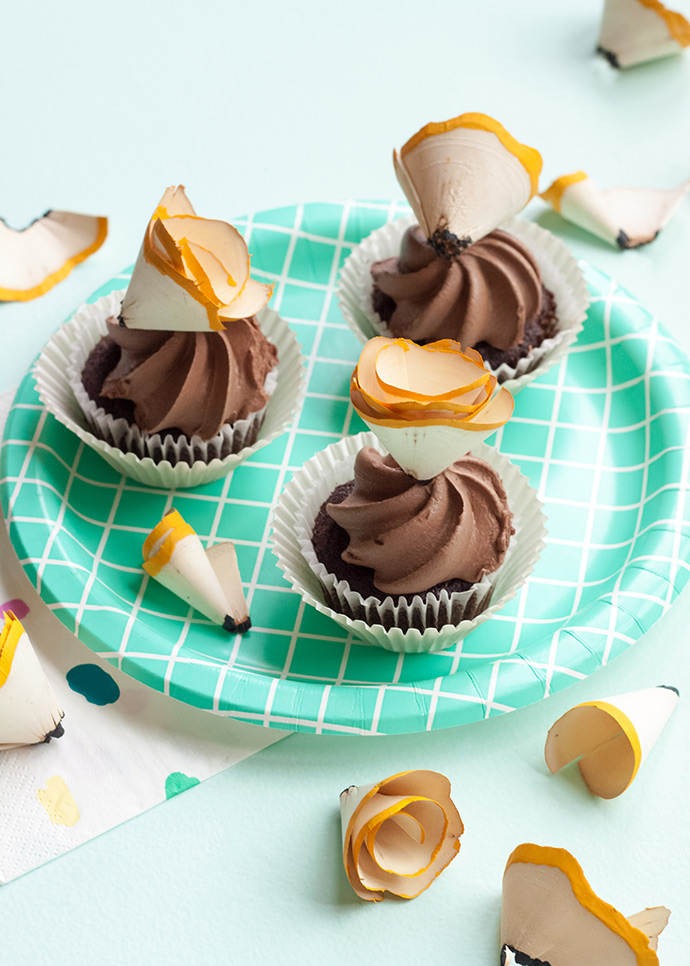 A back-to-school party will most likely require cupcakes, and these giant pencil shaving cupcake toppers make a big impact with very little effort! Another bonus is that they pair perfectly with the pencil shaving garland from last year. It would be so fun to throw together a simple back-to-school party for your kiddos and their friends. Just a couple of easy DIY projects will make the décor extra memorable.
The kids could actually make these toppers without a lot of supervision, depending on their age. All it really takes is some rose shavings from the craft store, a little bit of paint…and voilà! You have giant pencil shavings! They would also be fun to use as table scatter, place cards, or classroom décor.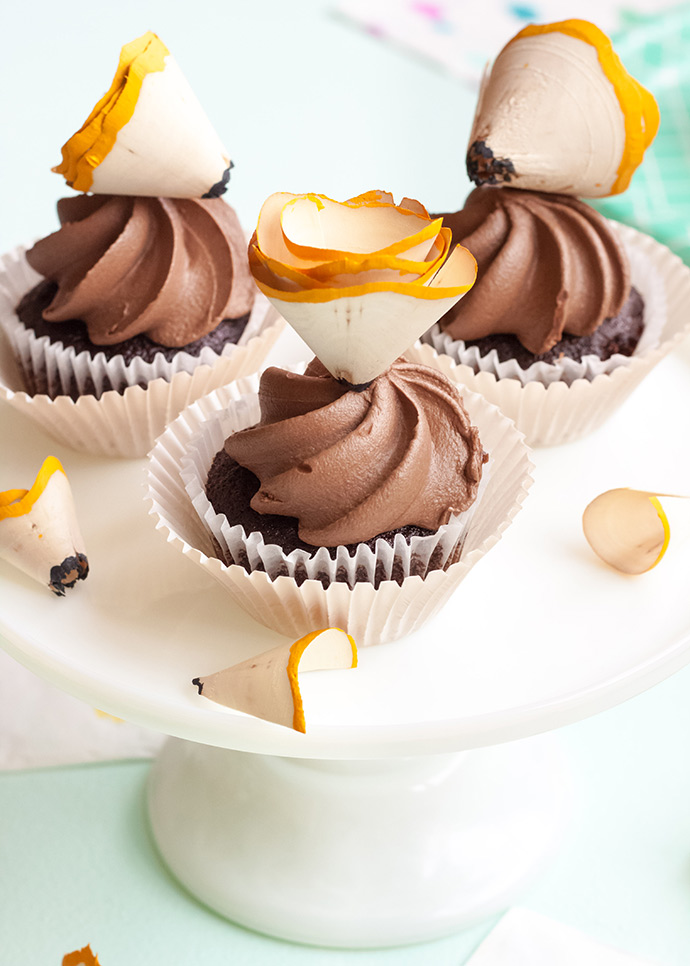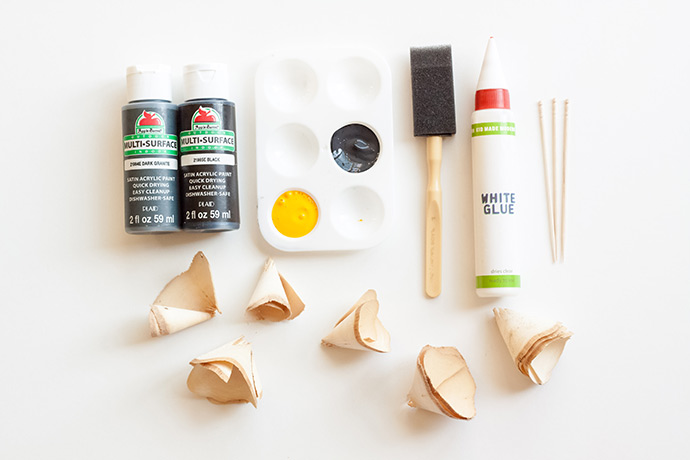 Apple Barrel Acrylic Paint (gray, black, and yellow)
Sponge brush
Rose shavings (found in wedding aisle of craft store)
Glue
Toothpicks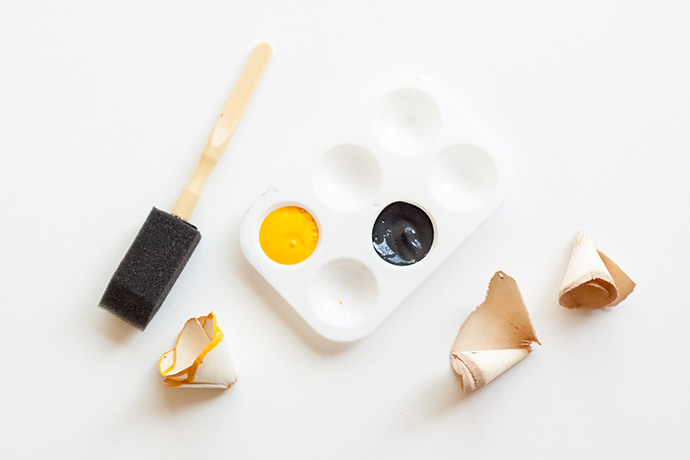 Step 1
Choose the rose shavings that look most like pencil shavings. You may even want to break some of them apart, or rip out a few layers of the inside to create different sizes. The rose shavings come with a slightly darker edge that is the perfect width for the yellow paint on pencil shavings. Use a corner of your sponge brush to put a rather thick coat of yellow paint over the dark edge. Allow to dry.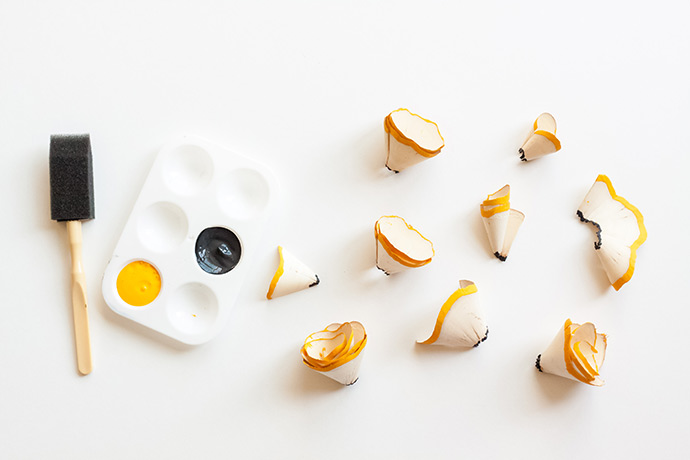 Step 2
Next, mix a dark gray paint with a tiny dot of black paint to get a charcoal appearance. Use a sponge brush to dab the charcoal color on the narrow edge of the rose shavings. This color should appear on both sides of the shaving, but should not be as wide as the yellow band of paint. It will also be jagged, unlike the even yellow band. This will happen naturally if you follow the already jagged edge with your sponge brush. Allow to dry.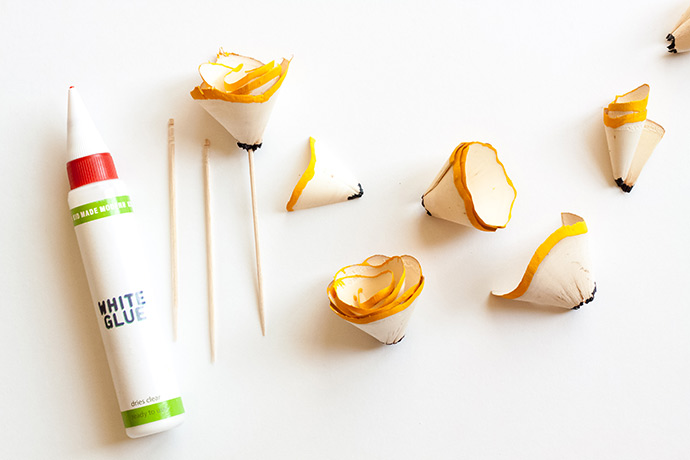 I actually set some of the shavings directly on the cupcakes, making sure that none of the paint touched the frosting. You could also glue some toothpicks to the inside of the shavings, and leave enough sticking out the bottom to poke into the cupcakes. I made some this way too, and it worked very well.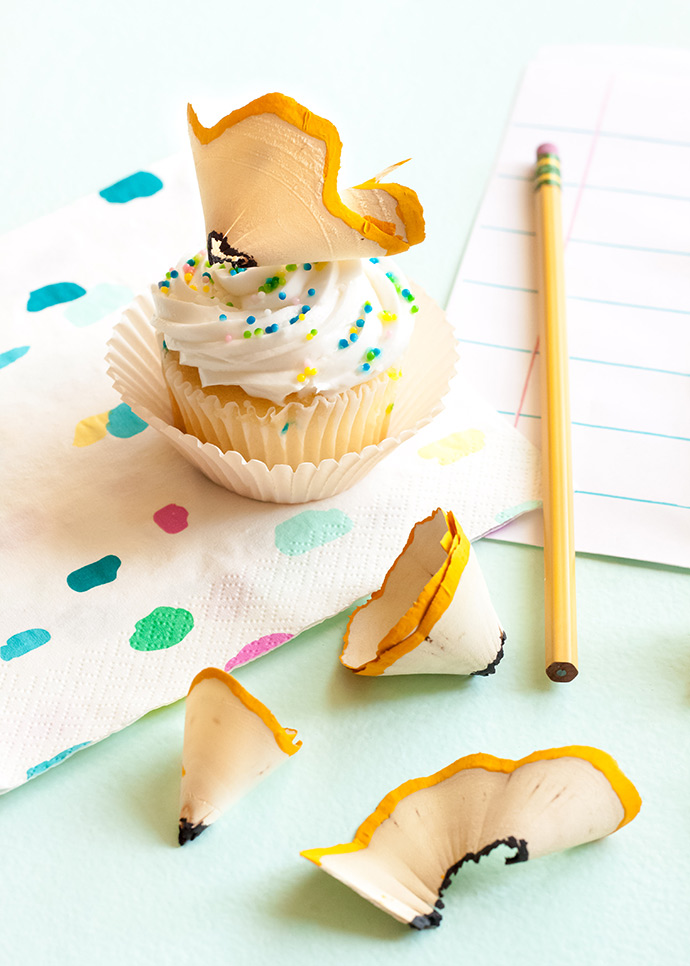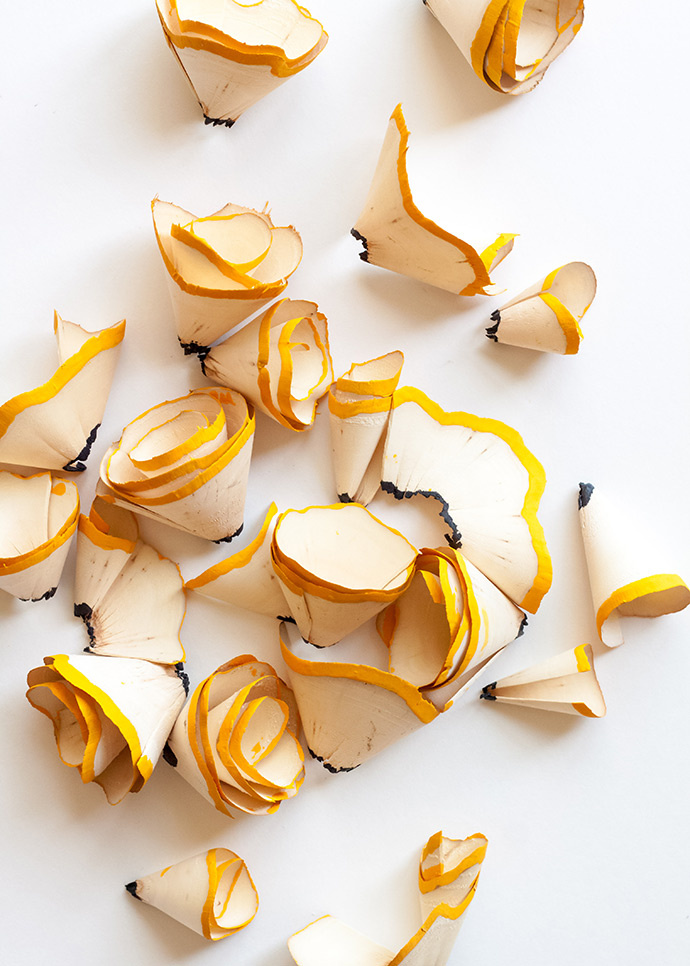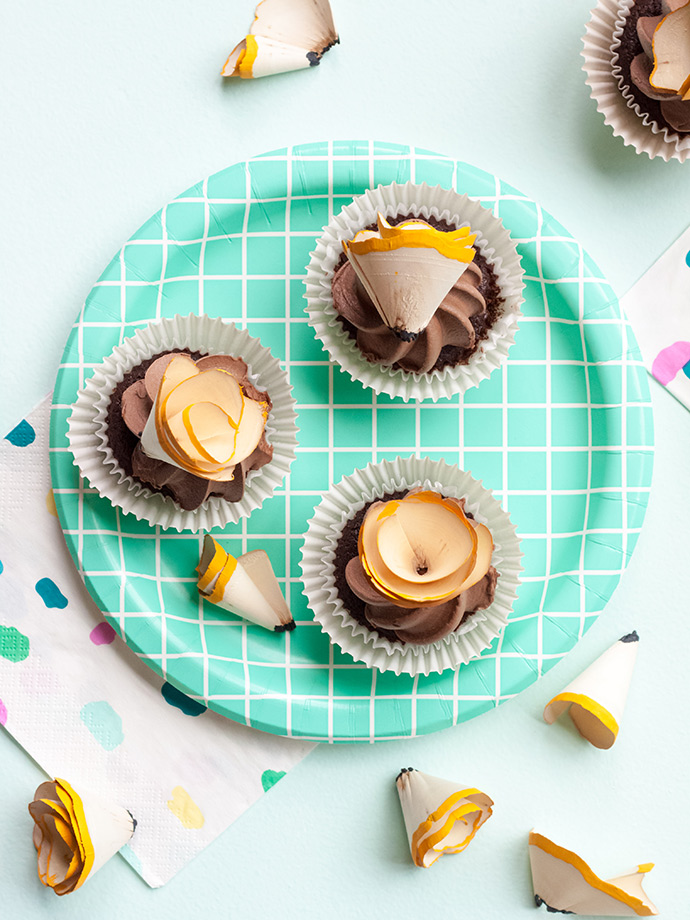 Your giant pencil shavings are ready for back-to-school fun!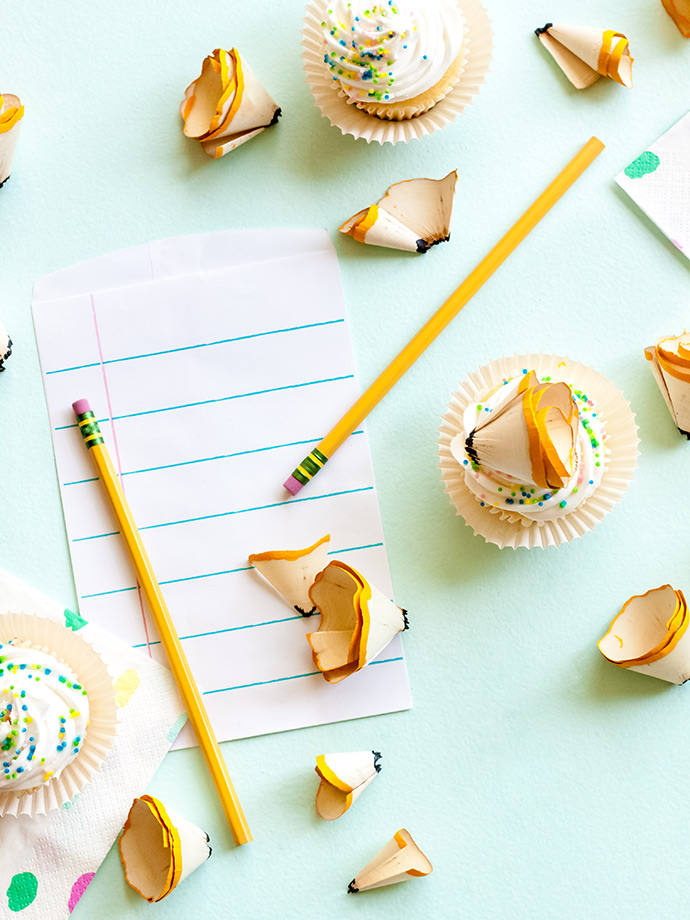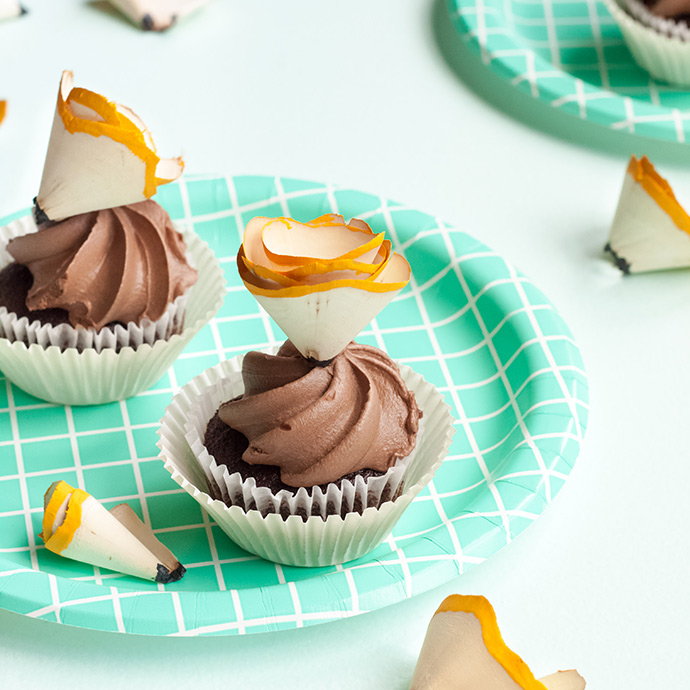 Happy crafting!