This post is sponsored by Naturino.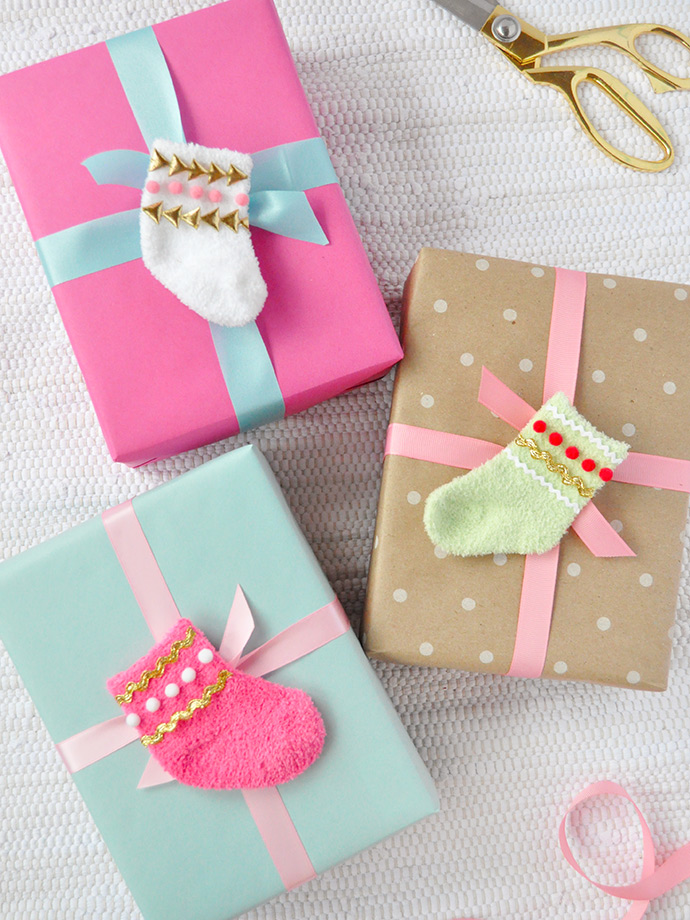 Now that the holiday season is officially here, we're excited to be partnering with Naturino to share a handful of our favorite shoes from their collection! Do you ever find yourself wishing there were adult sizes available of kids' clothing and shoes? We have a feeling that it isn't just us not-so-secretly wishing for this, and it's especially the case with shoes from Naturino. We've rounded up just a few of our favorites and divided them into three categories: cozy slippers, boots for winter activities, and of course some snazzy shoes for holiday parties.
We also had some fun putting together these super quick mini stocking gift toppers – we used the smallest baby socks we could find! Keep reading for our kids' shoes picks from Naturino, and the instructions for the DIY gift toppers below!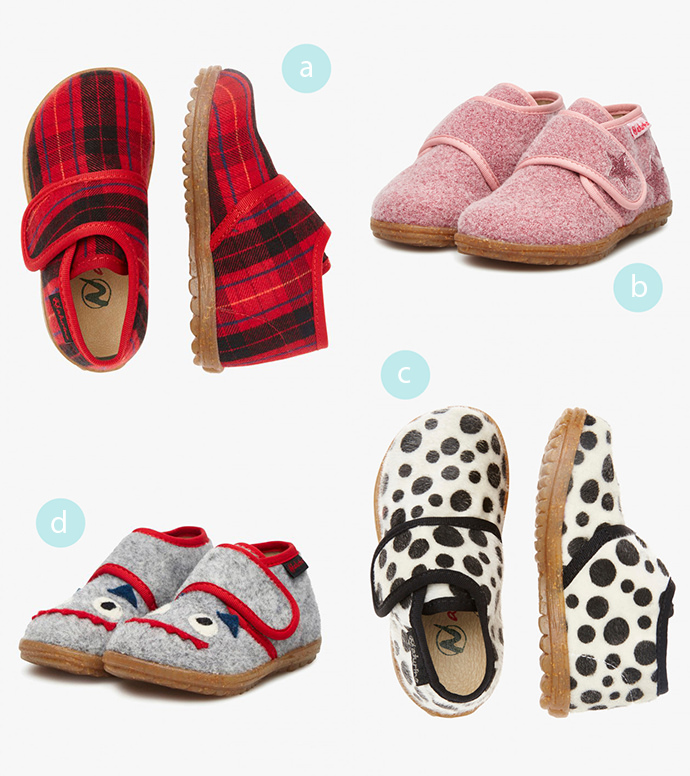 The Coziest Slippers
We love these classic cloth slippers – the non-slip rubber soles are perfect for active kids and the adjustable Velcro strap makes sure the slipper is nice and snug. Available in a variety of colors, we have a serious crush on the red tartan ones for the holiday season.
a Red Tartan Slippers | b Pink Melody Slippers | c White Polka Dot Slippers | d Lazy Grey Slippers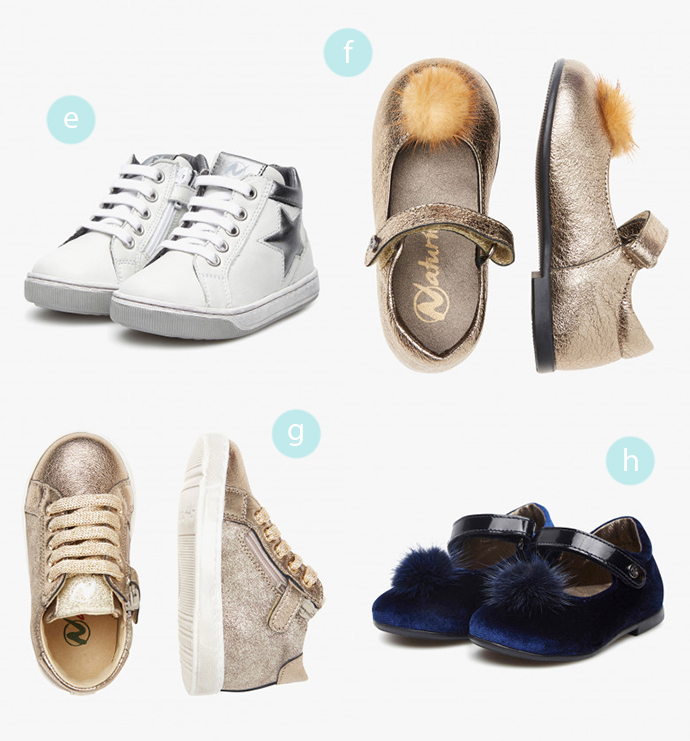 Dressy Holiday Shoes
Does anyone else have the best memories of getting to wear your fancy shoes? We remember being so excited to wear what we called our "snappy shoes" (because of the noise they made on the floor). Kids will love these modern dress shoes, and the metallic details are perfect for the holidays.
e White Star Sneakers | f Platinum Giselle Shoes | g Platinum Sneakers | h Blue Velvet Ballerina Shoes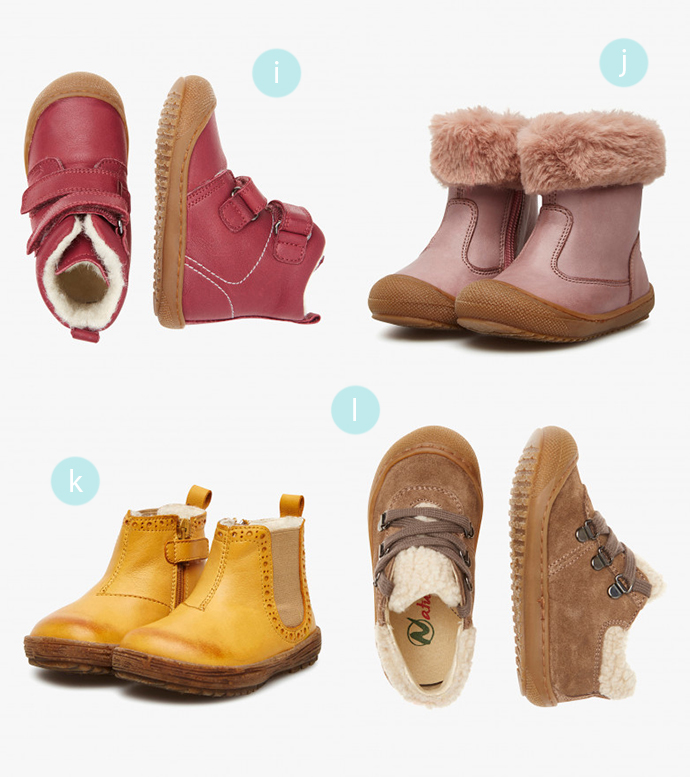 Winter Wonderland Boots
Get ready to explore and enjoy the outdoors this winter! Keep your kids comfortable and warm in these active shoes and boots from Naturino. With soft rubber soles designed for toddlers learning to walk and lined with cozy wool, you'll be ready for whatever the day has in store.
i Red Bubble Boots | j Tender Pink Boots | k Yellow Storm Boots | l Leather Shoes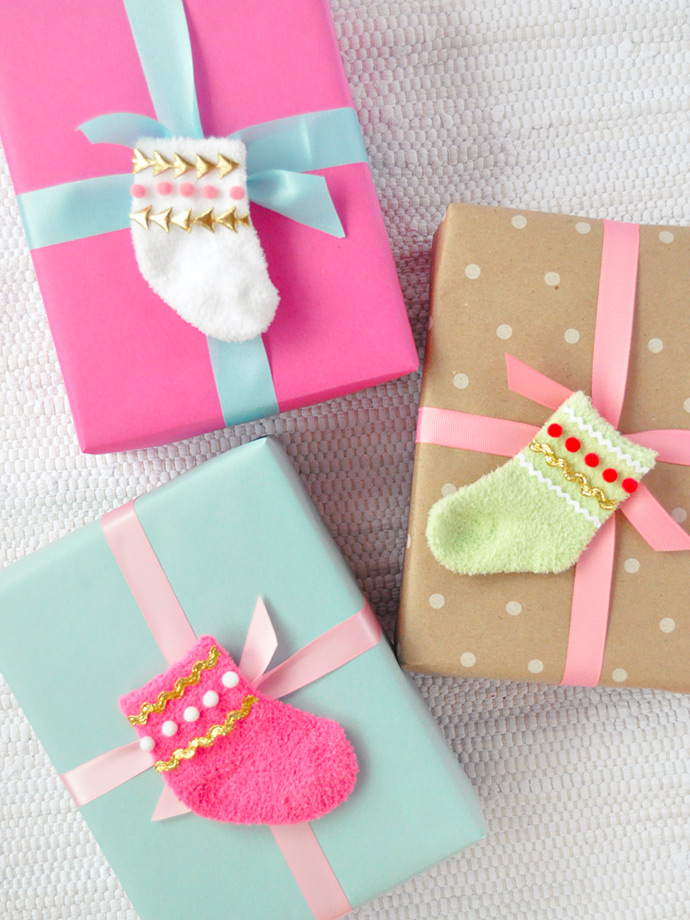 DIY Mini Stocking Gift Toppers:
what you need
Baby socks
Mini pom poms
Assorted trim and ribbon
White glue
Lay out the baby socks on your work surface – we used white, green, and pink for a bright holiday look. Pick a few trims and pom poms for each sock and arrange them on each sock. Play around with the design until you're happy with it.
Use white glue (or a hot glue gun if you prefer) to attach the trims onto each sock and let dry.
Finally, use a dab of glue to attach each sock to the top of a wrapped gift. Alternately, you can glue a loop of ribbon or string to each sock and use that to attach onto the gift – after, they can be used as ornaments!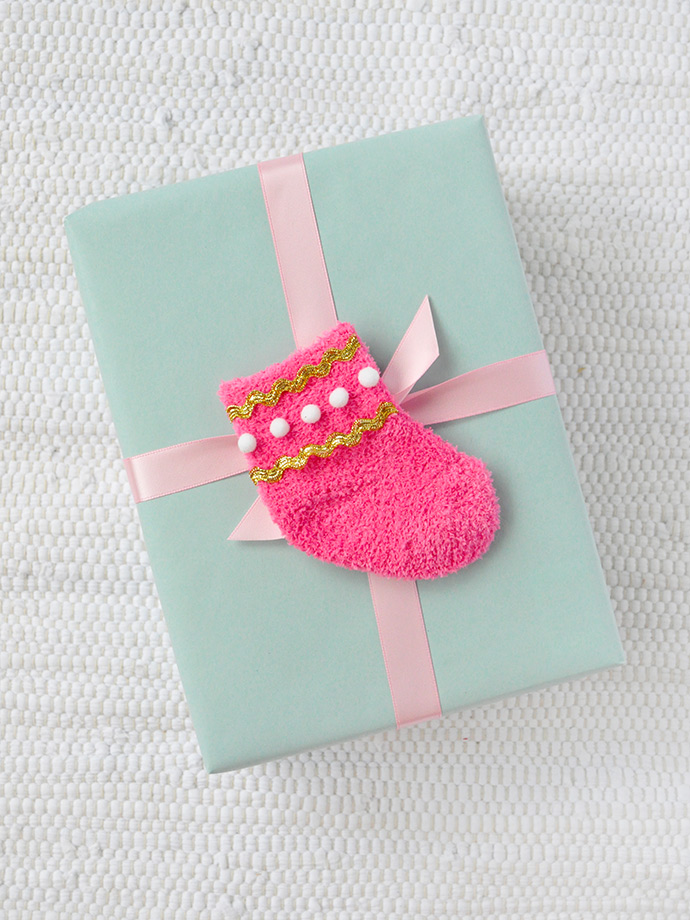 Happy Holidays!