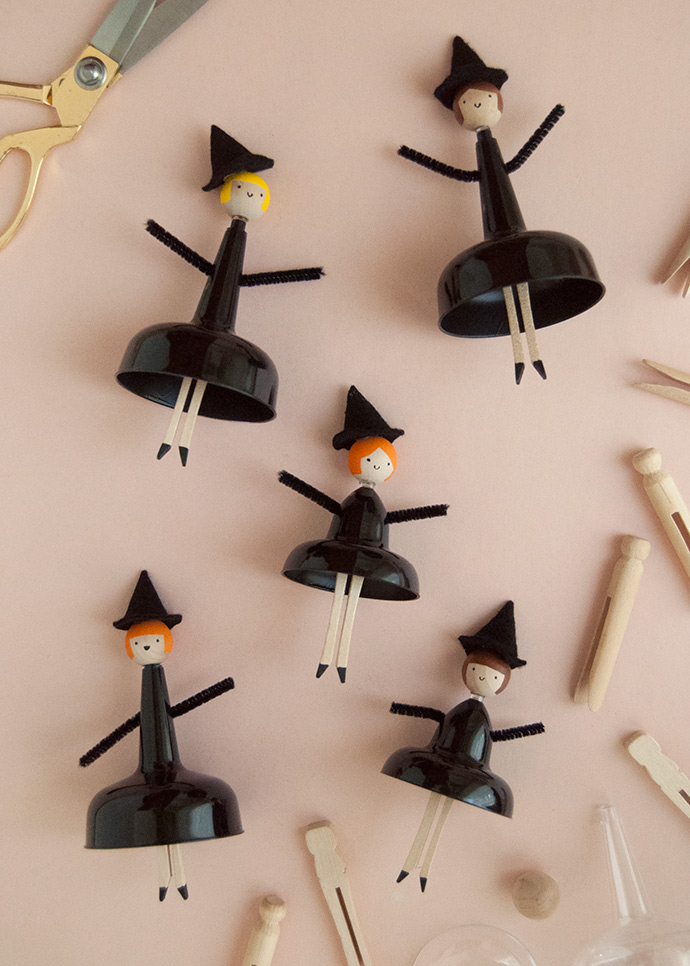 If you've been a reader of the blog for a few years, you might remember these clothespin and party cup dolls from a few years ago – they were such a fun project to make! I was sorting through some craft supplies the other day and came across a few extra plastic party cups leftover from that post. With Halloween days away, I thought it would be so fun to do new version of the same idea: witch dolls! I kept these ones in black robes to make it simple, but you could paint them in shades of purple and even add on glitter or sequins for an even more magical look.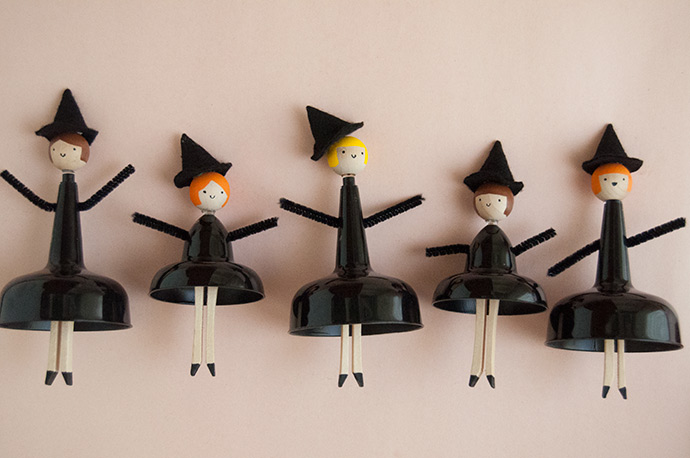 Plastic party cups
Wooden clothespins
Round wooden beads
Hot glue gun
Acrylic paint
Paintbrushes
Black felt
Scissors
Hot glue gun
Pipe cleaners
Step 1
Gather up your plastic party cups – if you have any leftovers from a previous party, use those up!  For this craft, you only need the tops of the glasses, so put the detachable bottoms aside for later, or recycle them. Apply a coat of black paint inside each glass and let dry completely, overnight if possible.
Step 2
To attach on the legs, apply a blob of hot glue onto the top of a wooden clothes peg and press into the inside of the painted glass, holding in place until the glue has dried and is secure. Then, paint the bottoms of the clothes pegs with more black paint to look like shoes.
Step 3
Now for the face details! Glue a wooden bead onto the stem of the party cup and use a fine paintbrush and black paint to apply a simple face. Use another brush and whatever color you like to paint on the hair. Let dry.
Step 4
Time to make the witch hats. First make the cone part of the hat – cut a circle out from the black felt, about 2″ across. Cut the circle equally in half and then roll one half into a cone. Trim as needed until you're happy with the shape and size, using glue to secure in the cone shape. Cut another felt circle to be the brim of the witch's hat and use more glue to attach the brim to the cone you just made. Glue to the top of the wooden bead heads.
Step 5
Cut a black pipe cleaner to a length of about 7″. Fold at the center and then hot glue the bend to the back of the cup. Shape the pipe cleaners to pose the witch's arms. You could even attach a little stick to one hand to look like a magic wand!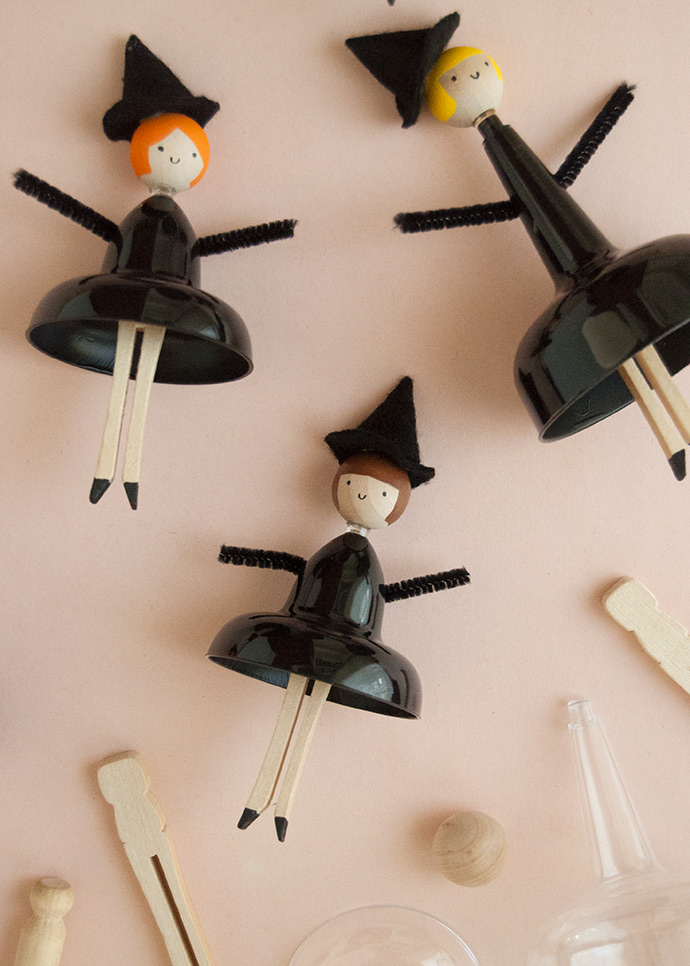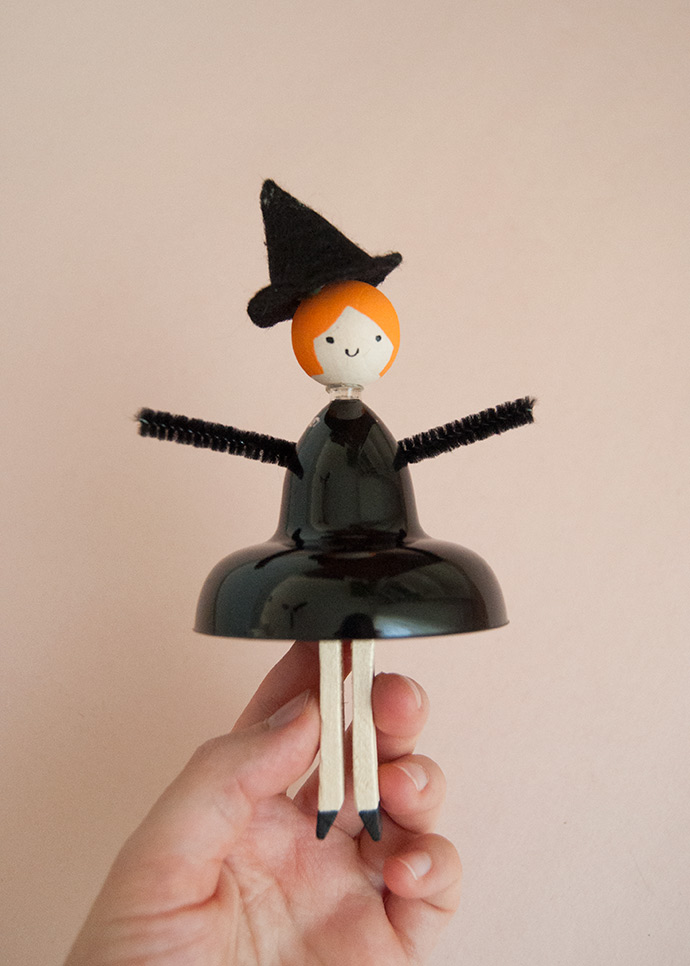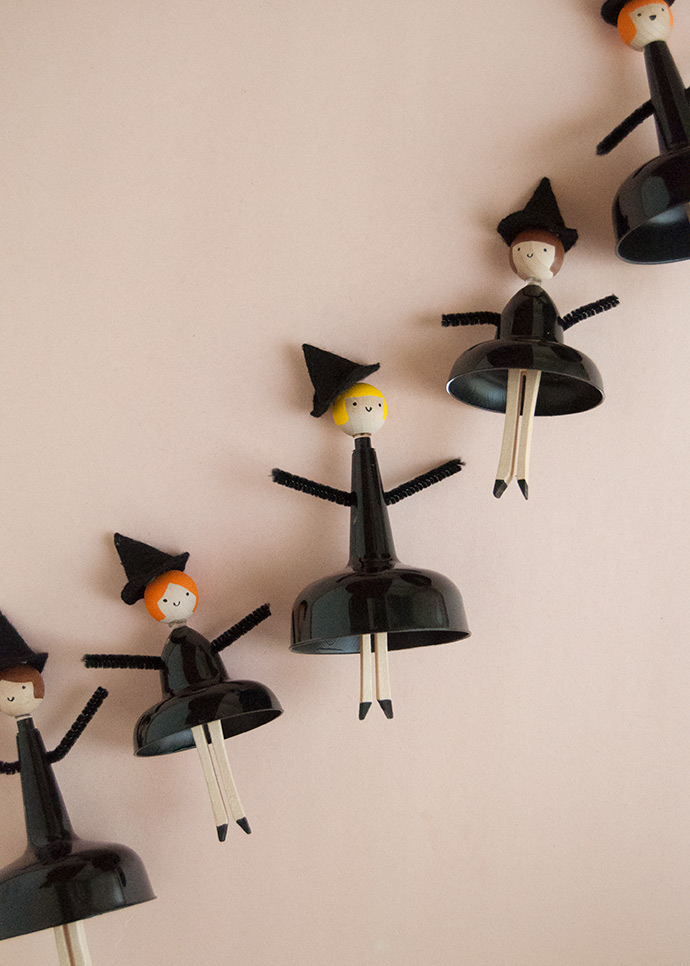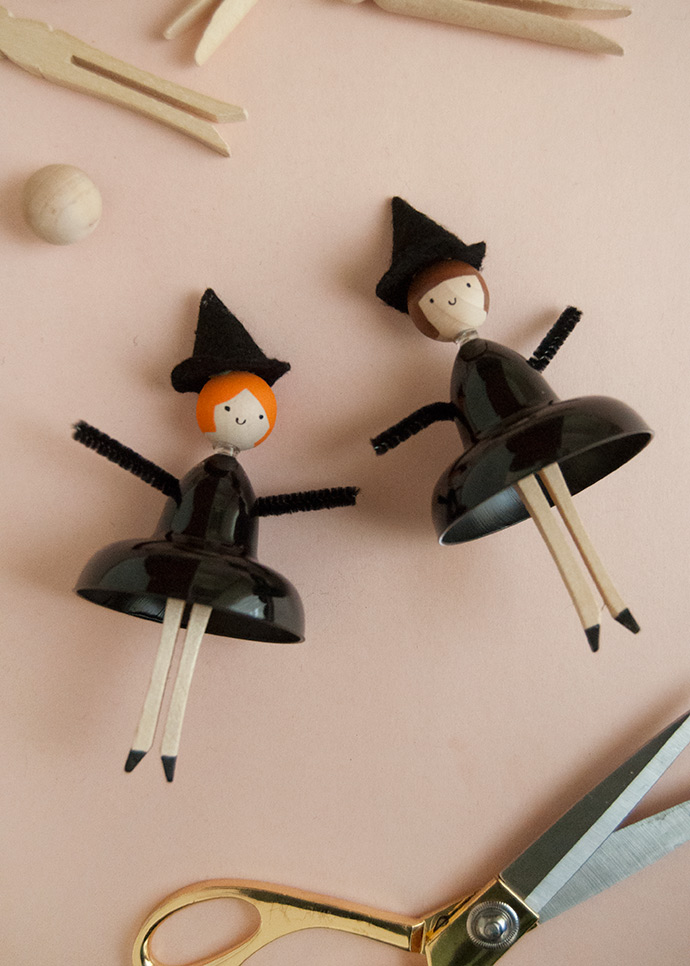 Happy Halloween!