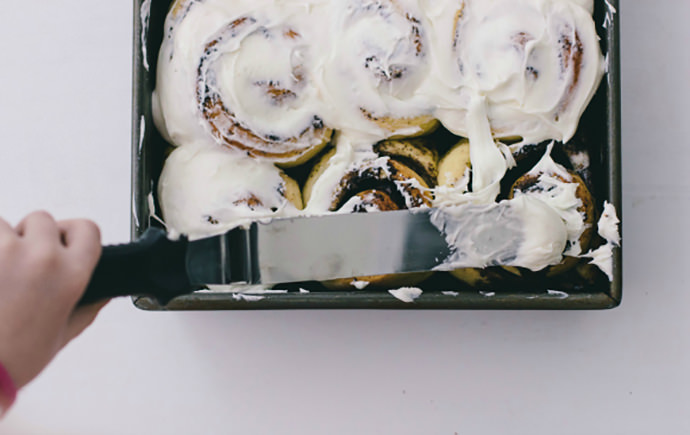 "What good is the warmth of summer, without the cold of winter to give it sweetness." – John Steinbeck
I am sneaking in a little sweetness to this cold, cold winter in the form of swirl buns. Hot chocolate is a favorite treat around here on snowy afternoons, and what better way to enjoy them then wrapped up in brioche and smothered in marshmallow frosting!
2 pounds Brioche dough (see note)
1/4 cup unsalted butter, melted
1 cup (packed) brown sugar
2 tablespoons cocoa powder
A good pinch of salt
3 ounces chopped chocolate or chocolate chips
1 cup mini marshmallows
Note: I used a no-knead brioche dough from Artisan Bread in Five Minutes A Day. This dough is wonderful because it can be mixed together and stored in the refrigerator for up to 5 days. The brioche master recipe will make about 4 pounds of dough, and this recipe only needs two.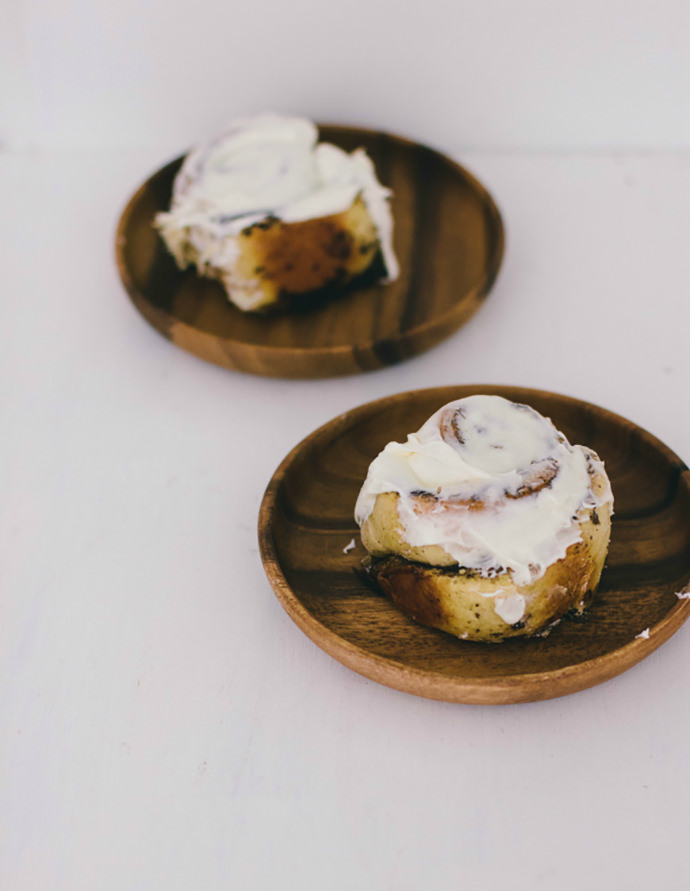 Step 1
On a lightly floured surface, fold the dough over 3-4 times and then form it into a ball. Let the dough rest for 15-20 minutes.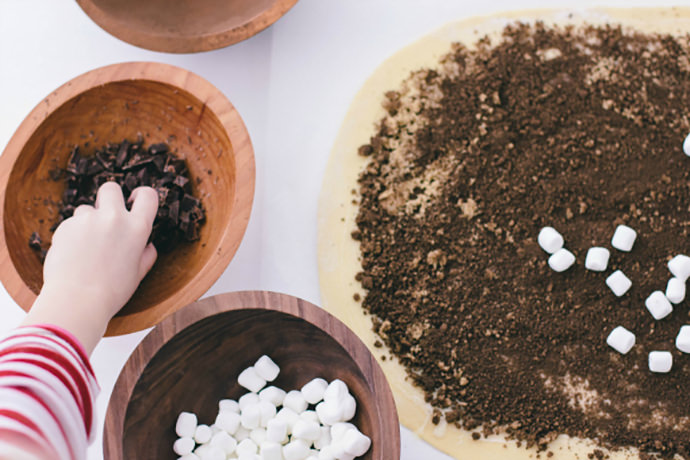 Step 2
Roll the dough into a 1/4-inch thick rectangle. Brush the entire surface with the melted butter. In a small bowl mix together the brown sugar, cocoa powder, and salt. Spread the mixture evenly over the butter topped dough. Use your hands to make sure you have an even coat of sugar. Scatter the chopped chocolate and mini marshmallows over the sugar-cocoa mixture.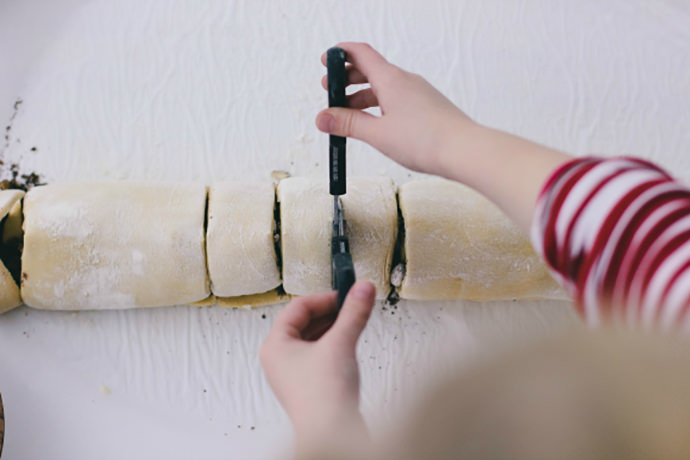 Step 3
Roll the dough up, starting at the short end. Using a sharp kitchen knife or a scissors, cut the log into 12 equal pieces. Set the buns in a greased 9 x 13 pan (or line the bottom with parchment paper). Loosely cover the buns and let them rest 1 to 1 1/2 hours, until they have almost doubled in size. (You can set these up the night before and let them rest overnight in the refrigerator. In the morning take them out and let them sit on the counter for about 45 minutes to an hour.)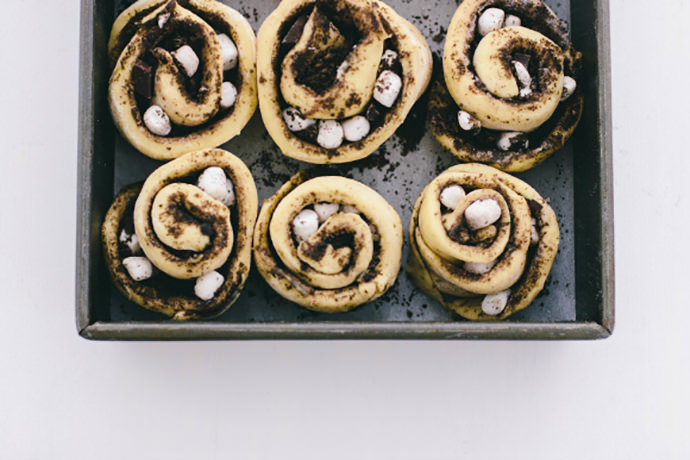 Step 4
Preheat the oven to 350°F and place the rack in the middle of the oven. Bake for about 25 to 30 minutes, just until the centers are set when poked with your finger (they should be caramel colored). Let them cool for about 10 minutes. Spread the marshmallow frosting (recipe below) over the warm buns.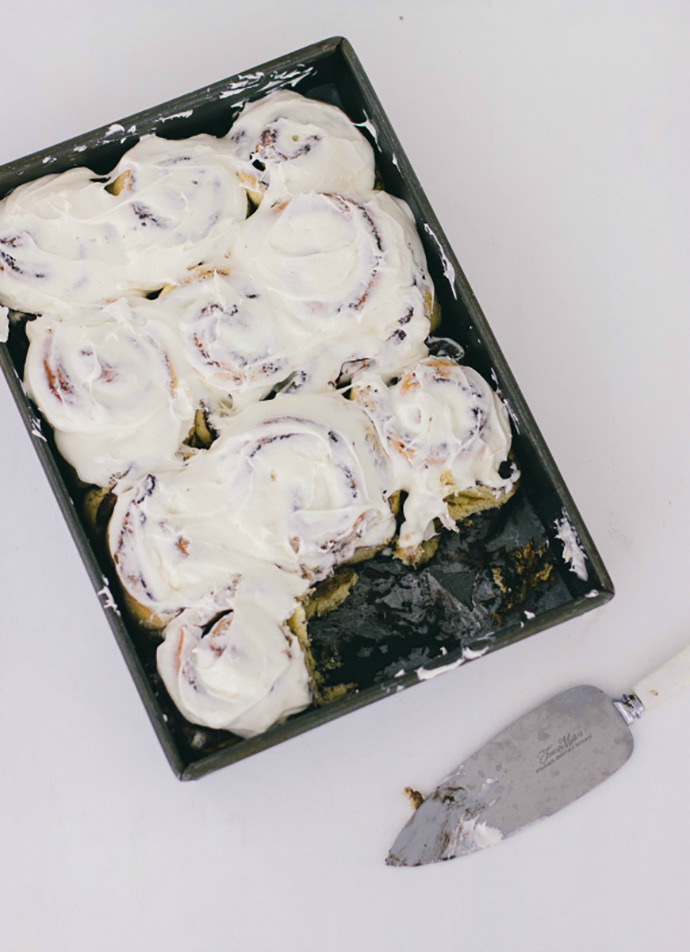 ½ cup (1 stick) unsalted butter
7 ounces marshmallow creme
1 teaspoon vanilla extract
1 ½ cups powdered sugar
A good pinch of salt
In the bowl of a standing mixer, cream the butter on medium speed until light and fluffy. Add the marshmallow creme and mix together until combined. Add the vanilla and salt, and mix until combined. Add the powdered sugar and mix until combined, then increase the mixer to medium-high and beat until light and fluffy.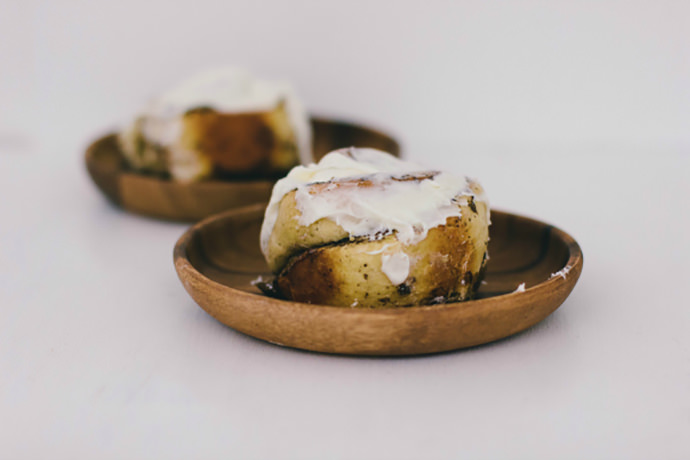 Cozy up and enjoy :)
Inspired by Mrs. Schwartz's Kitchen