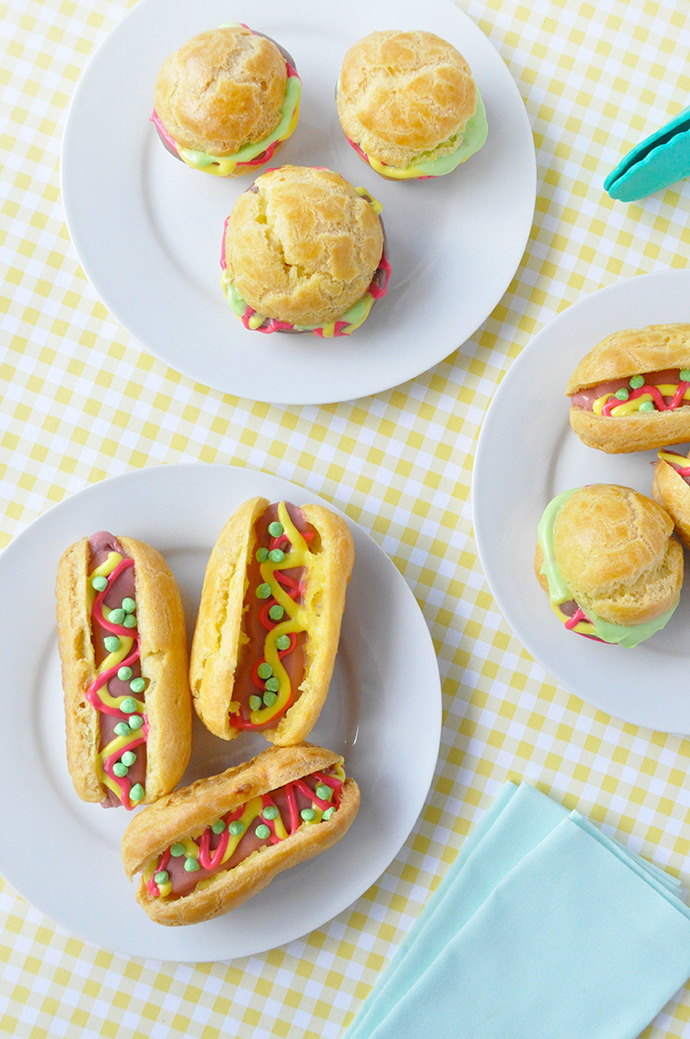 Now that's it's almost officially summer, it's finally time for BBQs and picnics! Father's Day is right around the corner too, so you'll have plenty of excuses to make these adorable mini hot dogs and hamburgers for dessert. When browsing Pinterest recently, I came across these clever BBQ grill cupcakes and they got me thinking of other ways to make sweet treats out of our favorite cook-out meal.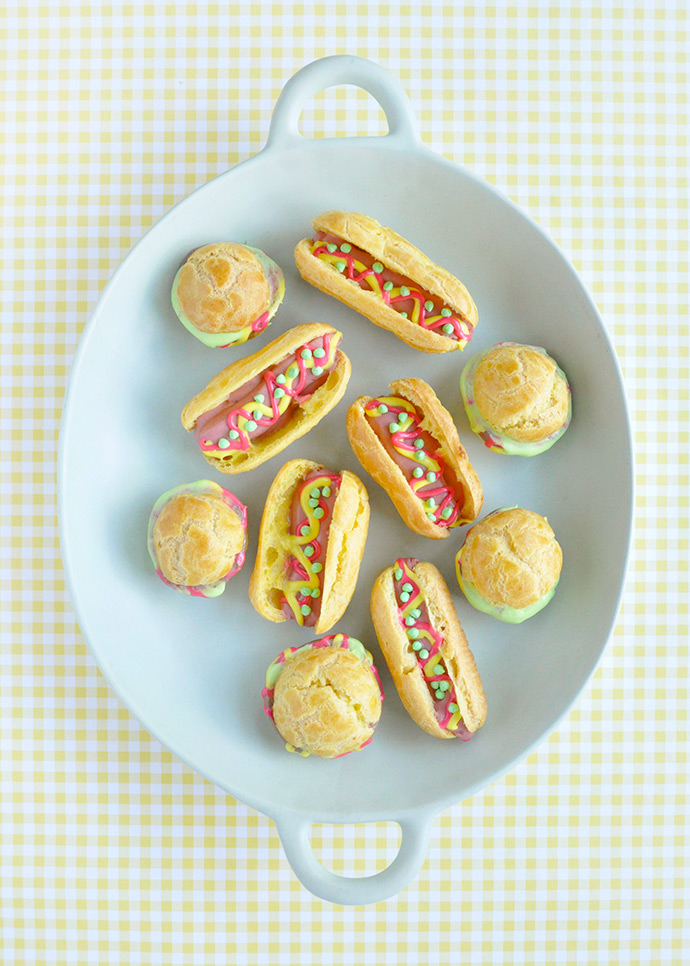 Having never made cream puffs or eclairs from scratch before, the idea of choux pastry was a bit intimidating, but it really wasn't hard at all! We're so pleased with how this first batch came out and can't wait to try making even more fun and tasty cream puffs and eclairs. For now though, we're sure all the dads (and BBQ lovers!) out there will appreciate these playful treats for dessert!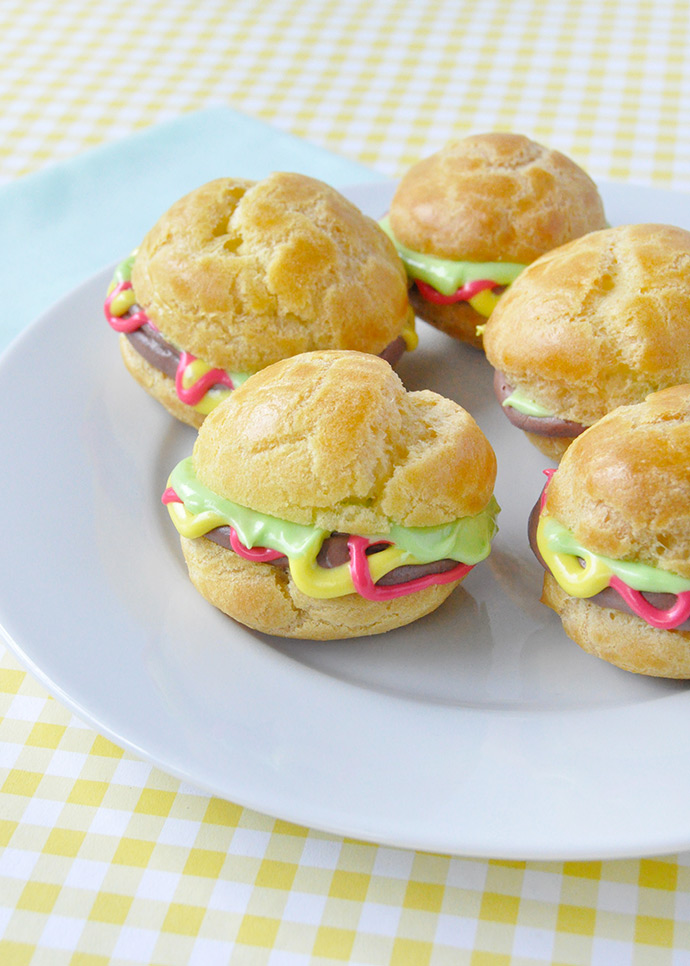 Step 1
Bake your cream puffs and/or eclairs. I used this recipe from the kitchn and having never made choux pastry until this project, I found it super helpful.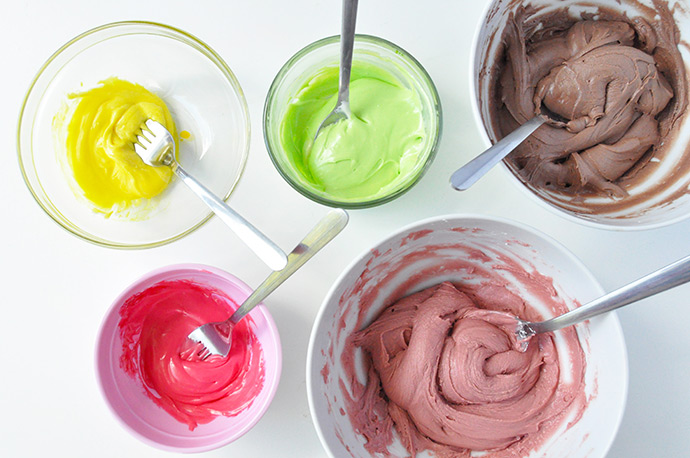 Step 2
While your baked cream puffs and eclairs are baking and cooling, prepare your filling. We kept it super simple and added food coloring and flavoring to store bought icing, but you could definitely make your own buttercream frosting instead! We also ended up adding some icing sugar to the two brown icings (for the burger meat and hot dogs) so that those ones would be a bit stiffer and keep their shape better. We left the ketchup, mustard, and lettuce icings as is.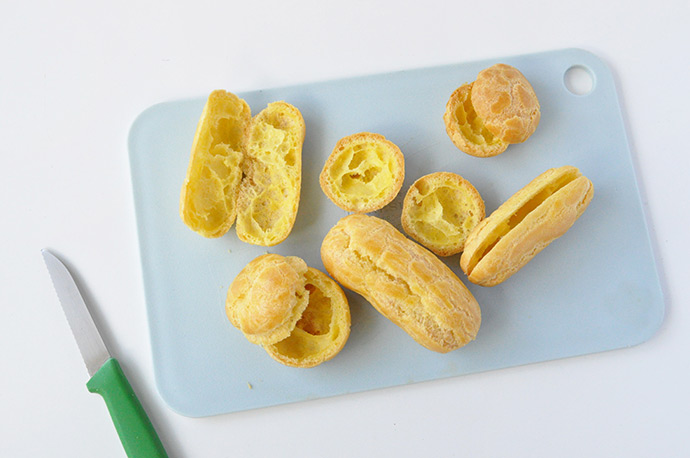 Step 3
Once cooled, slice the cream puffs in half to look like hamburger buns and cut open one side of each eclair to look like a hot dog bun, trying your best to keep one side attached.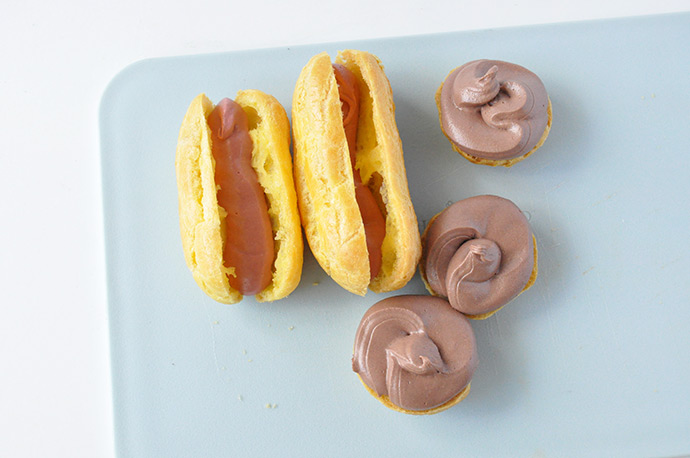 Step 4
Put your icing into piping bags and squeeze burger patties onto one half of each cream puff and hot dog weiners down the center of each eclair.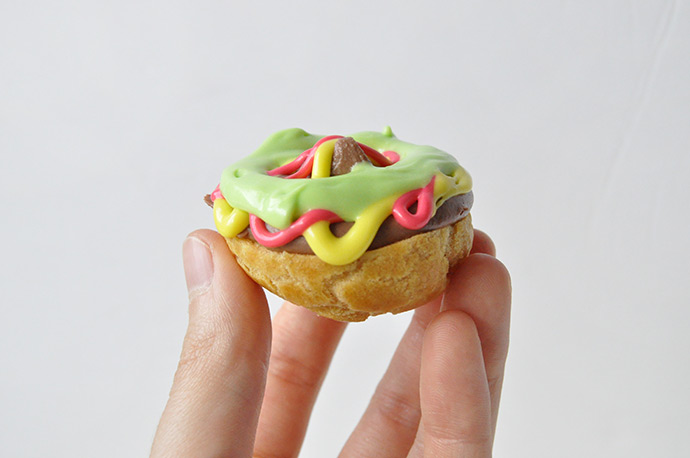 Step 5
For the hamburger cream puff, squeeze squiggles of red icing for ketchup and yellow icing for mustard over the brown icing, and then apply a circle of green icing around the edge to be the lettuce. It's a good idea to keep these toppings to the edge of the burger so that you can still see them when the top bun goes on top.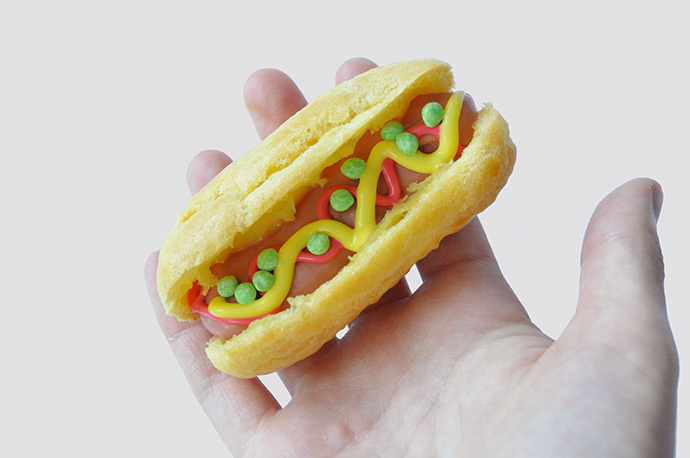 Step 6
For the hot dog eclair, squeeze out lines of "ketchup" and "mustard" along the hot dog weiner and then add some green sprinkles on top as relish if you like!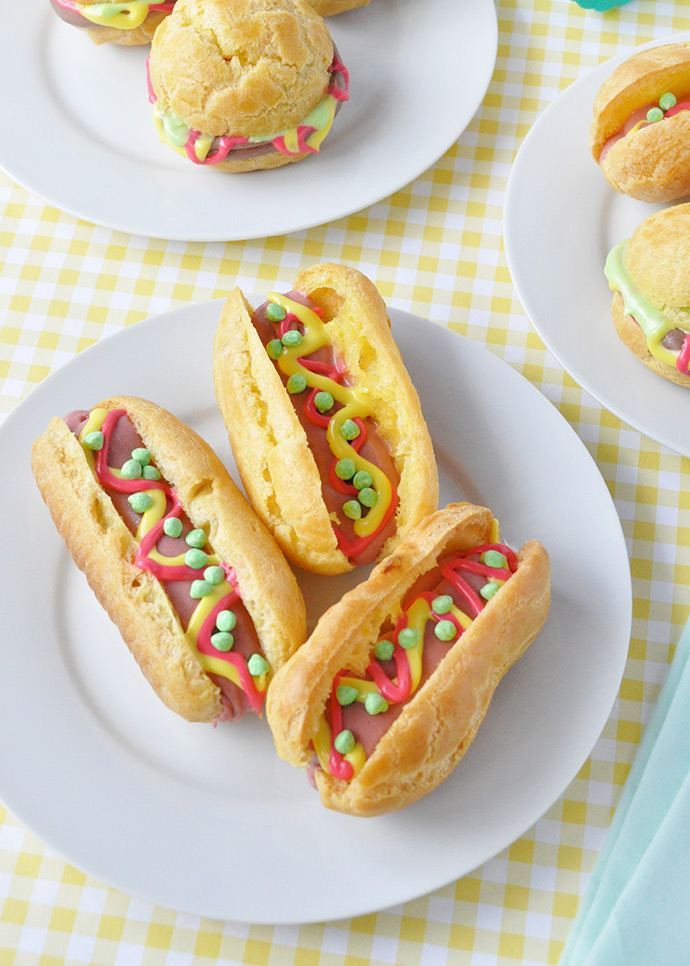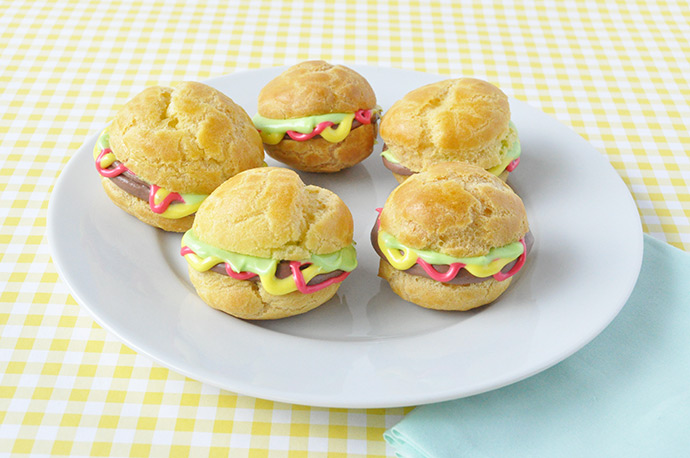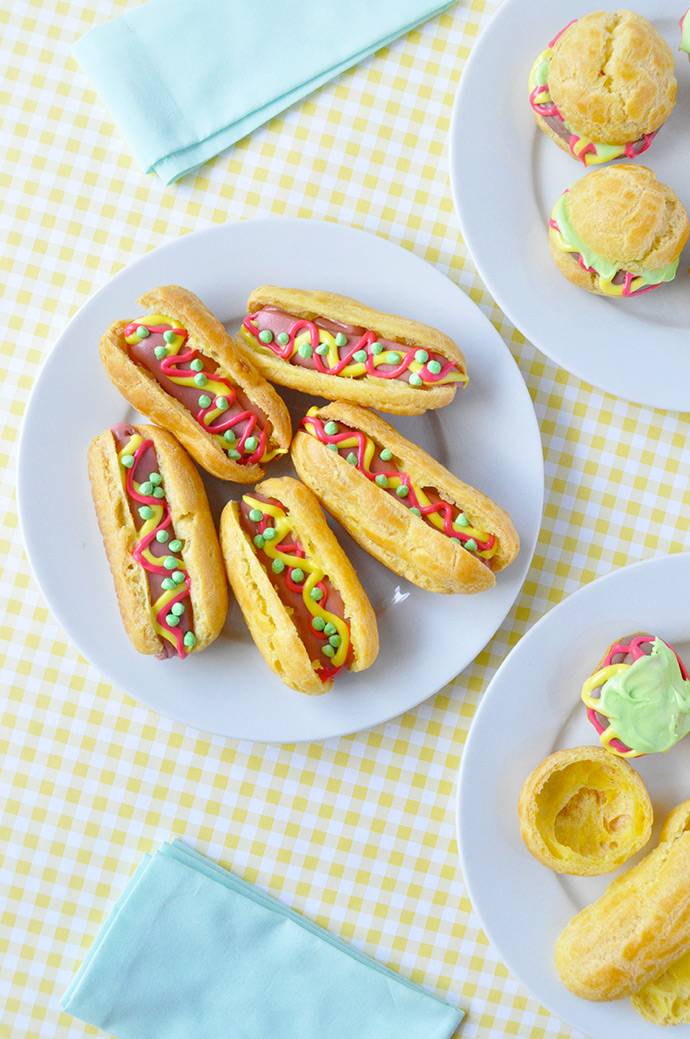 Want fries with that? Make this printable French fry card for Father's Day this year to go along with these hamburger cream puffs and hot dog eclairs!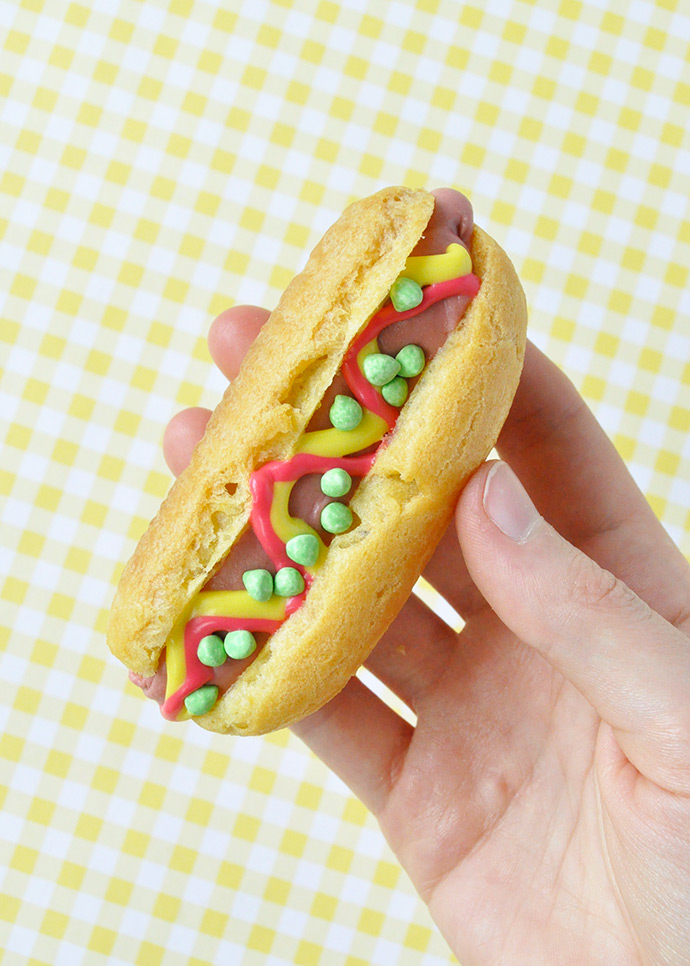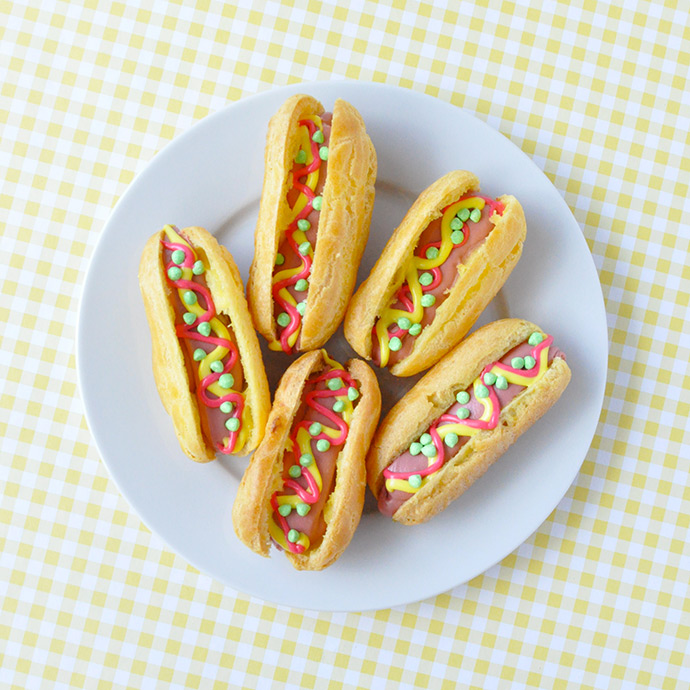 Enjoy!