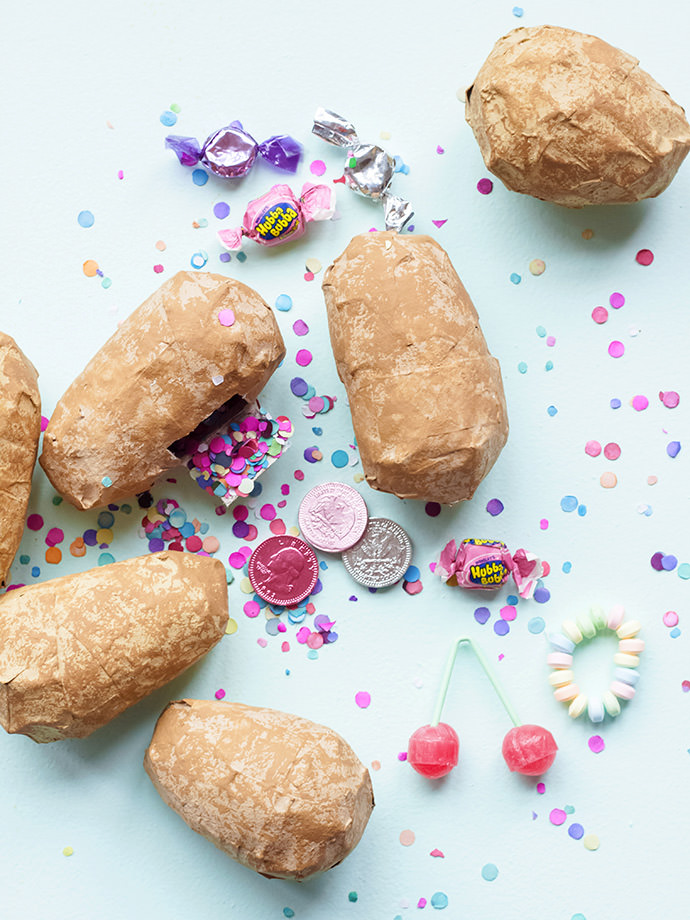 Do you remember the good ol' days, when you would go to a birthday party at a friend's house, where you ate homemade cake and ice cream, and you played games like "hot potato" and "musical chairs"? Don't get me wrong…I love looking for party inspiration on Pinterest, and even coming up with over-the-top plans and décor, but sometimes I long for those old-fashioned parties where everything was simple, but somehow we had the best time EVER! Welllllllll, I'm bringing "old school" back, but with a twist!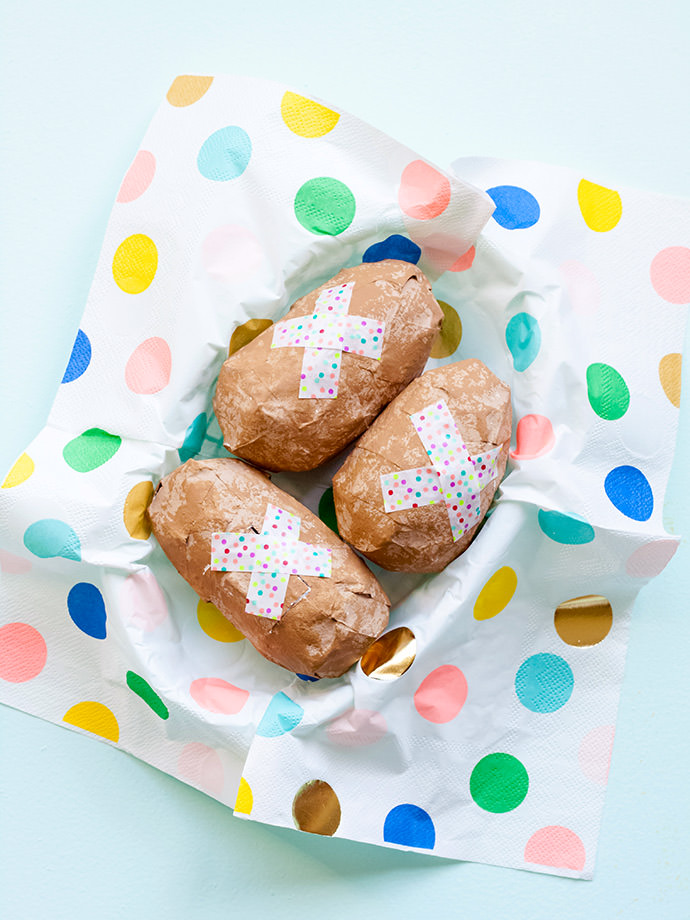 So, remember "hot potato", where you sit in a circle and pass the potato around quickly until the music stops? Whoever is holding the potato then has to exit the game, and the other kids continue playing until there is one person left. That person is declared the winner and receives a prize. This new-and-improved version involves a paper mache potato filled with candy or prizes, and each person to exit the game gets to take a piece of candy out before leaving the circle. YAY!!! The final winner gets to keep all of the prizes left in the potato at the end, and every guest is happy! It's a no-tears version for the little guys! (Candy is a great distraction.)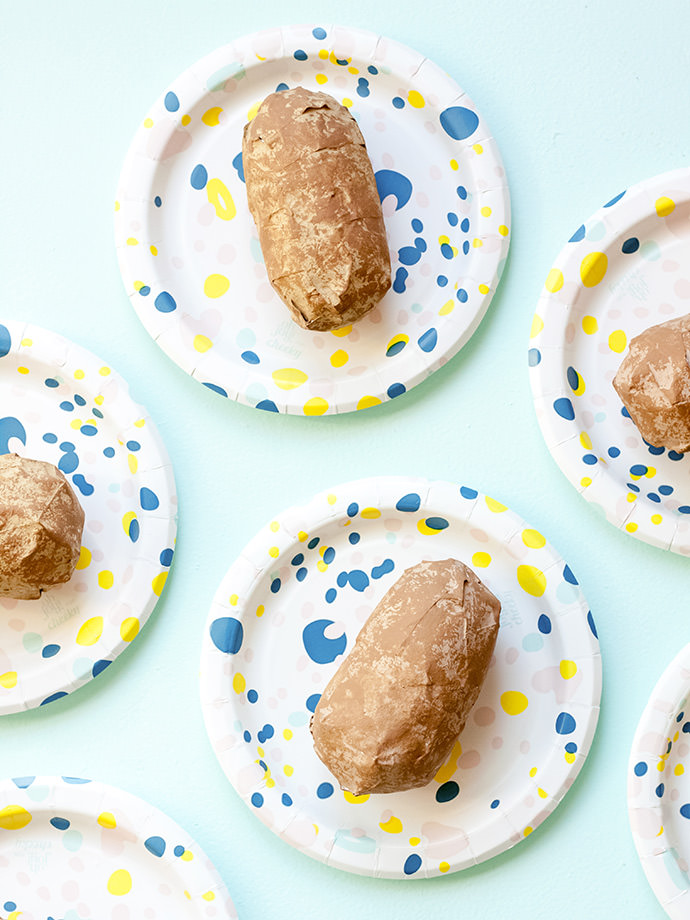 TIP: I would recommend making several potatoes in case the game gets a little rough and you need a backup potato! If you are working with a gentle crowd, you may be able to reuse the potato for another party…but there are no guarantees! ;) You could also make a big-kid "truth or dare" version of the game, where there are strips of paper inside describing a (parent-approved) truth and dare. The guest exiting the game must first choose to share the truth, or do the dare.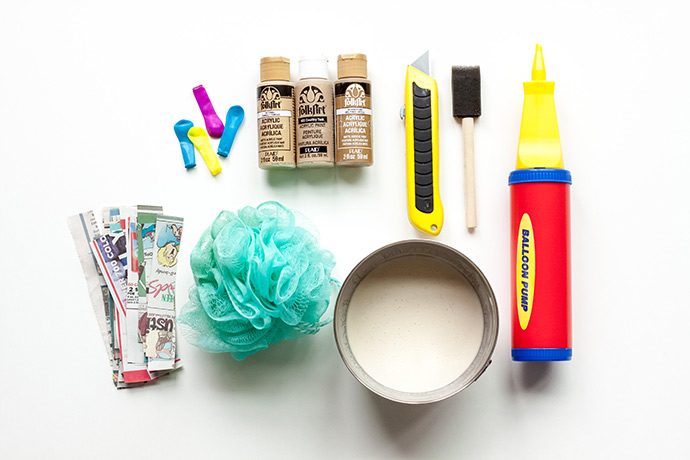 • Water balloons (unfilled!)
• Balloon pump
• Newspaper strips
• Paper mache paste (1 cup flour, 1 cup water)
• Folk Art Acrylic Paint (white, 2+ shades of tan and brown)
• Sponge brush
• Loofah sponge
• Wax paper (not pictured)
• Box cutter
Step 1
Use a balloon pump to blow up several water balloons. Tie a knot at the end, and use your hands to shape the balloons like potatoes.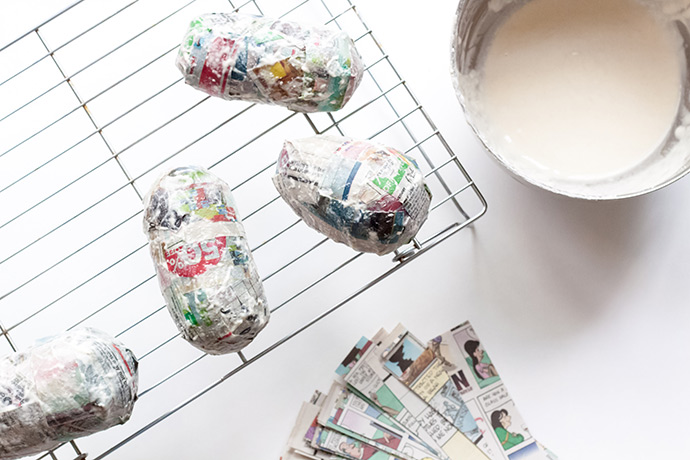 Step 2
Dip a newspaper strip in paper mache paste, and plaster it onto the balloon. Continue gluing newspaper strips to wrap the balloon completely, and do your best to smooth down each piece. Create several layers of newspaper strips for an extra sturdy potato, to withstand the tossing and grabbing during the game! Allow the newspaper strips to dry. A cookie cooling rack is a great option for drying paper mache.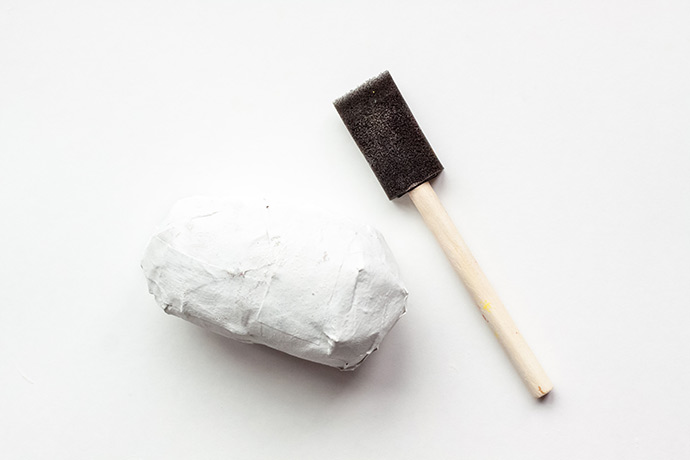 Step 3
Once the paper mache is dry, use a sponge brush to paint it white. Let dry.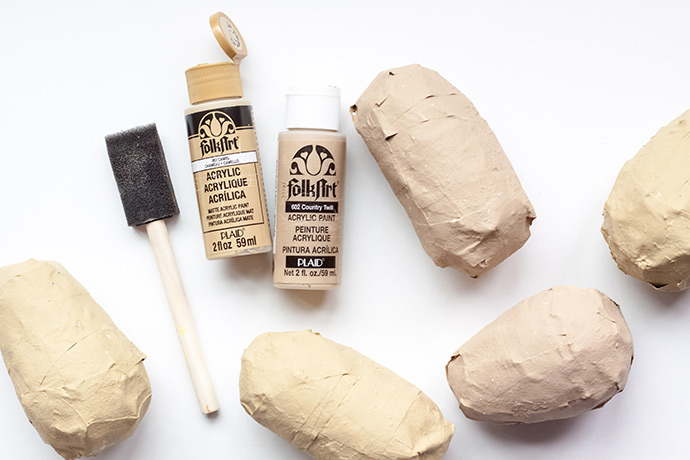 Step 4
Use a sponge brush to paint the paper mache potatoes in one or two shades of tan or brown, and allow to dry.
Step 5
Squeeze out a puddle of darker tan or brown paint on a piece of wax paper. Dip your loofah sponge in the paint, and dab off any excess on the wax paper. Dab the loofah sponge all over the paper mache potato, until it is splotchy all over, appearing to have dirty spots. Allow to dry.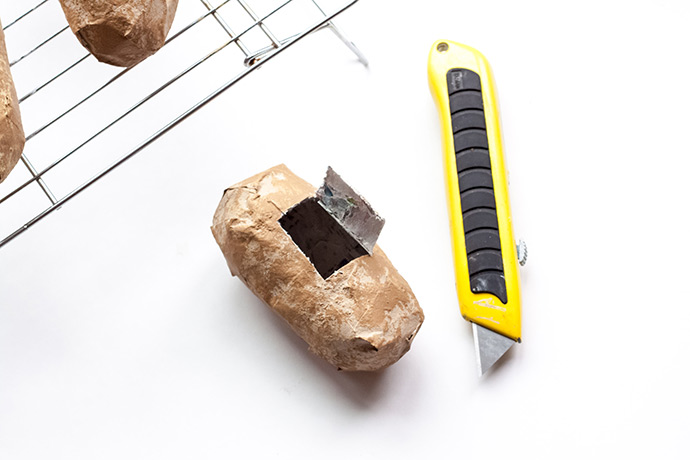 Step 6
Use a box cutter to cut three sides of a small rectangle on one side of the paper mache potato, so you have a small door to fill with prizes. Pull out the balloon, and shake out any glue flakes that may have fallen inside. Now fill the potato with prizes, and re-close the little door. You may want to place washi tape over the door for game time, and the kids can easily peel it back and re-seal during the game.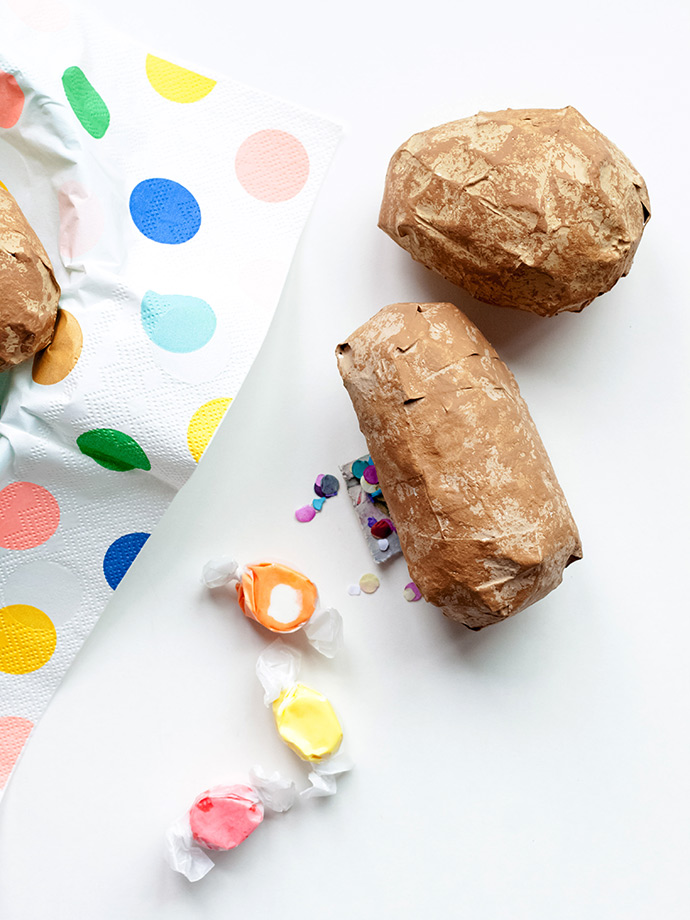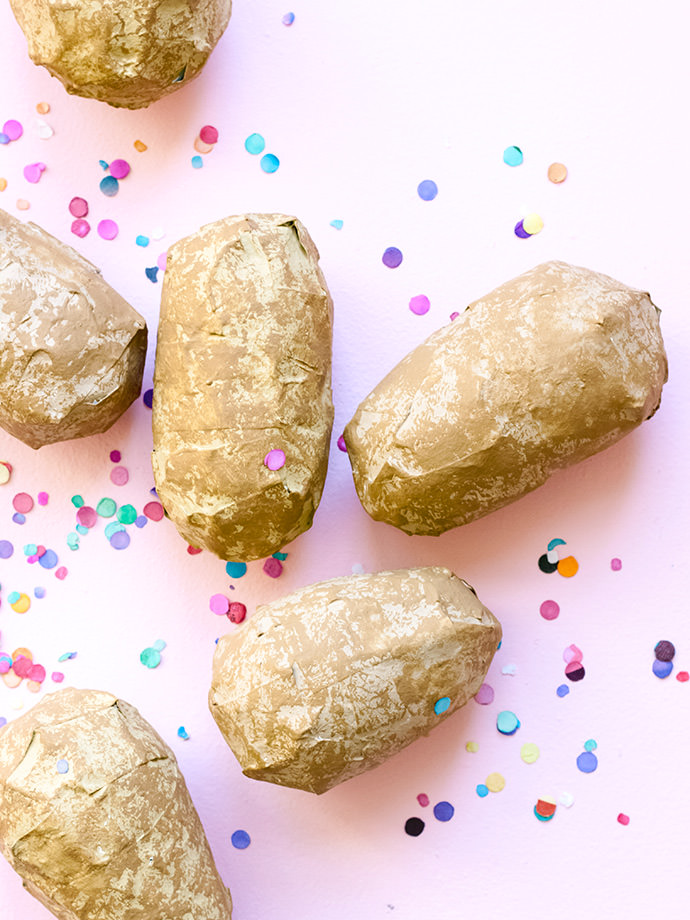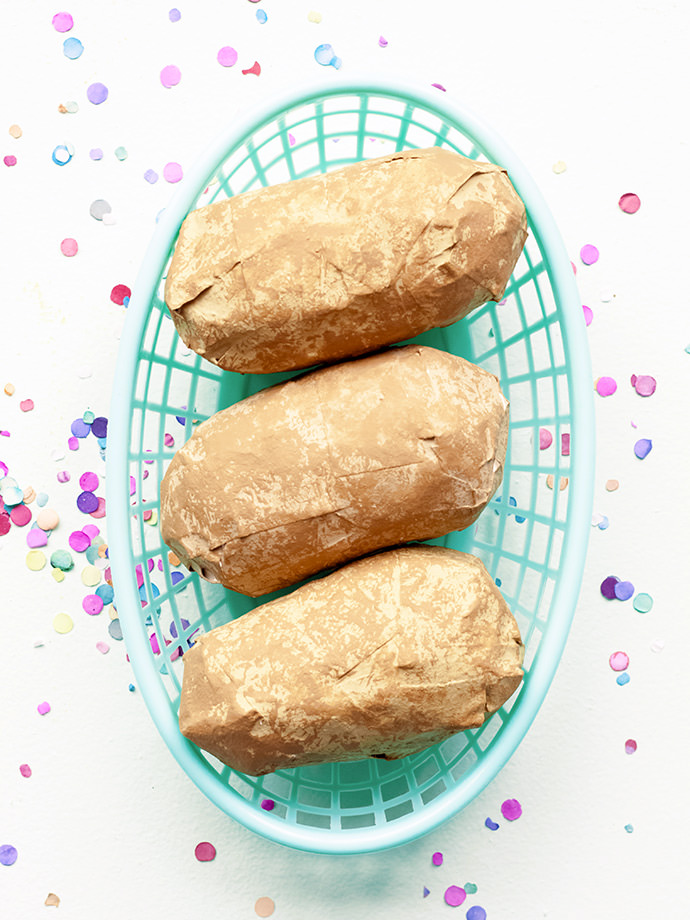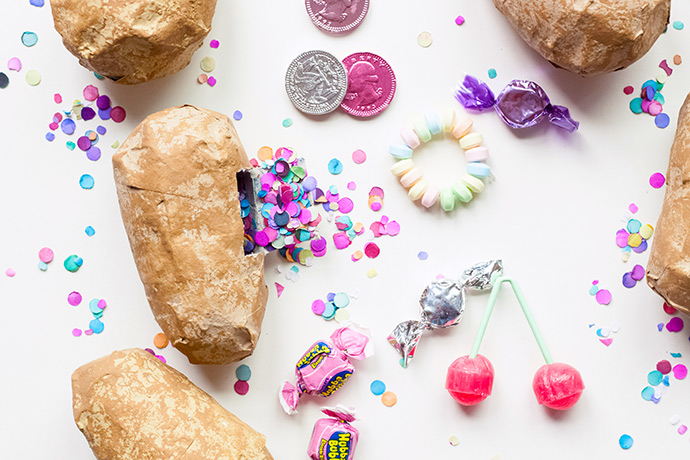 Your hot potato is ready for action!! Happy crafting! :)