Sometimes the best crafting materials are in the recycling bin! Everyone is sure to have a few glass jars in the bin ready to use – or if there are some nearly empty jars in the pantry or fridge, empty them out into something else so that you can craft with that jar! From home organization to gift-giving to decor, glass jars have so many uses. Take a look at a few of our favorites!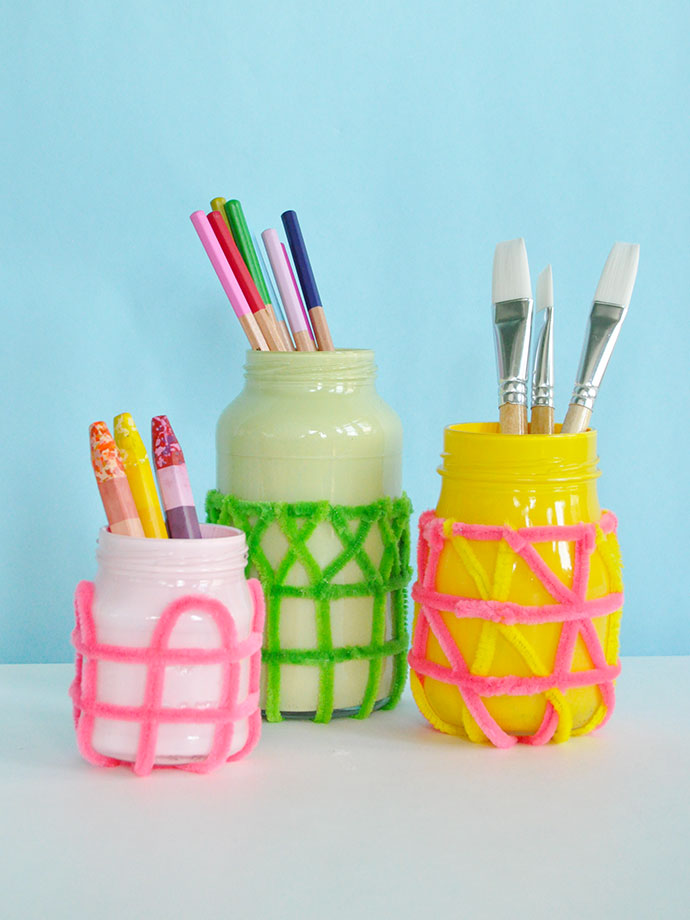 Woven Pipe Cleaner Jars
Use neon pipe cleaners to dress up some plain glass jars! These ones used to contain pickles, pasta, and pesto inside – and are so happy with how they turned out. We used retro rattan and macrame as inspiration for these and don't worry, these jars are super easy to make. The pipe cleaners lend themselves perfectly and are so forgiving.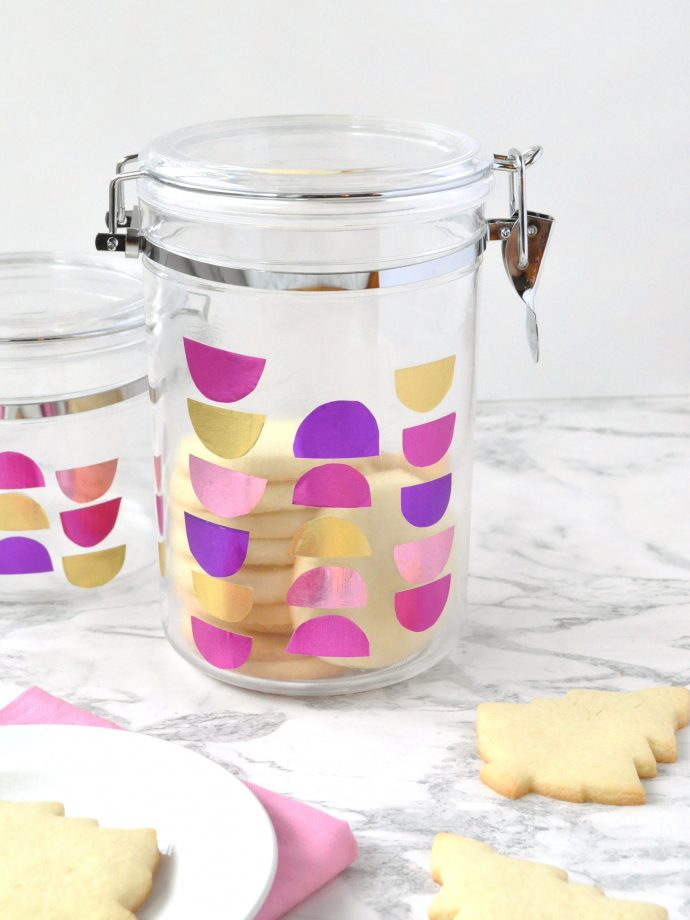 Mod Podge and Mylar Cookie Jars
Give plain glass jars a whole new look with colored mylar and Mod Podge! We used midcentury shapes and design as inspiration for this set of DIY cookie jars, perfect for giving as gifts!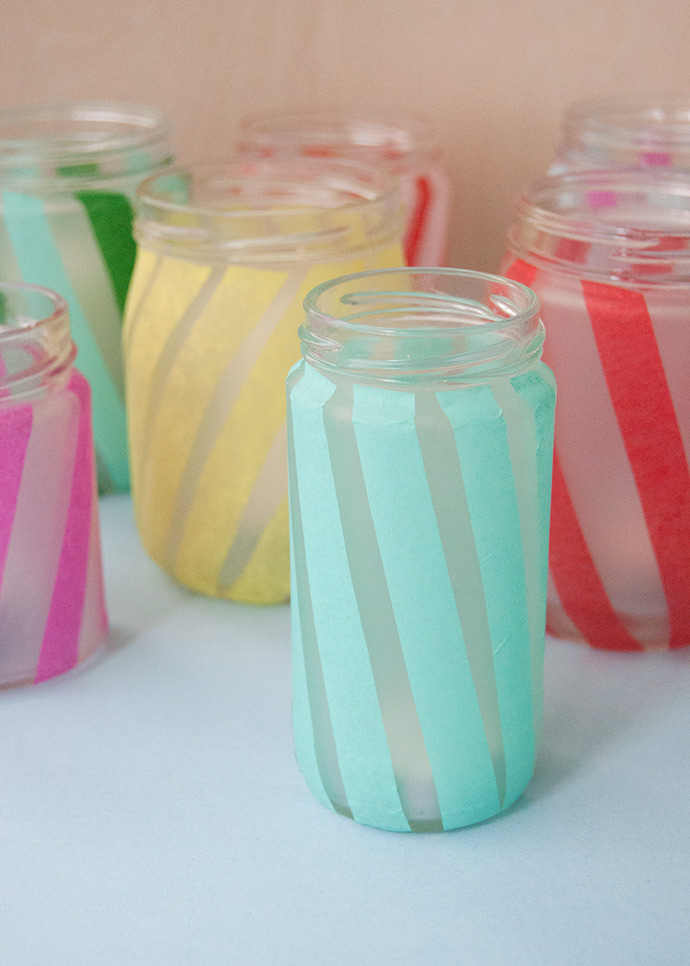 Upcycled Jar Votives
Having candles burning is a great way to add a comfy cozy feeling to any space, so raid the recycling bin and make these festive votives to decorate for any season! We oftentimes will repurpose glass jars for food or craft storage, but since this project doesn't require the lids it is a great way to use up those jars that have lids with less than desirable patterns or logos on them.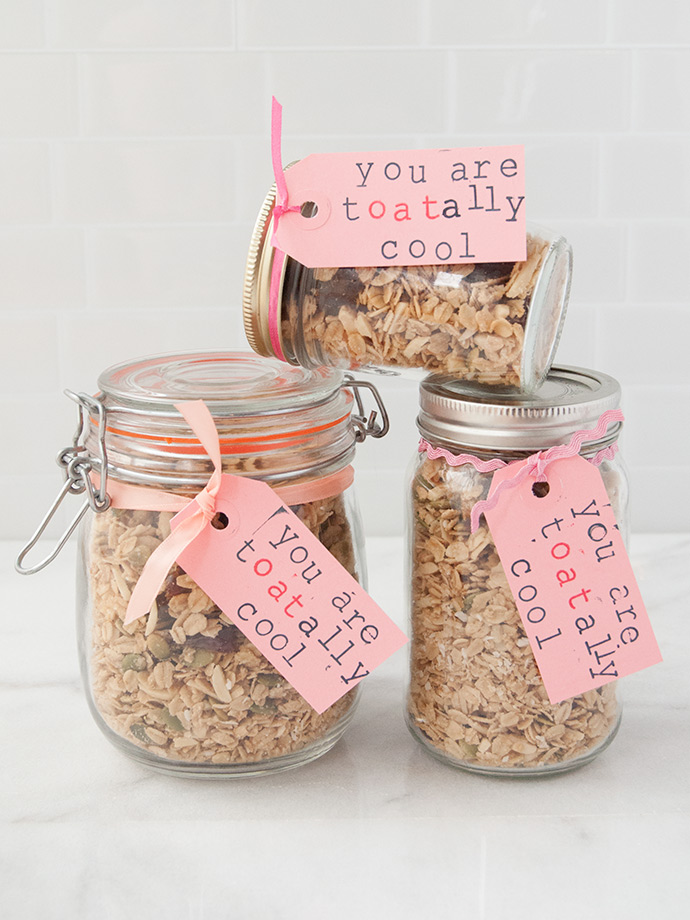 Simple DIY Gifts for Fall
Granola and other baked goods make amazing handmade gifts, so why not package them in a jar? We stamped this punny tag to go along with this tasty granola. So easy!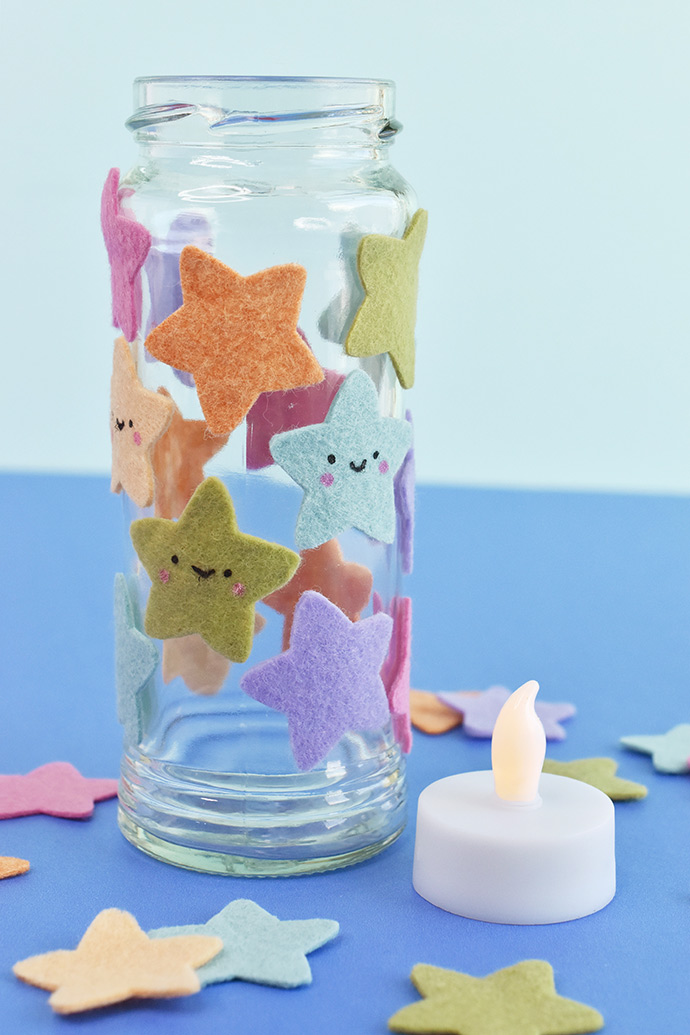 Kawaii Star Jar Night Light
Look to the stars with this super cute night light jar! Wrapped in a pastel galaxy, you'll love how the light shines through the jar and the stars smile as you sleep. This project is as easy as cutting, making faces, and gluing!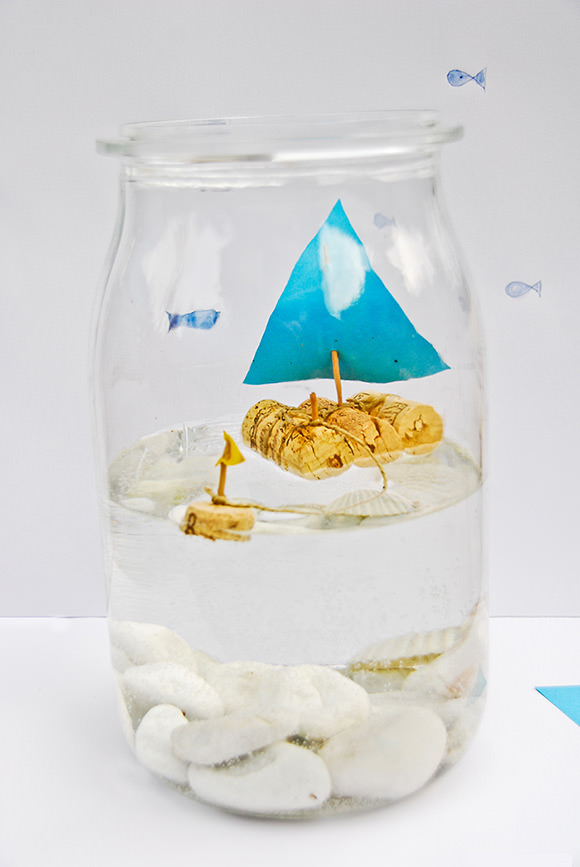 DIY Cork Sailboat in a Jar
Remember the ship in a bottle that mesmerized you as a child? Here's a fun twist that your little one will love. All you need are a few corks, some thread, toothpicks, and construction paper.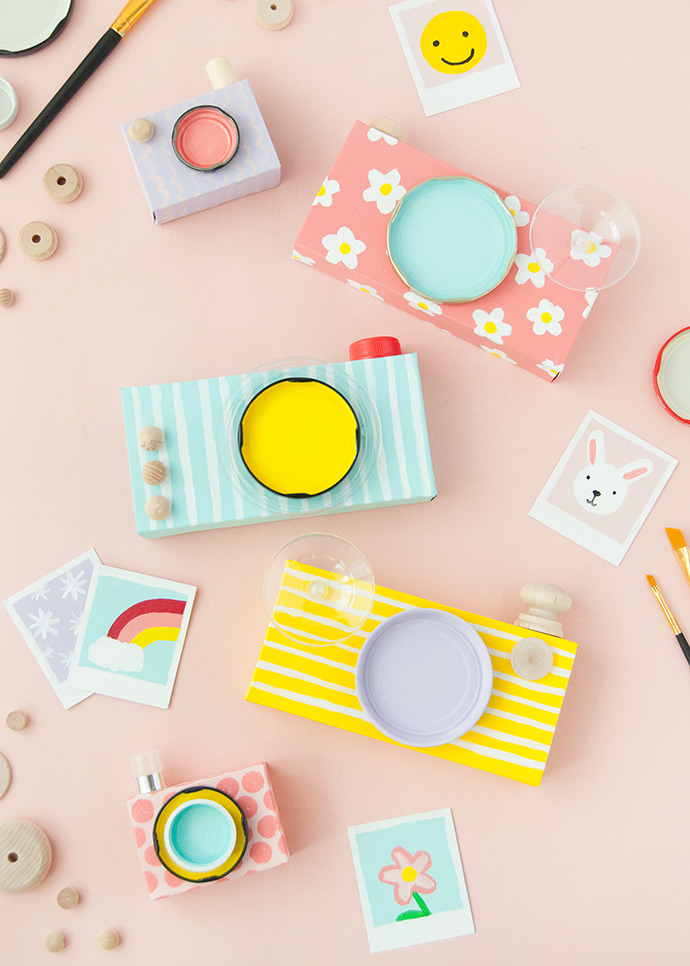 Macaroni Box Cameras
We just had to sneak this one in – jar lids are key in making these macaroni box cameras! Since so many of the other jar crafts in this post don't require the lids, this project is a great way to put any leftover lids to good use.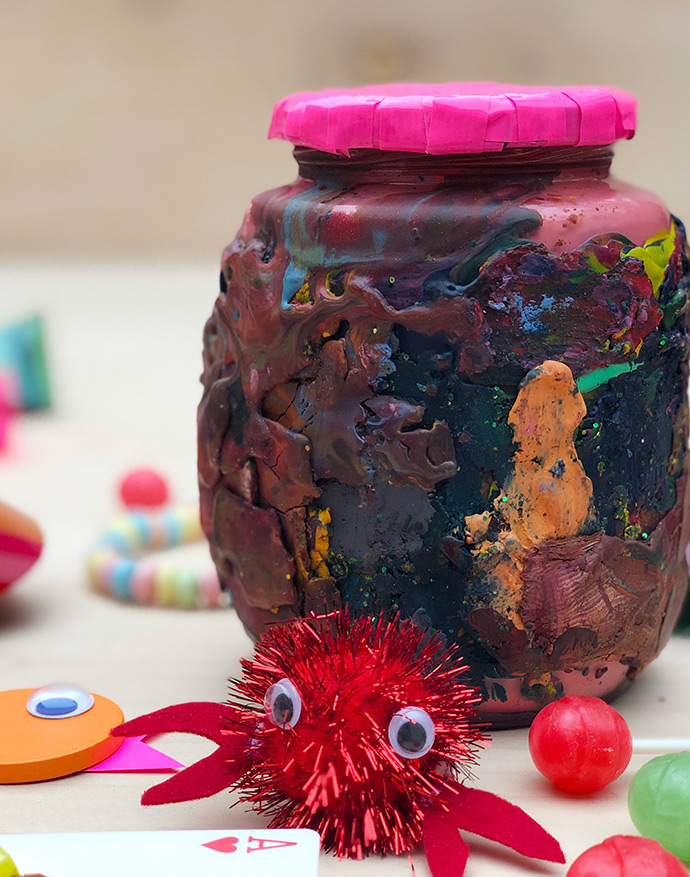 Cosmic Fortune Giving Dream Jar
This DIY dream jar is full of handmade treats, trophies, pom pom pals, paper fortune cookies, and more! You'll have a blast covering the outside with melted crayons.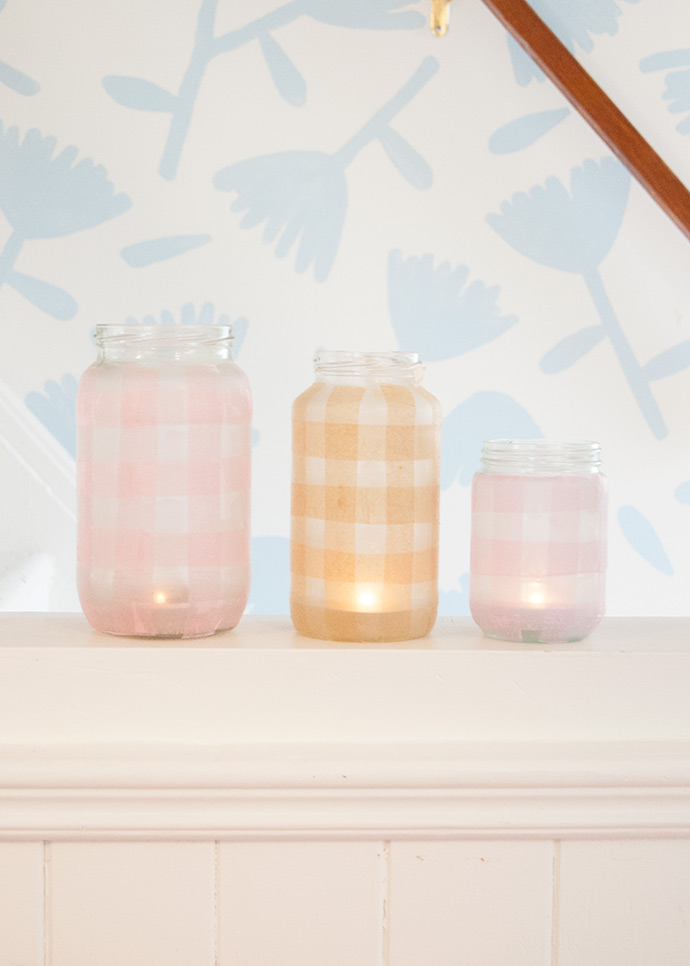 Gingham Glass Jar Lanterns
These muted shades of tissue paper combined with the gingham pattern are perfect for spring. They're so simple to make and regular white glue makes this neat frosted finish.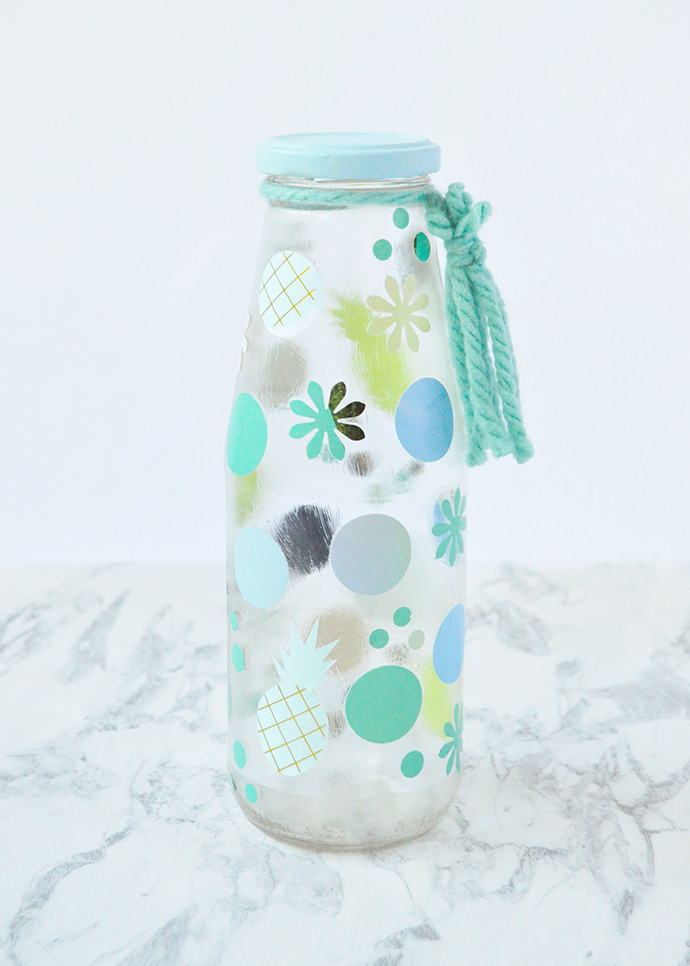 Mod Podge Reusable Water Bottles
Kids will have the best time customizing their reusable bottles and jars with paper scraps, gift wrap cut-outs, and magazine clippings. We even added some playful charms on top using extra beads and yarn we had laying around. Three cheers for using up leftover materials!