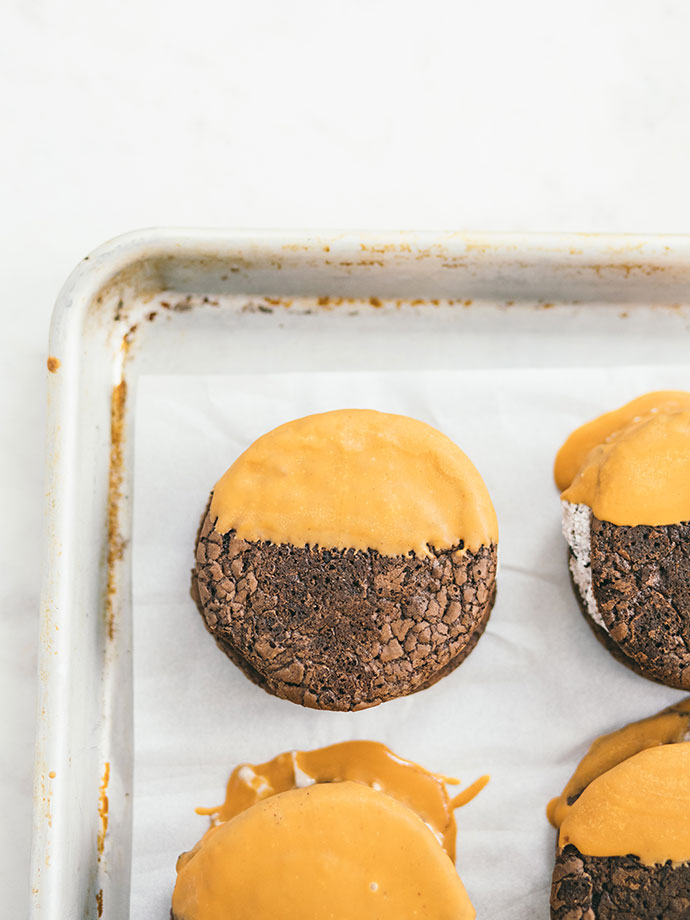 Who says ice cream is just for summer! It may be fall here in Minnesota but after a long day of play outside (biking! climbing trees! baseball! hopscotch! hiking!) I find a little ice cream treat is often a nice indulgence. I have had a lot of you making my brownie cookies and decided to make them into ice cream sandwiches. They were perfectly paired with cookies and cream, and then over the top with a butterscotch magic shell.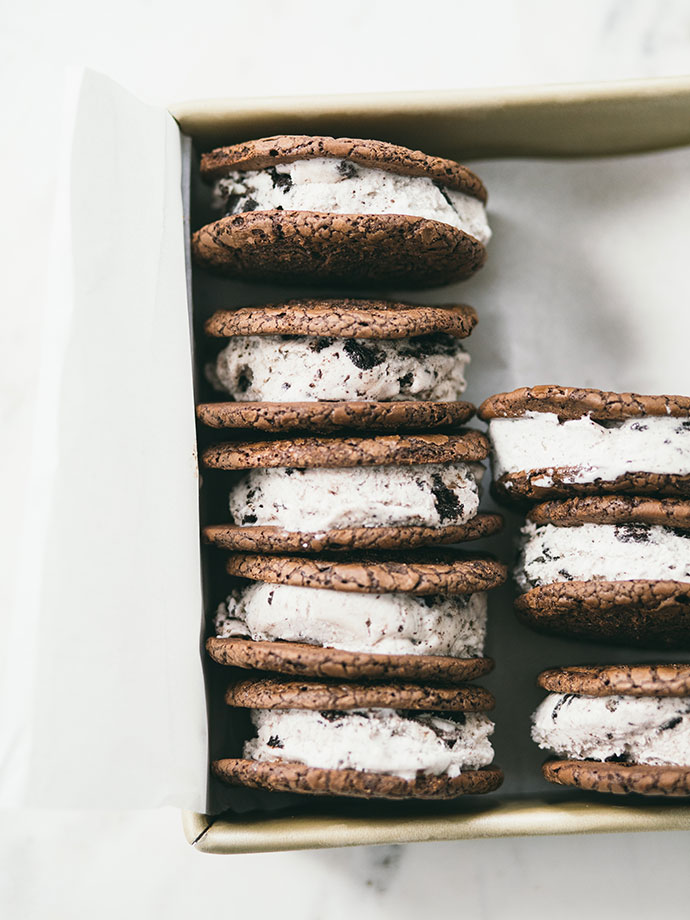 For the Brownie Cookies:
5 tablespoons unsalted butter
8 ounces semi-sweet or bittersweet chocolate (60% cacao is ideal, and no more than 70%), chopped
2 tablespoons Dutch-processed cocoa powder
½ cup all-purpose flour
3/4 teaspoon baking powder
3 large eggs
1 ¼ cup granulated sugar
1/2 teaspoon fine sea salt
1 tablespoon canola oil
1 teaspoon vanilla extract
2 quarts cookies and cream ice cream
For the Butterscotch Magic Shell:
1 cup (170g) butterscotch chips
1/4 cup refined coconut oil
Pinch salt
For the Brownie Cookies:
Step 1
Place an oven rack in the middle position and preheat to 350ºF. Line 3 sheet pans with parchment paper.
Step 2
Place the butter in a small, heavy-bottomed saucepan set over the lowest heat possible. Add the 8 ounces of chocolate and melt together, stirring frequently to prevent the chocolate from scorching. Continue cooking until the mixture is warm but not hot, to the touch. Add the warm cocoa powder to the chocolate and whisk until completely combined. Remove from the heat and keep warm. (Alternately you can heat the butter and chocolate together in the microwave  – use a microwave-safe liquid measuring cup, and stop and stir frequently until melted.) In a small bowl, whisk together the flour and baking powder and set aside.
Step 3
In the bowl of a stand mixer fitted with a paddle, whip the eggs, sugar, and salt on medium-high speed until the mixture is very light and fluffy, 3-5 minutes. Turn the mixer to low and stir in the vanilla and canola oil until just combined, then add the warm chocolate-butter mixture. Add the flour mixture and beat on low speed until combined. Remove the bowl from the mixer and use a spatula to fold in the remaining 5 ounces of chopped chocolate
Step 4
If the batter is runny, let it cool for a few minutes until it firms to the consistency of a thick brownie batter. Use a small scoop or 2 spoons to drop heaping tablespoons of batter onto the prepared baking sheets, spacing them at least 2 inches apart (I fit 12 on a sheet).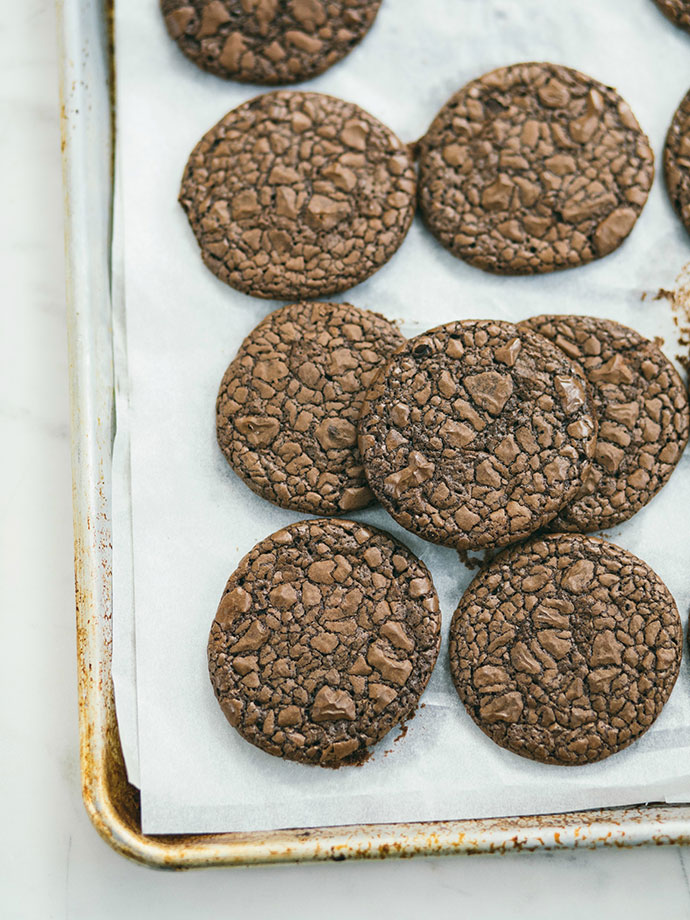 Step 5
Bake the cookies one sheet at a time until puffed and cracked and the edges are set, 8–12 minutes. Let cool completely.
For the Butterscotch Magic Shell
Place the butterscotch, coconut oil, and salt in a microwave-safe dish. Microwave on high 30 seconds. Stir. Repeat until the mixture is melted and completely smooth.
Note: Occasionally I've had the butterscotch chips not melt completely. If this happens to you, you can pour the hot magic shell through a strainer. Extra-virgin coconut oil does not work as well here because it will make the magic shell taste like coconut. Refined coconut oil has a more subtle flavor.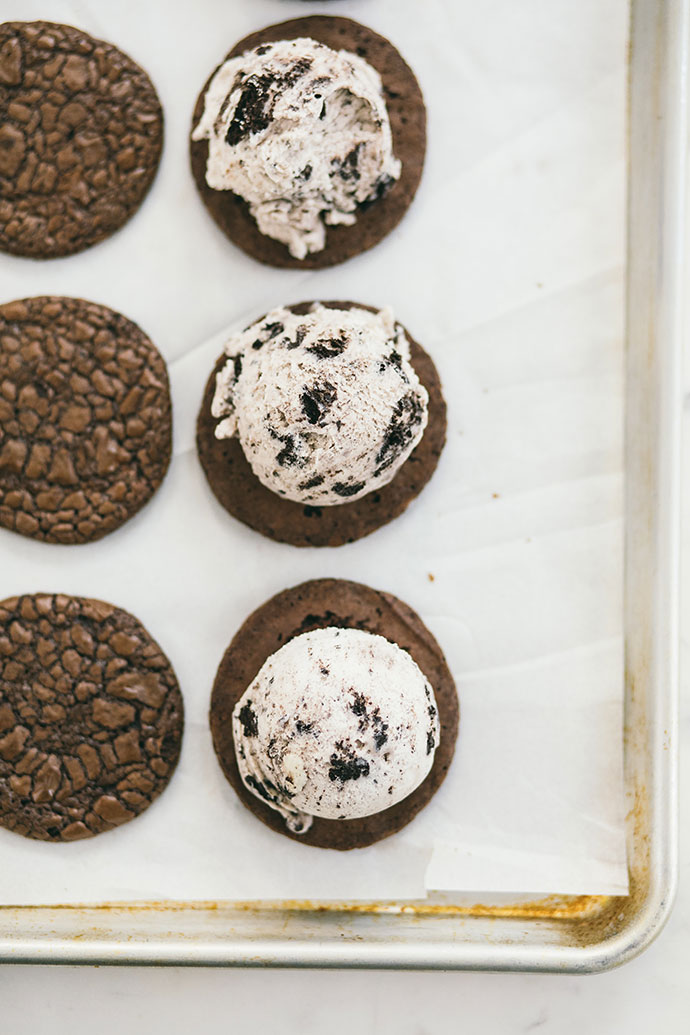 Assemble the ice cream sandwiches and then pour the butterscotch magic shell over ice cream sandwiches. Makes 13-14 ice cream sandwiches.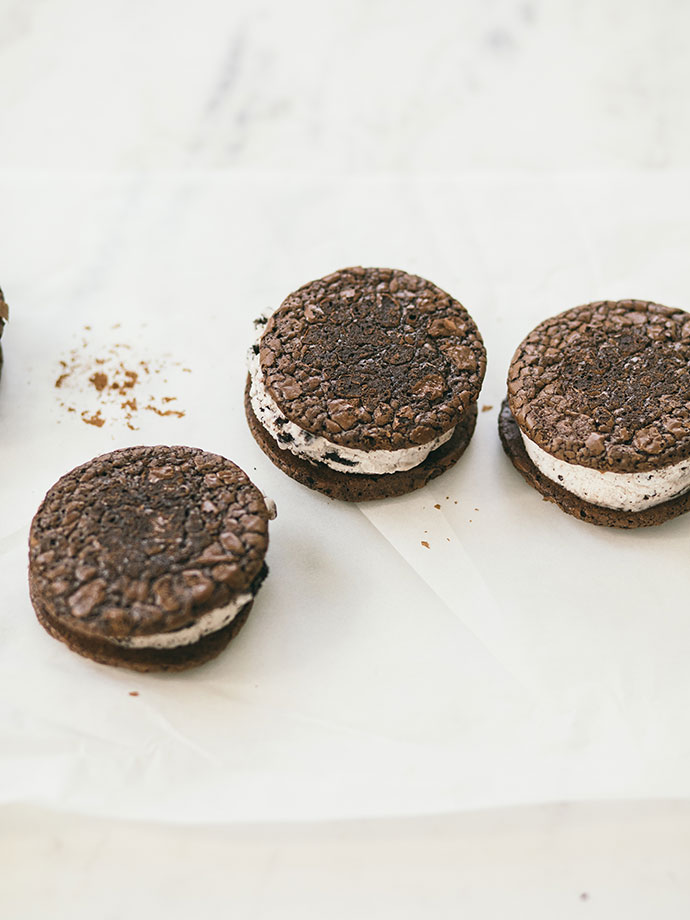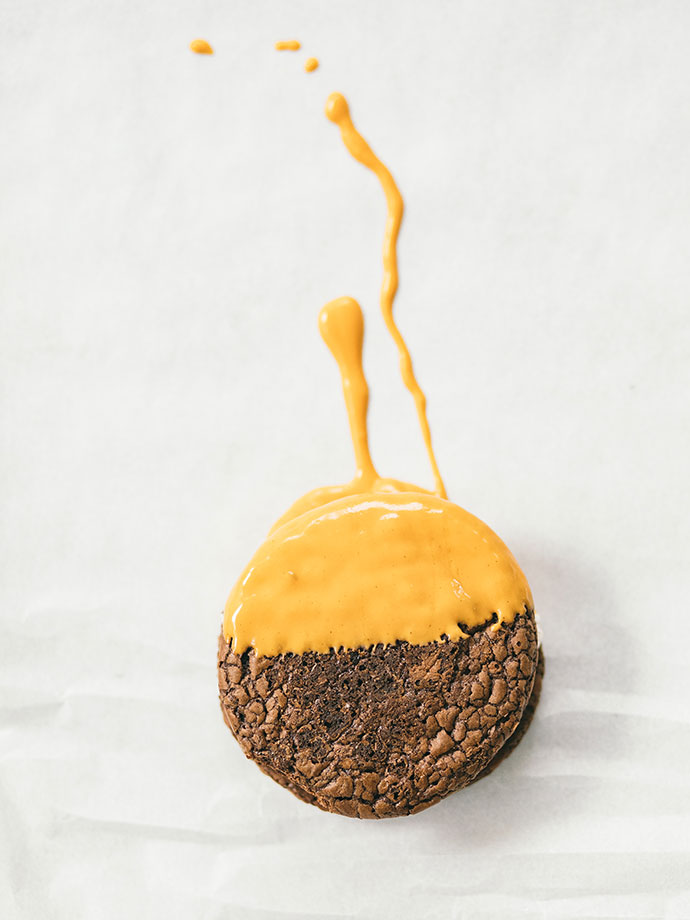 Enjoy!