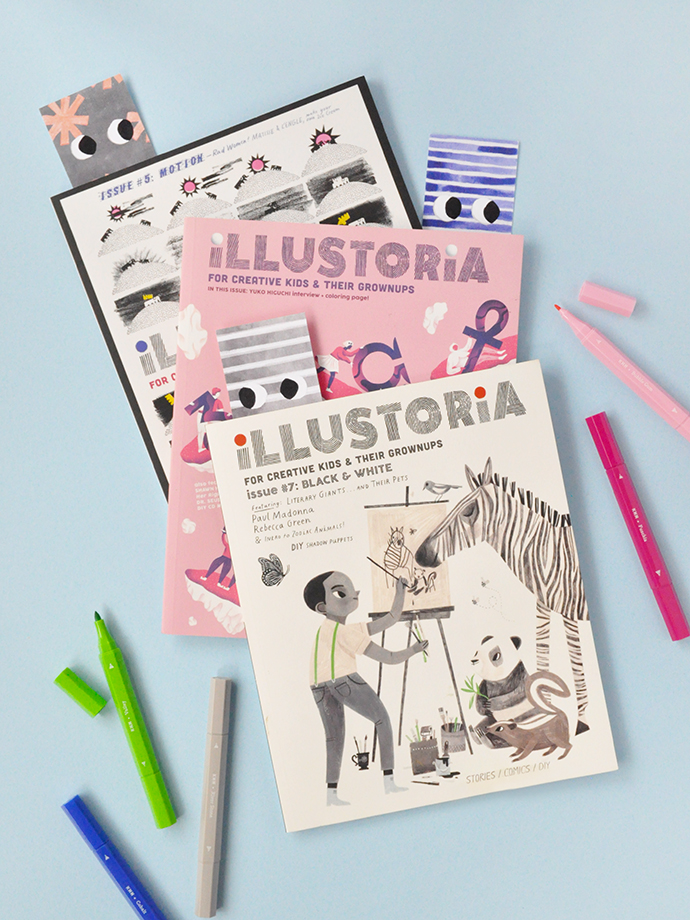 Today we're so excited to be talking with Joanne Chan, founder & editor-in-chief of Illustoria, an amazing magazine for creative kids & their grownups. We took a sneak peek into issue #7: black & white – you can see a few snaps from inside this issue below, you won't want to miss it! Illustoria is all about visual storytelling, makers and DIY culture featuring new stories, art, comics, interviews, crafts and activities in every magazine. Keep reading to hear some amazing insight and behind-the-scenes info from Joanne, as well as some tips & tricks on staying creative with your little ones.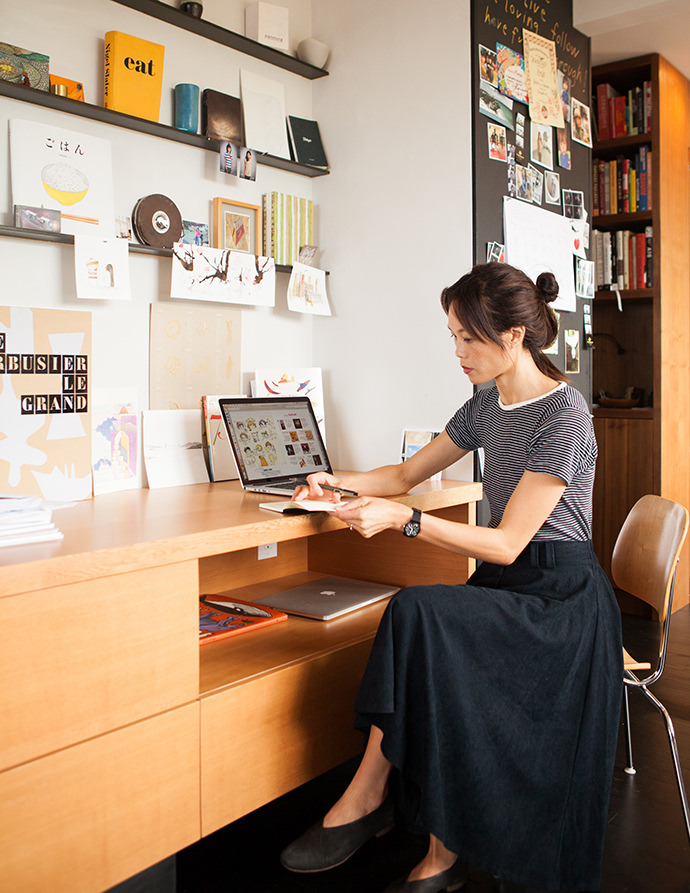 How has Illustoria changed since it first started?
Illustoria has grown and changed greatly over the years. It may not be noticeable issue to issue, but changes were very much a part of the behind-the-scenes reality of running a small press for the first time! I feel like we morphed from a vision of a dreamy possibility, to a magazine publisher with a dreamy vision, to a publisher who sees that what's possible is dreamy. It's getting to that place of what's possible and sustainable that is exciting, challenging, and tests us to evolve every day.
Before we launched Illustoria, I gratefully received the help and advice of many former colleagues and industry folks I admired. Ultimately though, just as a kid has to learn by scrapping her knees and taking the falls, every company has to face its own unique challenges and it has to grow up, evolve, and morph along the way to keep going. For example, at the launch of Illustoria, our magazine was being distributed by a large distributor who stocked a massive chain store nationwide. It took four issues with them to learn that that distribution model didn't work for us. We finally pulled out and have been focusing on our smaller distribution channels and more direct relationships with our customers. Another change has been our staff size. A small startup has to be nimble and without large funds I had to count on those who felt passionate enough about our mission to offer occasional help in the way of advisors and unofficial supporters. Our advisory team has definitely grown over the years thanks to talented people who believed in continuing to offer support in the ways that they could.
The most exciting change though has to be how the growth of our community has impacted the essence of our publication for the better. Alongside our art director, Beth, we have never veered from a commitment to embracing quality, beautiful, meaningful work from an array of different artists and writers—whether they are at the peaks of their careers or up-and-coming talent with a small audience. For the last couple issues we put out a call for submissions and I've been blown away by the talented artists who are offering their work to be considered a part of our publication. I could not have predicted the many ways in which each of these contributors has increased the quality of our publication and enriched it with their unique stories, styles, and points of view.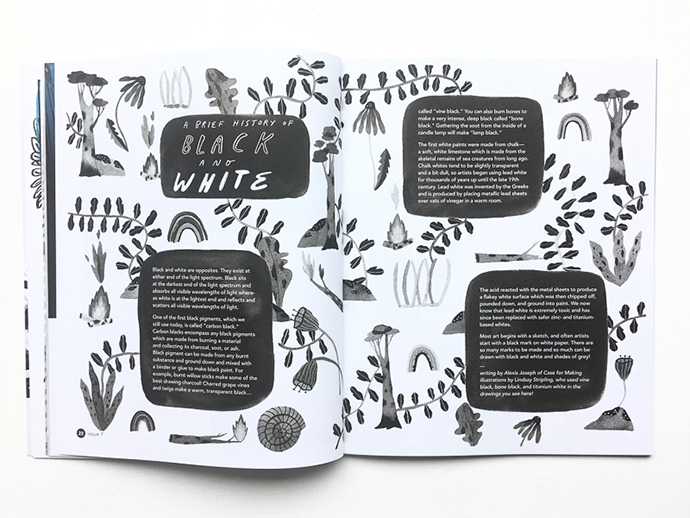 How do you pick the theme for each issue?
I am inspired by universal themes that we experience in life and literature. When I consider a theme I always think about how open-ended it is for interpretation. The more open-ended, inevitably the more varied and unexpected the contributions will be. I love the idea of readers discovering something new, being challenged to see things from a different perspective, and getting into worlds they haven't experienced before. More specifically though, "Beginnings" was an obvious and apt theme for our premiere issue because it is so full of possibilities as we set out on this journey. The idea for "Canvas" was sparked by a love of art and paintings, "Outside-In" by fairytales and sculpture, "Grow" by nature and childhood, "Motion" by actions and the impact of our actions, "Symbols" by the way we make sense of the world around us. The hope is that every theme speaks to the curiosity and wonder of children and adults alike.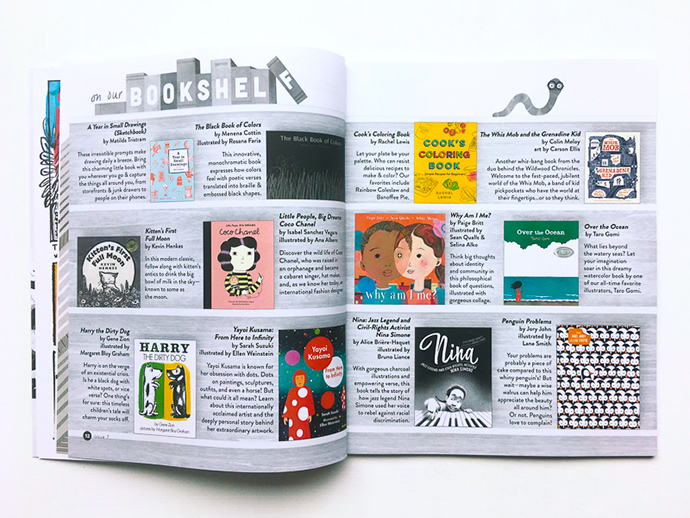 When working on the magazine from start to finish, what is your favorite part of the process and why?
My first thought is to say it's that moment when I get the final finished product back from the printer! But that is a feeling more of pride and relief that we made it and all the effort produced something tangible and beautiful. If I dug a little deeper though, I think it may be during the development stage, when the stories are coming in stages and the art is blowing me away, and especially when the cover art comes in and Beth miraculously and efficiently mocks up a working cover, there is this feeling of "Wow—this is going to be incredible and I can't wait to share this with the world!" The feeling that this thing is going to be larger than the sum of its parts. That moment is very special and is part of the joy of the creative process—when you know that you're onto something that nobody else has done before in this particular way and you believe in what you are doing.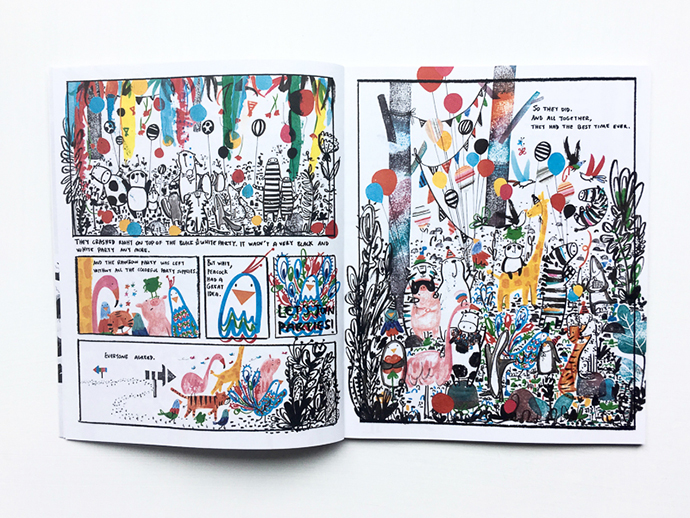 How do you & your kids get creative in your daily life?
It's not always easy with school, lessons, homework, play dates, and other plans! There are a few go-to's in our house that always sparks creativity and fun.
With my son, we make a game out of making art. He plays the character of an artist making art in his studio and "sells" his work to me, the customer. Sometimes he chooses what he wants to make, sometimes I make suggestions on what I'd like to "commission." In this way, he has made zines, paintings on canvas, doodles, watercolors, sculptures from found objects—you name it. It's incredibly fun and invites spontaneity. I use the time together "in his studio" (the art table) to tinker and play with materials as well.
My daughter is now 12 and she has recently been into digital illustration and drawing on her own. But I find that she loves to be creative together in the kitchen. She'll select the music for a bake-off with friends, or for experimenting on a new dish. There's nothing like music to get your creativity juices flowing. For her, I think structured time with a particular project in mind that she can focus on by herself or together works best, since left on her own she'd be drawing on her tablet in her room! It really varies person to person and age to age, so it's important to be flexible and listen to what speaks to your kids.
We all like to experiment with simple materials—pens with different nib sizes, making prints with DIY stamps, etc. If someone is experimenting with a certain technique (recently, it was playing with light and shadow using pencils to draw 3-D art), then we invite each other to try the same thing. I love to see our different styles and takes on the same subject. It's important to not compare but to celebrate the unique points of views and originality of the individuals.
I would say that creativity happens when we truly spend time together, away from distractions—whether that means going out for walks and gathering feathers and leaves, cooking and listening to music, or tinkering in the art room. It's the focused time and attention that brings creativity to our daily lives.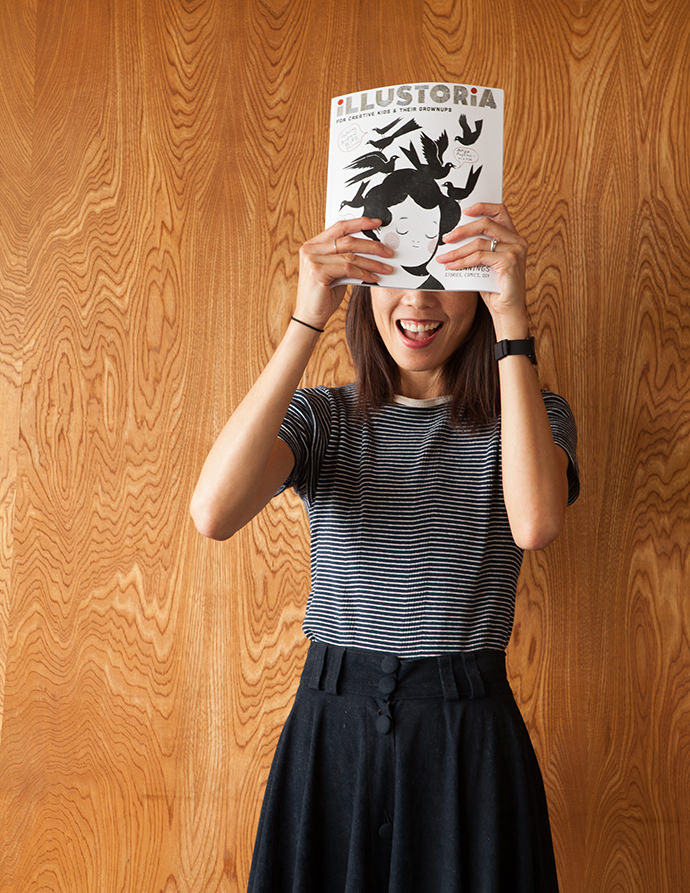 Do you have any advice for kids & families looking to add more creativity to their lives?
Do what brings joy and don't be afraid to experiment. Let there be opportunities for structured projects and also plenty of time for open-ended play with materials. Find inspiration by reading illustrated books (and know that nobody has to outgrow them!), enjoying time in nature and going to the art museum. Remember that the simplest of materials can spark endless creativity. Make a space for easy access to art supplies. This is key! I met someone who has a basket of paper, pens, and a pair of scissors on her breakfast table, which invites her kids to make zines daily. Most of all, carve out the time and bring mindfulness to the practice of making—as much as possible, put away the cell phones and bring your full attention to the materials and to each other. I feel that creativity comes from within when we allow ourselves the time to practice whatever it is that brings us joy.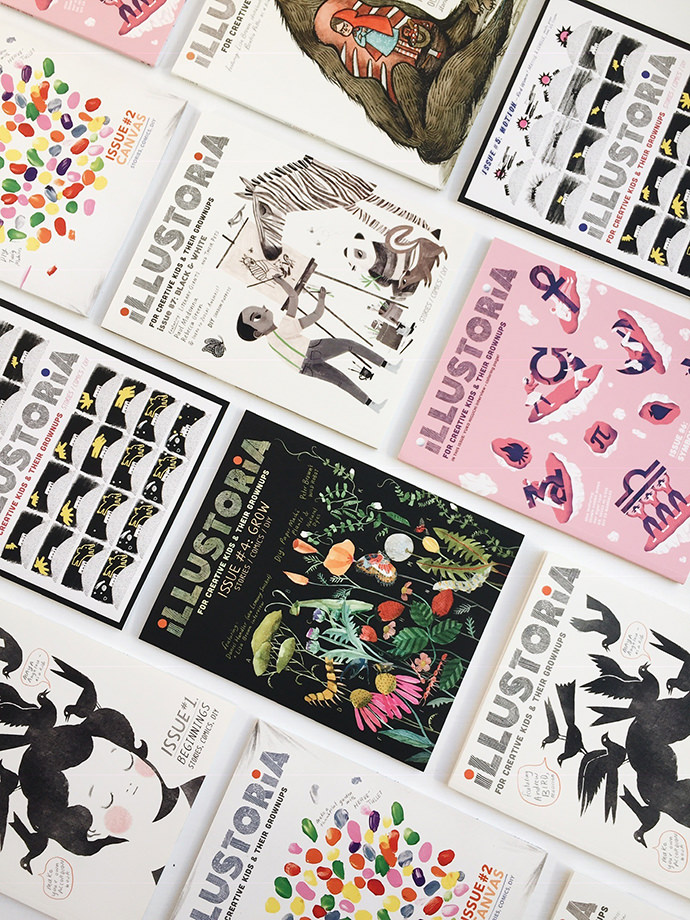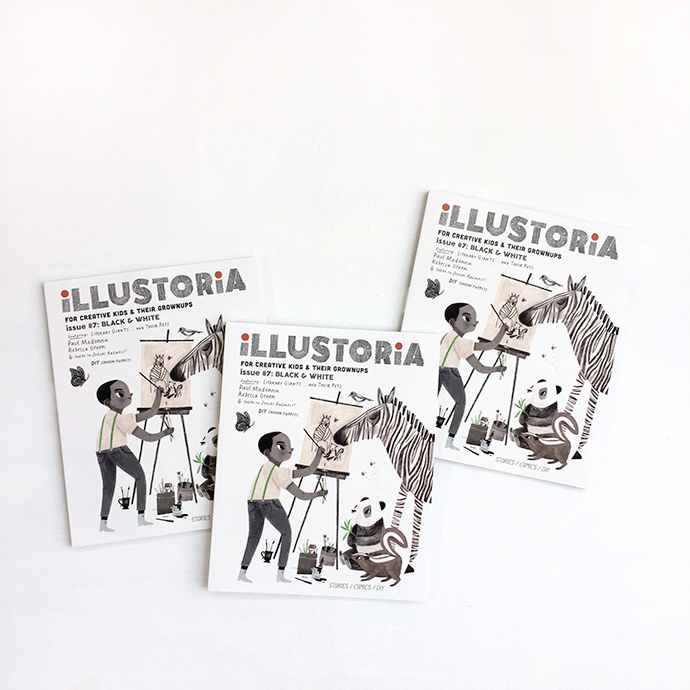 Thank you so much to Joanne and the whole team at Illustoria for taking the time to share everything with us today! And get the newest issue of Illustoria right here!
Photos of Joanne Chan by Melissa Kaseman