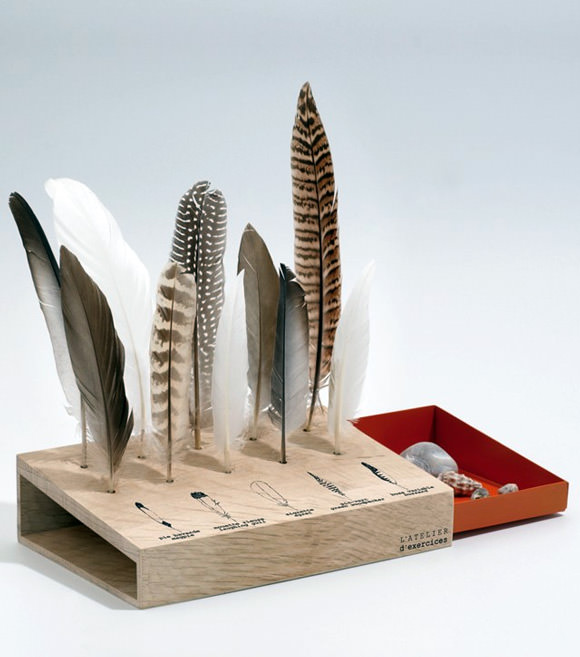 Have nothing in your house that you do not know to be useful or believe to be beautiful – William Morris.
Where do you go when you're looking for a really special gift for a friend or a member of your family? We all have our favorite addresses, places where we know we'll find something a little out-of-the-ordinary, tailor-made for a loved one. As the international design and home decor trade fair Maison & Objet kicks off in Paris this week, I thought I'd do something different today and share a snapshot of the work by French studio that focuses on design for kids and the young at heart.
Let's have a closer look!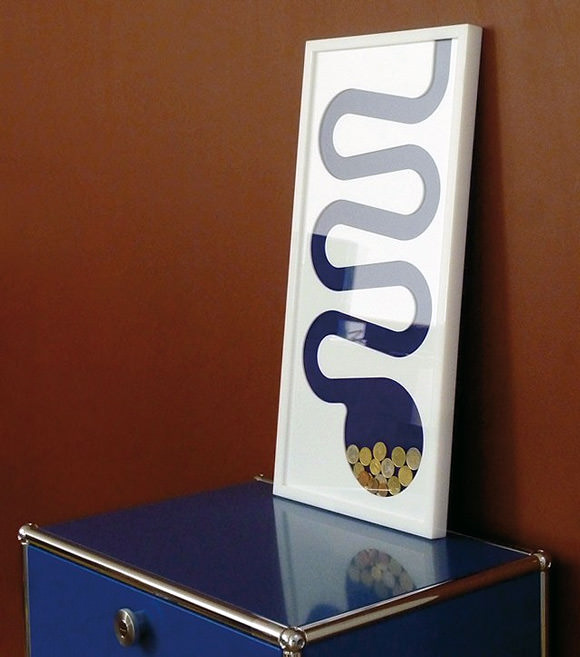 Money Saver
available for $186 from L'Atelier d'exercices
What a bold, striking feature this would make in a modern child's room! A work of art and a money saver combined, this cool bank designed by Sebastian Bergne collects all types of coins and gives change. Prop it up against a wall or hang it for all to see (mounting fixtures included) – who knew saving could be so much fun?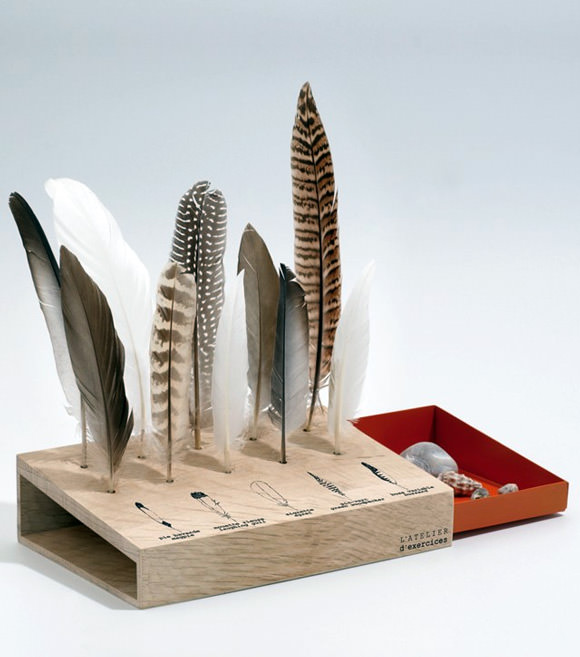 Feather Holder
available for $41 from L'Atelier d'exercices (posted earlier here)
I think this is a beautiful, poetical way to display your child's collections, be they feathers, shells, pebbles or chestnuts. Made from natural wood and metal, this would make a thoughtful gift for any budding explorer, and I wouldn't mind having one on my desk myself!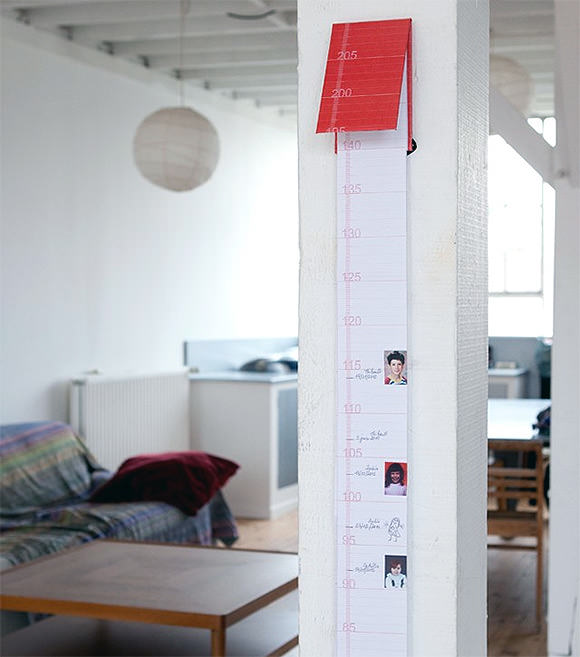 Family Growth Chart
available for $33 from L'Atelier d'exercices

The brainchild of PiKs Design, this clever family growth chart doubles up as a family album too. The chart folds/unfolds like a concertina and once mounted enables measurement of each and every family member's growth (2.10m). Made from tear and moisture-resistant paper, the chart can be also be used to display photos, drawings, notes… and once taken down, be folded to form a practical family keepsake book.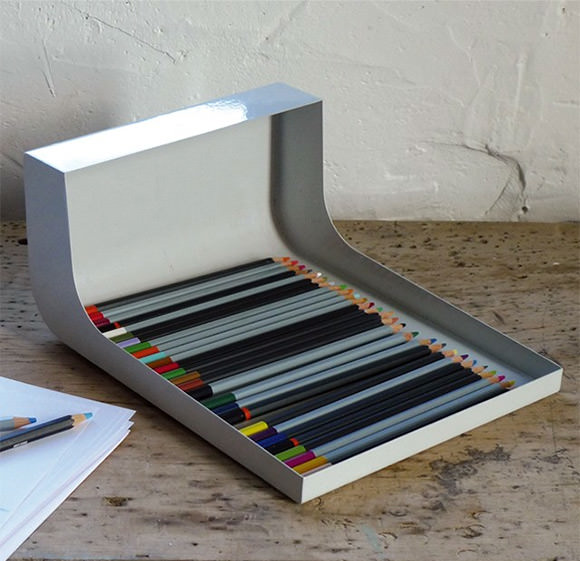 Pencil Display
available for $57 from L'Atelier d'exercices

I think my teenage son needs one of these! I'm hoping it's never too late to get organized… ho hum! Elise Gabriel's smart metal display looks the perfect desk accessory for kids and adults alike. It can hold up to 100 pencils vertically, be left out on a desk or mounted on a wall. Clean, efficient and organized – I like it!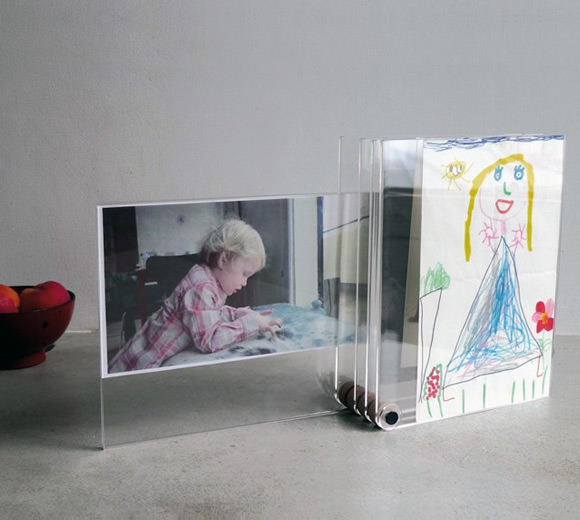 Drawings Holder
available for $60 from L'Atelier d'exercices

Another exercise in collection, this five-frame drawings holder opens out frontwards, backwards horizontally and vertically. You can use it display up to ten family photos, kids' drawings, special notes and letters, all encased in transparent acrylic frames. This would make a lovely gift for grandparents or godparents, but would also look great on a shelf in a child's room or on your desk. Easy to change – minimal design with maximum marks for versatility.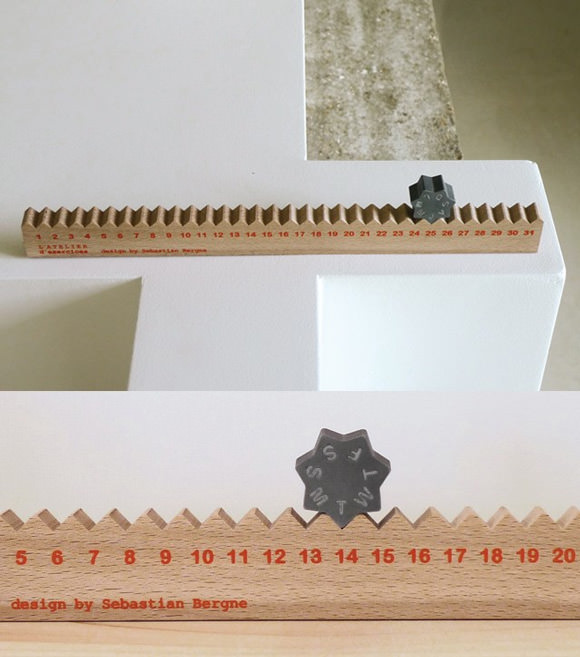 Monthly Measure
available for $46 from L'Atelier d'exercices

Last but no means least (this is actually my favorite), Sebastian Bergne has designed a universal monthly calendar that can also be used a metric ruler. The metal star can be positioned on the notched top border to show the day of the month and the date (each date = 1 cm), and is bilingual, with English days shown one side and French on the other. Clever, good-looking and functional – what more can I say?
Although based in France, L'Atelier d'exercice's designs are sold around the world. Please visit their site for a comprehensive list of stockists.
Images: ©Frank Verdier & L'Atelier d'exercices