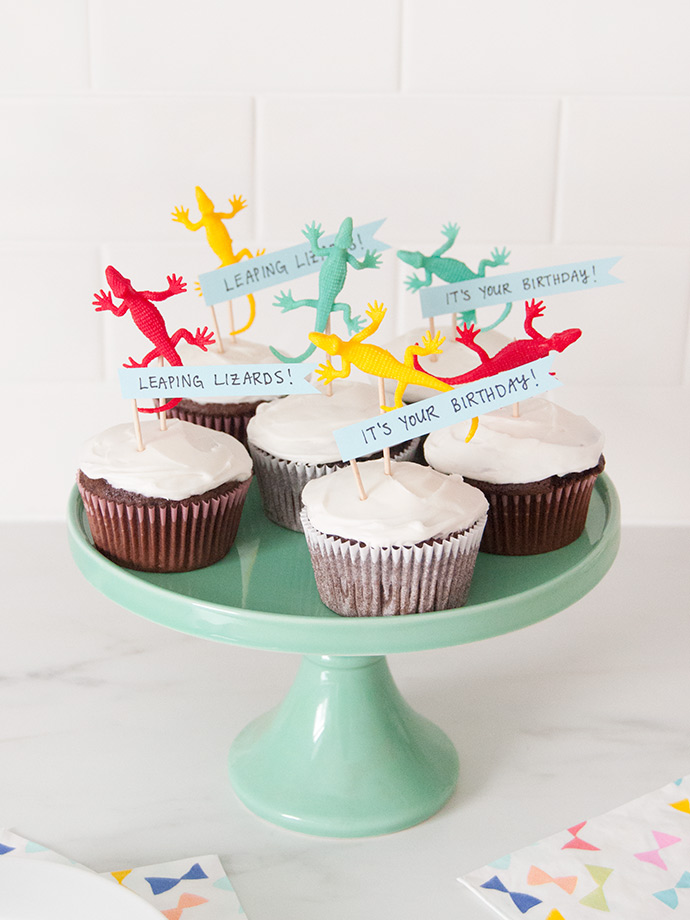 If you've taken a look at your 2020 calendar, you'll have noticed that there is indeed a February 29th this year! We happen to know a couple of leap year babies, and it's always such a fun and extra special day! On other years, we usually celebrate on February 28th instead, but it's definitely a treat to be able to celebrate on the actual day. This year, we were looking into traditions related to leap year, and we were a little bit disappointed with the lack of fun ideas. Most of what you'll find is pretty old-fashioned without any real way to be modernized and fun for kids.
Since we couldn't find any leap year traditions we liked, we decided to start our own with these lizard-topped cupcakes! Playing off of the expression "leaping lizards!", these treats are super quick to make and are sure to put a smile on kids' faces. Don't have a leap year baby to celebrate? Write "Leaping lizards!" and "It's leap year!" instead and everyone can get in on the fun!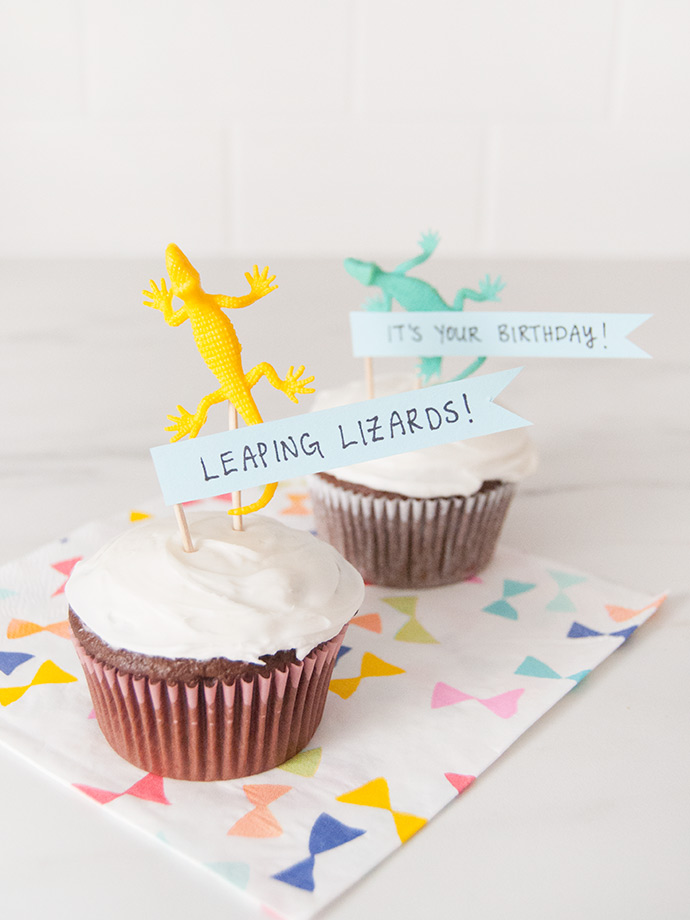 Frosted cupcakes (or full-size cake)
Small lizard toys (we found these at the dollar store)
Toothpicks
Cardstock
Fine-tip marker or pen
Hot glue gun
Scissors
Step 1
Gather up your lizard toys! Ours came in a pack from Dollar Tree with frogs also included – we set those aside for a future project. Apply a small dab of hot glue onto the belly of the lizard and place the end of a toothpick into it, holding it securely in place until hardened. Make sure to position the lizards differently so that they're all leaping in different directions.
Step 2
Use a fine-tip marker to write "Leaping lizards!" and "It's your birthday!" onto colored cardstock. If you don't have a leap year baby to celebrate, but want in on the fun you can instead write "leaping lizards" and "it's leap year!". You can write as many or as few of these as you like, not every single cupcake needs to have one.
Step 3
Cut out each of the messages into a narrow flag shape and hot glue a toothpick to the end. Let dry.
Step 4
Decorate your frosted cupcakes with your leaping lizards and flags!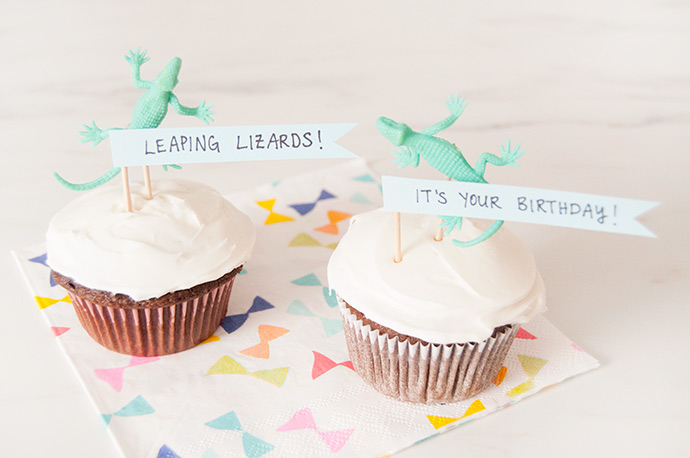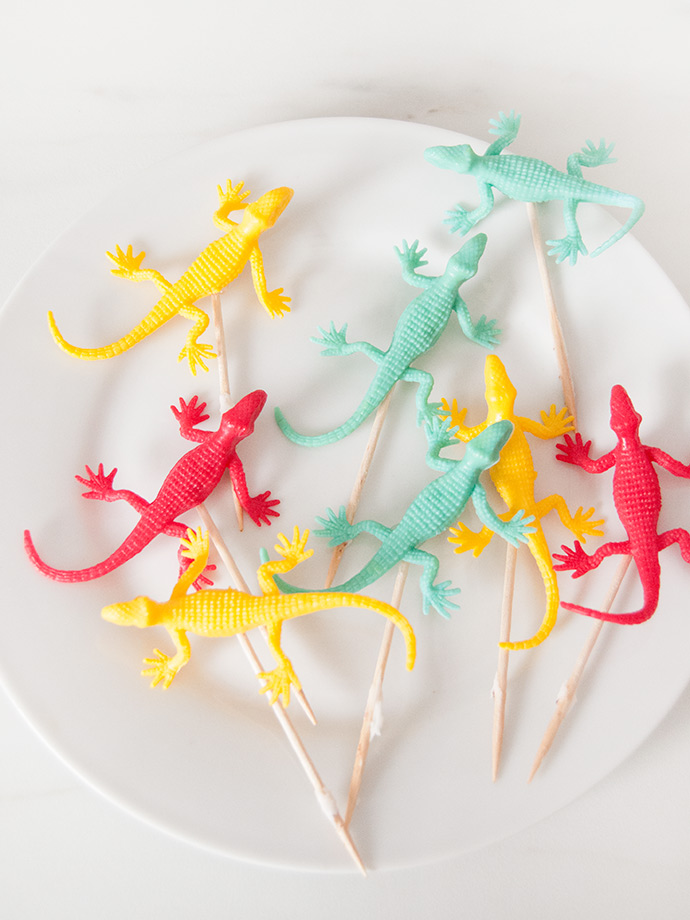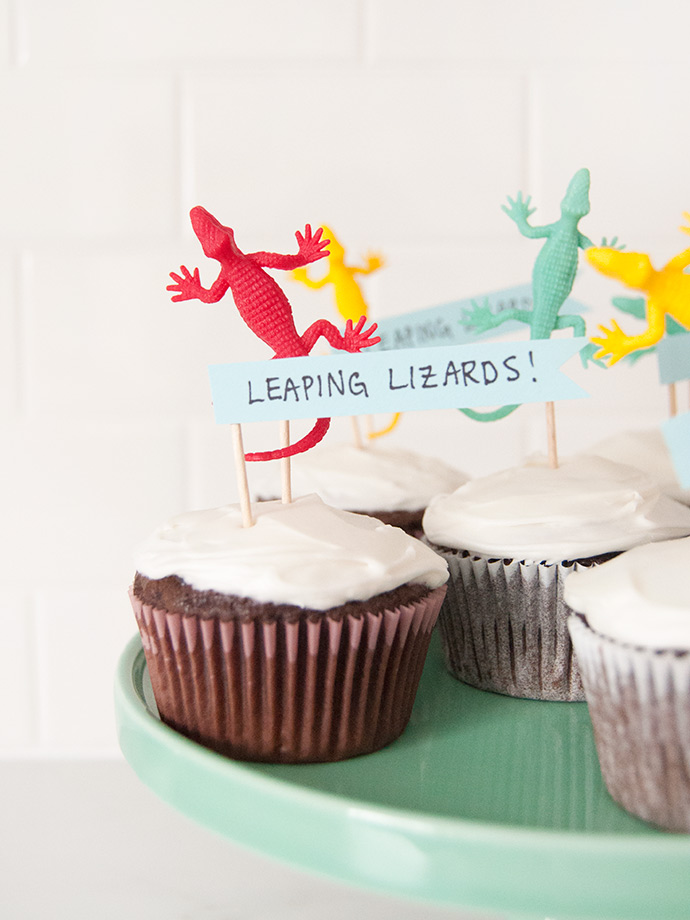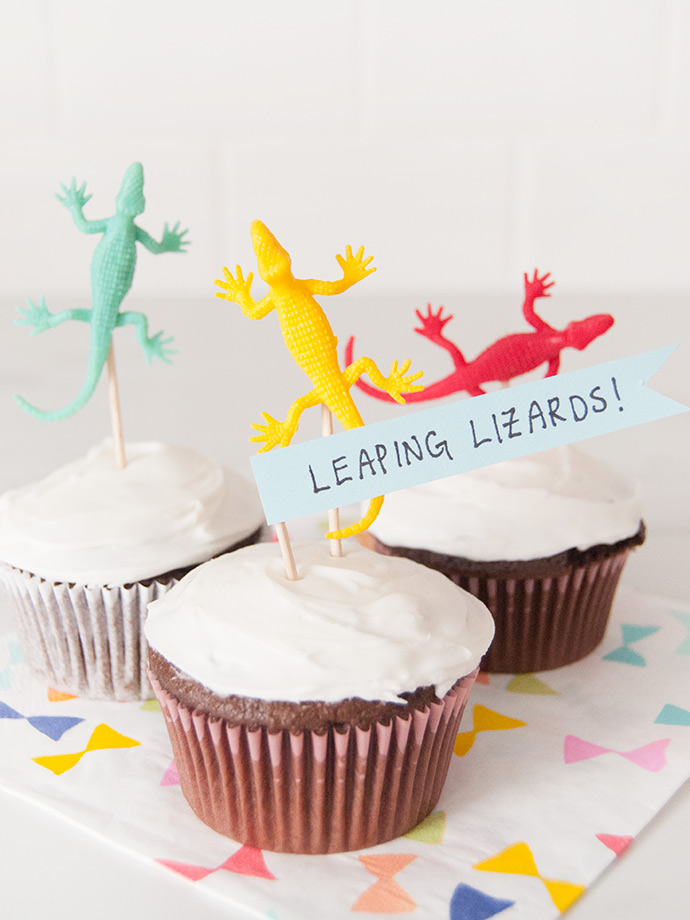 Happy birthday, leap year babies!