Do you know what animal you are in the Chinese Zodiac? The year of the pig is coming to a close and when Lunar New Year comes on Saturday January 25th this year, the year of the rat will begin! People born in the year of the rat are said to be self-disciplined, logical, hard-working, thrifty, and have an overall positive attitude.
We've only just started learning more about Lunar New Year, but we love how festive and celebratory a holiday it seems to be! It is a public holiday in countries including China, South Korea, Vietnam, Singapore, Taiwan, Malaysia, and Indonesia and of course is celebrated by families worldwide who have immigrated to other countries. Lunar New Year has been celebrated for centuries as a way to welcome the new year with traditions meant to bring good luck, prosperity, and happiness.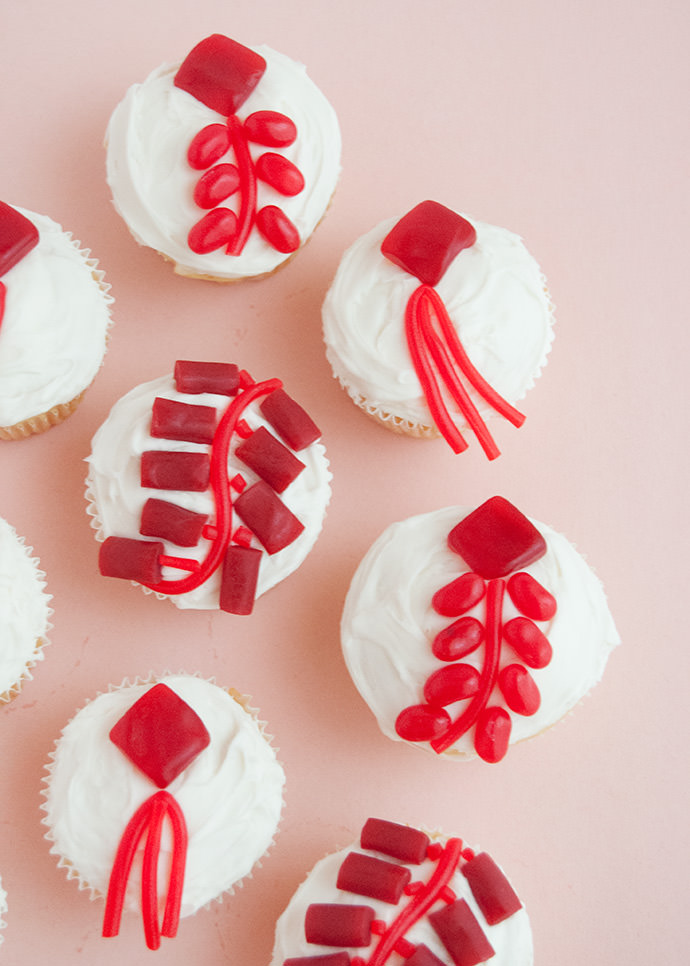 In some countries, it is celebrated for about 15 days that include gifts, fireworks, and dragon dances. Some decorations used to help celebrate the festival include good luck knots, so that's what we used as our inspiration for these candy-topped cupcakes! Whether you've celebrated Lunar New Year your whole life, or are looking to learn more about a global holiday, keep reading to see how you can make these candy-topped cupcakes!
Red shoestring licorice (or Pull 'n' Peel)
Starburst Gunmies
Red jelly beans
Nibs
Baked cupcakes iced in white frosting
Step 1
If you're making your cupcakes at home, bake them according to the recipe and allow to cool completely before topping with white frosting.
Step 2
We made three variations of the candy toppers. To make the firecrackers only topper, we cut a piece of red licorice just longer than the diameter of the cupcake and set it in place on a slight curve. Next we placed Nibs on either side of the licorice and then cut tiny little pieces of licorice to connect them to the center if there were any visible gaps.
Step 3
For the good luck knot cupcakes, first we put a Starburst gummy at the top of the cupcake – make sure to put the smooth side up. Next cut a piece of licorice and fold it in half, placing this right next to a corner of the Starburst candy. Finally, cut one more piece of licorice and place it between the folded one, forming s simple tassel.
Step 4
For a variation on the firecracker topper, we instead used red jelly beans as the fire crackers that we placed on either side of the red licorice. We also added a Starburst candy above them to act as the decorative topper that we noticed some firecracker decorations seem to have.
Step 5 (optional)
We left our candies plain so that this project is a simple and quick one, but if you can also fill a piping bag with any extra white frosting and pipe on the symbol for good fortune!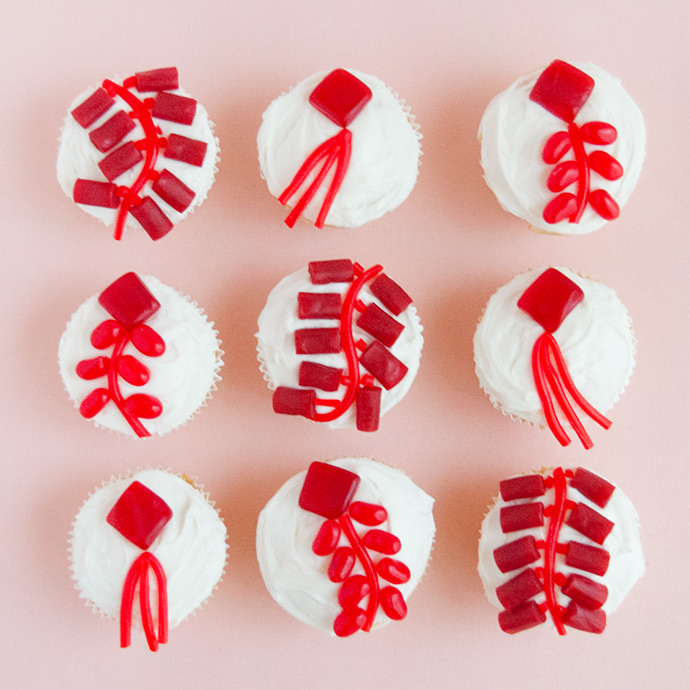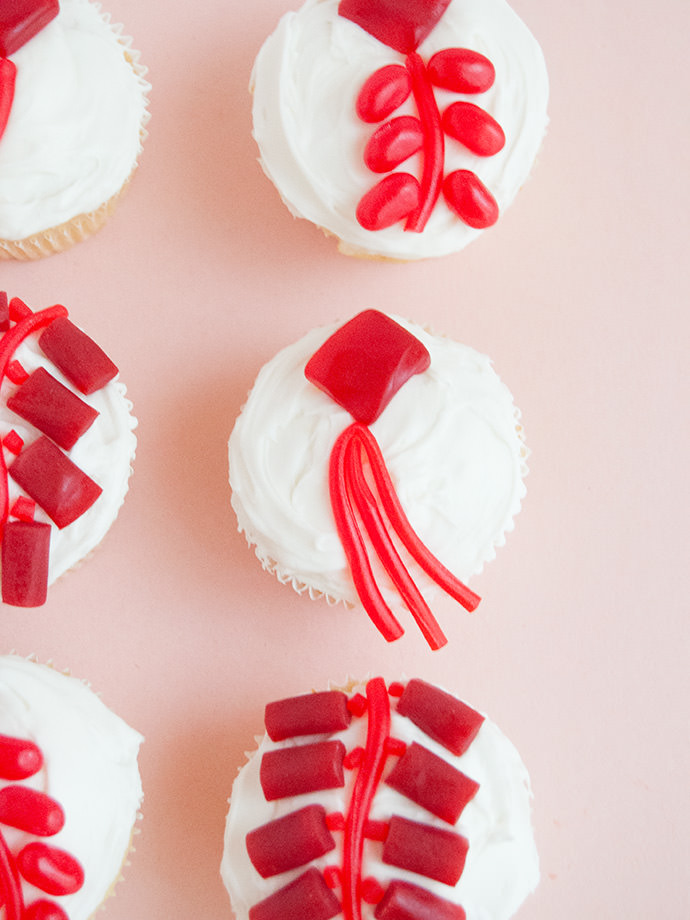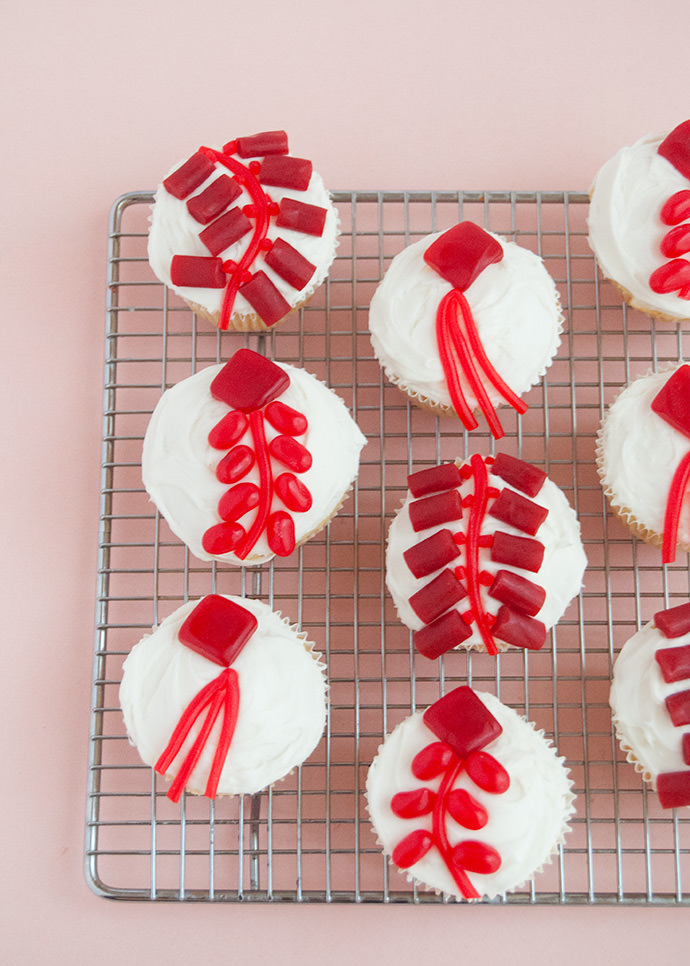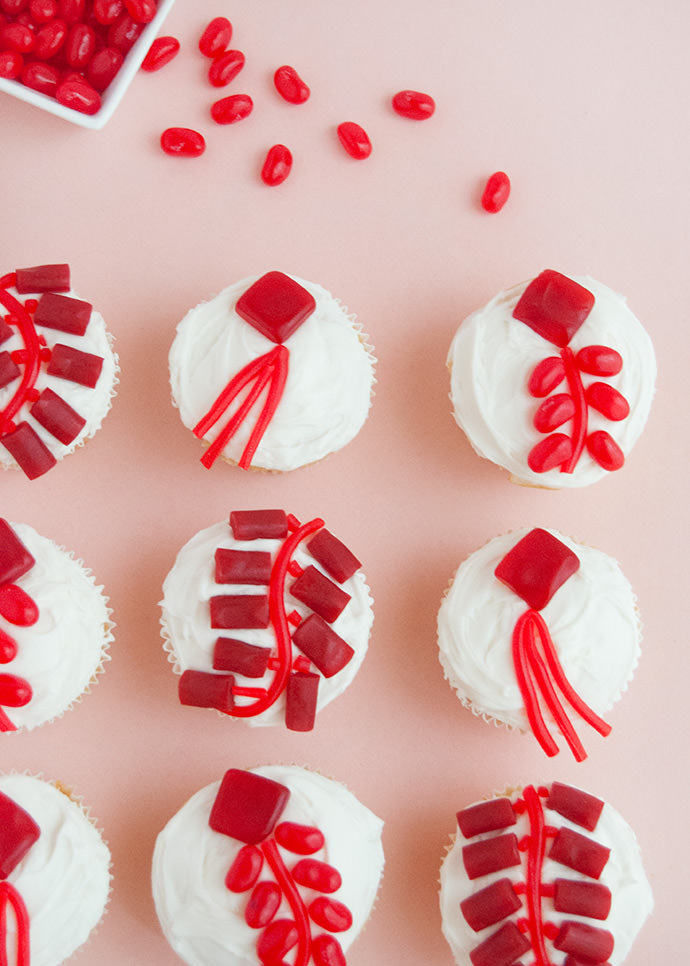 Happy Lunar New Year!