This post is sponsored by Universal Pictures Home Entertainment.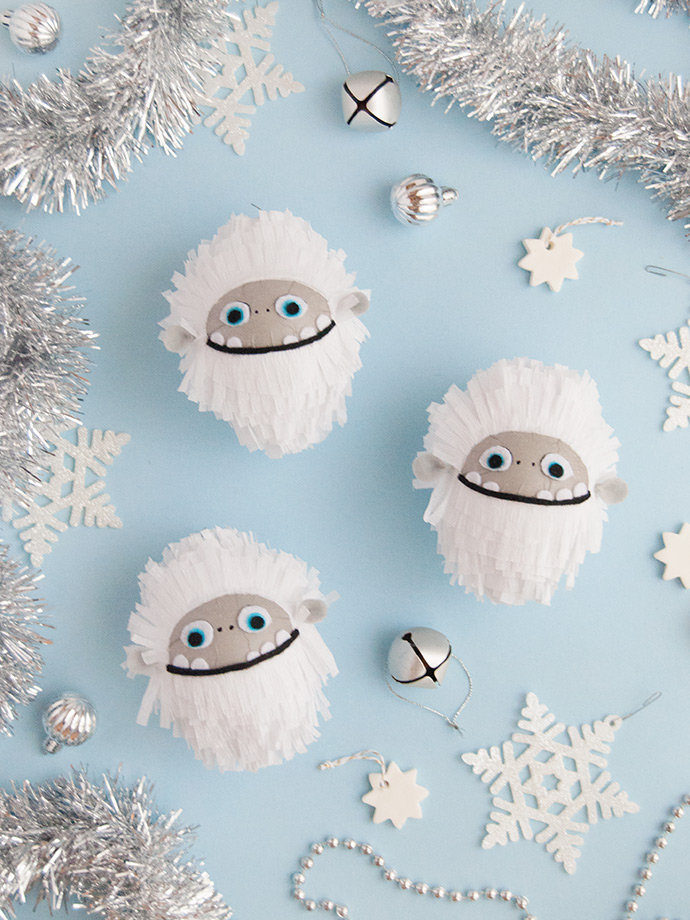 Have you started decorating for the holidays yet? We spent some time this past weekend getting all the Christmas decorations out for the season and if you're like us, nothing goes better with Christmas decorating than a family movie night! We all cozied up on the couch and watched one of our new favorites: Abominable! From the studio that created another family favorite, How To Train Your Dragon, the new movie has a great message and is now available on Digital, and is coming to Blu-ray and DVD on December 17.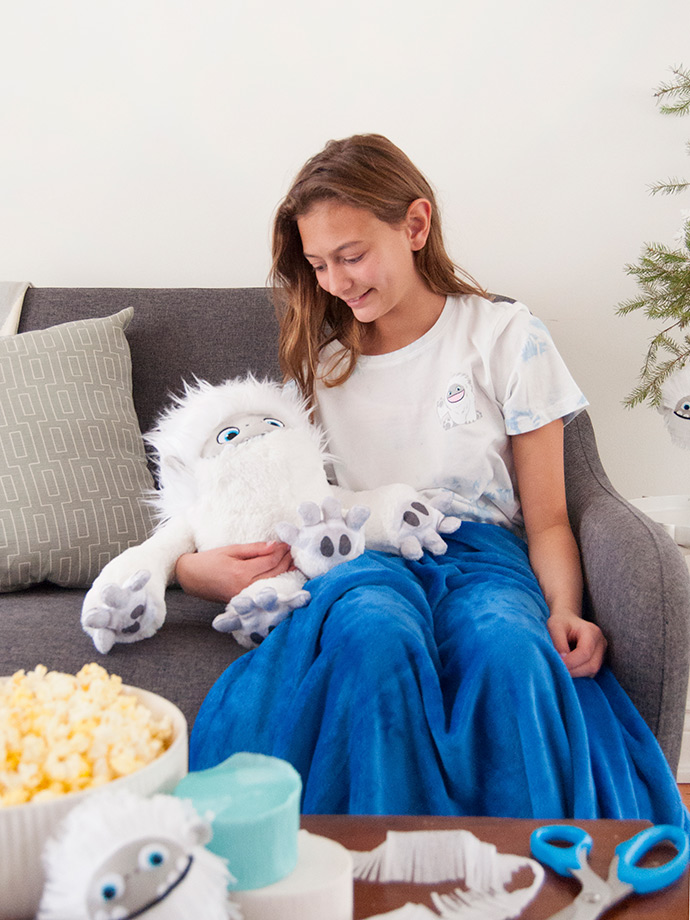 Everest, the cute yeti in the movie, is such a loveable character that we knew we had to feature him on our Christmas tree this year. These DIY ornaments look just like Everest, but use fringed paper (like you would with a handmade pinata!) to make his fluffy fur. Add on a few felt details and voila! Movie night has never been better.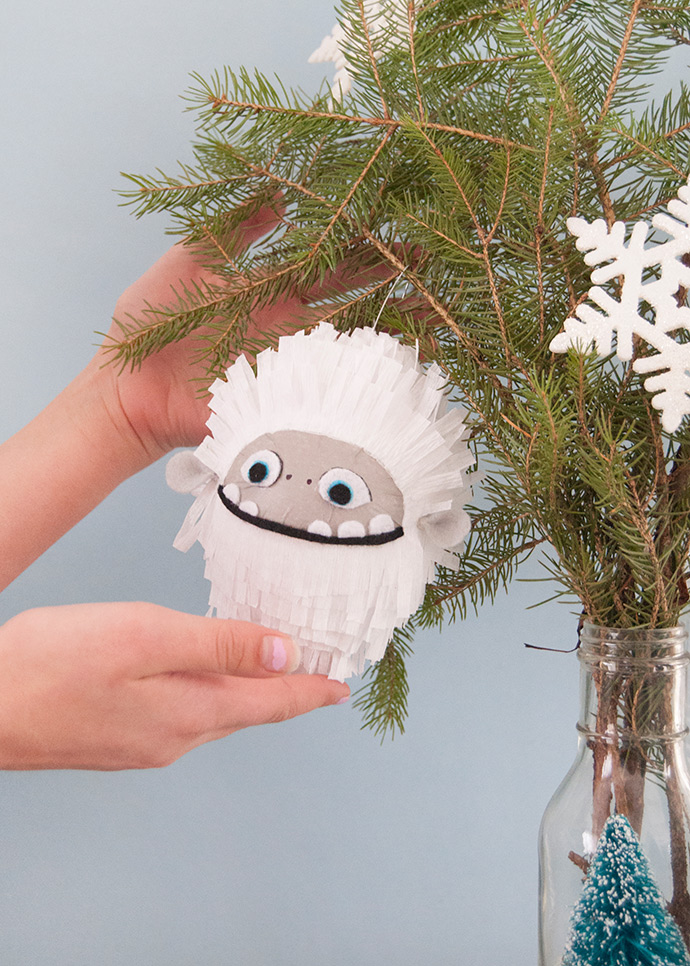 We had so much fun decorating the house, crafting our ornaments, and spending time together as a family watching Abominable, the #1 Original Animated Movie of the Year! The film's message is all about never giving up and remembering that a little positivity goes a long way! A great lesson for all. It makes the perfect gift this holiday season and includes over an hour of bonus content (including 2 Original Shorts!) for those nights you want to stay nice and cozy on the couch with a mug of hot chocolate.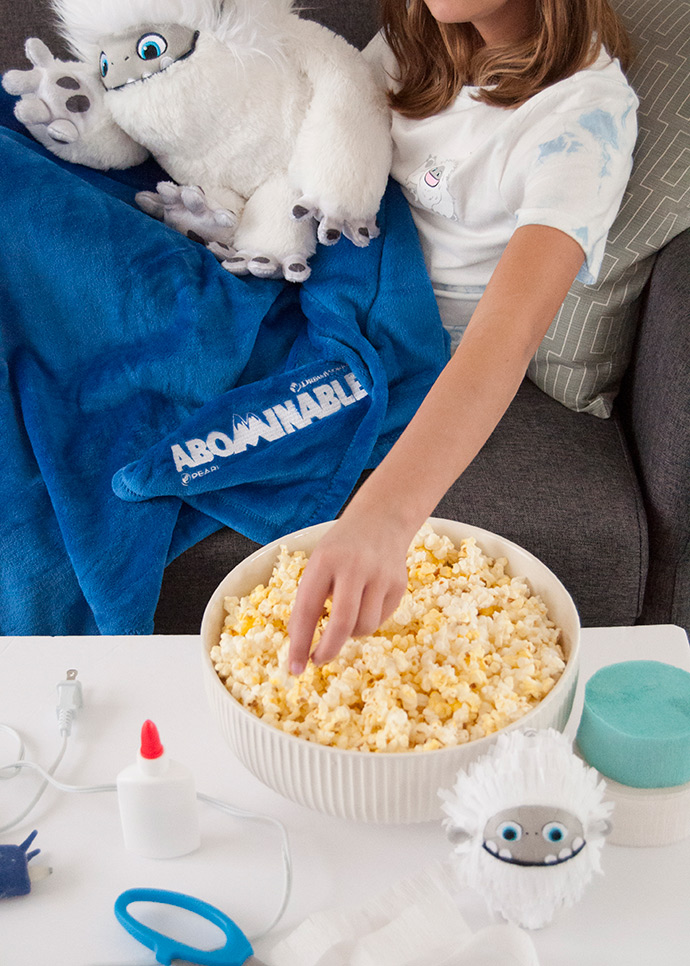 Keep reading to see our full step-by-step tutorial to make your very own Abominable ornaments.
Round white Christmas ornaments
White crepe paper (streamers)
Tissue paper (blue, black, and grey)
Felt (black, white, and grey)
Hot glue gun
White tacky glue
Mod Podge
Decoupage brush
Scissors
Black marker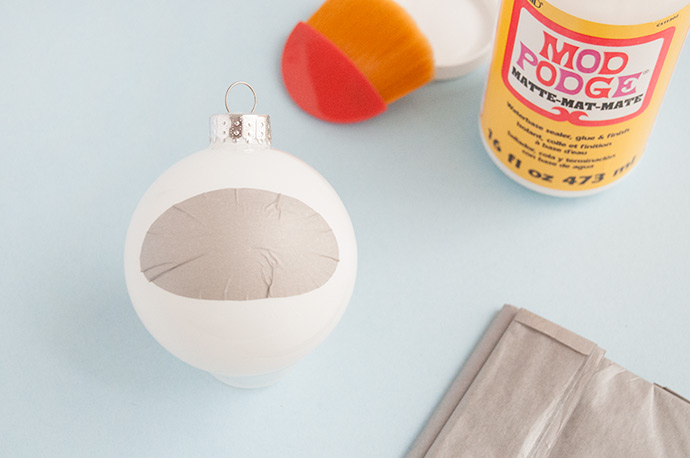 Step 1
Begin by setting your ornaments into a small bowl or cup, so that it sits still without rolling around. This will help keep it steady as you work on the ornament. Next cut a piece of grey tissue paper into an oval that looks like the shape of Everest's face. Apply some Mod Podge onto the ornament, place the grey tissue paper in place, and then seal with another coat of Mod Podge.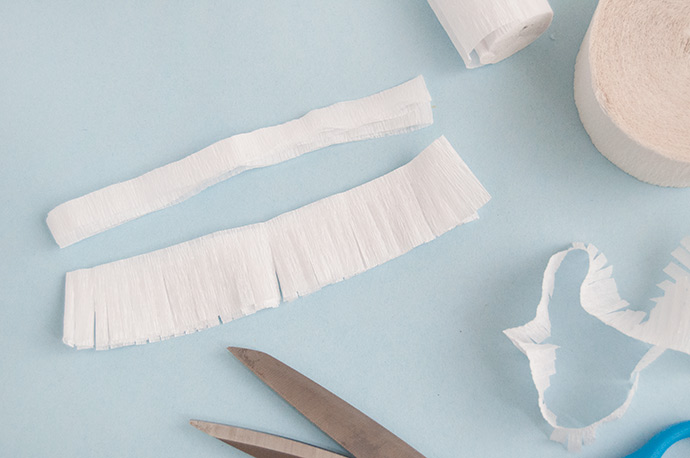 Step 2
Cut a piece of white streamer about the length of your arm span. Fold it in half, and repeat until the piece is about 5" long or so. Trim just over ½ inch off from one of the long sides to make the streamer slightly narrower – recycle this thin cut-off. Use scissors to cut fringe into the remaining folded streamer and unfold.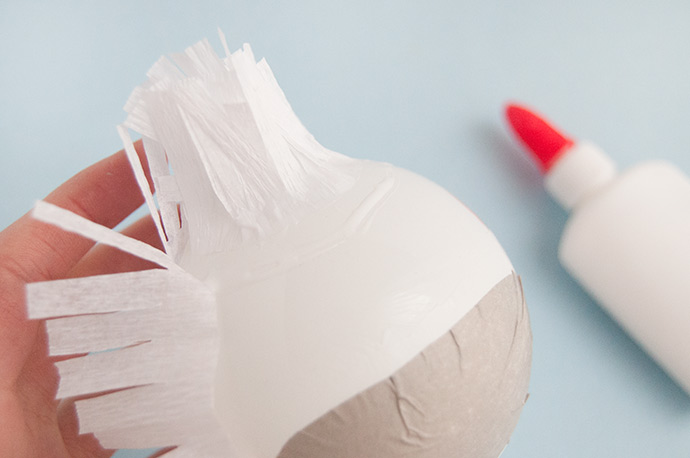 Step 3
Hold the ornament in your hand so that the loop/top side is facing down – we're going to start at the bottom of the ornament, where Everest's chin will be. Apply a small spiral of white tacky glue, you won't need too much! Carefully attach the end of the fringed white streamer into a little circle, almost like a flower bud, so that the fringes are sticking up. Continue attaching the fringe around this bud in a spiral, working your way down the ornament. Getting this part started can be a little tricky, so you'll want to help younger kids with this.
Note: you can also try swapping in double-stick tape here instead of white glue to make this easier for little ones.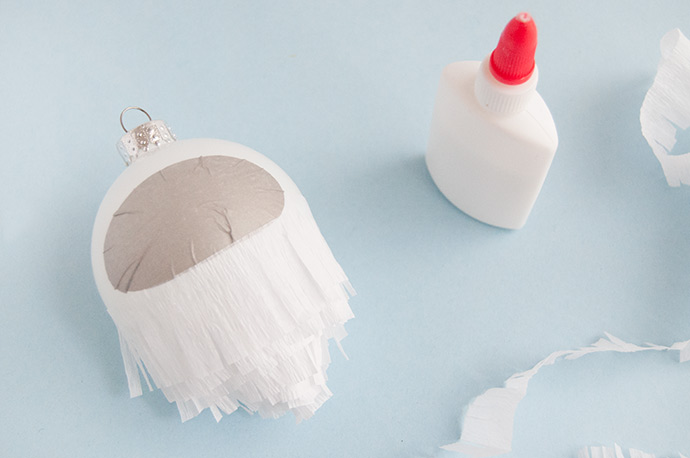 Step 4
Continue gluing and wrapping the fringe around the ornament until you get to the grey face area. If you run out of fringed paper along the way, just cut a new one and continue on as before.
Step 5
Now that Everest's chin is covered, we'll start on the top of his head this time! Do the same thing, applying a thin circle of white glue around the ornament hook and attach the fringe onto it, spiralling down the ornament this time. The fringe at the top should be pointing up, opposite to the fringe on Everest's chin.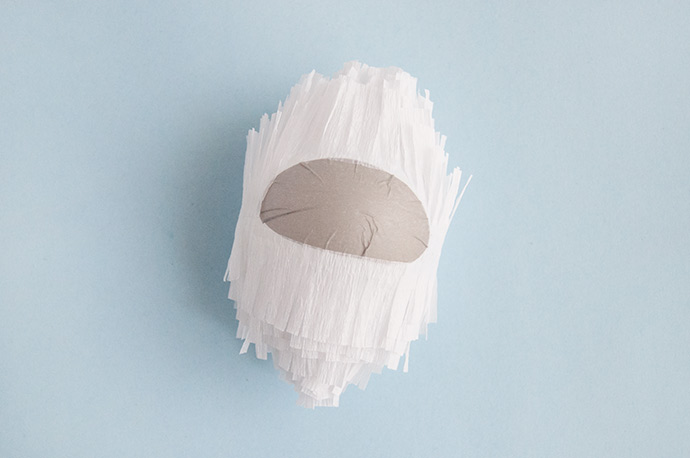 Step 6
Keep attaching paper fringe in this way until you reach the top of the grey face area. Once you do, cut the excess and apply a row or two of fringe to cover any visible area of the white ornament, but cutting the fringe before you get to the side of the grey face.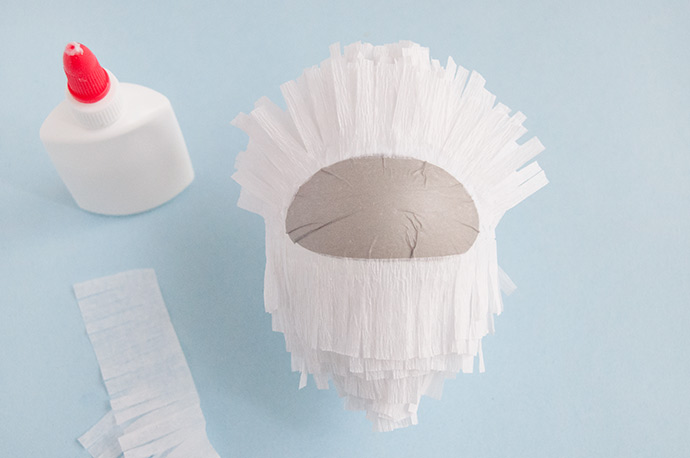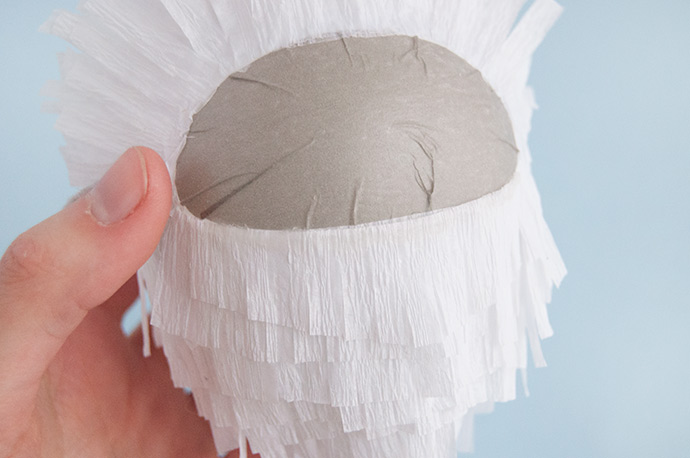 Step 7
To add a little more texture to Everest's fur, apply a thin row of glue along the top half of the grey patch, and attach a row of fringe here too. Do the same for the bottom of the grey patch, adding a little more shape to his chin. You can also trim the fringe a little bit before attaching to add a shorter layer if you like! Set into a small bowl and let dry for about 30 minutes to 1 hour.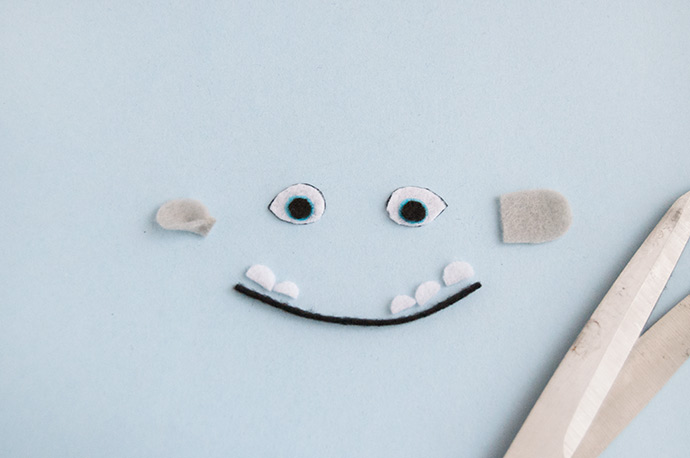 Step 8
While you wait for the ornament to dry, we'll work on Everest's face. Cut two grey felt Ds for ears, apply a small dab of hot glue to the edge, and pinch into a teardrop-shaped ear. For the mouth, cut a long thin strip of black felt and five little white teeth. For the eyes, we cut two white almonds for the base layer, followed by a circle of aqua tissue paper and a slightly smaller black felt circle. We also glued a layer of black tissue paper behind the whites of the eyes to help them pop a little more.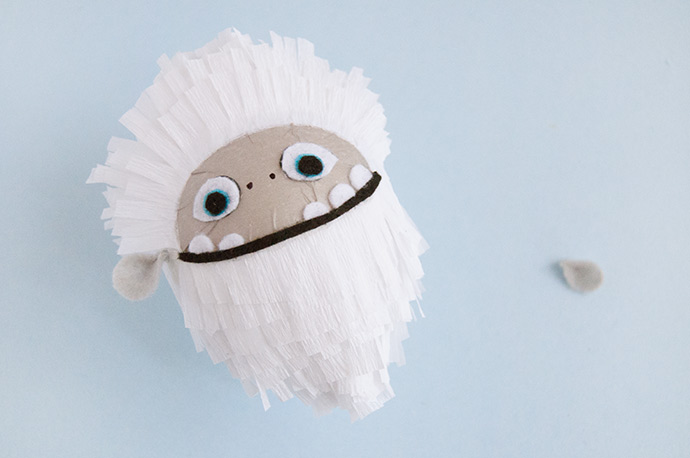 Step 9
Once the ornament feels dry to the touch, you can attach the features! Use hot glue for the ears, and white glue for the facial details. Draw two small nostrils between the eyes with a black marker.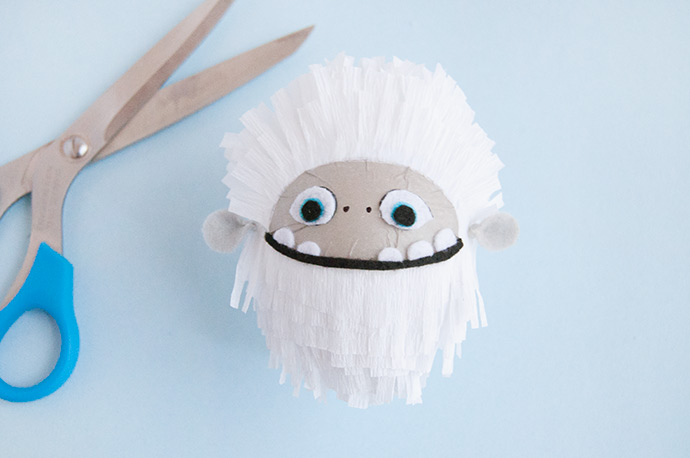 Step 10
Finally, use a pair of scissors to give Everest a little haircut! Trim his chin a little to be more round and fluff out his fur and trim to shape. You can add a few more fringed pieces on now too, if you like – we added a couple of pieces around his ears.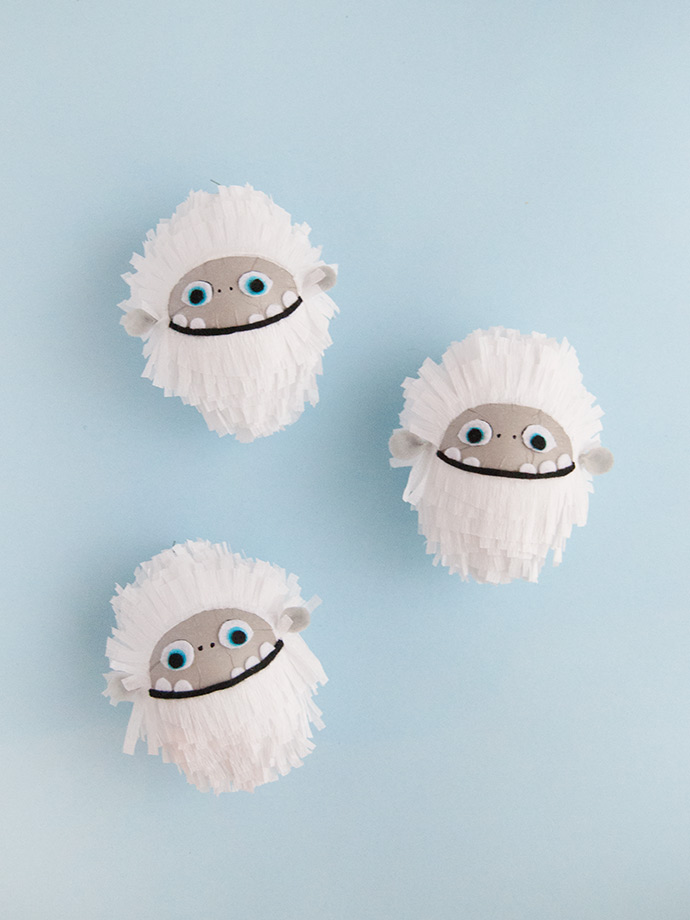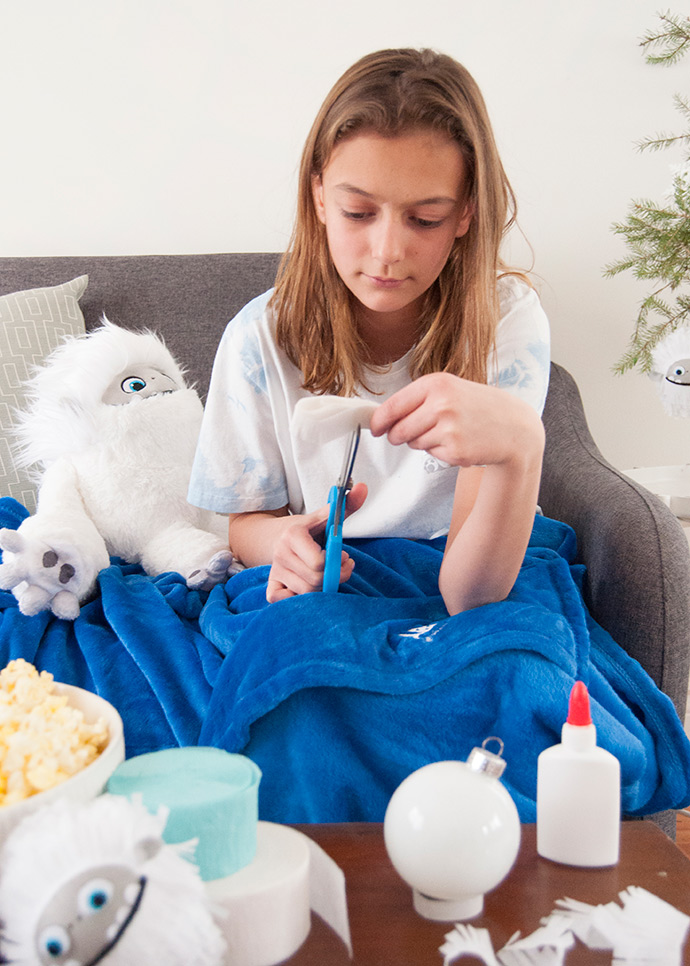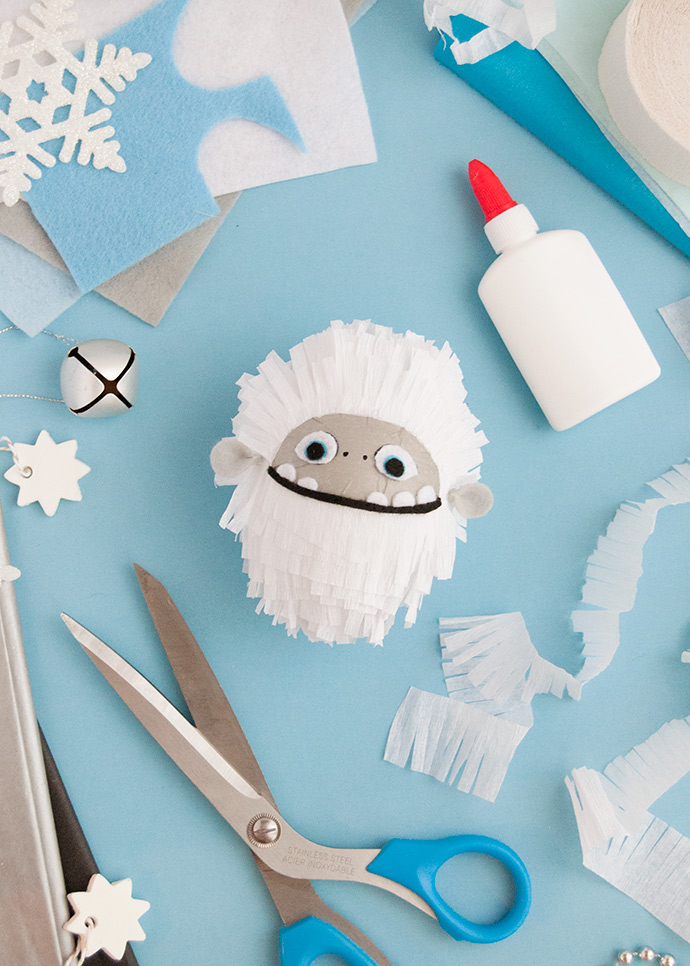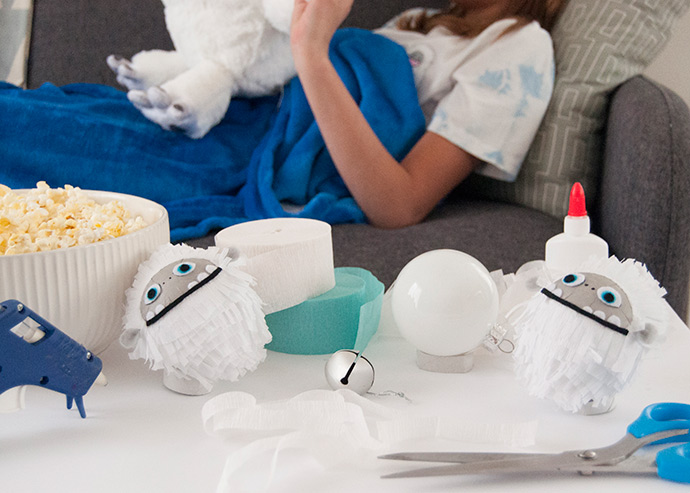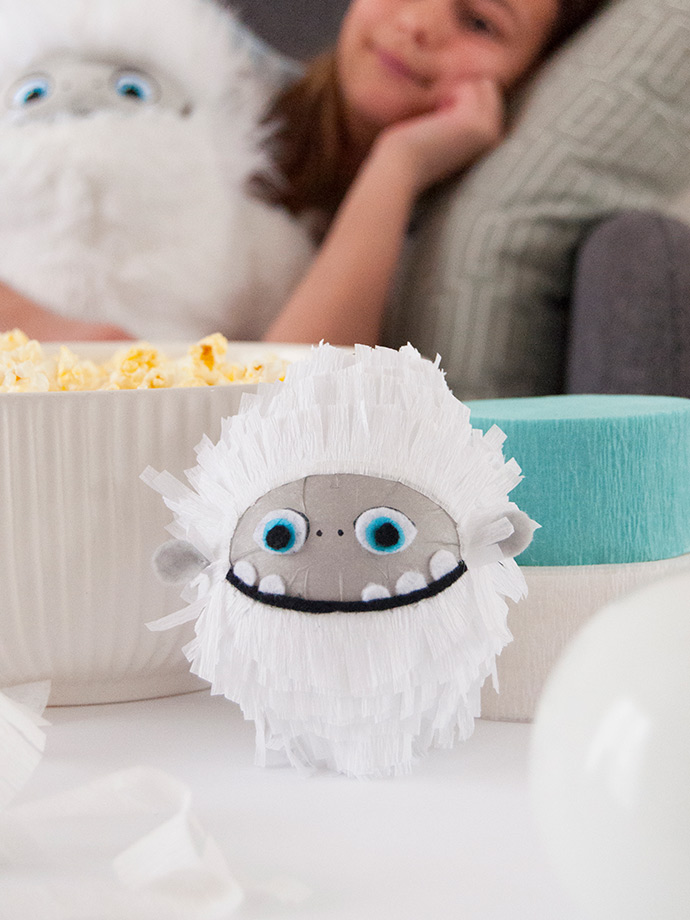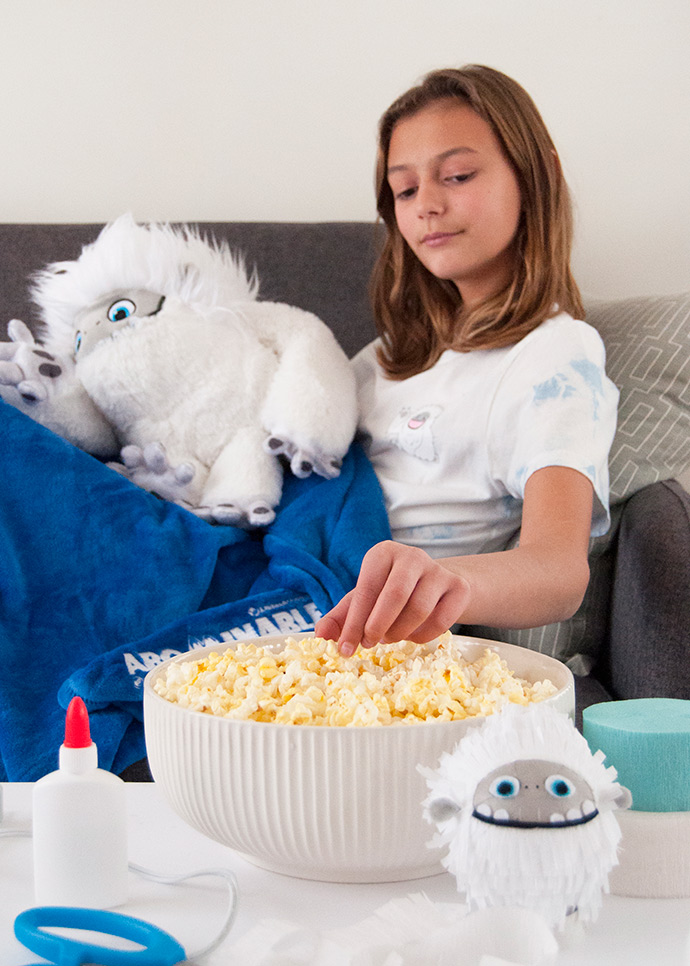 Own your copy of Abominable on Digital today, and Blu-ray & DVD December 17.
Big thanks to Tea Collection for sending us one the t-shirts from their collaboration with the movie. You can find the cute tie-dye graphic tea featured in this post and other limited edition designs at TeaCollection.com.