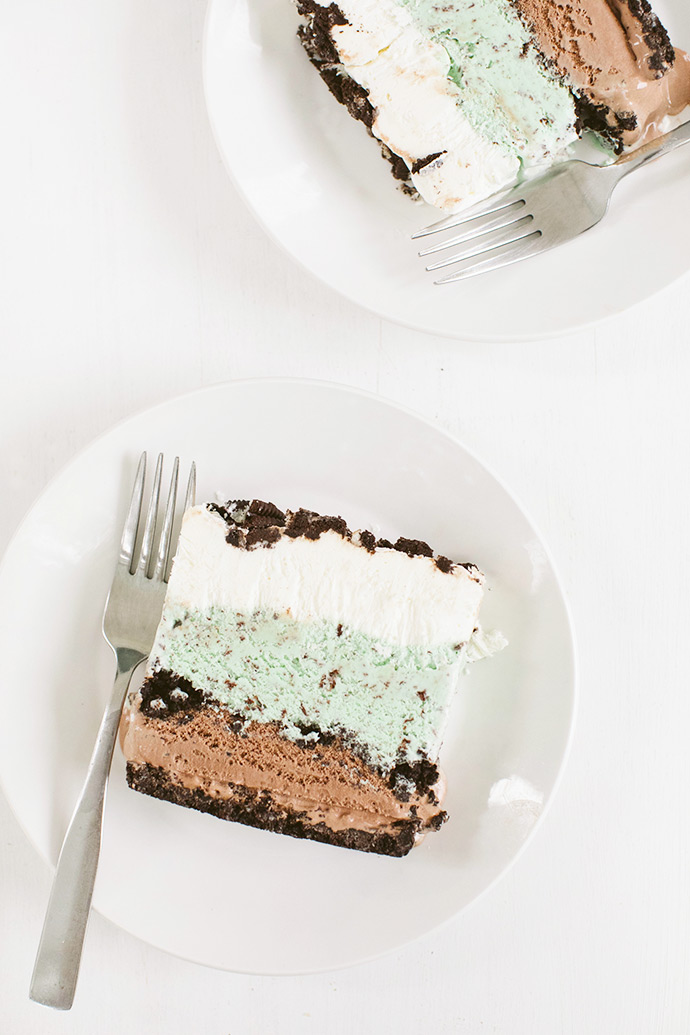 I've always been a fan of ice cream cakes; they are perfect for summer get-togethers and birthdays, despite being slightly messy and melty. Store-bought cakes have been my usual way of indulging, but when I discovered just how easy (and how much better) they are homemade, I've found myself making them frequently for all celebrations. This version is mint chocolate, but you could really sub any ice cream flavors you think would pair well together.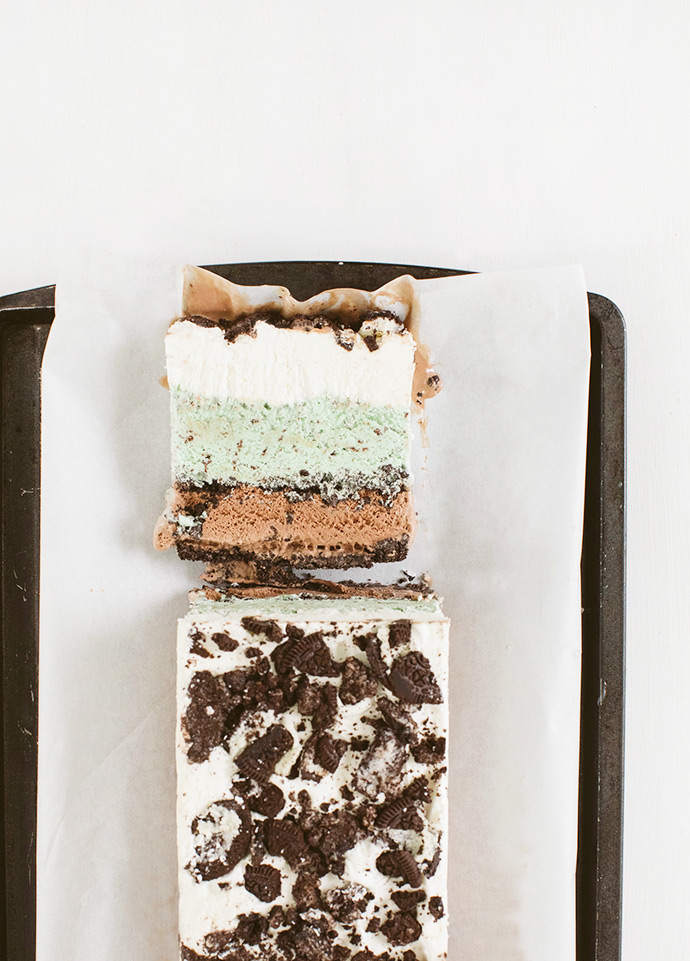 1 package Oreo sandwich cookies (36 cookies), not double stuffed
4 tablespoons unsalted butter, melted and cooled
2 ounces cream cheese, room temperature
1/4 cup sugar
1 1/2 cups heavy whipping cream
One 1.5 quart chocolate ice cream
One 1.5 quart mint chocolate ice cream
A few notes: You could also make this in a 9×13 pan if you wanted to – you will just have shorter, square pieces instead of taller, rectangle-shaped slices. If you use a smaller pan than the one I have listed, you will need to use less ice cream. You could still use the same amount of cookie crumbs, and just have a thicker crust.
Line an extra long (13x4x4-inch) Pullman pan with a parchment sling. (You can also use a 9-inch loaf pan or 9x4x4-inch Pullman pan, but you will need to use less ice cream.)
In the bowl of a stand mixer fitted with a paddle attachment, beat the cream cheese on medium until smooth. Add the sugar and beat on medium until smooth and light. Scrape down the sides of the bowl and fit the mixer with a whisk. With the mixer running on low, slowly add the heavy cream, whisking until fully combined. Increase the speed to medium-high and beat until stiff peaks form, stopping to scrape down the sides of the bowl as necessary, 2-3 minutes. Place the whipped cream in the refrigerator until ready to use.
Place 25 Oreos in a food processor, and process until they are broken down into crumbs.
In a medium bowl stir together the cookie crumbs and melted butter until evenly coated.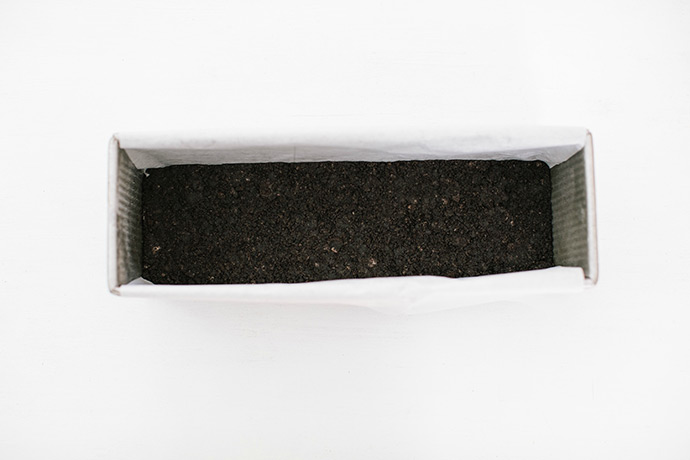 Press a little more than half of the cookie crumbs evenly on bottom of the prepared pan, pressing them down gently. Place the pan in the freezer for 15-20 minutes.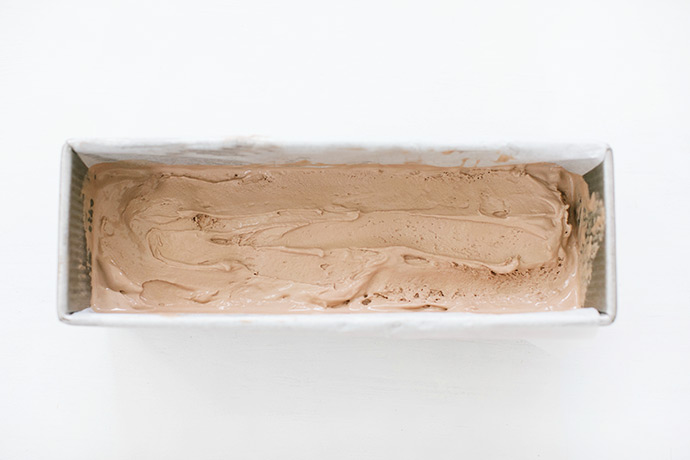 Top with the chocolate ice cream, pressing it into an even layer.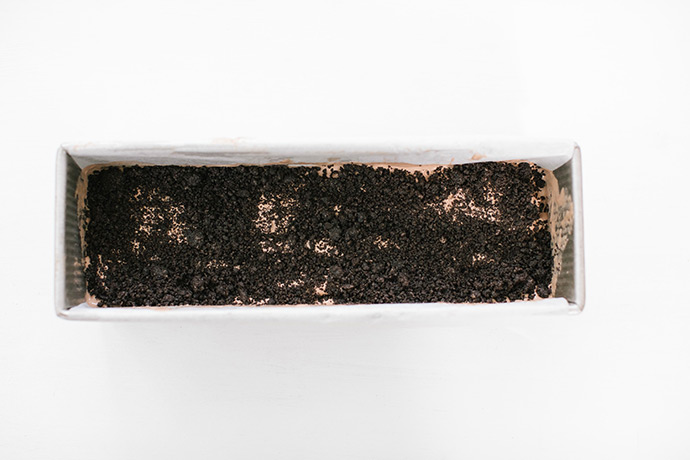 Sprinkle the remaining crumbs evenly over the ice cream, and place the pan again in the freezer for 15-20 minutes.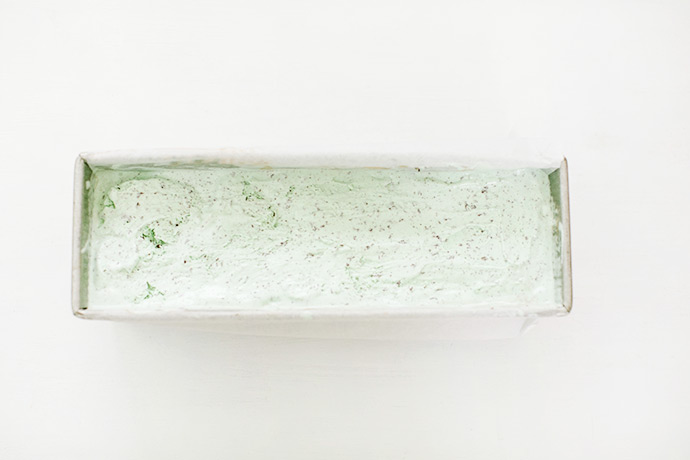 Top with the mint chocolate ice cream.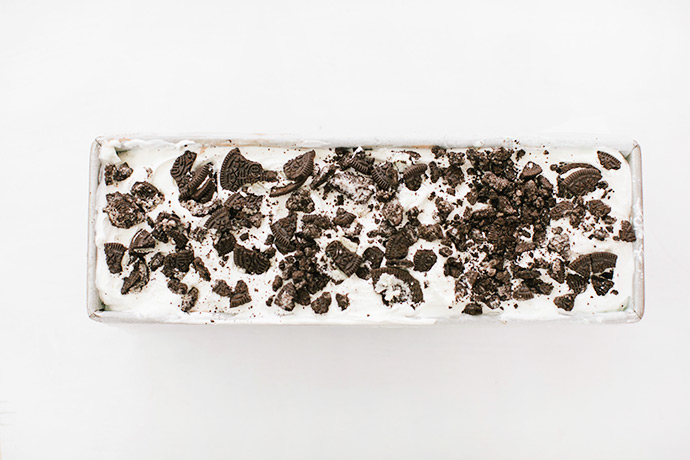 Cover with the whipped cream, and then sprinkle with crushed cookies (I used about 8 of the remaining cookies). Place the ice cream cake in the freezer and freeze for at least 8 hours or overnight before slicing.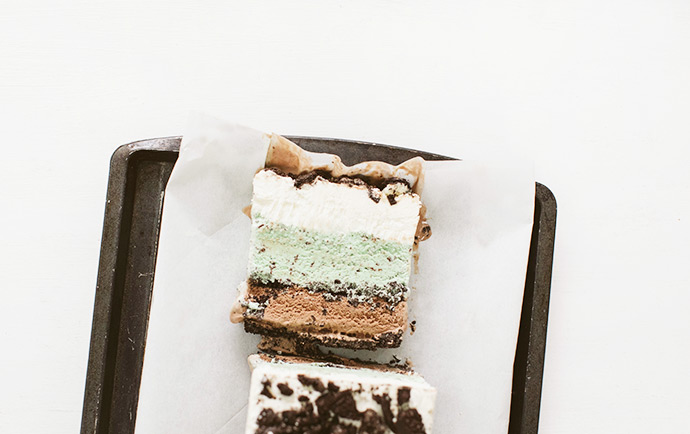 Let the ice cream cake stand a few minutes at room temperature before releasing from the pan. (If you are having trouble getting the cake out, run a thin knife or metal spatula around the edges until it comes out. If it still won't budge, you can warm the sides very gently with warm water and then try releasing it. Don't tug too hard or the parchment paper will rip.)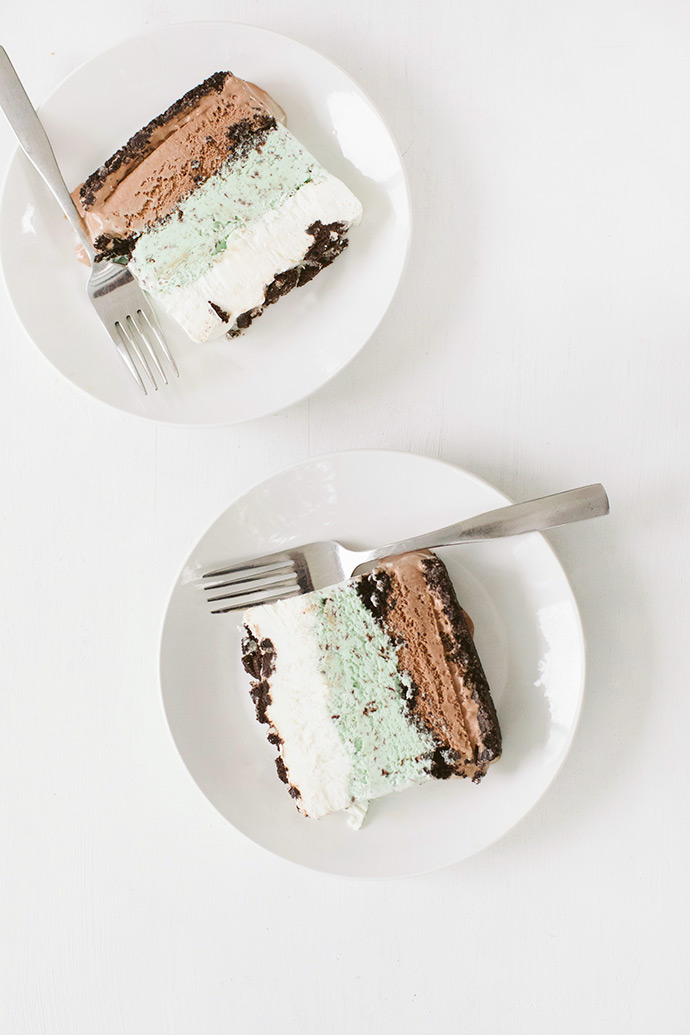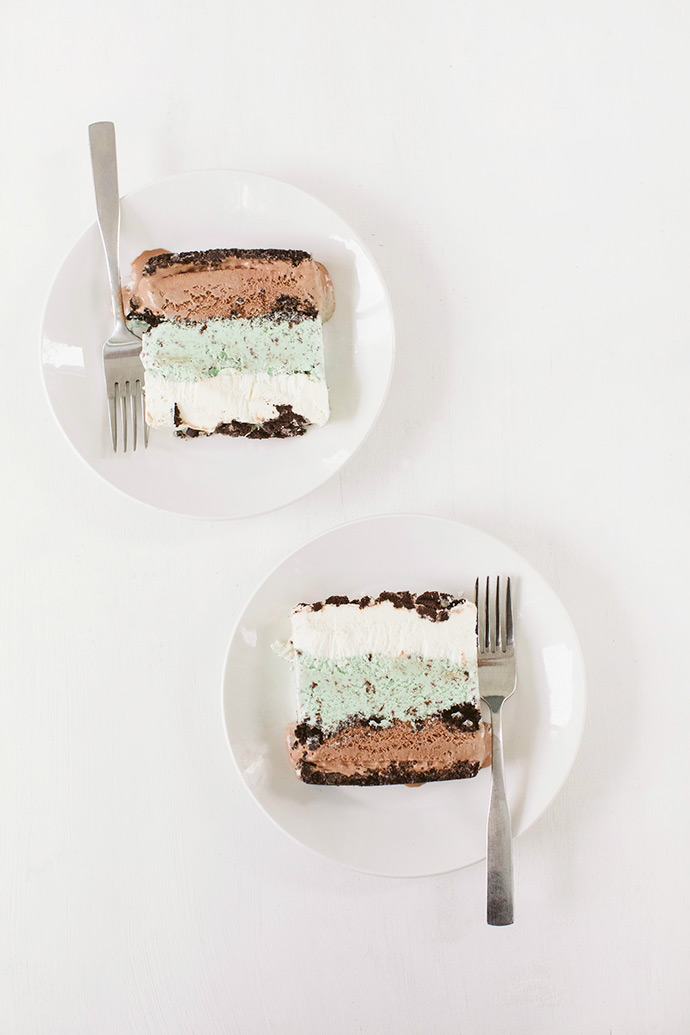 Enjoy!!