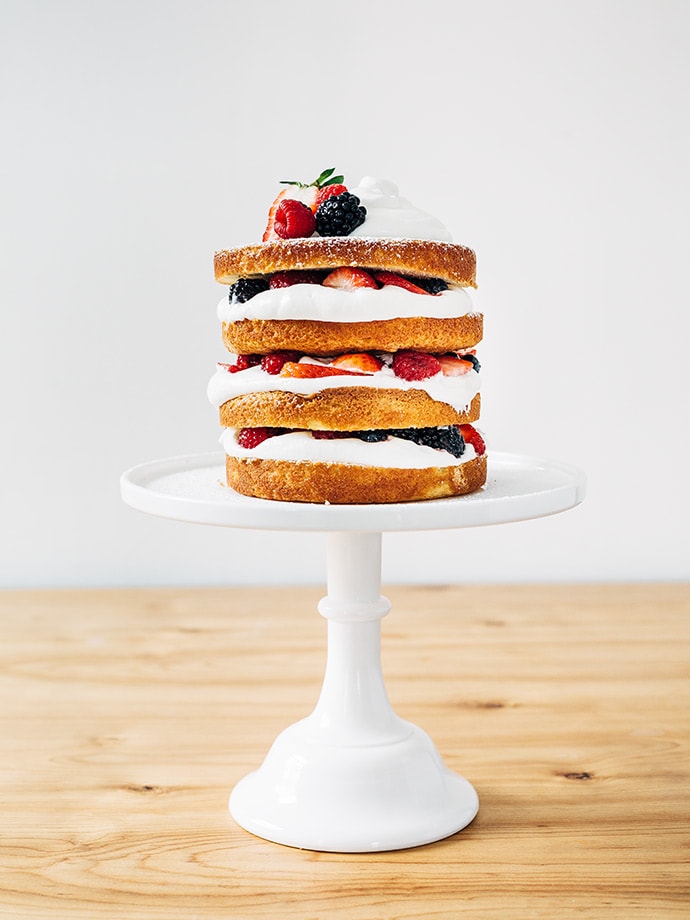 A berry-topped country cake is the pinnacle of summer eating. It has all the simplicity and of-the-moment flavor of strawberry shortcake but comes together as an easy layer cake that's perfect for summer relaxed gatherings.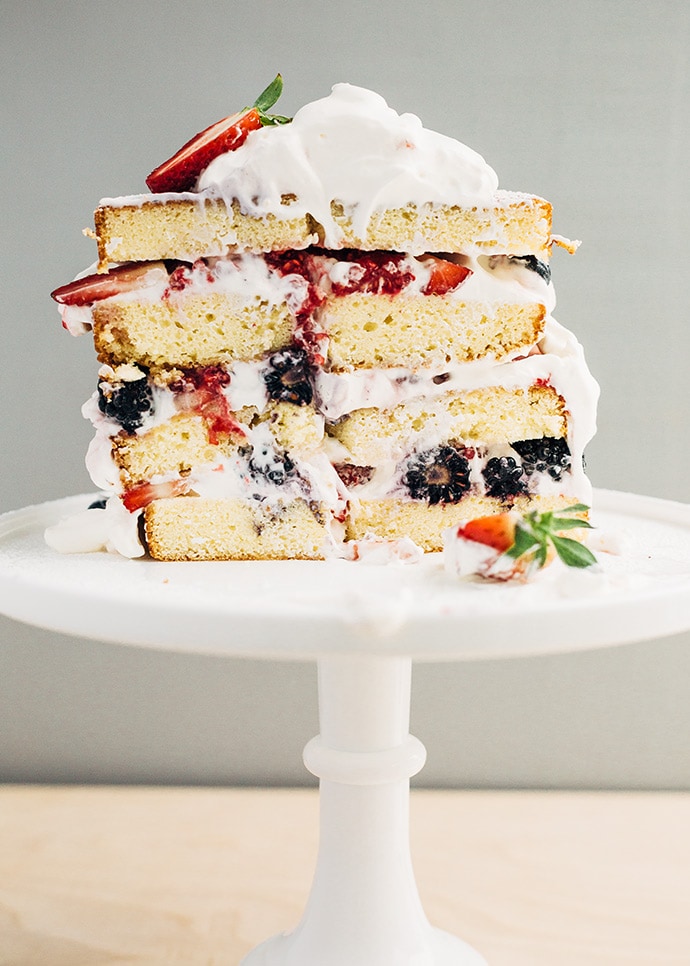 Makes: 8 servings
For the cake:
2 cups unbleached all-purpose flour
3 tablespoons cornstarch
2 teaspoon baking powder
3/4 teaspoon sea salt
12 tablespoons unsalted butter, room temperature
2 cups sugar
4 eggs, room temperature
3/4 cup whole milk, room temperature
2 teaspoons lemon zest
1 teaspoon vanilla extract
For the toppings:
2 cups heavy whipping cream
3 cups strawberries, divided
3 tablespoons sugar, divided
1 cup blueberries
1 cup raspberries
1 cup blackberries
Preheat oven to 350 degrees F. Move rack to the center of the oven. Line the bottom of 2 (8-inch) round cake pans with parchment and generously butter or spray.
In a medium bowl, whisk to combine flour, cornstarch, baking powder, and salt.
Cream the butter and sugar in a large mixing bowl, or the bowl of a stand mixer fitted with the paddle attachment, until light and fluffy, 4-5 minutes. With mixer on low, add eggs one at a time, scraping down sides as needed. Add vanilla and lemon zest.
With mixer still on low, add half the flour mixture and half the milk, followed by the second half of each, mixing just until combined.
Spoon batter into prepared cake pans. Bang pans on the counter 4 times to dislodge any bubbles. Bake cake 40-45 minutes, or until a toothpick inserted into the center comes out with just a few crumbs attached.
Cool 10 minutes, then flip cakes out onto a wire rack to cool completely. When cakes are cool, use a serrated knife to carefully cut each layer in half horizontally.
In a medium mixing bowl, mash half the strawberries with 2 tablespoons sugar. Set aside 10 minutes, then fold in the remaining fruit.
Whip cream to soft peaks, add 1 tablespoon sugar, the whip to stiff peaks.
To assemble cake, set first cake layer cut side up on a cake plate. Add 1/4 of the whipped cream and 1/3of the berries. Place the next layer cut side down, and add 1/4 of the whipped cream and 1/3 of the berries. Repeat for the next two layers. Top the cake with a big dollop of whipped cream and several fresh berries.Cake should be served within 2 hours – keep it in the fridge until ready.