With the trees changing colors all of a sudden, I've had leaf art on my mind anytime we're out on a walk. A couple of days ago while on the trail, we saw the most vibrant red sumac leaves and I knew I had to find a way to use them. I've already done a handful of painted pumpkins this fall, but I don't think I've ever done a collaged pumpkin until now! These simple toadstools are so easy to make and use a hole punch to make the white polka dots. I first had planned on doing these just on paper as a fun collage activity for fall, but just as I was nearly done I realized they would be so perfect on a white pumpkin too! I have a feeling they'd also make lovely suncatchers if you arranged them on clear contact paper!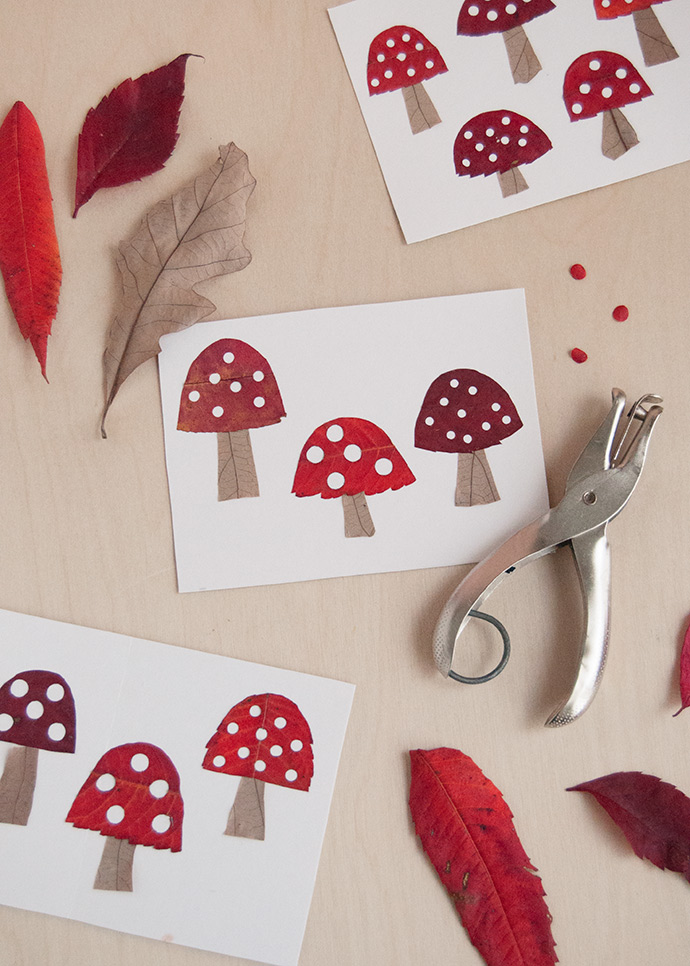 I used a glue stick to secure my leaves onto both the pumpkin and cards and haven't yet noticed them starting to fade or peel away but it's only been a couple of days. To be safe, you may want to seal the pumpkin with a coat of Mod Podge if your pumpkin will be exposed to the elements. The cards can also be laminated with clear contact paper!
Leaves (red and beige/off-white)
Scissors
Hole punch
Screw punch (optional)
Glue stick
White pumpkin (or white card)
Step 1
Gather your leaves! I used two different types of red leaves for a slight variation between the toadstools. For the stems, I used the backs of oak leaves – the backs of many leaves will be more silvery/white than the fronts so make sure to check that when gathering! It's best to use your leaves while they're still flexible and not crunchy, especially for the pumpkin. If you press them first and they do crisp up a bit, that shouldn't cause any issues for the paper ones but this is not ideal for the pumpkin.
Step 2
Cut the red leaves into mushroom caps of various sizes. You can leave the natural edge of the leaf as-is for some of the edges of the mushrooms too!
Step 3
Use a hole punch to make holes in the red mushroom cap. I happened to have a screw punch on hand so I made some slightly smaller holes as well.
Step 4
Cut stems from the oak leaves to go with each of the mushroom caps.
Step 5
If making your leaf art on paper, arrange them on the card and then use a glue stick to gently apply glue to the backs and then press to secure. If decorating a white pumpkin, gently apply glue to the back of one mushroom cap and attach onto the pumpkin. Attach the matching stem and then continue adding mushrooms on one by one until you're happy with the design.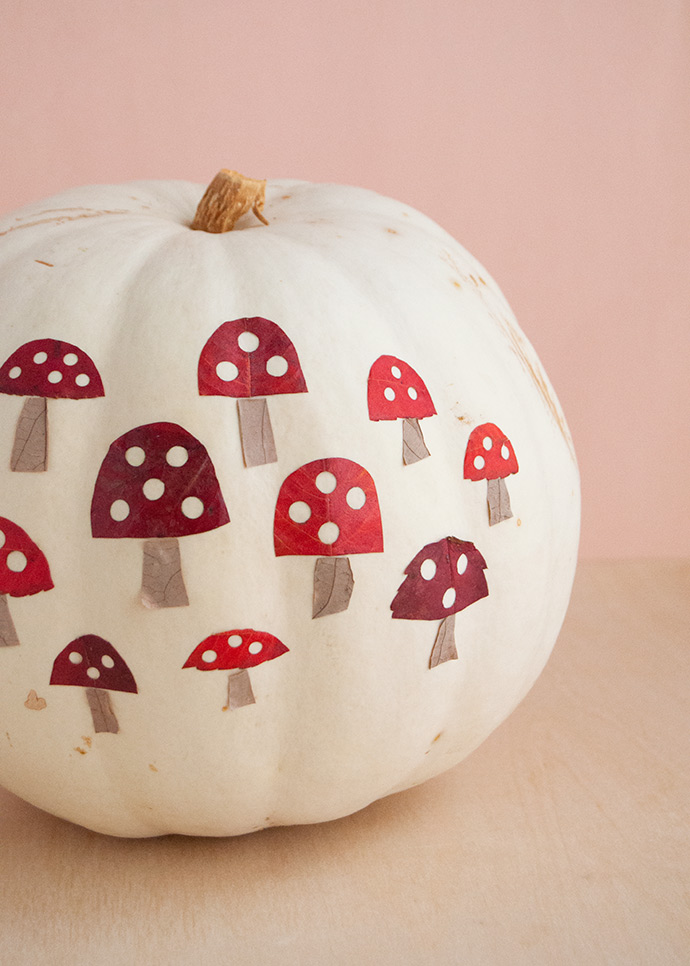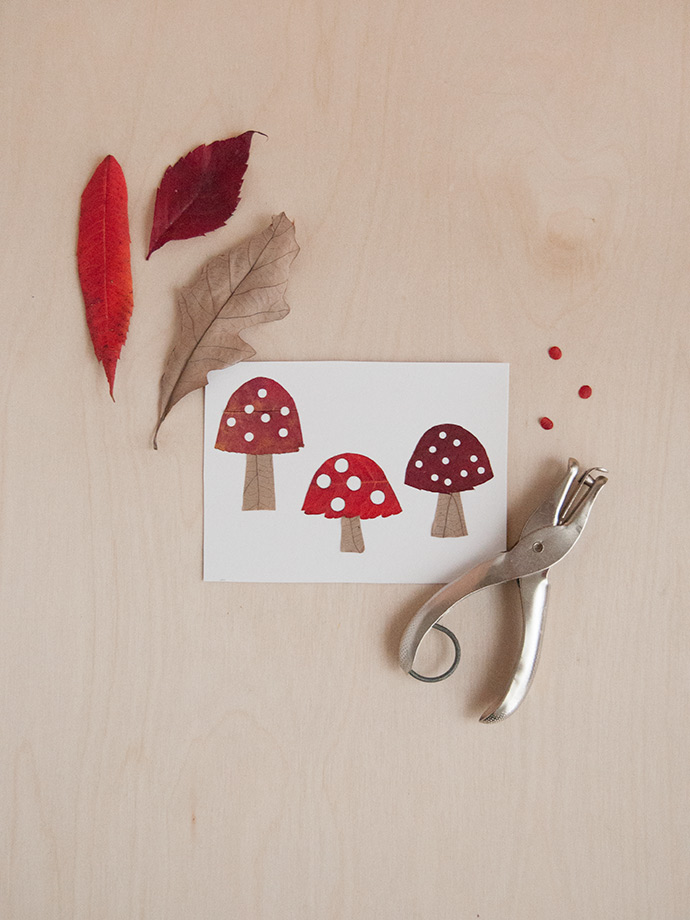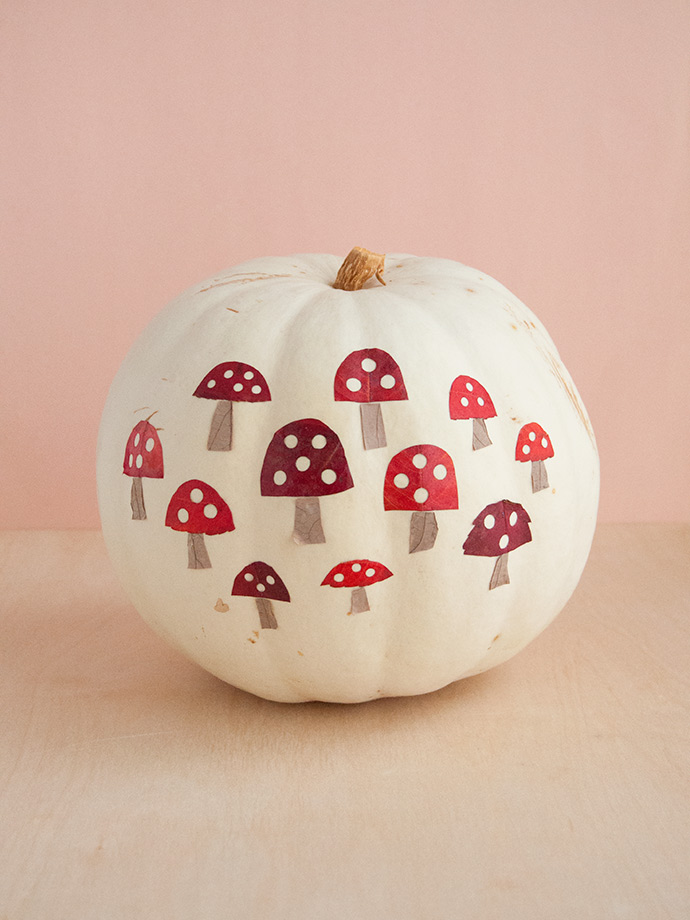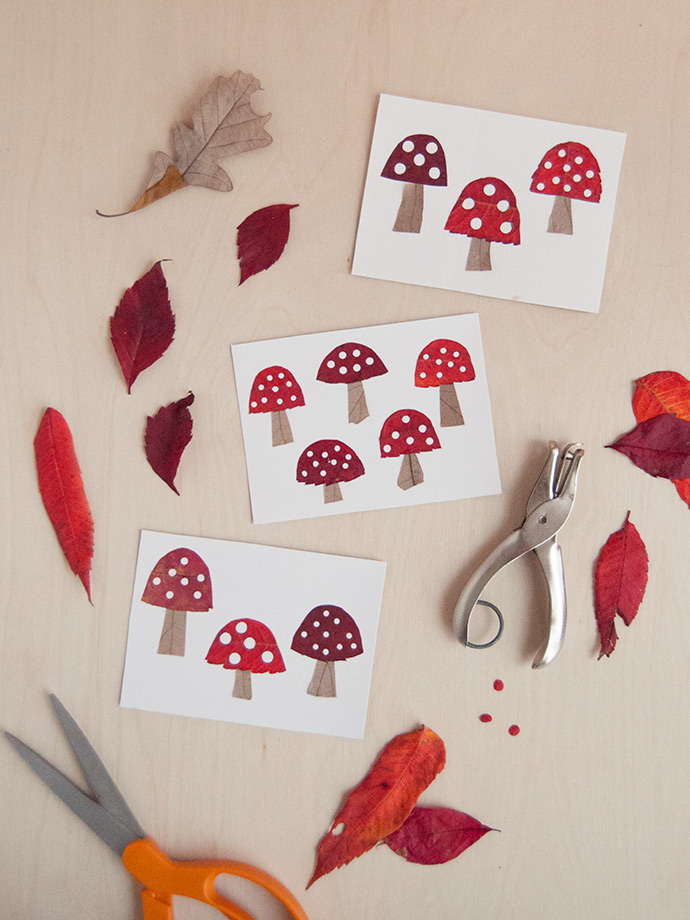 Happy crafting!