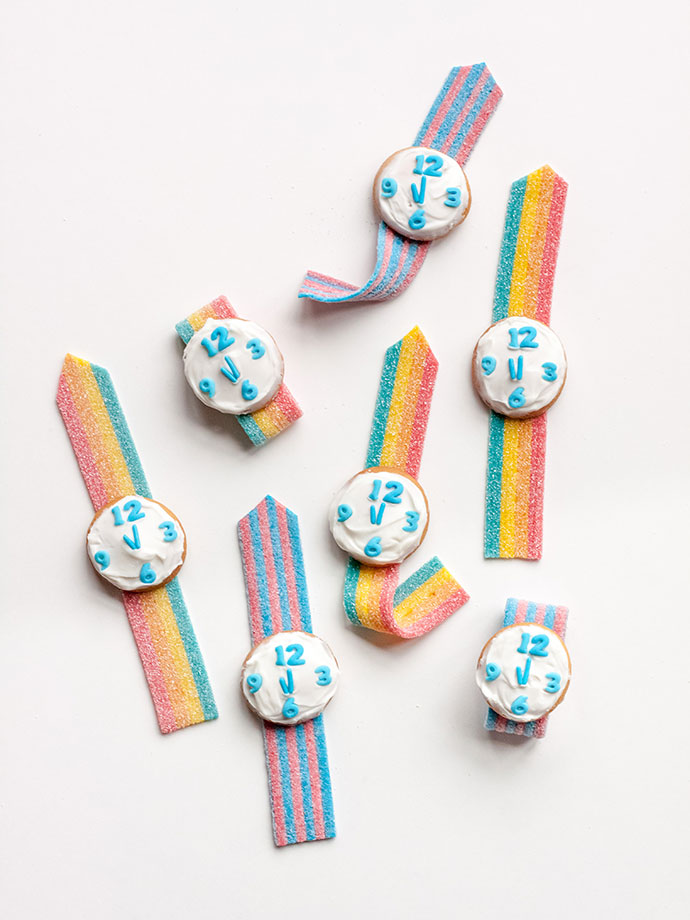 Whether you stay up until midnight on New Year's Eve, or celebrate "Noon Year's Eve" with the kids, these sweet watch cookies are the perfect treats for your celebration! My daughter always wanted to stay up until midnight for New Year's Eve, even when she was little, and then the next day we paid for it, and had to deal with little miss crabby pants! With my son, we decided to wake him up at midnight for the ball drop, and then put him back in bed.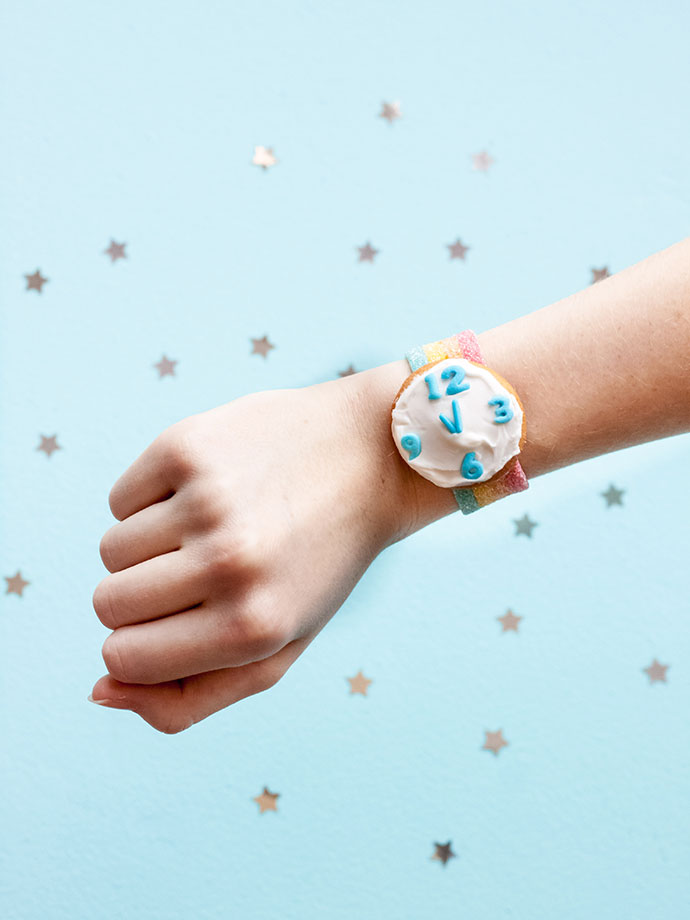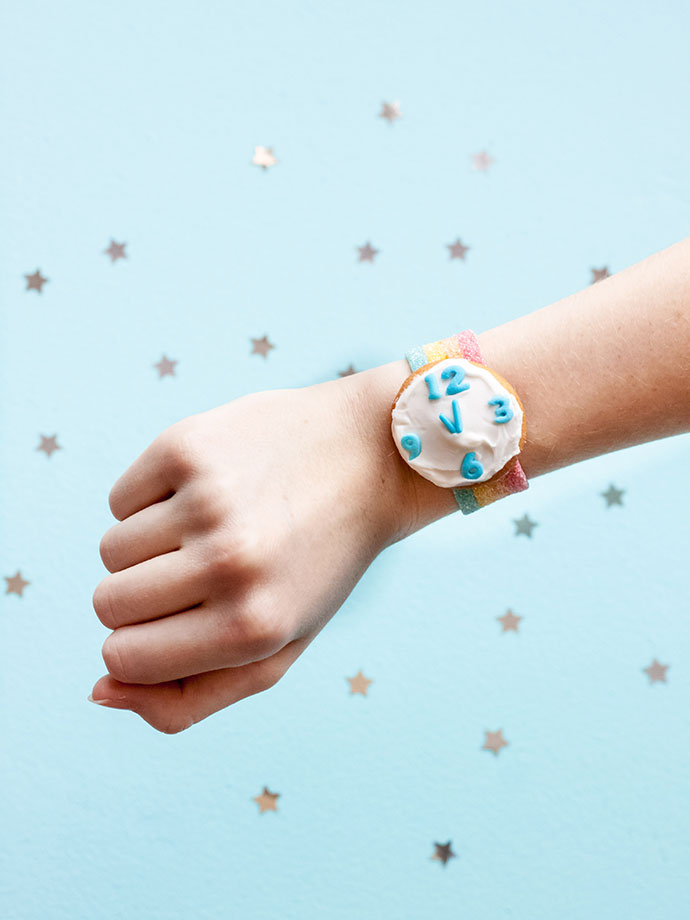 I remember seeing that people on social media were starting to celebrate at twelve o'clock noon with the kids, so they could still celebrate at the stroke of twelve, without compromising their bedtime! Isn't that genius? It's a great idea to get kids together with their friends to celebrate at noon with noise makers, sparkling grape juice, and some watch treats! You could serve the watches on paper plates, or put them on cupcakes as a fun topper. You can find sour belt candy for the watch bands in all different colors for a fun party palette.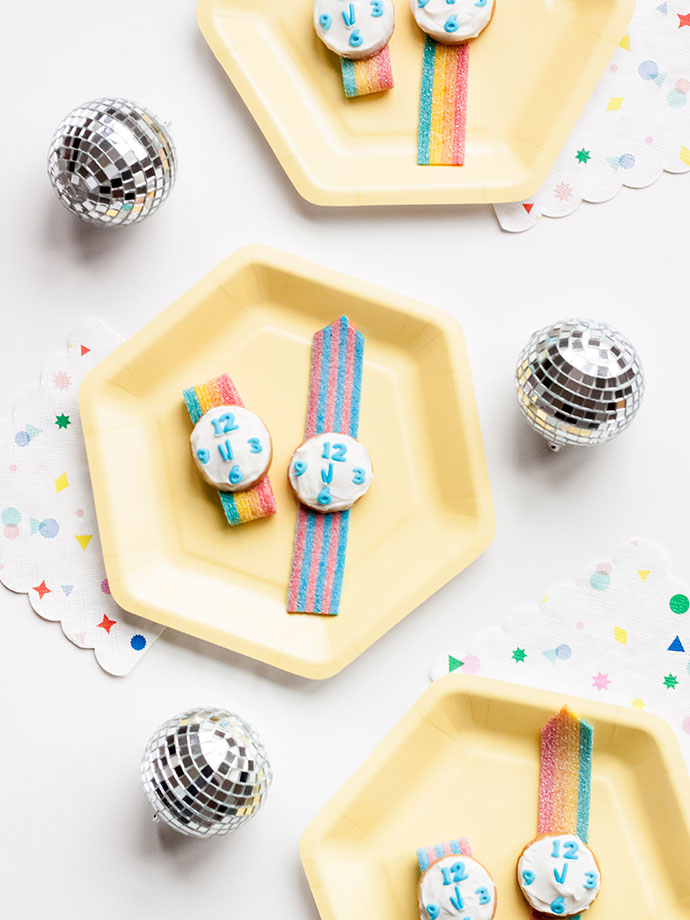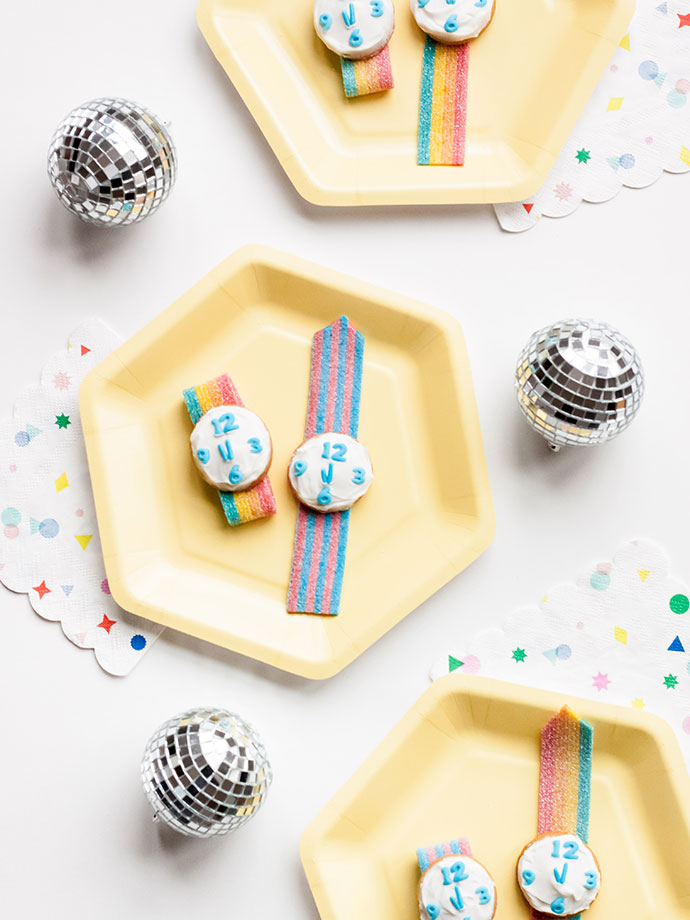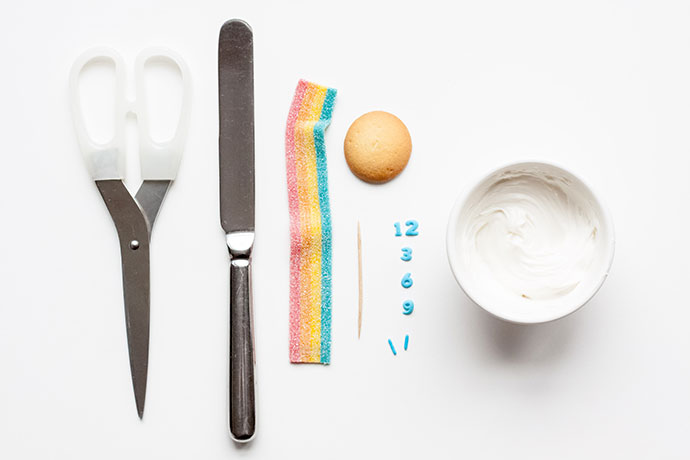 Scissors
Knife to spread frosting
Sour belt candy (6 ¾" long)
Vanilla wafer cookie
Toothpick

Number sprinkles (1, 2, 3, 6, 9)
Sprinkles
Frosting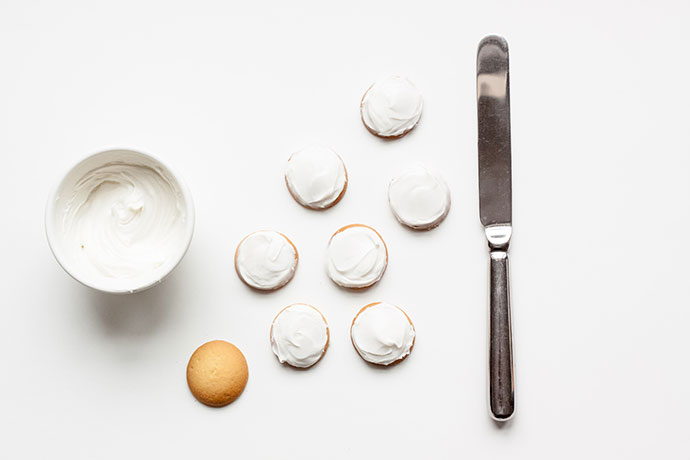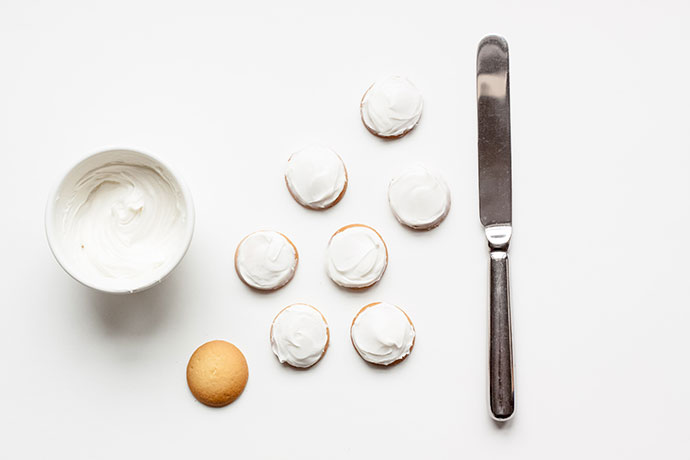 Step 1
Use a knife to spread frosting on your vanilla wafer cookies.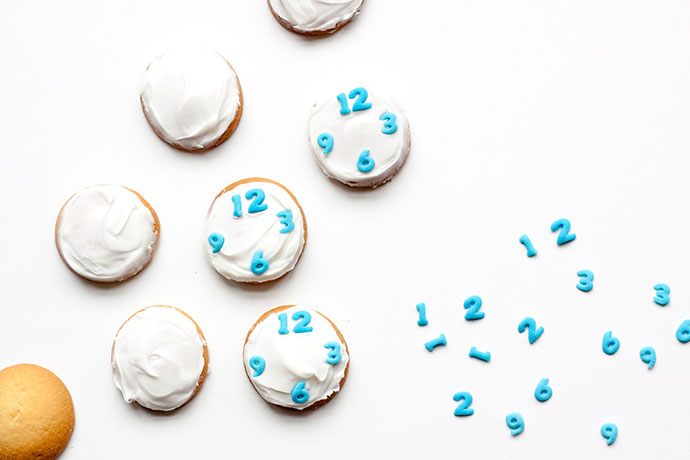 Step 2
Place your number sprinkles in the frosting to look like a clock. Place "12" at the top, 3 on the right, 6 at the bottom, and 9 on the left.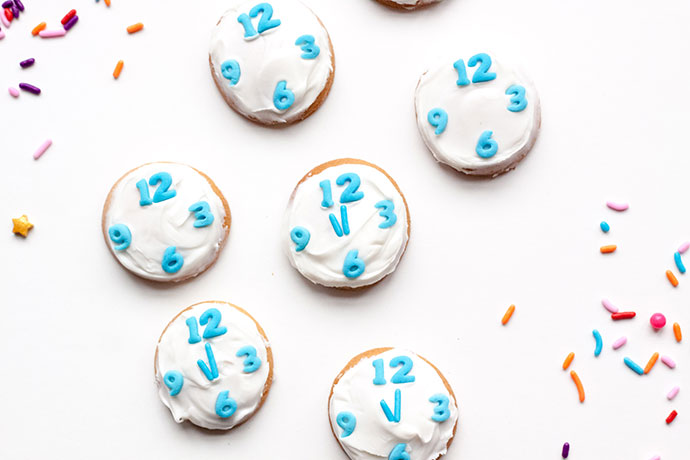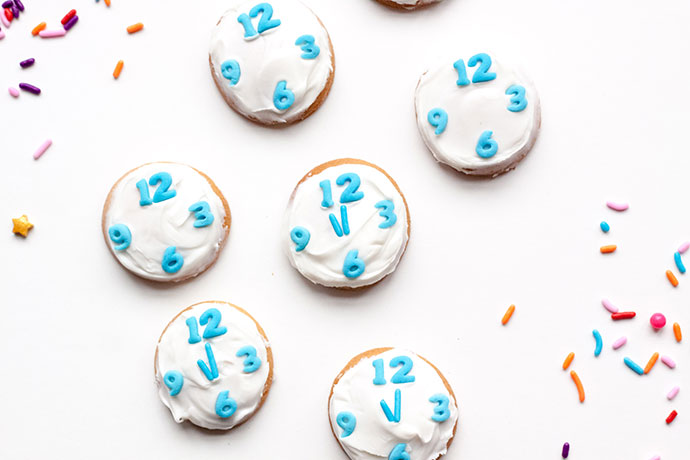 Step 3
Choose a long sprinkle, and short sprinkle to represent clock hands, and place the ends of the two sprinkles in the middle of the clock, with the other ends pointing at the "12". It actually looks best if the short hand is slightly separate from the long hand – almost between 11 and 12 on the clock.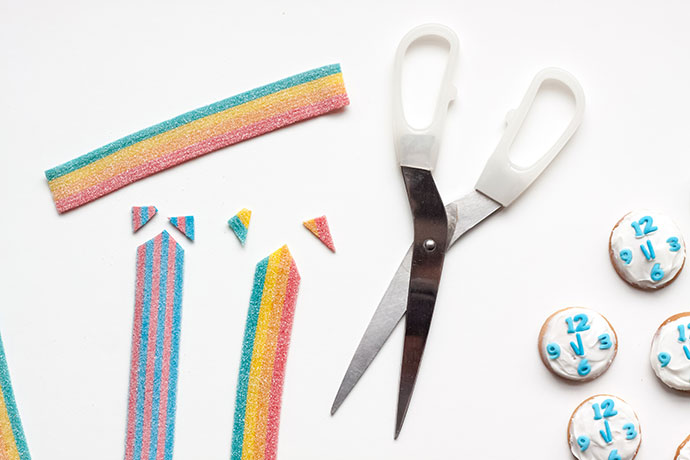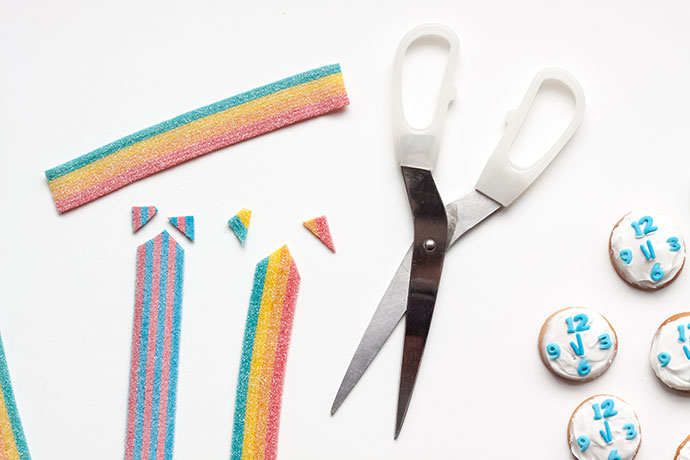 Step 4
Use clean scissors to cut a triangle at the tip of one end of the sour belt candy.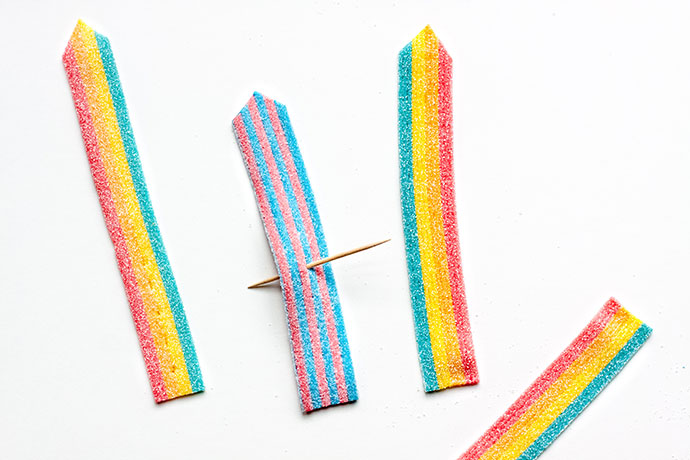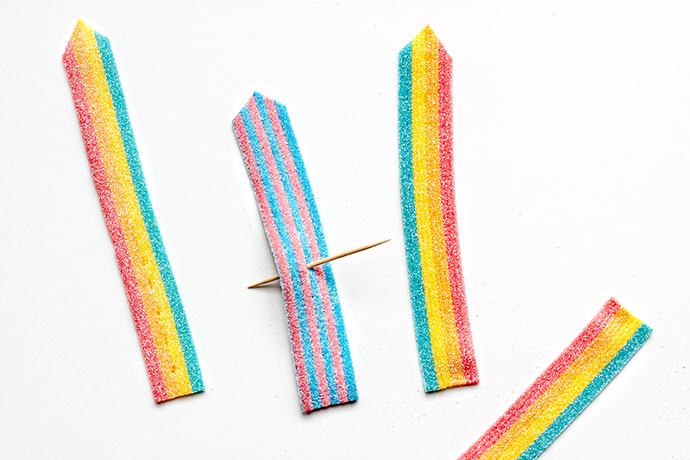 Step 5
Use a toothpick to place about 5 evenly spaced holes in the opposite end of the sour belt candy up the middle. Start about ½" from the end, and then space each hole about ½" apart.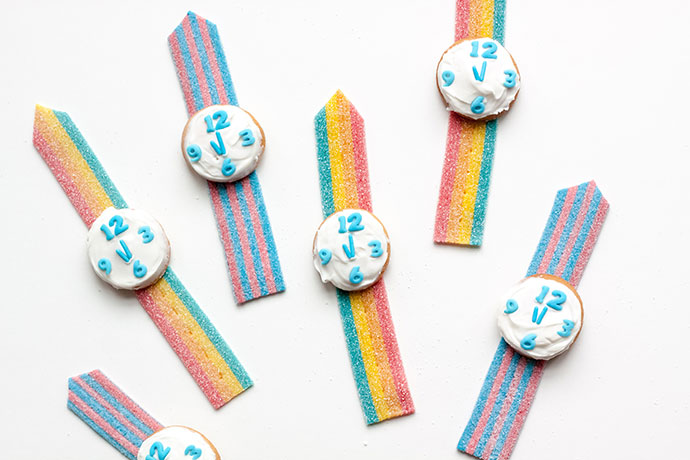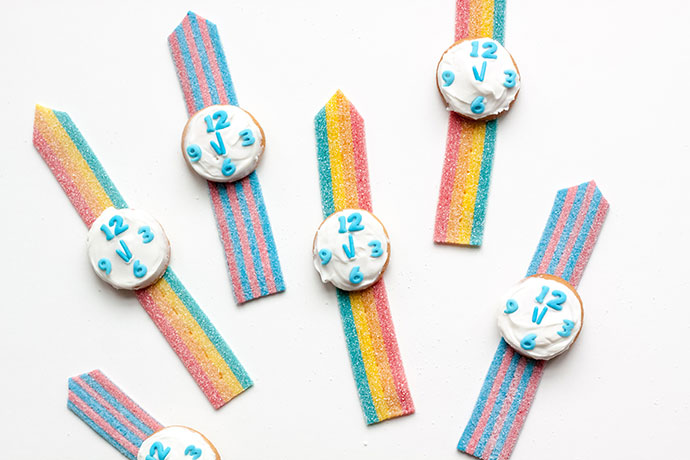 Step 6
Place your clock face cookie in the center of the sour belt candy watch band. You may add frosting to hold the pieces together, but frankly, they probably won't stay "glued" for long! It is probably best to just place them on paper plates before the party, or stick them in cupcakes, where they are sure to stay together. The kids will most likely take them apart when they gobble them up anyway!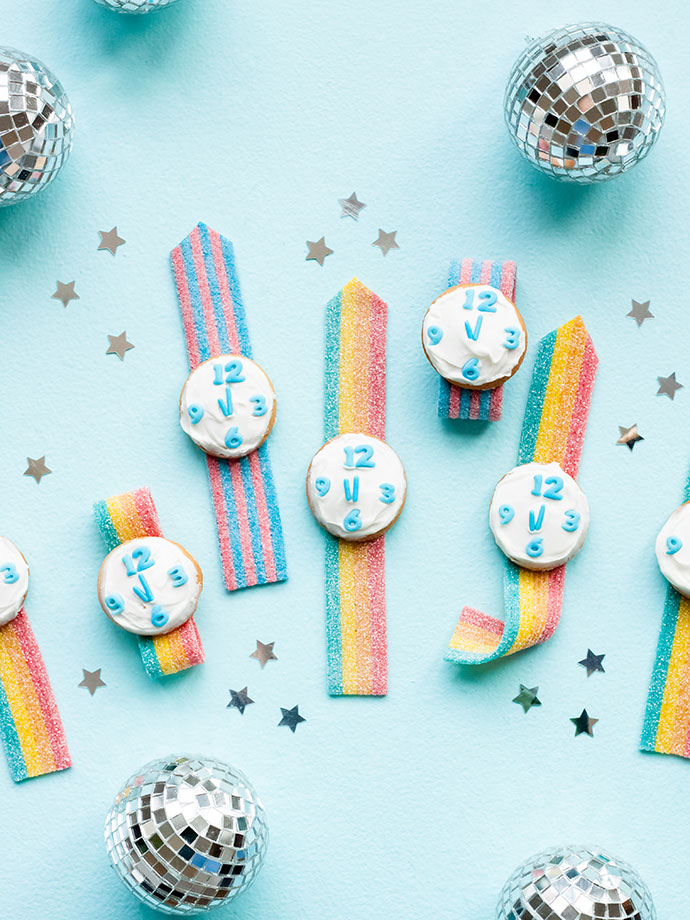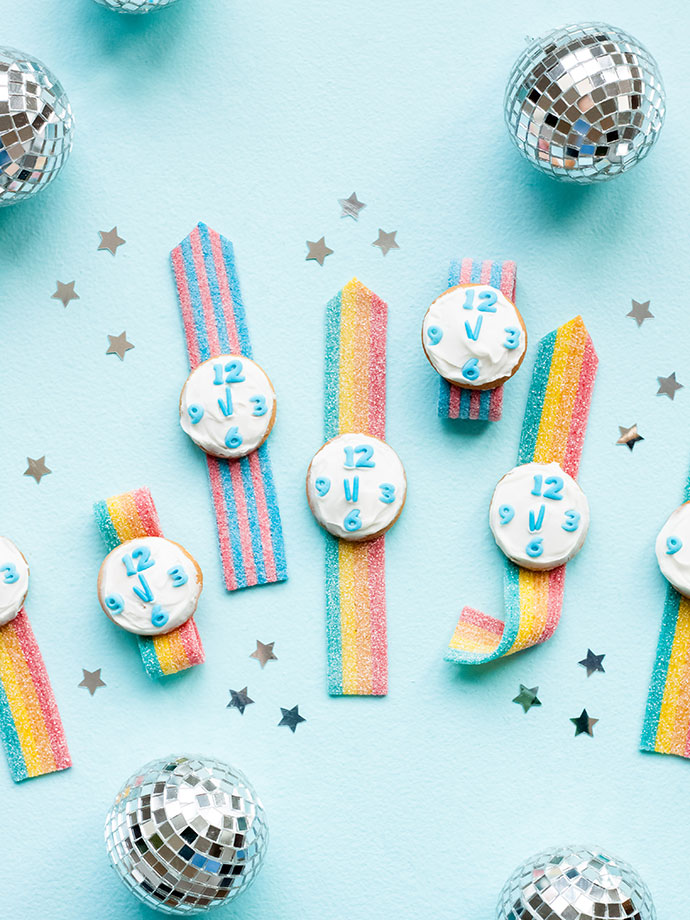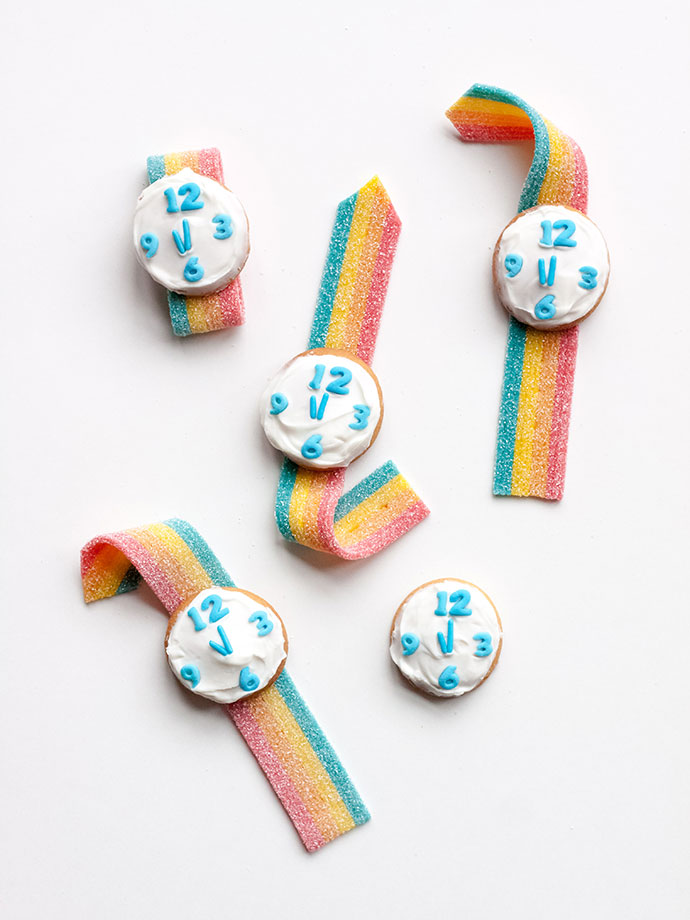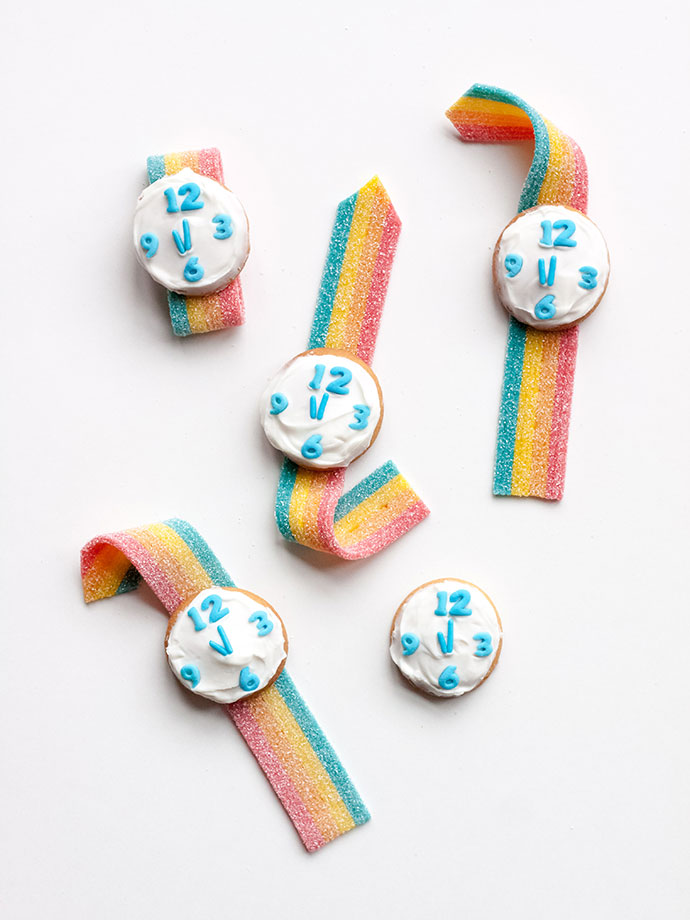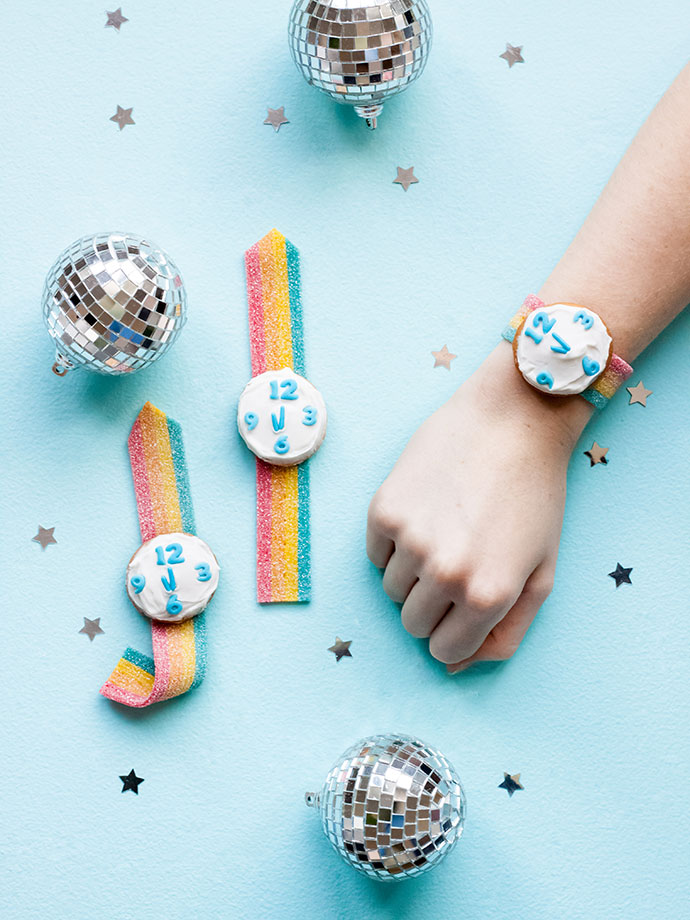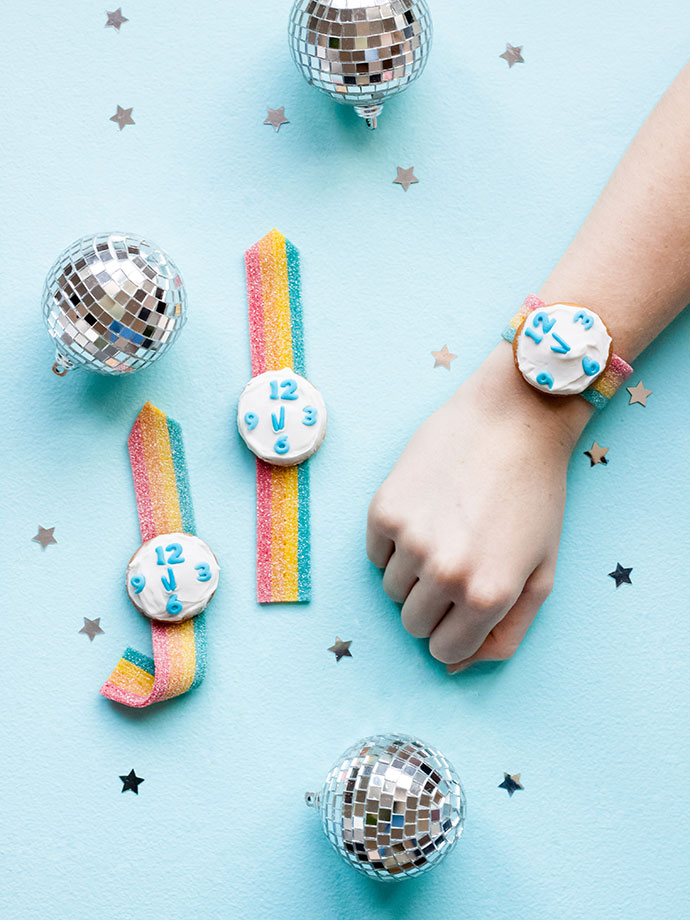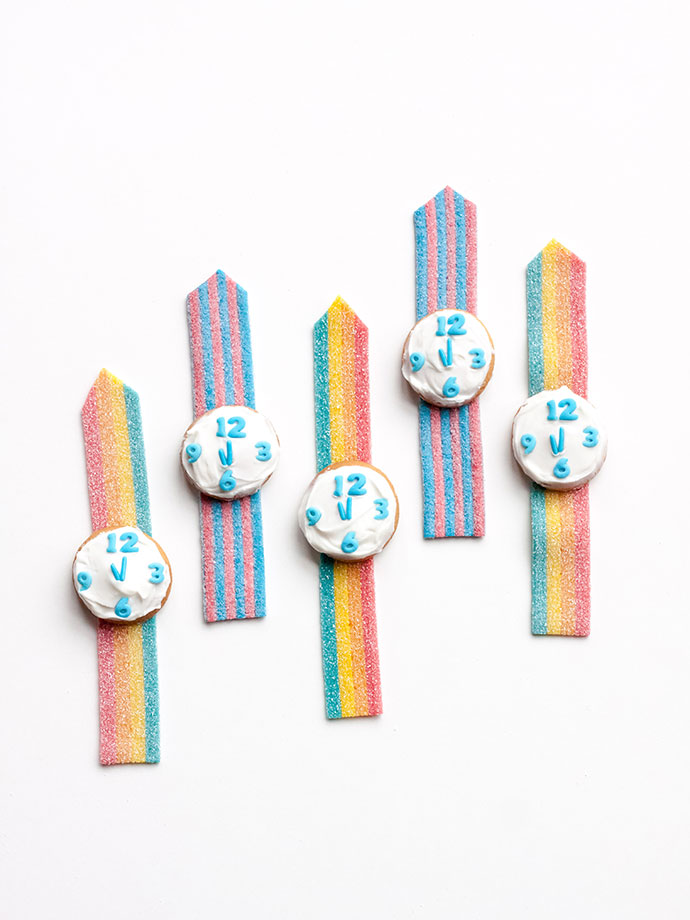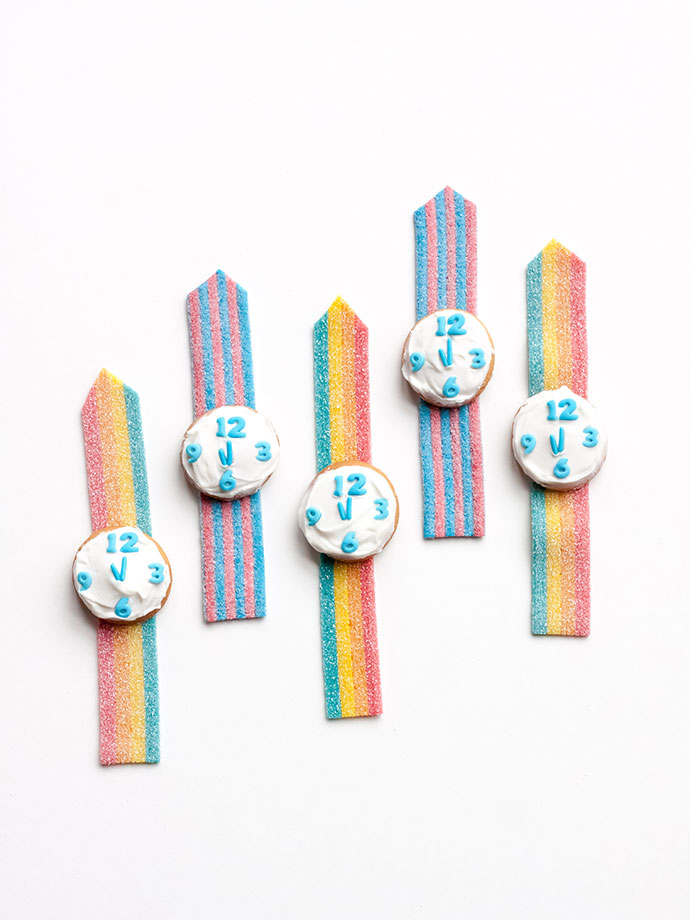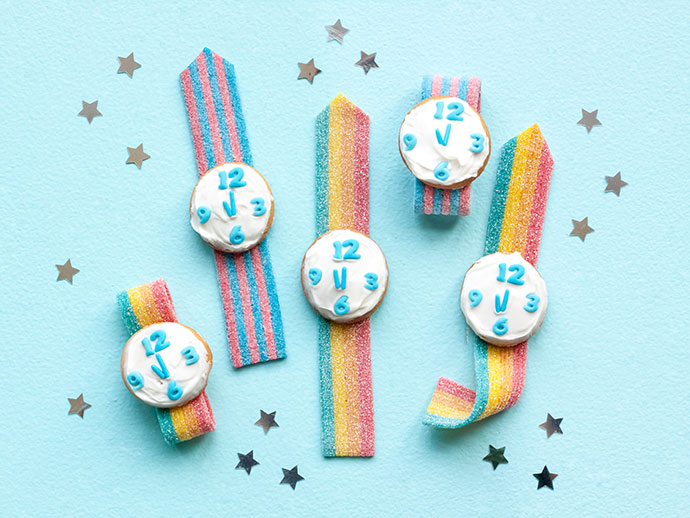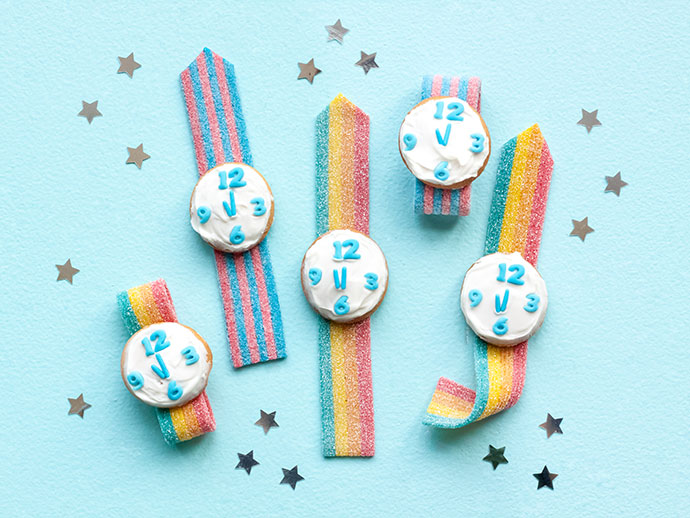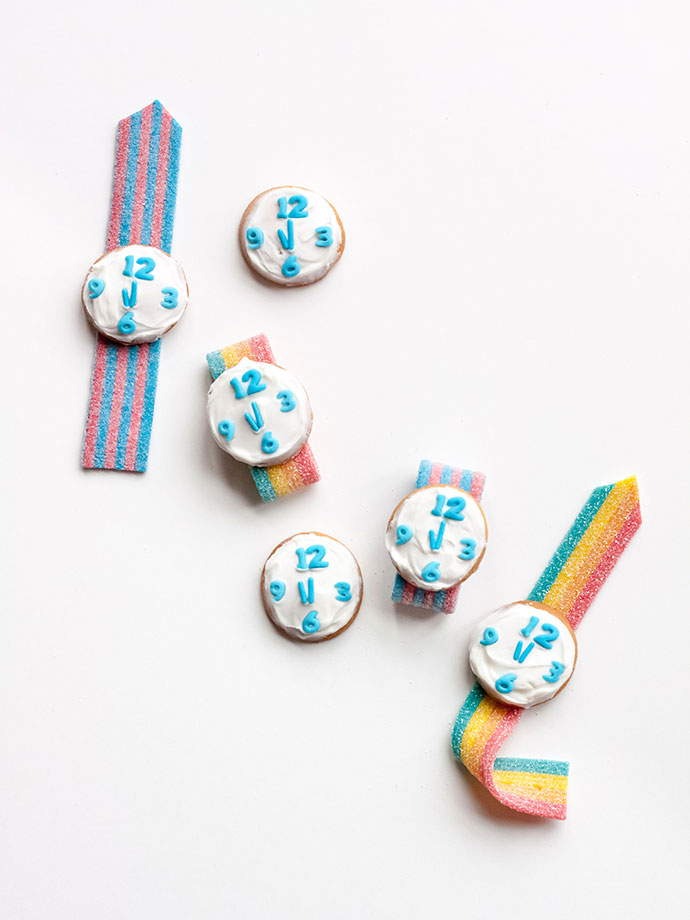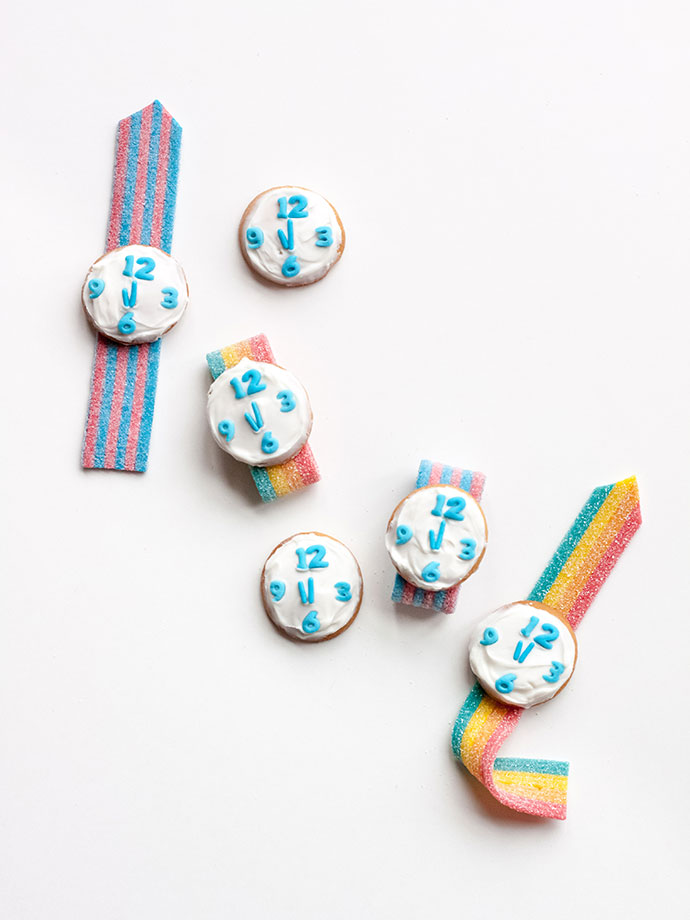 Enjoy your watch treats! Happy New Year, and Happy "Noon" Year!