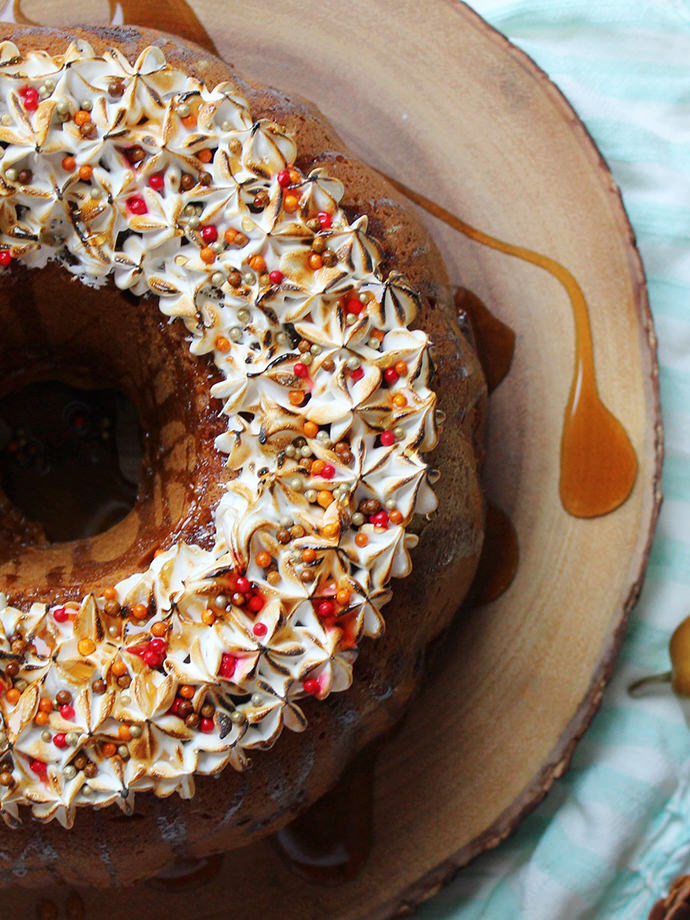 You may sing the praises of the pumpkin spice fad or not, but there's no denying that it has slowly but surely grown into one of the most quintessential flavors of the fall season!
For me, getting a whiff of its fragrant aroma creates a sense of wistfulness- for crunching leaves underfoot, for sitting around a bonfire with good friends, and for wearing slouchy sweaters every hour of the day (can it just stay fall forever?). So to dive head first into autumn, and to combat the unseasonal 80 degree temperatures around me, I decided to make the ultimate ooey-gooey spice pumpkin bundt cake – in all its dense, rich gloriousness!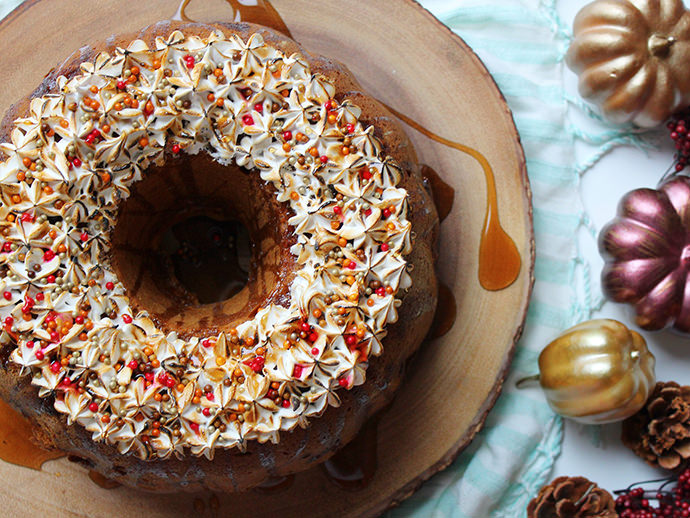 This delectability of this spiced cake is like no other. I incorporated all the seasonings that every pantry should include this time of the year, sprinkled a generous (ok, more than generous) handful of marshmallows in the batter to create texture and crunch, and topped it off with a toasted marshmallow cloud frosting drizzled in the purest of maple syrups. One bite and you're sure to have all the fall feels!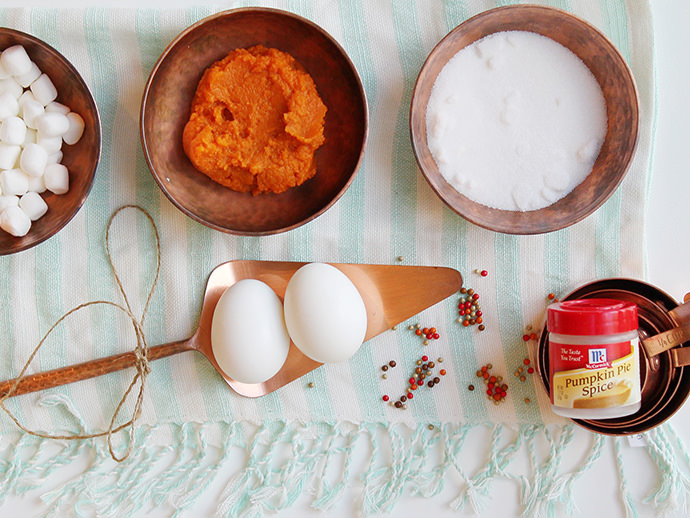 1 Bundt pan
Small kitchen torch (feel free to use your broiler instead)
2 1/3 cups sugar
1 cup vegetable oil
4 medium sized eggs
1 16 oz. can of pumpkin puree (make sure it isn't pumpkin pie filling!)
3 cups all purpose flour
1 teaspoon salt
1 teaspoon baking soda
1 ½ teaspoons baking powder
2 teaspoons ground cinnamon
½ teaspoon ground ginger
½ teaspoon nutmeg
½ teaspoon pumpkin pie spice
1 handful mini marshmallows
1 teaspoon vanilla extract
2 room temperature egg whites (go ahead and divide egg whites while the cake cooks)
½ teaspoon salt
¼ cup sugar
¾ cup light corn syrup
1 1/2 teaspoons vanilla extract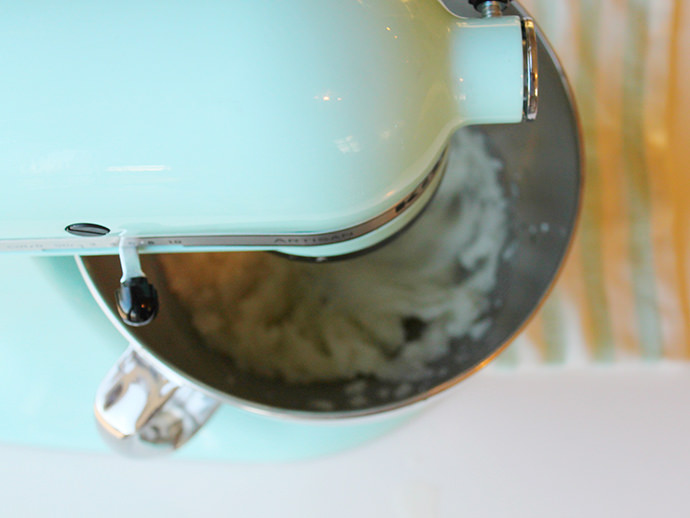 Step 1
Preheat the oven to 350 degrees. Spray your Bundt pan with a hearty amount of baking spray. I added a sprinkle of flour to my pan as well.
Step 2
Cream together the sugar and the oil until it's a thick and well-incorporated. Use a spatula to scrape down the sides. Add eggs one by one, making sure each is mixed well before proceeding with the next. Add your pumpkin puree little by little along with your vanilla extract.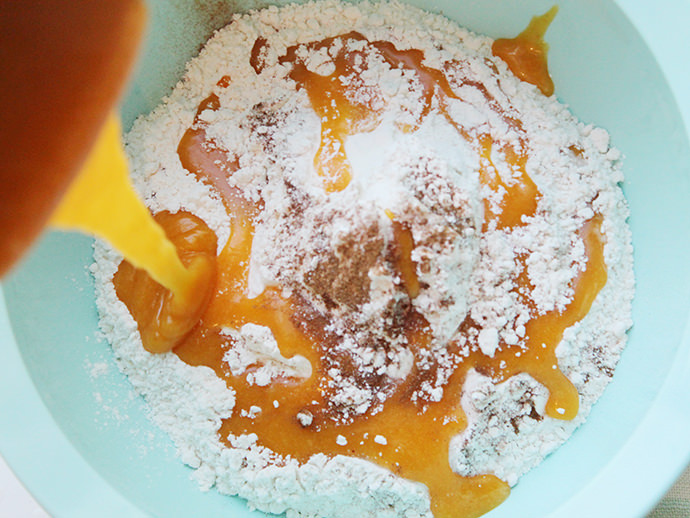 Step 3
In a separate, clean bowl, gently whisk all your dry ingredients together. Turn your mixer speed to low and add the dry ingredients to the wet ingredients.
Step 4
Turn off the mixer and fold your mini marshmallows into the batter, taking care not to deflate them. Pour the batter into the Bundt pan. Use the spatula to smooth out any lumps and bumps from the top. Cook for 55 minutes to an hour depending on oven temperature. Insert a knife or toothpick into top to check for readiness. Cool in the Bundt pan for twenty minutes. Flip the cake onto a wire cooling rack and cool completely.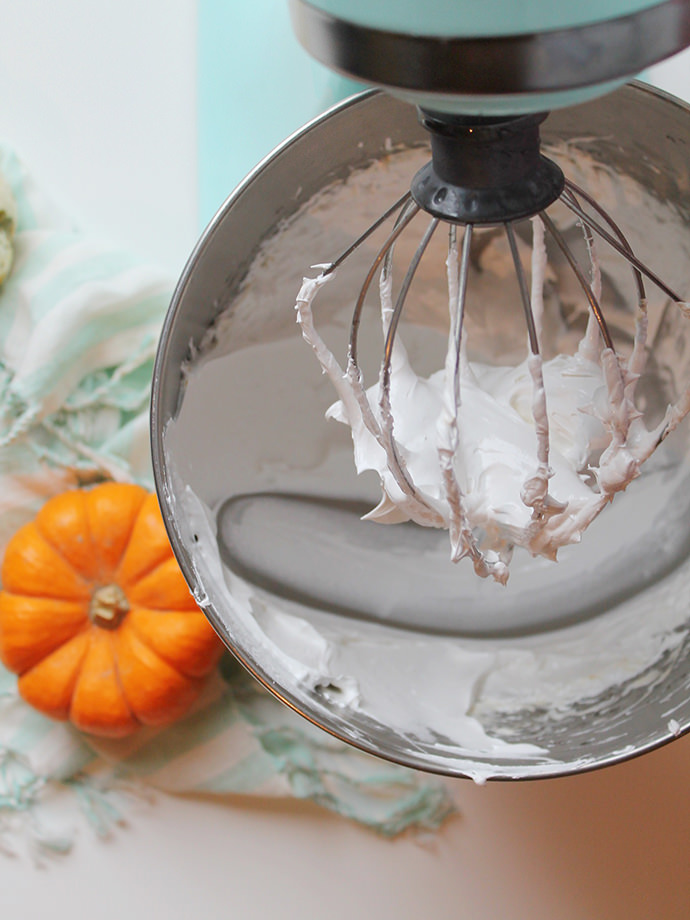 Step 5
Once cake is completely done cooling (the frosting will run if it is still warm) begin the frosting by beating the egg whites and salt until frothy. You should see tiny bubbles emerge. With the hand or stand mixer still going, slowly add sugar. Continue beating the mixture 6-7 minutes or until until soft white peaks form.
Step 6
Bring the corn syrup to a rolling boil in a sturdy sauce pan then remove from heat. Add the hot corn syrup to the egg mixture, beating vigorously again for 6-7 minutes. Add the vanilla until all is incorporated.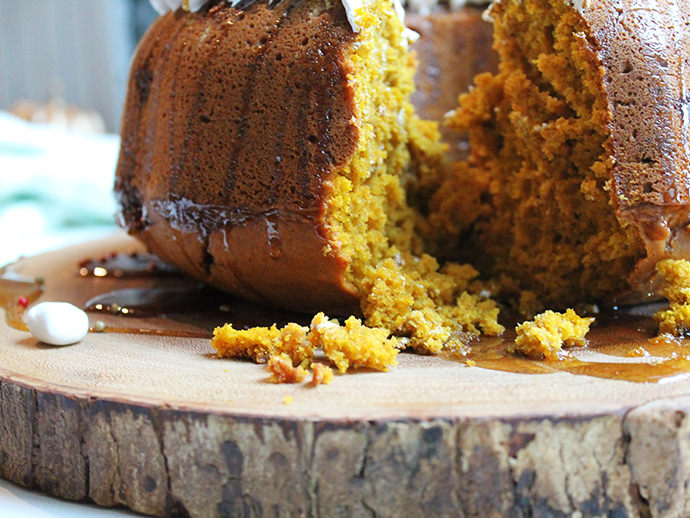 Step 7
Pipe the frosting onto the cooled cake in any form you like. For reference, I used a Wilton 2D. Using a small kitchen torch, toast the peaks of the frosting. A broiler will suffice as well but pay very close attention. Drizzle pure maple syrup (don't skimp here, get the good stuff) onto the cake for a finishing touch.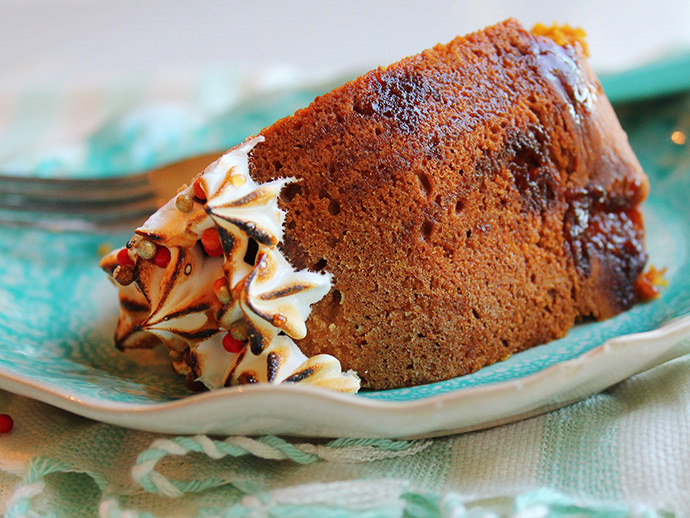 Serve up and enjoy this fall season!