This post is sponsored by Plaid Enterprises.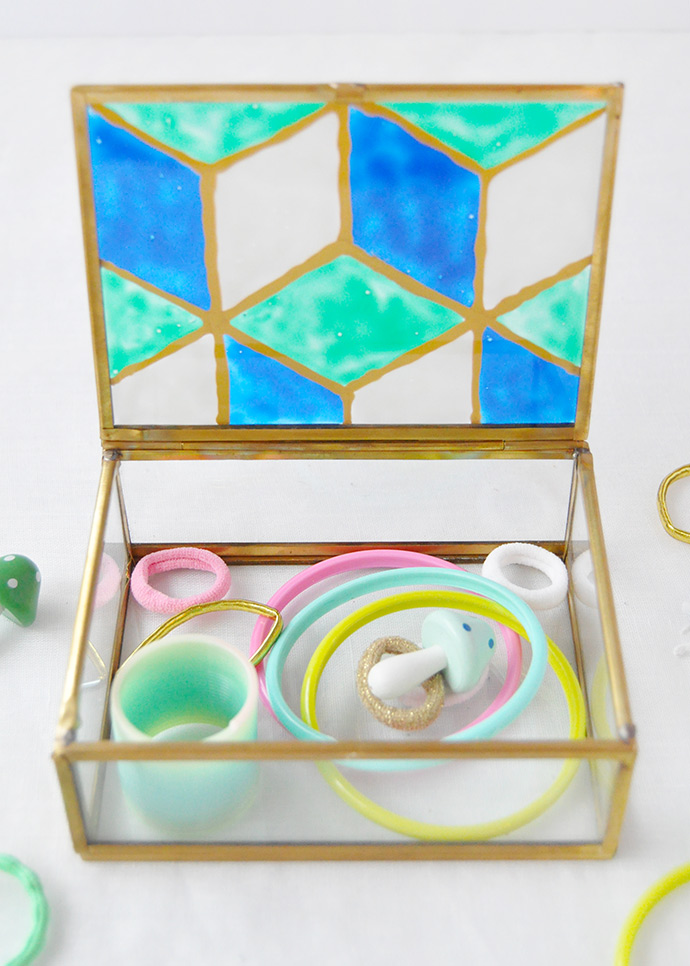 Who else has a serious crush on modern stained glass? We've been seeing it pop up more and more lately and we've really been loving it! There are some gorgeous traditional pieces of course, but with a geometric pattern and simple shapes, it's so easy to put a modern spin on it. Today we're sharing techniques on how to make your very own faux stained glass treasure box that kids will love helping with! Get the look of real stained glass with just a few bottles of Gallery Glass Window Color!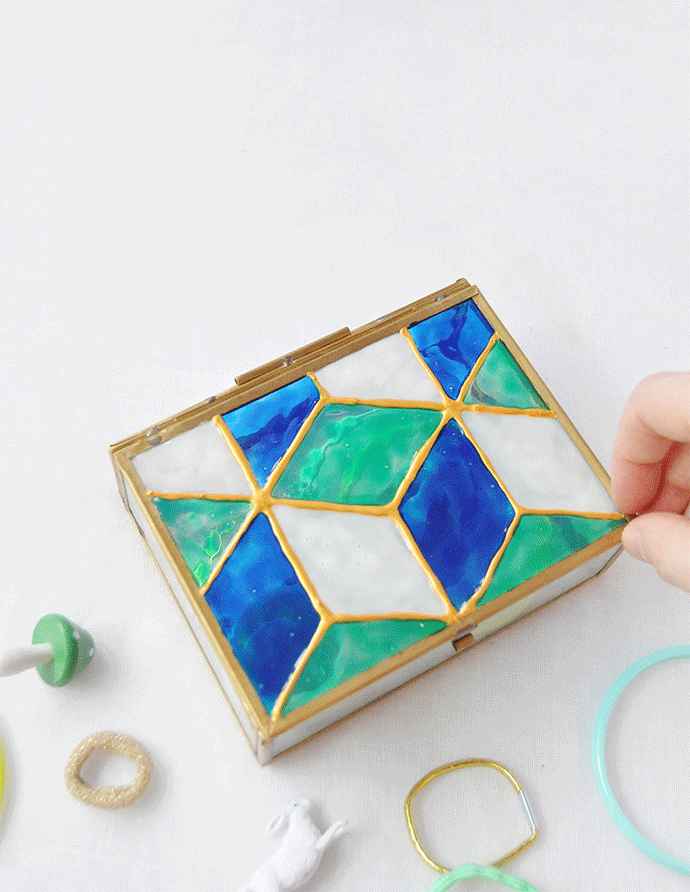 You can of course use this technique on other surfaces too, but we love the idea of making this fun little treasure box. We found this glass and gold one to use but if you're able to find a similar plastic version, that might be a better option for littler kids. Gallery Glass really adds a special touch to ordinary objects, and we love how this new treasure box feels like it's full of secrets and fun surprises! Keep reading to see all our tips and tricks below!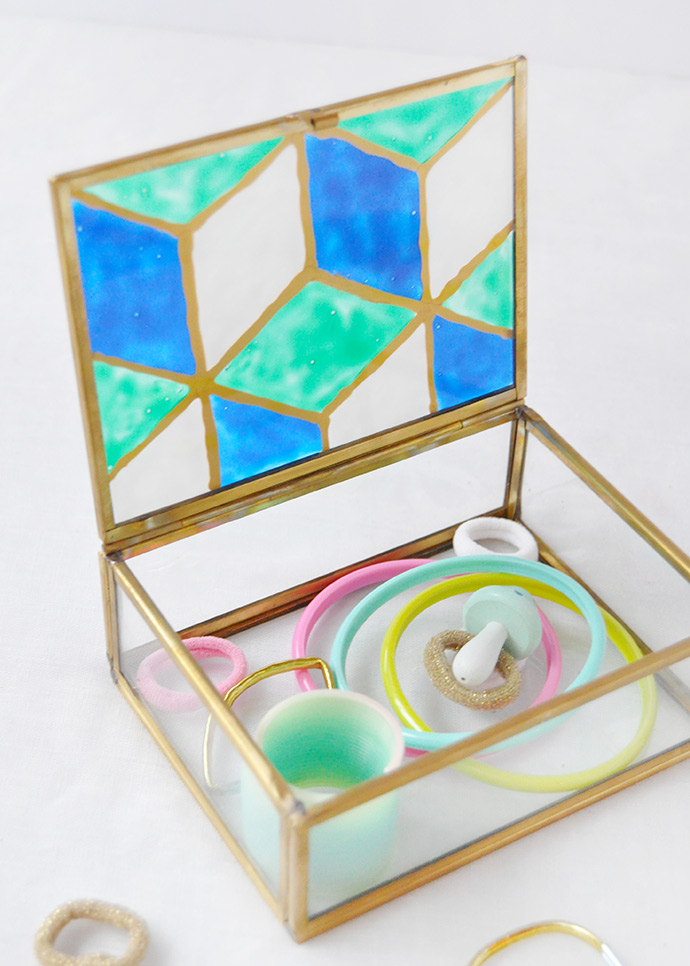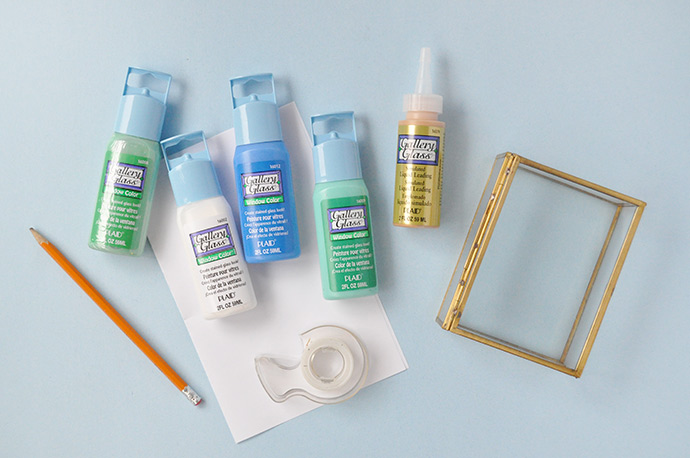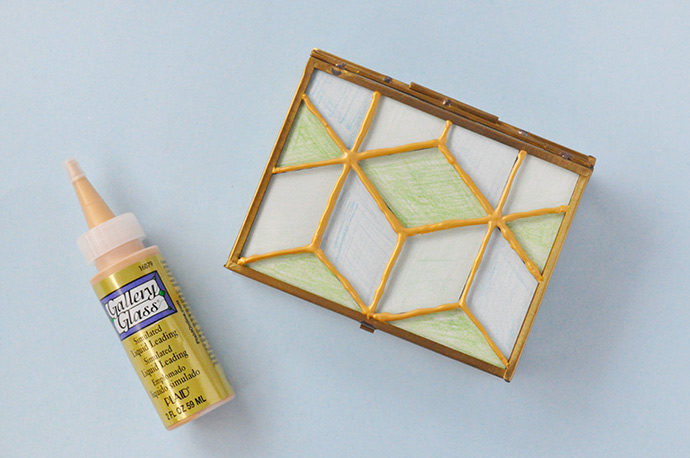 Step 1
The first thing you want to do is trace your glass box onto a piece of paper and draw out your design using pencil. We went with a simple geometric pattern, and use colored pencils to test out the colors we wanted to use too. Once you're happy with your design, tape it to the underside of the glass box lid. Use Gallery Glass Liquid Leading (we used gold metallic to match our box) to trace the outlines of your designs. Let dry for about 8 hours, until dry to the touch.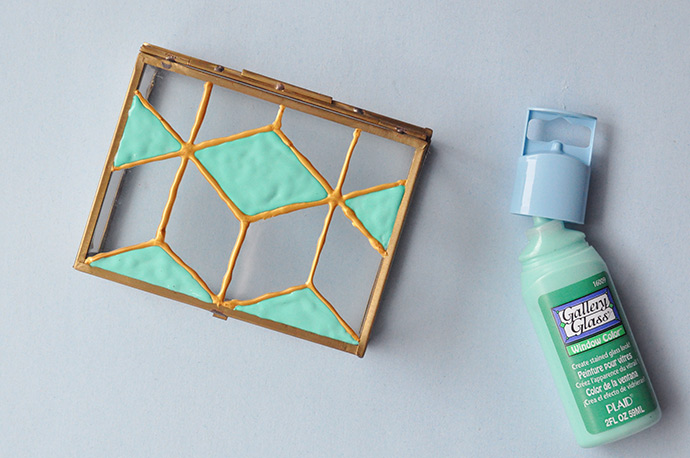 Step 2
Time to fill in your colors! Simply squeeze your chosen color into the compartments, making sure each area is covered completely. To prevent air bubbles from forming, avoid shaking the bottle and gently tap your box on your work surface to pop any bubbles that do appear.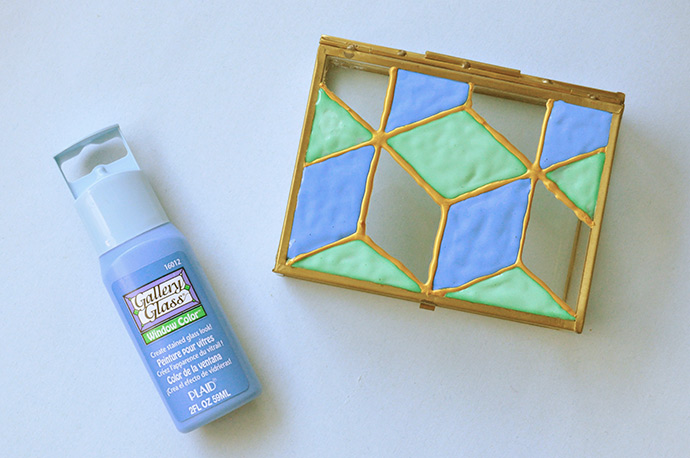 Step 3
Repeat this with your next color in the same way. You don't have to wait for the first color to dry before starting on this one, but be careful not to smudge the previous color as you work on this one!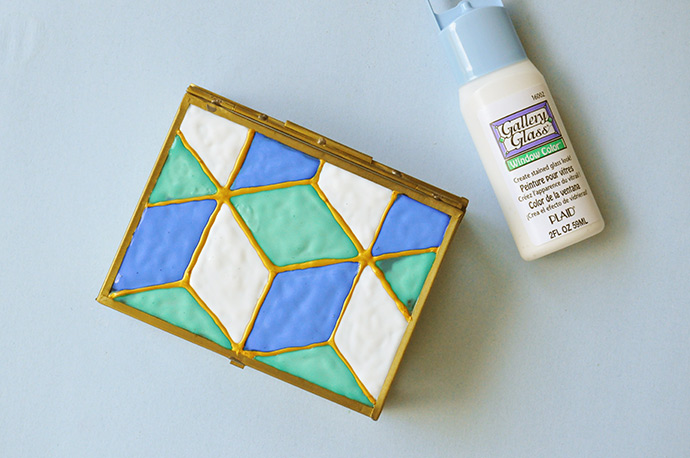 Step 4
Finally, add the final color for your design, again in the same way as before. Once your design is all covered, set aside to dry – after about 8 hours it should be dry to touch, but it will be completely cured to the glass box in about 7 days.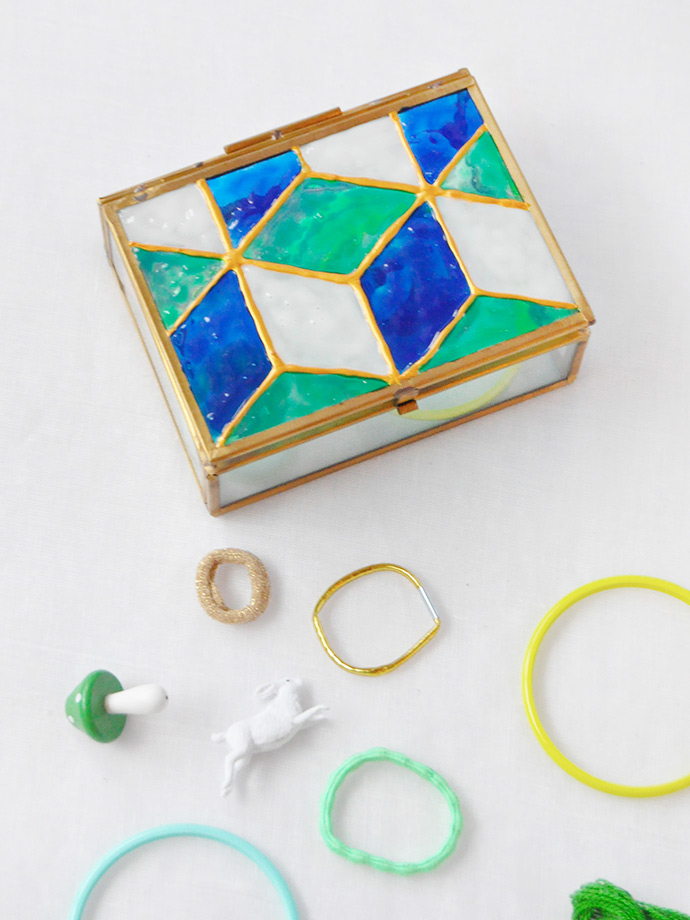 Time to fill your treasure box with goodies!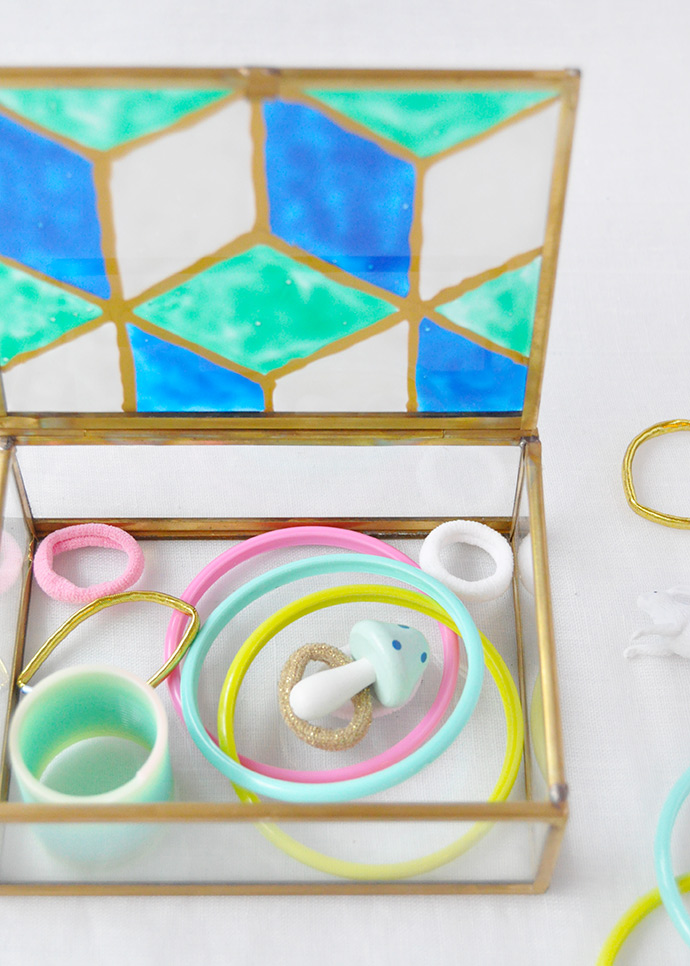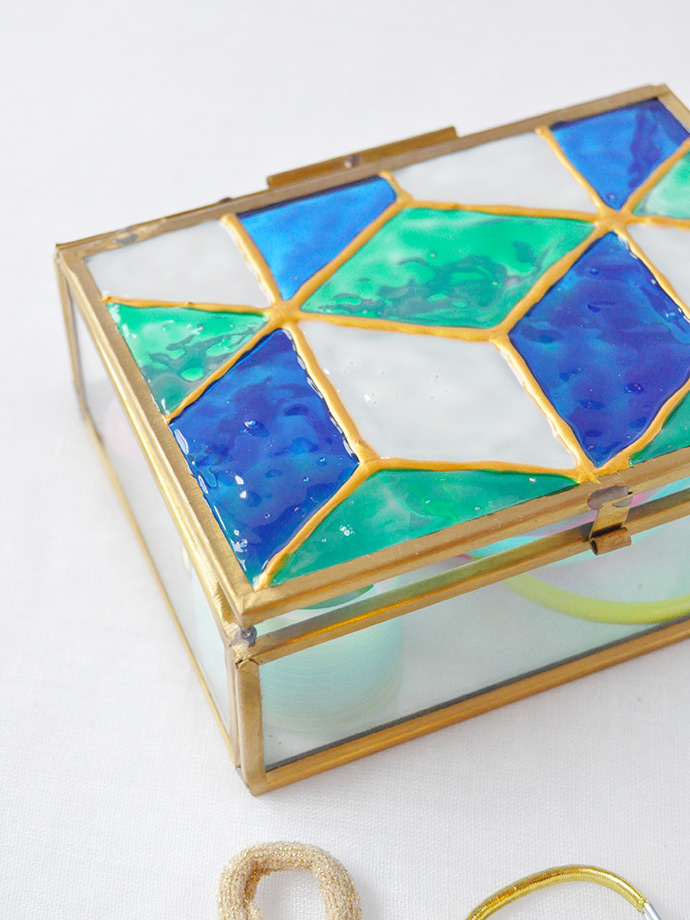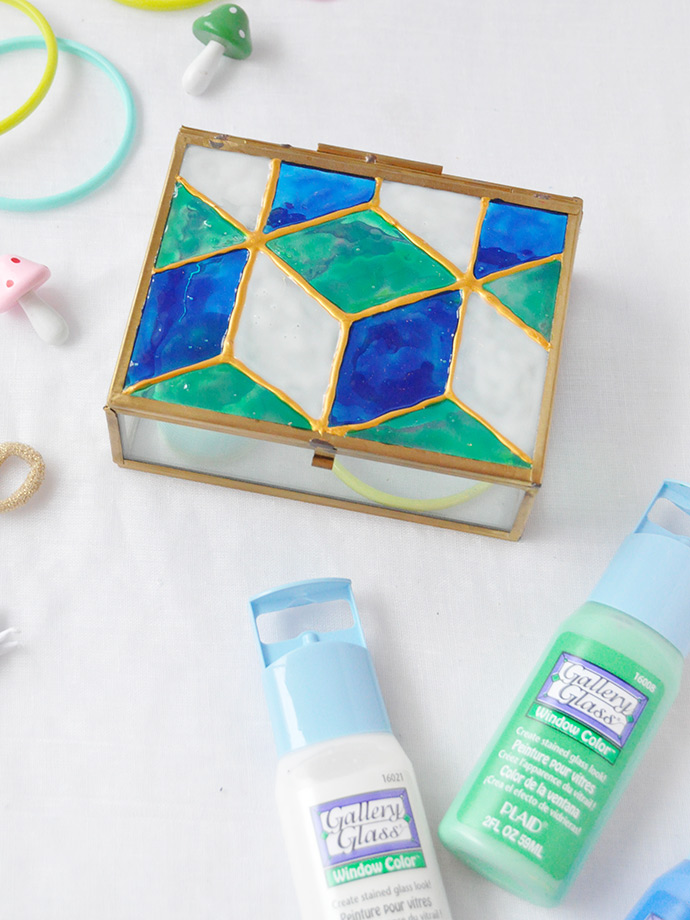 For more details on how to use Gallery Glass paint, check out this detailed FAQ page right here.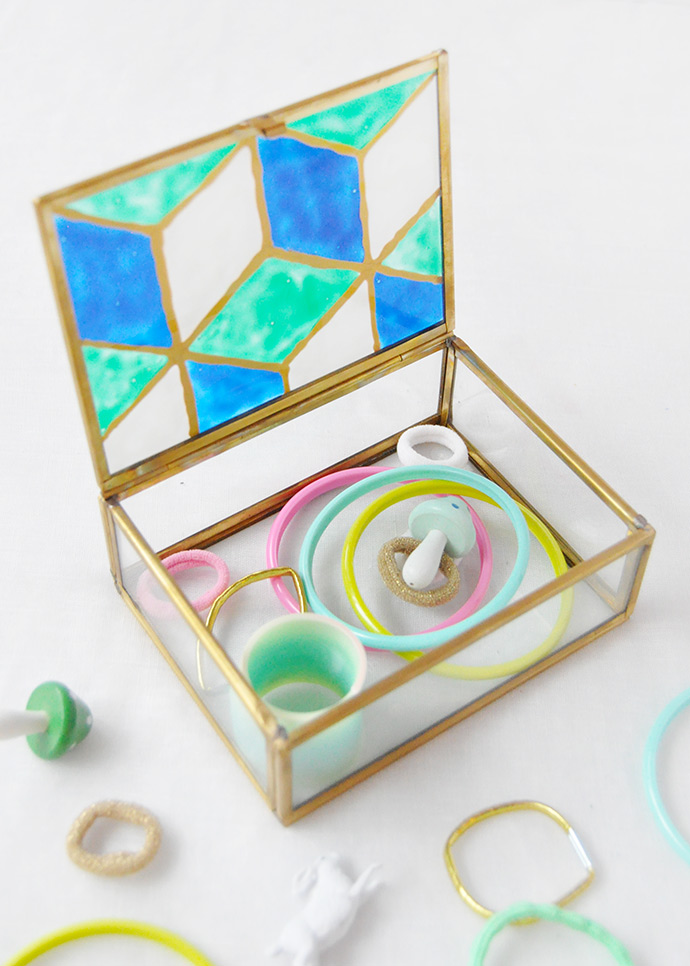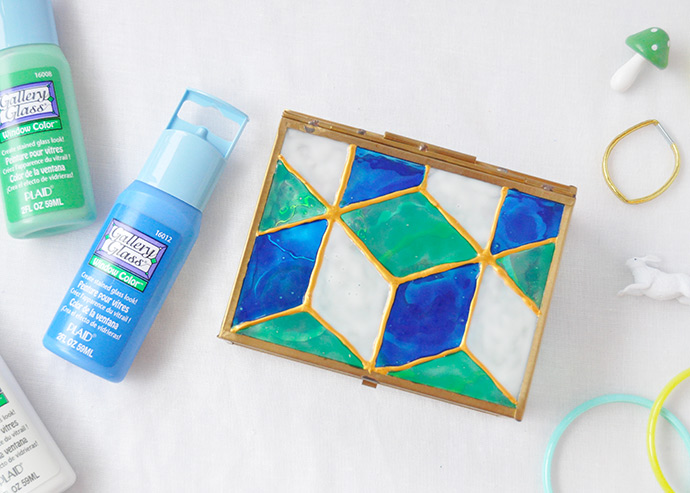 Happy crafting!