This post is sponsored by Plaid Enterprises.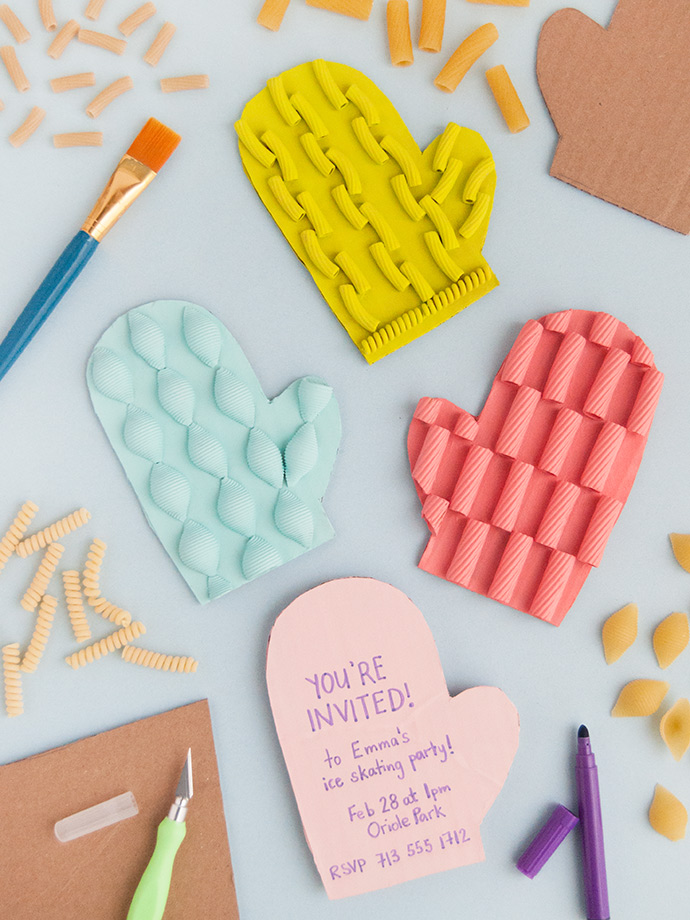 What are your kids' favorite winter activities? We go through phases of different winter sports: downhill skiing, ice skating, making snow angels, you name it! If you're lucky enough to have snow where you are, today's project is all about embracing winter for a little while longer before the warmer weather hits. It isn't long until spring is here, so that's why we decided to use these bright shades of FolkArt Acrylic Craft Paint!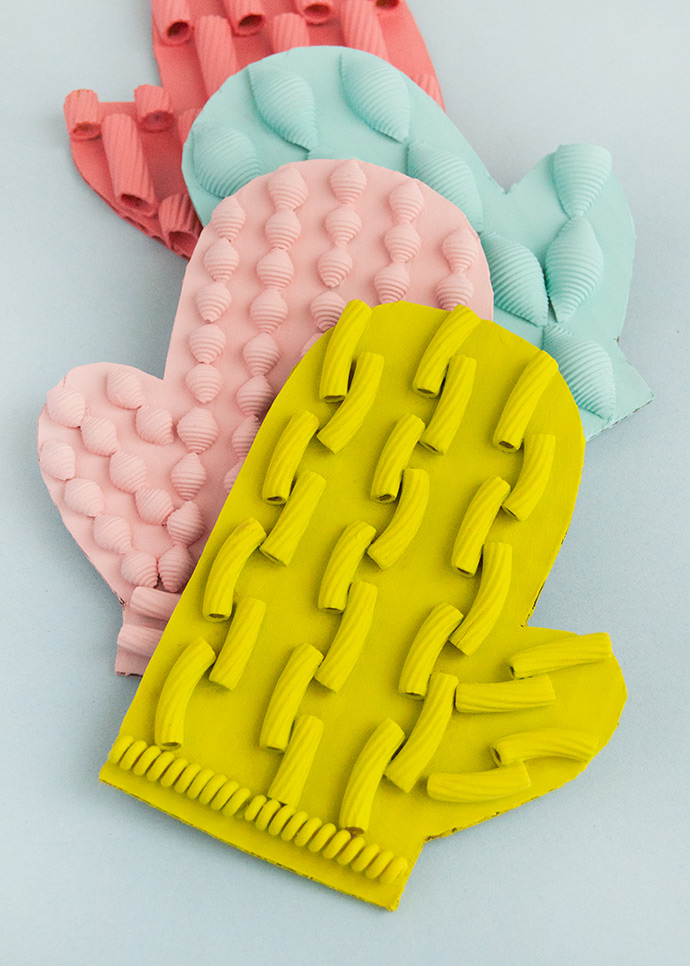 Painted pasta crafts are one of our favorites, and we realized how much some noodles can look just like cable knit when arranged in a line. With that in mind, we made these painted mitten invitations! If you want to host one last winter get-together at your local arena or favorite tobogganing hill, these mittens are the perfect way to invite all your friends. Or just make a bunch for fun and to encourage your kids to get creative with pasta noodle shapes and patterns! Keep reading for the full instructions below.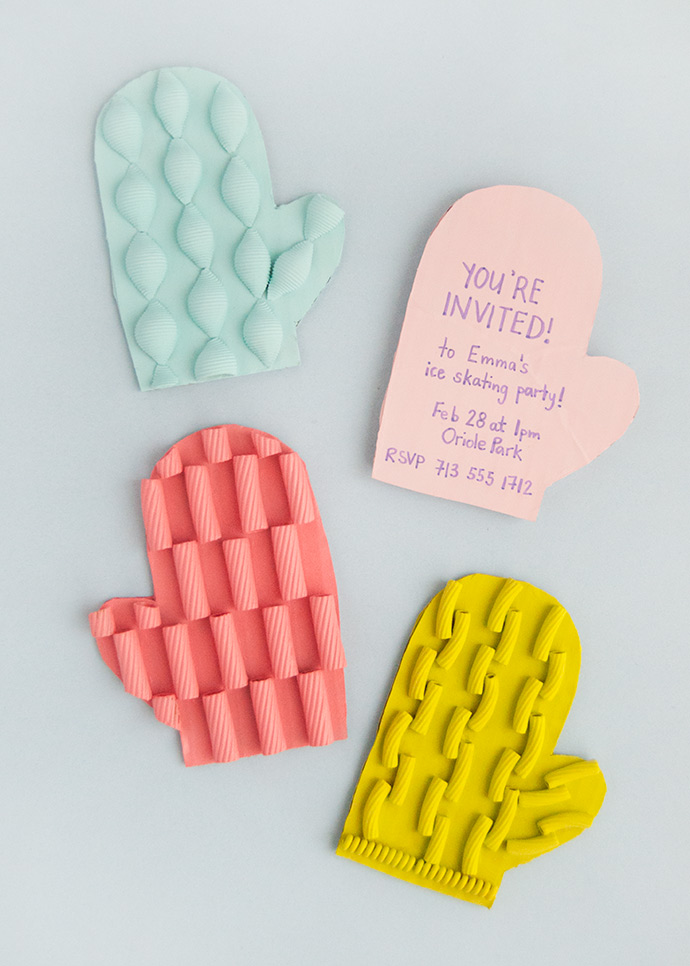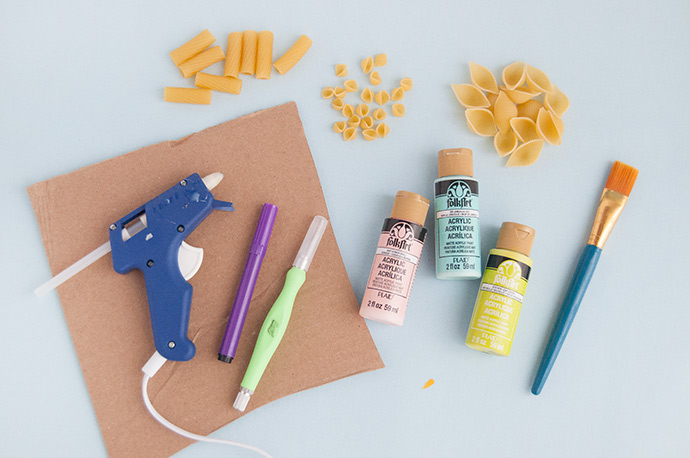 Dry pasta noodles
Cardboard
Hot glue gun
Craft knife or scissors
Marker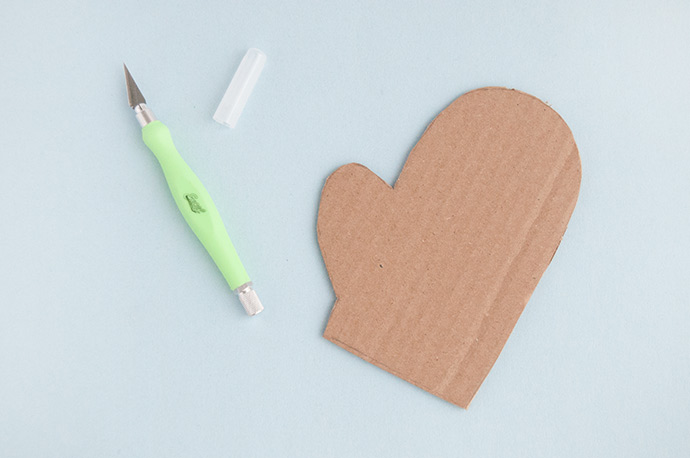 Step 1
Draw out a simple mitten shape onto a scrap piece of corrugated cardboard – you can draw this by eye, or even trace a real mitten! Once you're happy with the shape, cut out using a craft knife and/or scissors. Trace this mitten onto more cardboard and cut out as many invitations as you need.
Step 2
Time for the fun part – creating your cable knit pattern with pasta! Small and large shells are especially good for this when lined up in a row down the mitten, but have fun experimenting with different pasta noodles and designs. Use the hot glue gun to attach the pasta down as you go.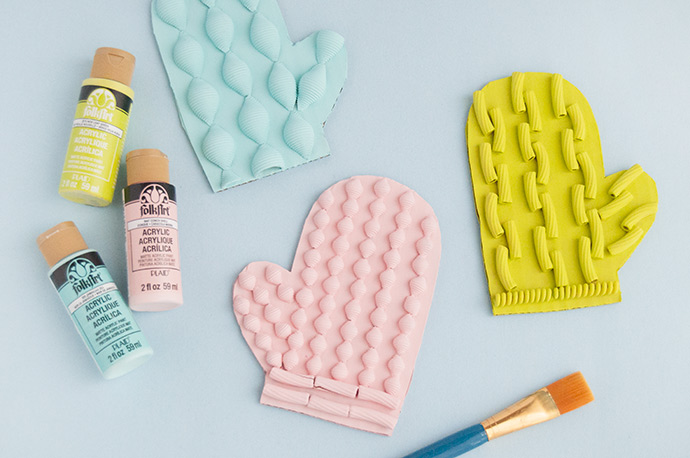 Step 3
Once you've attached pasta onto one side of each of the mittens, time to add some color! Use a brush to apply a coat of whatever colors you like – we used these bright shades to remind us that although it's still winter, spring is right around the corner! Let dry completely and then apply a matching coat of paint onto the back.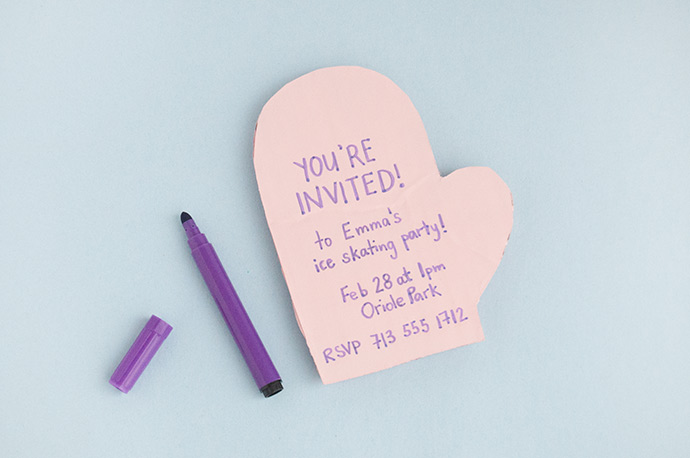 Step 4
Once the paint has dried completely, write your party details onto the back of the mitten with a marker.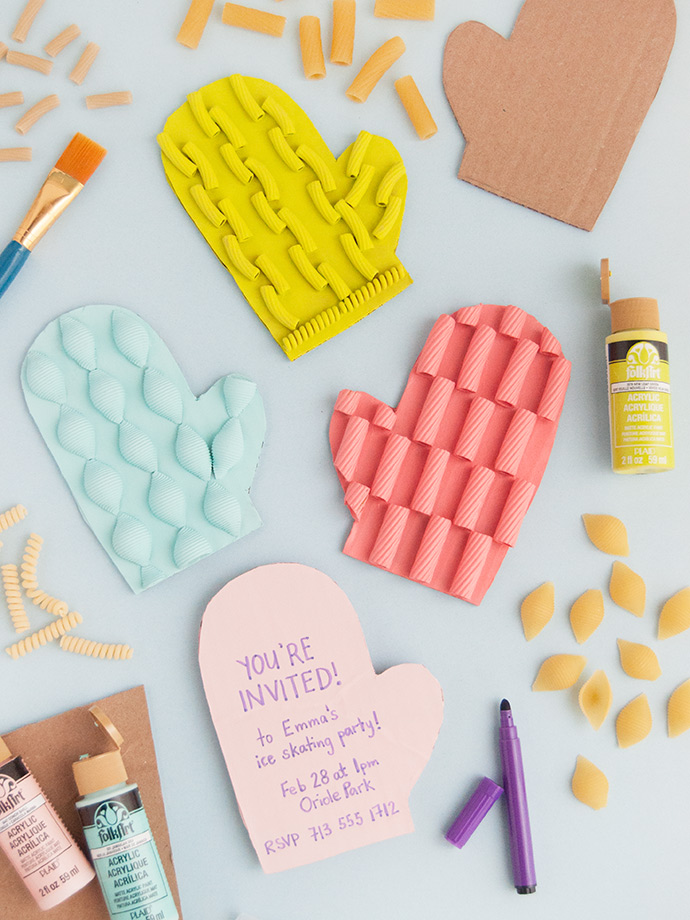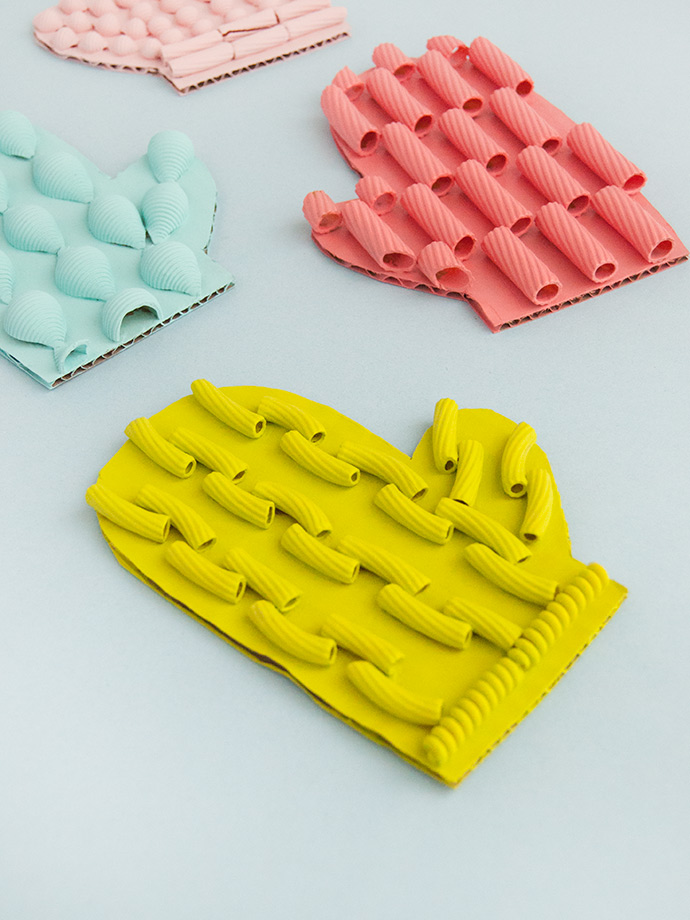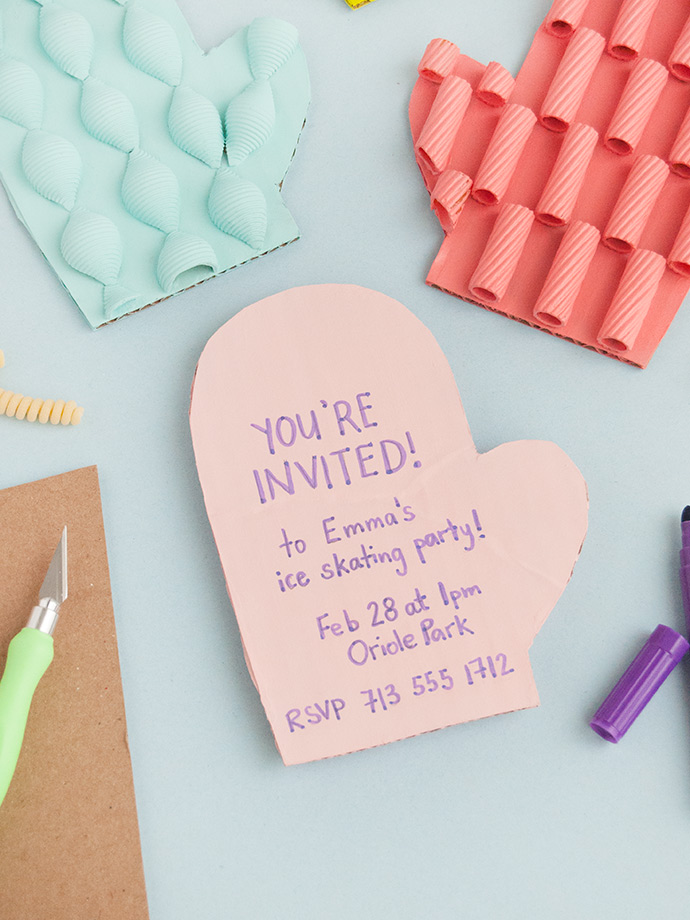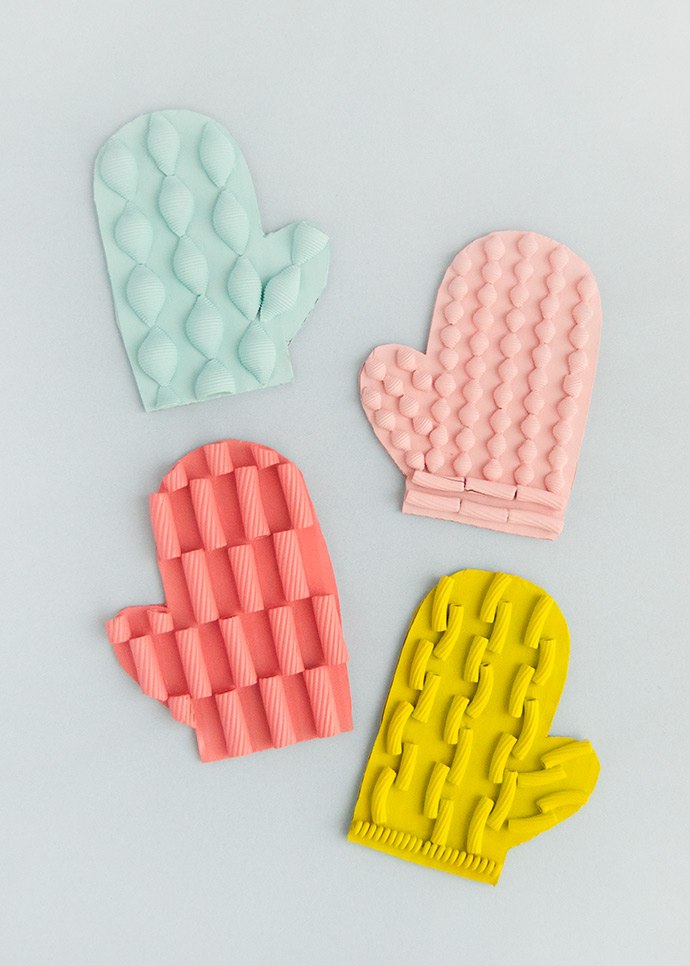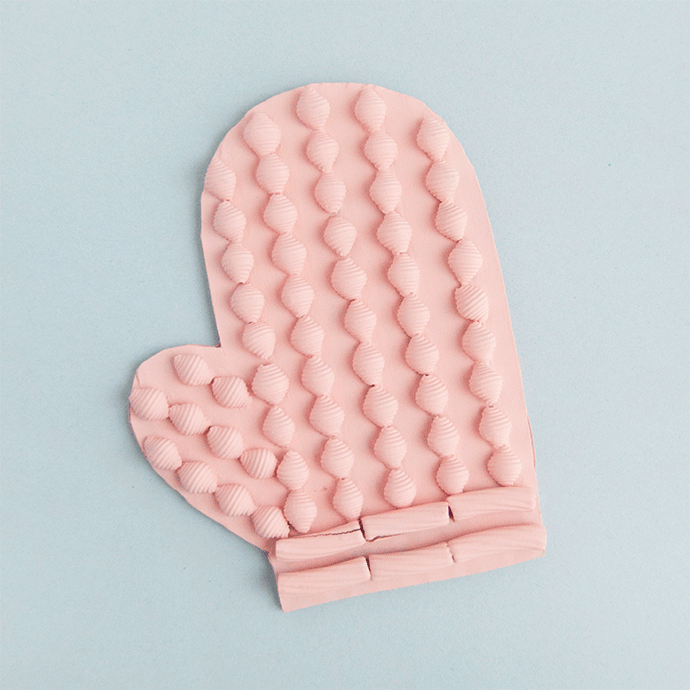 Happy crafting!