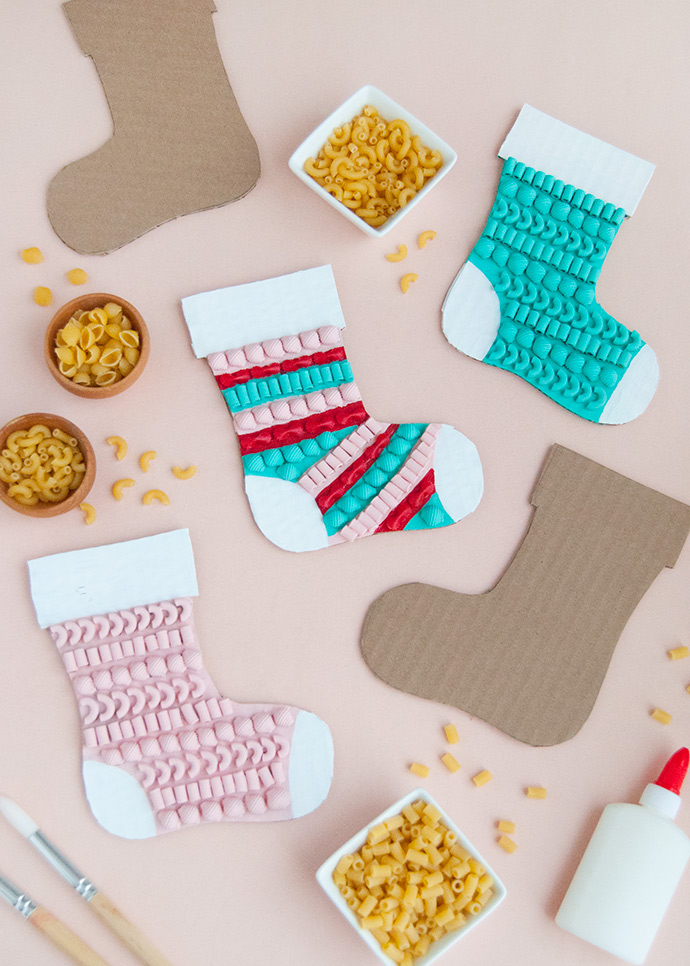 A little while ago while scrolling Instagram, I came across this amazing stocking featured on Mollie Makes feed and couldn't help but admire it! It was made by Natalie Beard for their holiday issue and I love how festive it is. Almost immediately I thought of pasta art (of course!) and knew I wanted to try creating a pasta craft inspired by the look of it. I ended up making one stripey one and these two solid ones and I can't quite decide which I like better! I've actually used pasta to imitate the look of cable knit before (check out these mittens!) so this was a fun, slightly new way to try out the technique. I love these as a stand alone craft for kids to make this holiday season, but they'd also make lovely gift toppers when done!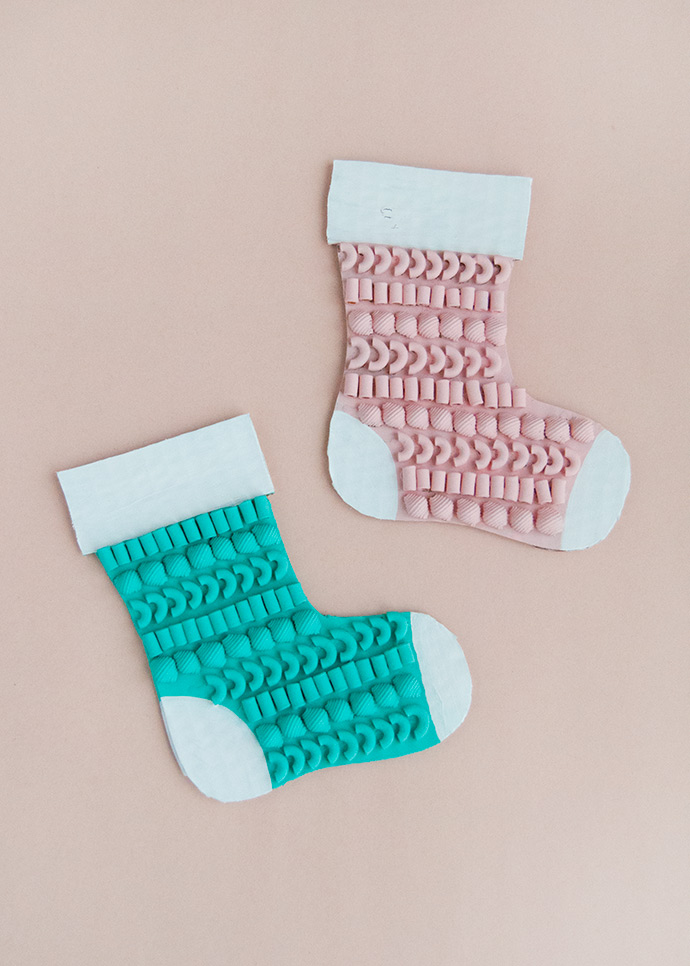 Corrugated cardboard
Scrap paper
Pencil
Scissors
Craft knife
Cutting mat
White glue
Pasta noodles (various shapes)
Paint
Paintbrushes
Step 1
On a piece of scrap paper, draw a stocking shape about 6″ tall, or however big you like! This size worked well for these smaller pasta noodles, but you could make larger stockings to accommodate larger noodles that may be easier for younger kids to work with. Cut out the template and trace onto corrugated cardboard, cutting out as many as needed using a craft knife and cutting mat.
Step 2
Pour pasta noodles into bowls and get gluing! I used macaroni, tubetti, tripoline (the small bows), and small shells but there are tons of options that will work! I liked these ones because when lined up, they reminded me of a cableknit pattern, which is what I was going for here.
Step 3
When gluing down the pasta noodles, you can arrange them in rows like these ones, or go crazy with it! I left the top edge, heel and toe empty of noodles to paint the white accent color, but you don't have to do this if you don't want to.
Step 4
Let the pasta noodles dry until they are securely in place and the white glue isn't visible anymore. Use paint to cover them from all sides, and use a contrasting color to add the top, heel, and toe details if desired. Let dry.
Note: For younger kids, the striped pattern pictured will likely be too challenging – acheiving the straight lines and keeping them tidy between the noodles is definitely tricky so I'd recommend going with a solid color if a tidy look is important to them. Alternately, you can choose to paint the stripes on first, let dry, and then glue pasta on top. Once dried, then paint the pasta to match the stripes underneath.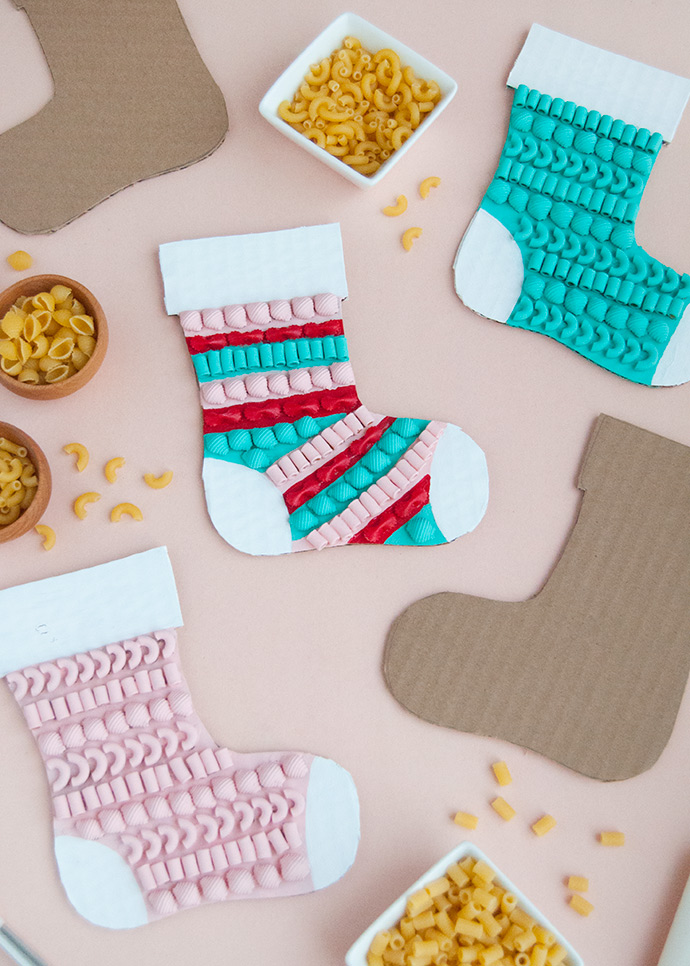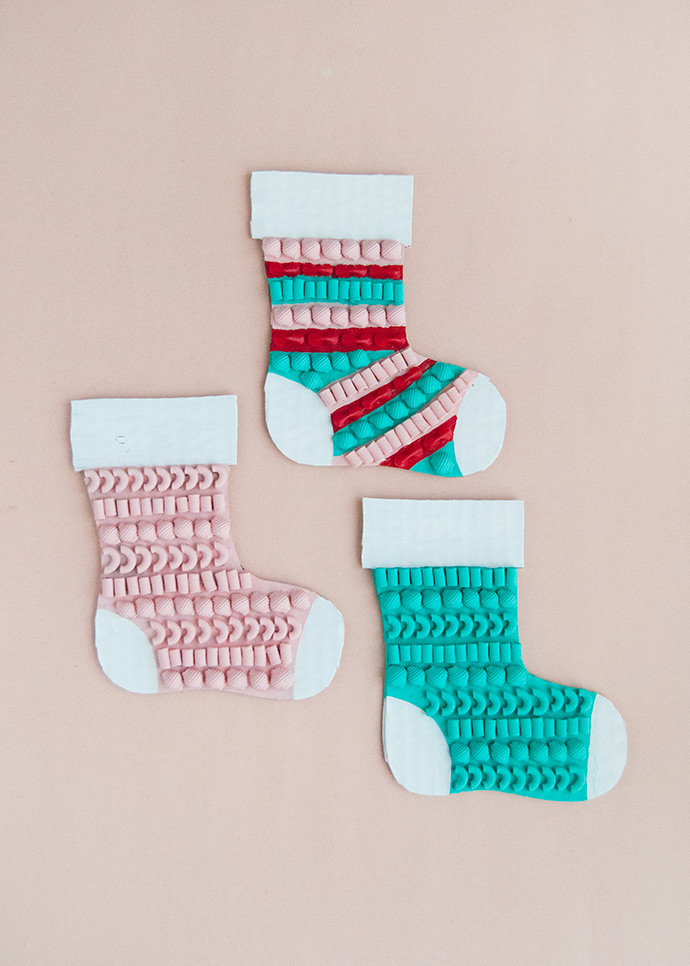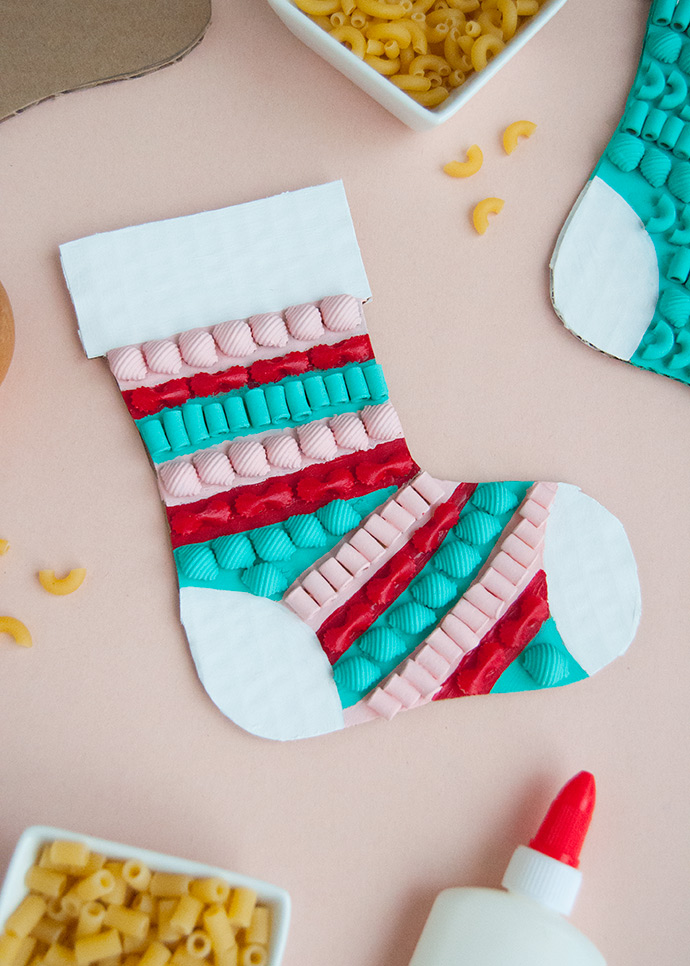 Happy crafting!