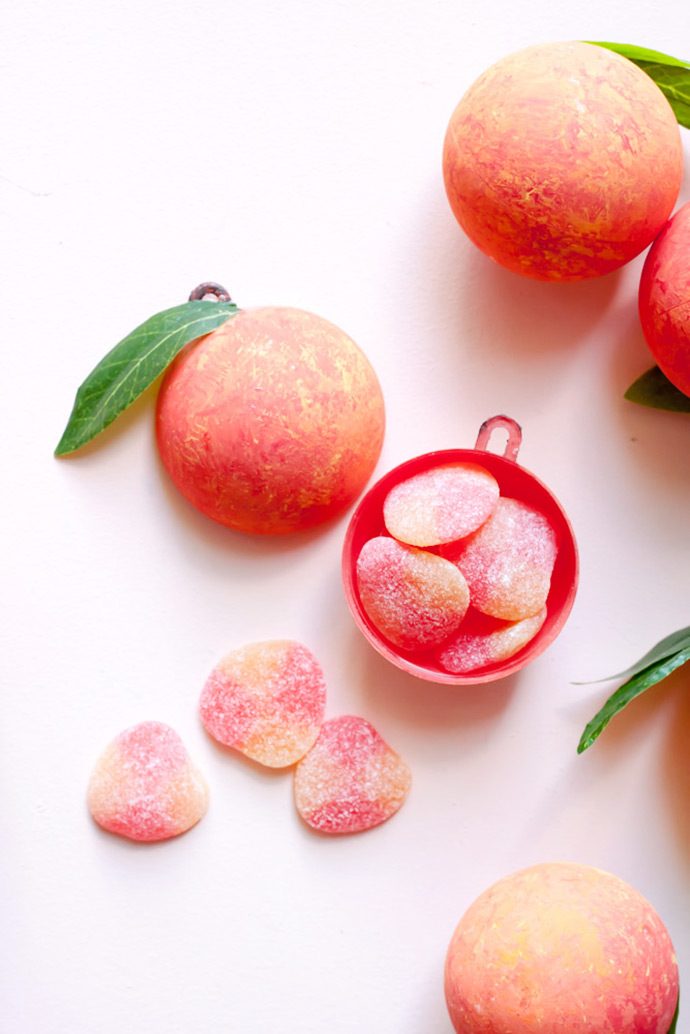 Last month as we drove through Georgia, my six-year-old was begging us to stop for some peaches. We pulled over at a roadside stand looking forward to some authentic, fresh-off-the-farm fruit from the Peach State. Once we arrived at the hotel and unloaded, I pulled out the bag of peaches and noticed a little sticker with a barcode and number … the peaches were from the grocery store! So much for authentic, but at least they were delicious! We did score the real-deal on the way home a week later, and there's nothing like a fresh, Georgia peach!
I'm loving all of the cute "sweet as a peach" parties going around on Pinterest! It's an especially adorable theme for little girls who are too young to ask for cartoon character and princess parties! It can be a really simple theme to pull together, using peach tissue fans and balloons for party décor. Speaking of, you should check out the DIY James and the Giant Peach costume here on Handmade Charlotte. That balloon would be the perfect addition! Today's post was inspired by the current fruit-craze, with some peach favor balls. You could use them for any peach, summer, Georgia, picnic or fruit-themed affair! It would be adorable to hang them from a tree, and allow each guest to actually pick one. Be sure to fill them up with peach-flavored candy too! Maybe I'll take these for snack containers on our next Georgia road trip!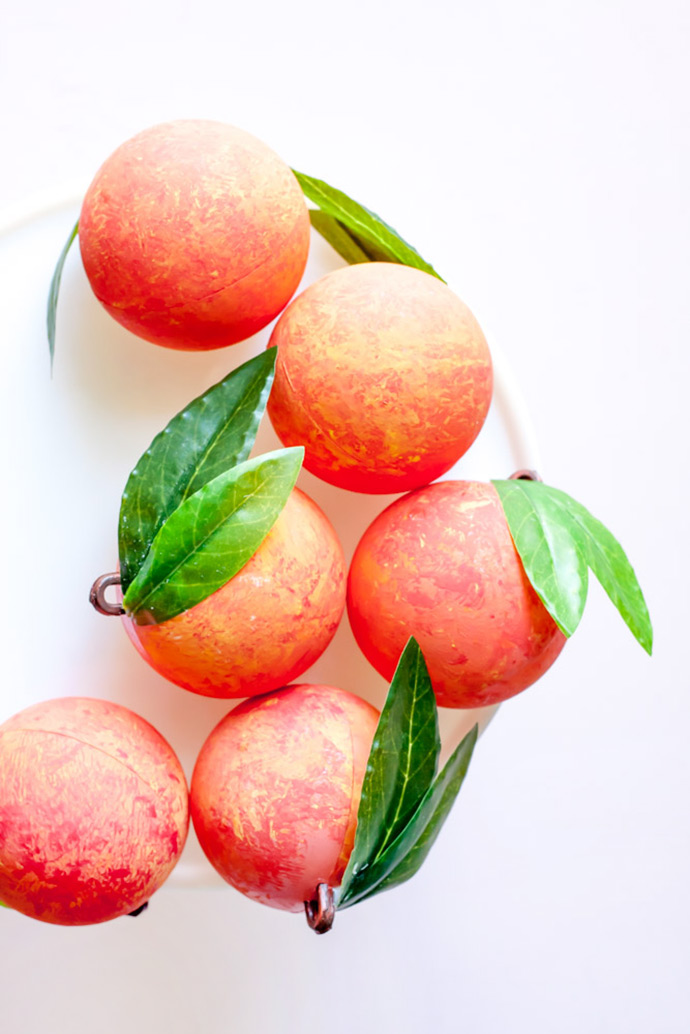 We love this giant apple gift packaging on Oh Happy Day too – once peach season is over and back-to-school time is here, these apples are just perfect!
• Hollow plastic ball ornaments
• Sand paper
• Paint brush
•
Martha Stewart Crafts Multi-Surface Satin Acrylic Craft Pain
t (red, orange, yellow and brown)
• Paper plate or paint palette
• Mesh pouf bath sponge
• Scrap paper
• Glue
• Scissors
• Realistic fake leaves
• Peach-flavored candy or other small favors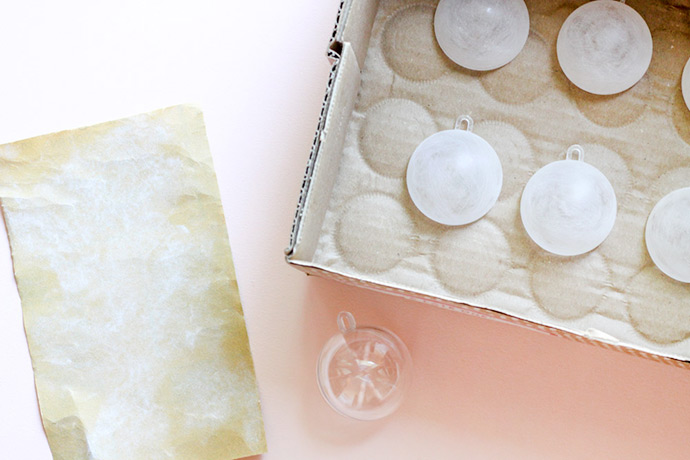 Step 1
Use a sheet of sand paper to sand the entire outside of the plastic ball ornament. You will know you're done when it looks like frosted glass. I would highly recommend wearing a mask over your mouth and nose during the sanding process.
Step 2
Open the plastic favor ball, and lay the two halves flat on a piece of cardboard, or something that you don't mind painting. Paint the plastic balls peach and let dry.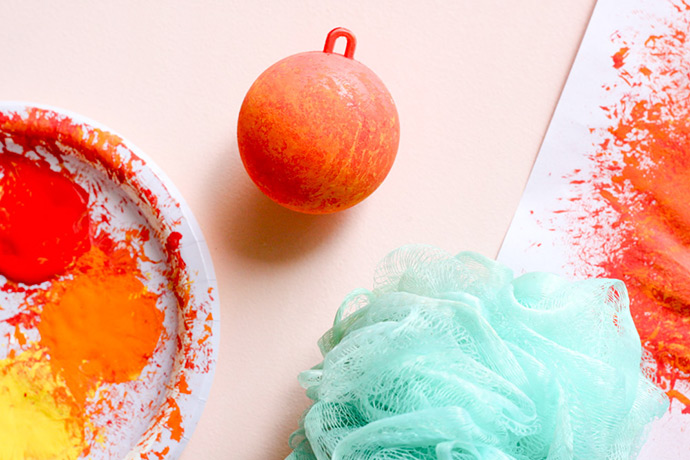 Step 3
Allow the spray paint to dry, and squeeze some acrylic paints out onto your palette in red, yellow, and orange. Dip your mesh pouf bath sponge into one color at a time, and dab it off a few times on some scrap paper. You only want a little bit of paint on the sponge. You may want to experiment on some scrap paper before applying the paint to the favor ball. Play with the placement and amount of color until you find the combination that resembles a peach. For most of them, we started with red, and then added orange and yellow until we were satisfied with the appearance. Now dab the sponge on the favor balls, and repeat this step with each color.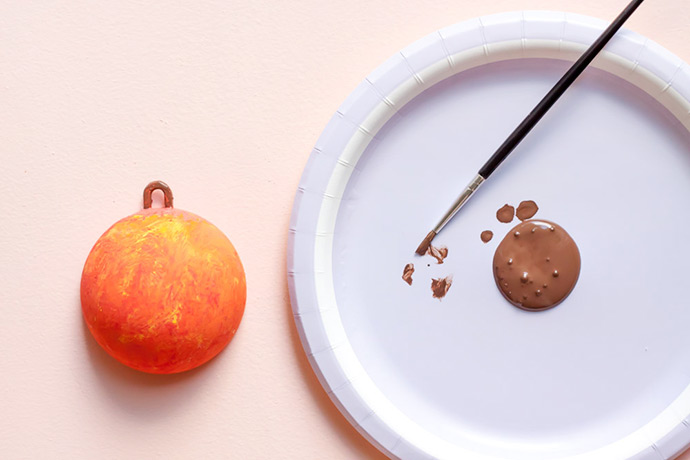 Step 4
Paint the front and sides of each loop at the top of your peaches with brown acrylic paint and a small paintbrush. Allow the paint to dry.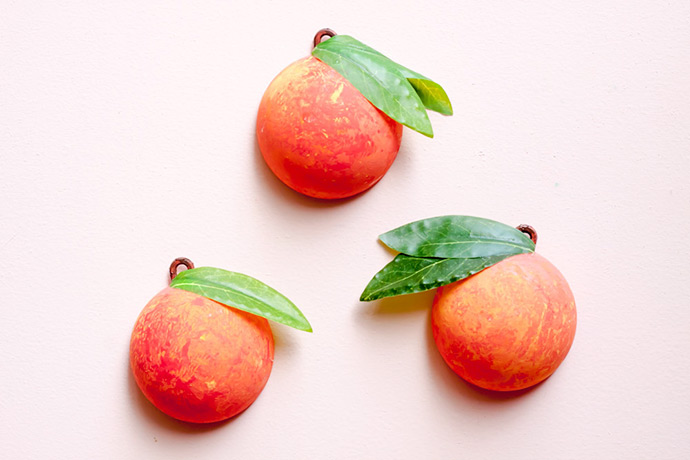 Step 5
Glue 1 or 2 fake leaves at the top of each peach, on one side of the loop. Once the glue has dried, fill your little container with some peach-flavored candy!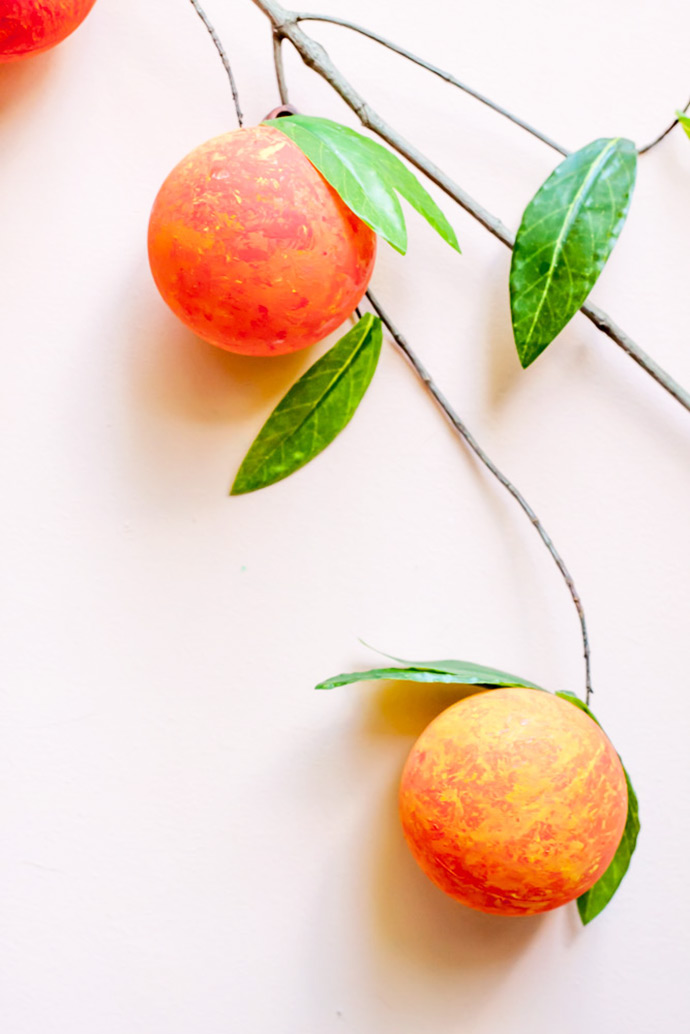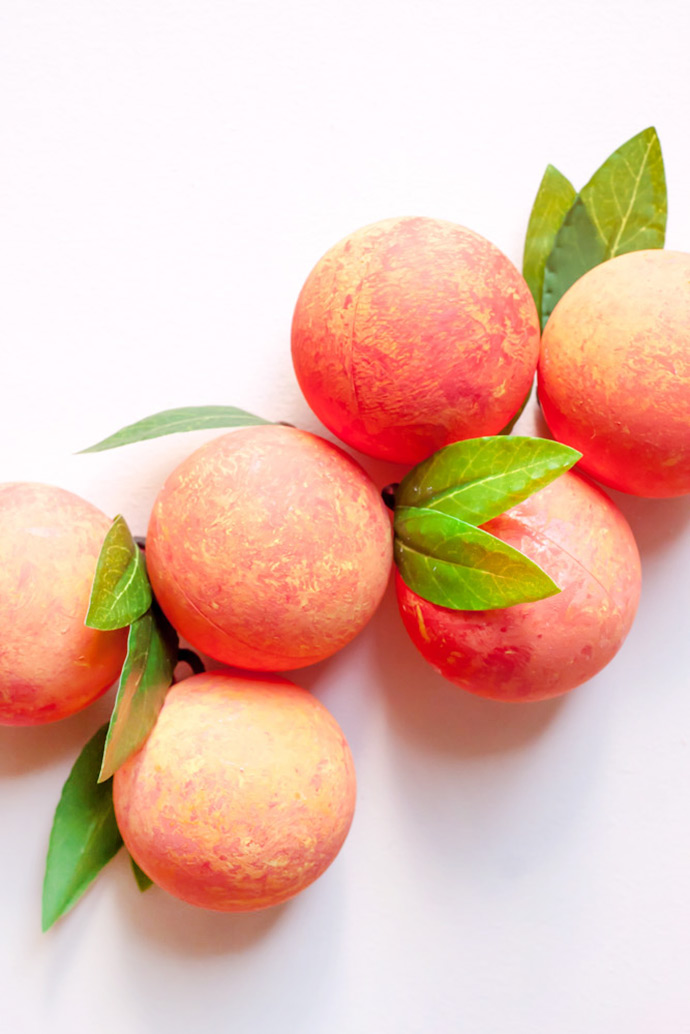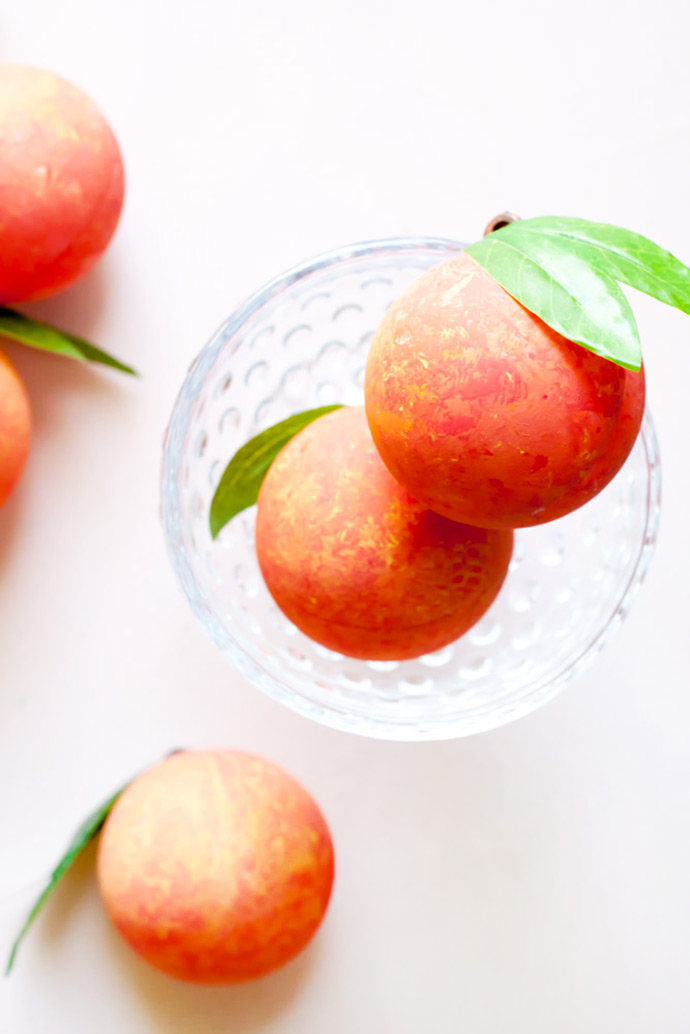 Hopefully your friends will ap-peach-iate these adorable favors! Enjoy!