This post is sponsored by Sony Pictures in connection to the home release of the Peter Rabbit movie.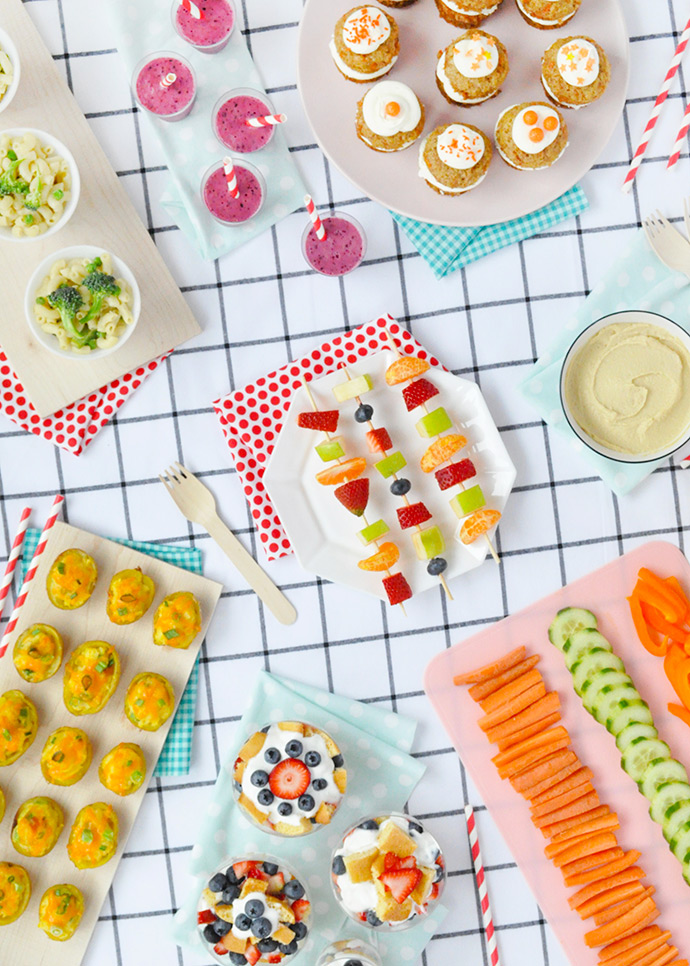 If there's one thing we love about spring, it's rabbits! We saw "Peter Rabbit" in theaters earlier this year and can't wait to watch it again on Digital release today – April 20th! We're longtime fans of Peter Rabbit in this house, and loved getting to know our favorite characters even better. Peter, Flopsy, Mopsy, Cottontail, and all their friends went on so many fun adventures in and around their garden throughout the movie! Full of so many fruits and veggies, we completely understand why they couldn't stay away even when Thomas McGregor moved in.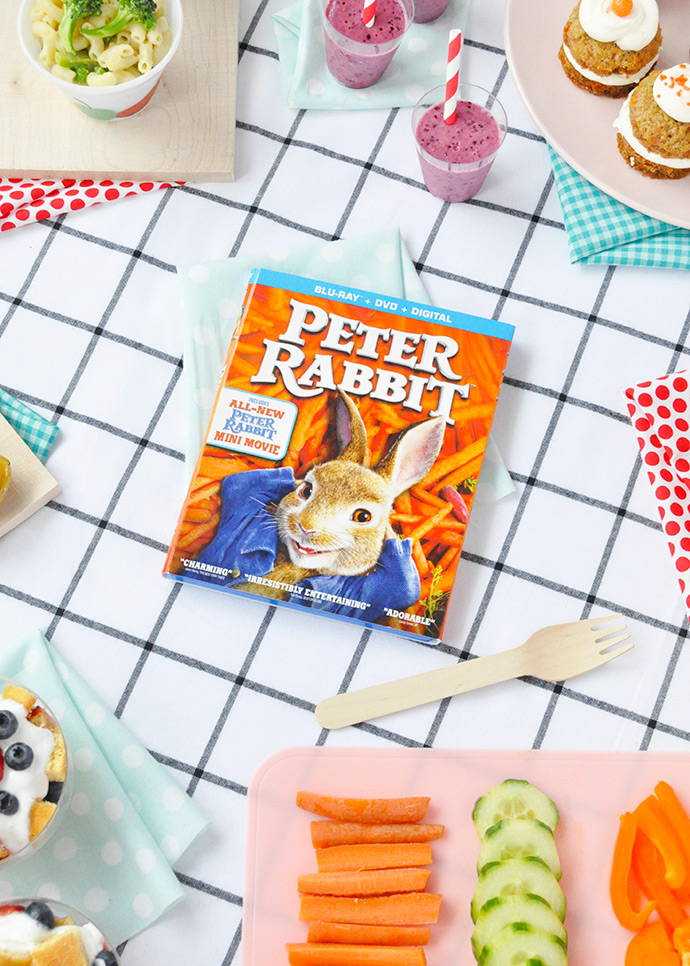 In today's post, we're celebrating spring and the rabbits' plentiful garden with a few recipes that we think make the perfect picnic! We made sure to include lots of fruits and veggies in each one, especially a few that we think will be a big hit with kids and rabbits alike! If it's not quite warm enough where you live for an actual garden picnic outside, why not set up the living room and have an indoor picnic inside while watching the movie all together? Keep reading to see each of the recipes and don't forget to get your copy of Peter Rabbit, available on Digital release April 20th!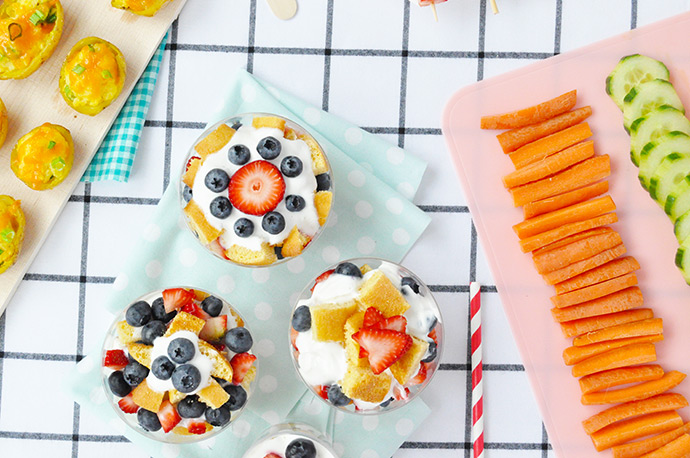 We've made it easy to host your very own garden-style picnic while watching Peter Rabbit! Below are seven of our favorite recipes using fresh fruits and veggies in fun ways! Scroll down to see more photos, the recipes, and download the printable recipe cards!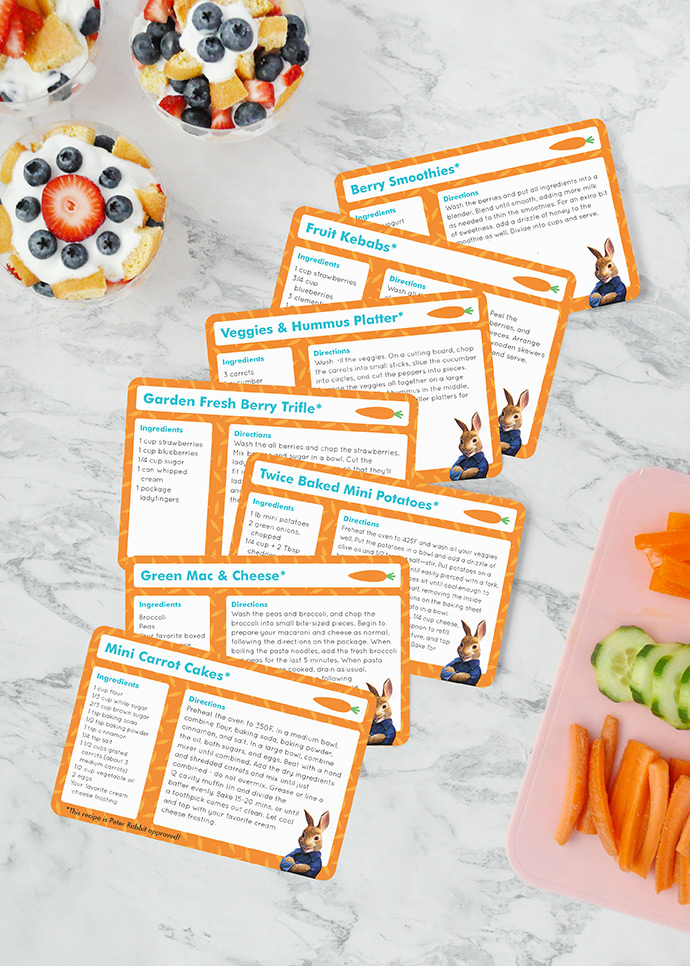 Ingredients
1/2 cup yogurt
1/2 cup strawberries
1/4 cup raspberries
1/2 cup milk
Honey (optional)
Directions
Wash the berries and put all ingredients into a blender. Blend until smooth, adding more milk as needed to thin the smoothies. For an extra bit of sweetness, add a drizzle of honey to the smoothie as well. Divide into cups and serve.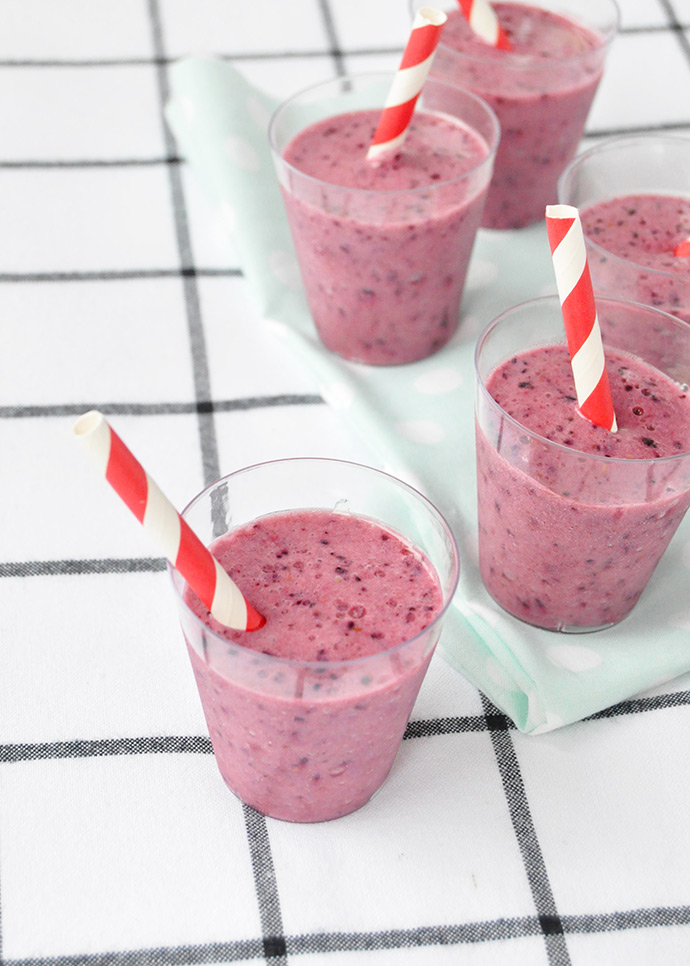 Ingredients
1 cup strawberries
3/4 cup blueberries
3 clementines
1 apple
Directions
Wash all the fruit and berries. Peel the clementines, quarter the strawberries, and chop the apple into bite-sized pieces. Arrange the fruits and berries onto mini wooden skewers or toothpicks. Arrange on a plate and serve.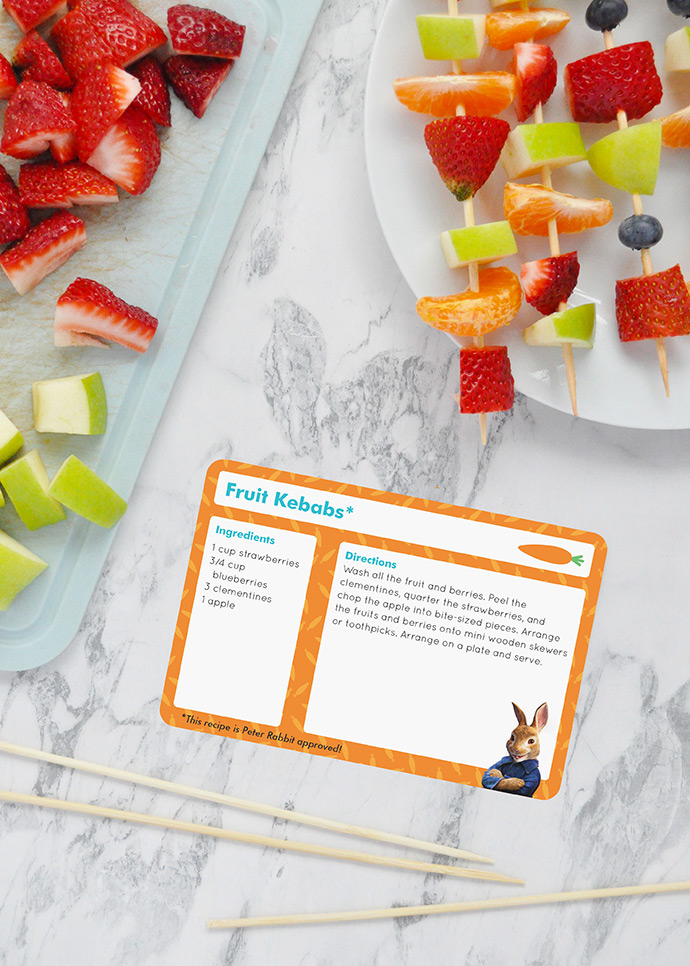 Veggies and Hummus Platter
Ingredients
3 carrots
1 cucumber
1 red peppers
1 cup of your favorite hummus
Directions
Wash all the veggies. On a cutting board, chop the carrots into small sticks, slice the cucumber into circles, and cut the peppers into pieces. Arrange the veggies all together on a large platter with a bowl of hummus in the middle, or divide all onto several smaller platters for individual servings.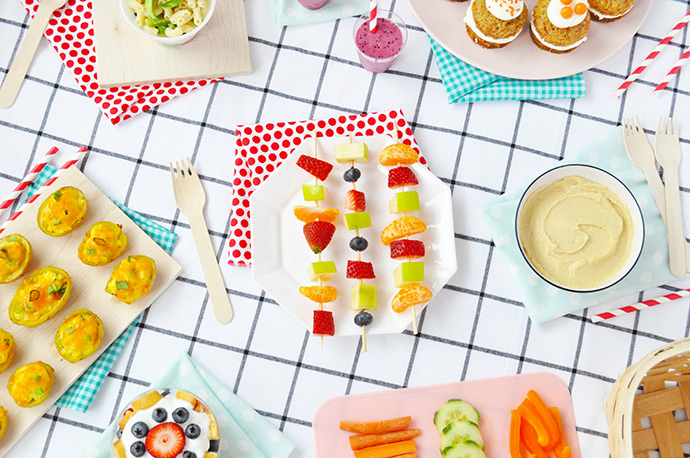 Twice Baked Mini Potatoes
Ingredients
1 lb mini potatoes
2 green onions, chopped
1/4 cup + 2 Tbsp cheddar cheese
1 Tbsp plain yogurt
1/2 tsp sea salt
Pepper
Olive oil
Directions
Preheat the oven to 425F and wash all your veggies well. Put the potatoes in a bowl and add a drizzle of olive oil and 1/2 tsp sea salt – stir. Put potatoes on a baking sheet and bake until easily pierced with a fork, about 20 mins. Let potatoes sit until cool enough to handle, then cut each in half, removing the inside with a spoon – leave the skins on the baking sheet and put all the cooked potato in a bowl. Stir in yogurt, green onions, 1/4 cup cheese, and pepper to taste. Use a spoon to refill the potato skins with the mixture, and top with 2 Tbsp cheddar cheese. Bake for about 20 mins and serve.
Ingredients
Broccoli
Peas
Your favorite boxed mac & cheese
Directions
Wash the peas and broccoli, and chop the broccoli into small bite-sized pieces. Begin to prepare your macaroni and cheese as normal, following the directions on the package. When boiling the pasta noodles, add the fresh broccoli and peas for the last 5 minutes. When pasta and veggies are cooked, drain as usual. Prepare the cheese sauce following the package directions and then add the macaroni and veggies. Stir to combine and serve.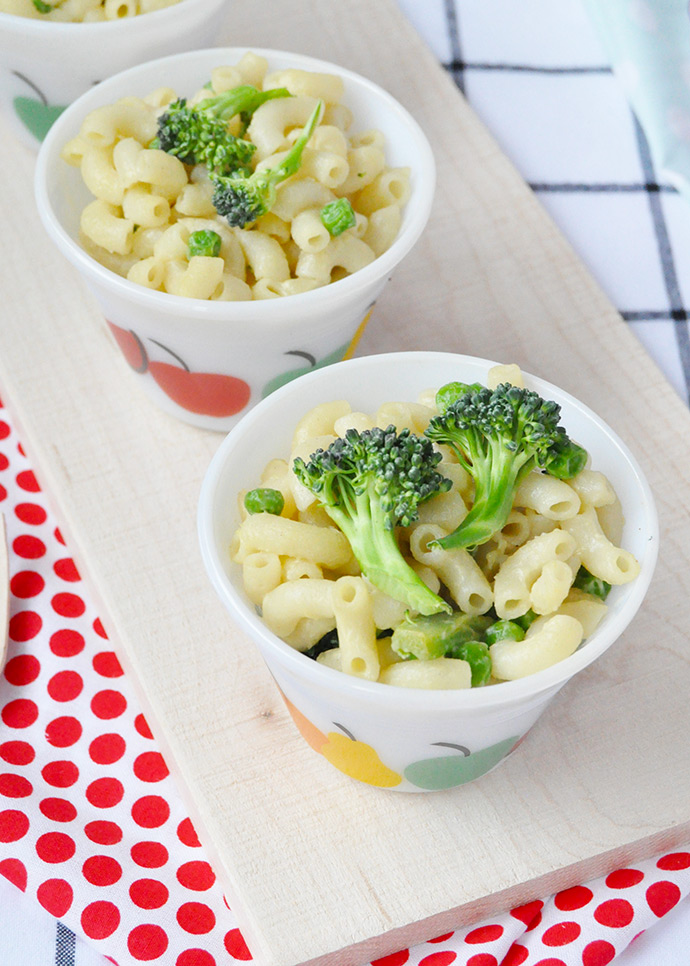 Ingredients
1 cup flour
1/3 cup white sugar
2/3 cup brown sugar
1 tsp baking soda
1/2 tsp baking powder
1 tsp cinnamon
1/4 tsp salt
1 1/2 cups grated carrots (about 3 medium carrots)
1/2 cup vegetable oil
2 eggs
Your favorite cream cheese frosting
Directions
Preheat the oven to 350F. In a medium bowl, combine flour, baking soda, baking powder, cinnamon, and salt. In a large bowl, combine the oil, both sugars, and eggs. Beat with a hand mixer until combined. Add the dry ingredients and shredded carrots and mix until just combined – do not over mix. Grease or line a 12 cavity muffin tin and divide the batter evenly. Bake 15-20 mins, or until a toothpick comes out clean. Let cool and top with your favorite cream cheese frosting.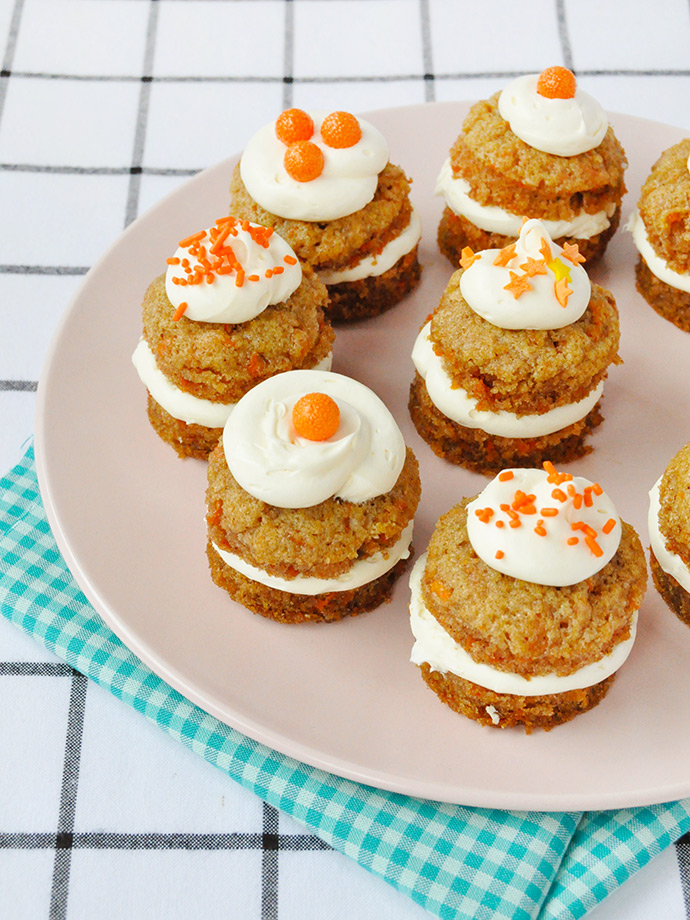 Garden Fresh Berry Trifle
Ingredients
1 cup strawberries
1 cup blueberries
1/4 cup sugar
1 can whipped cream
1 package ladyfingers
Directions
Wash the all berries and chop the strawberries. Mix berries and sugar in a bowl. Cut the ladyfingers into smaller pieces, so that they'll fit into individual sized cups. Add a layer of ladyfingers, then a scoop of the mixed berries, and then a layer of whipped cream. Repeat these layers until the cups are full.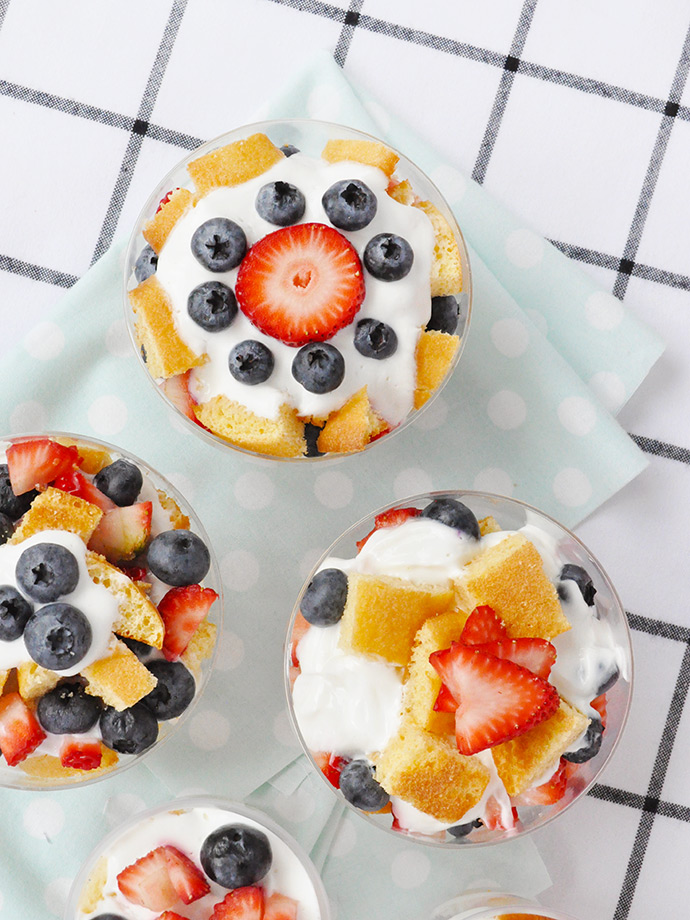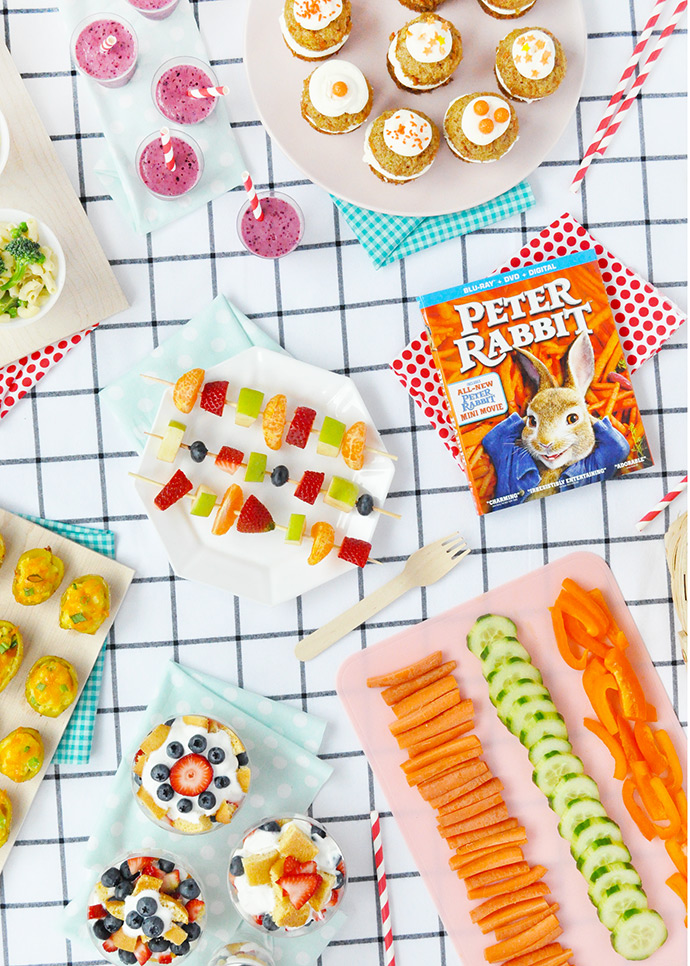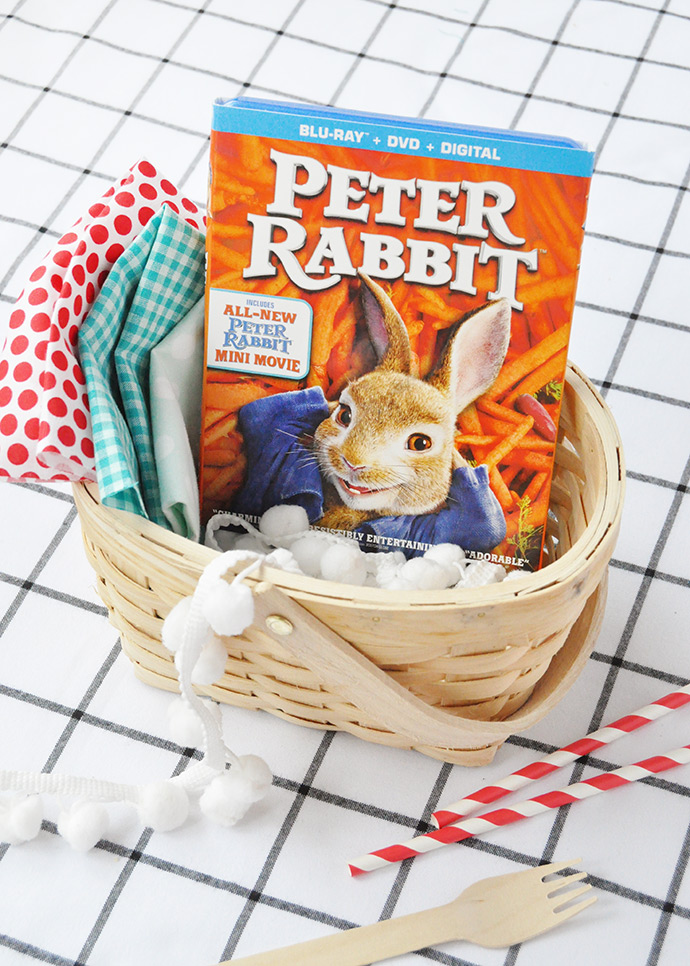 Doesn't this picnic look super tasty? Don't forget to download and print all the recipe cards right here! We had so much fun in the kitchen preparing these healthy snacks and even more fun watching Peter Rabbit as a family and enjoying our homemade picnic! Peter Rabbit is available on Digital release April 20th and Blu-ray & DVD on May 1st.
Stay tuned, because next week we'll be sharing a fun printable game that's the perfect thing to do with your family while you're watching the movie!