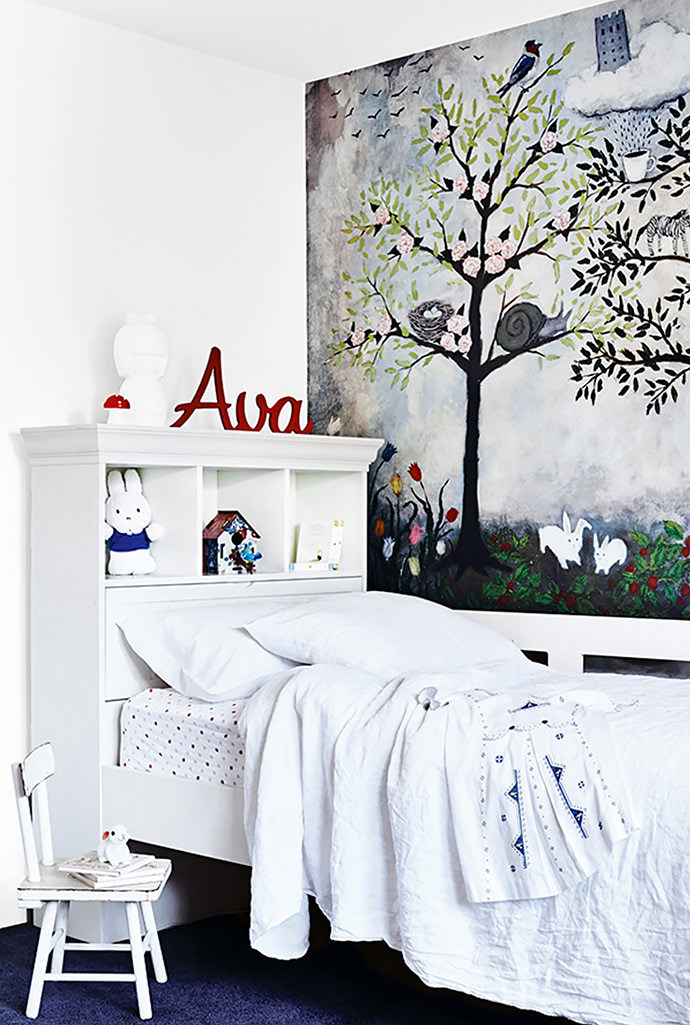 I've always loved large hand painted wall murals in public spaces, both inside in hospitals, hotels, restaurants and schools, and outside as part of the urban landscape. My eldest son is an art student and very much into graffiti, so street art is part of our everyday family life.
Wall murals obviously work well in nurseries, kids' rooms and play areas. They create a strong focal point, and can be truly tailored to a child's personality, making his or her space truly unique.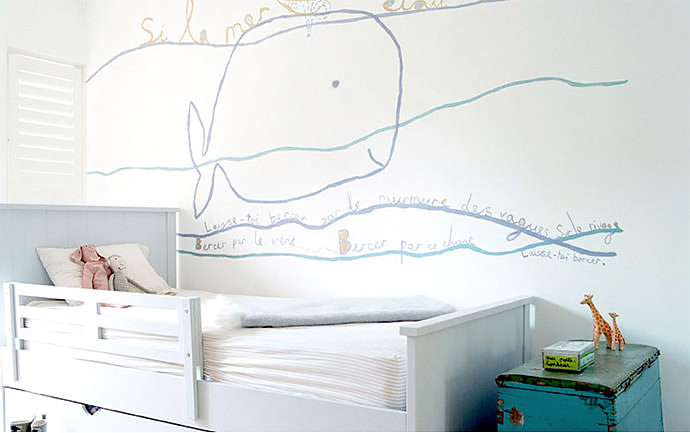 5 Ways Paddington Hand-Painted Mural
by Jane Reiseger
Of course, not everyone can afford or has access to the services of a talented bespoke mural painter like Jane Reiseger or Kelsey Garrity Riley, for example, but there other ways to achieve a similar hand painted / drawn look with a little imagination and creativity. If you like original artwork, I hope this small selection will inspire you to create something special at home!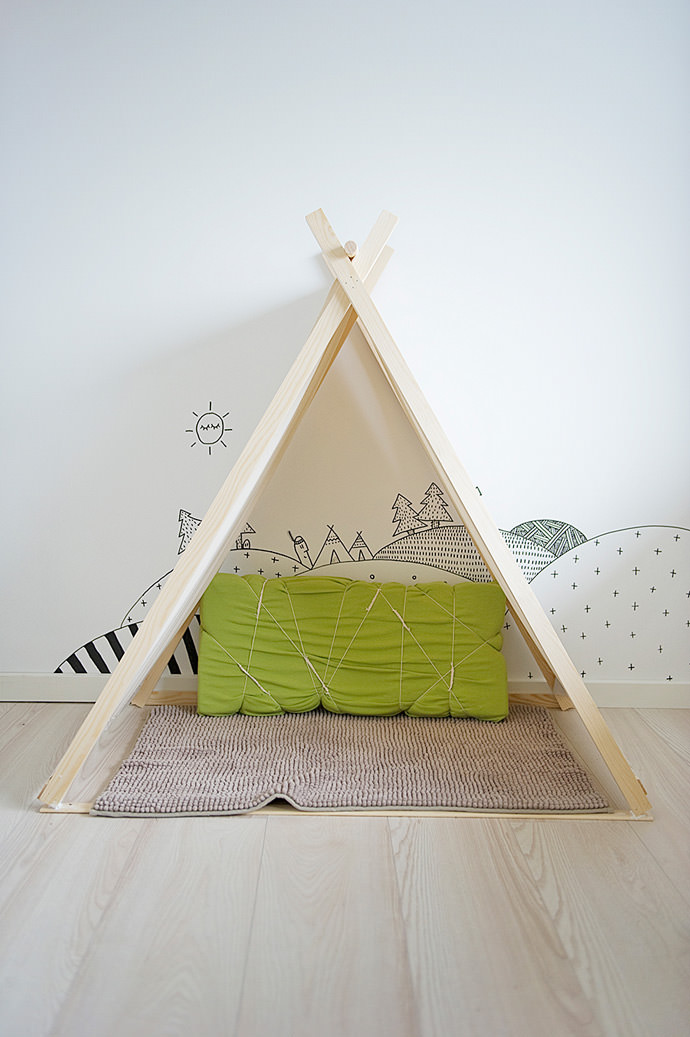 Playful Monochrome Mural
by Rikke Wehner
Murals don't have to cover an entire wall or be incredibly detailed and fresque-like. If you're brave, you could have a go at drawing one yourself! They can be used for zoning in a child's room, for defining a sleeping area or a work space for example. I love the simplicity of this little den- cum-quiet corner in Viggo's room set against the backdrop of Rikke Wehner's playful wall illustrations (via vert-poussin).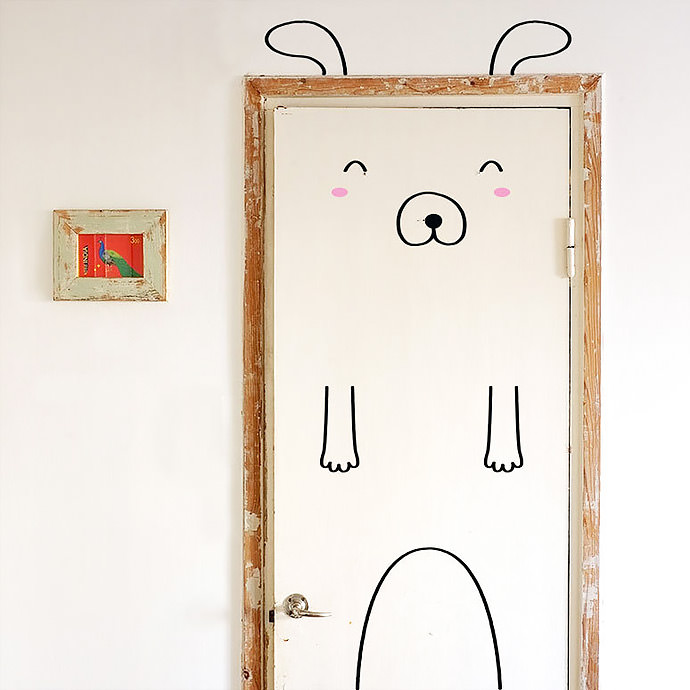 Simon The Sunny Dog Door Decal
Available for $44 from Made of Sundays on Etsy
Wall decals are an easy way to create a mural feature. Etsy seller Made of Sundays makes some super vinyl animal stickers for doors, closets and even windows! They can also be applied to mirrors, furniture and walls, so a collection of smiley creatures would be so much fun!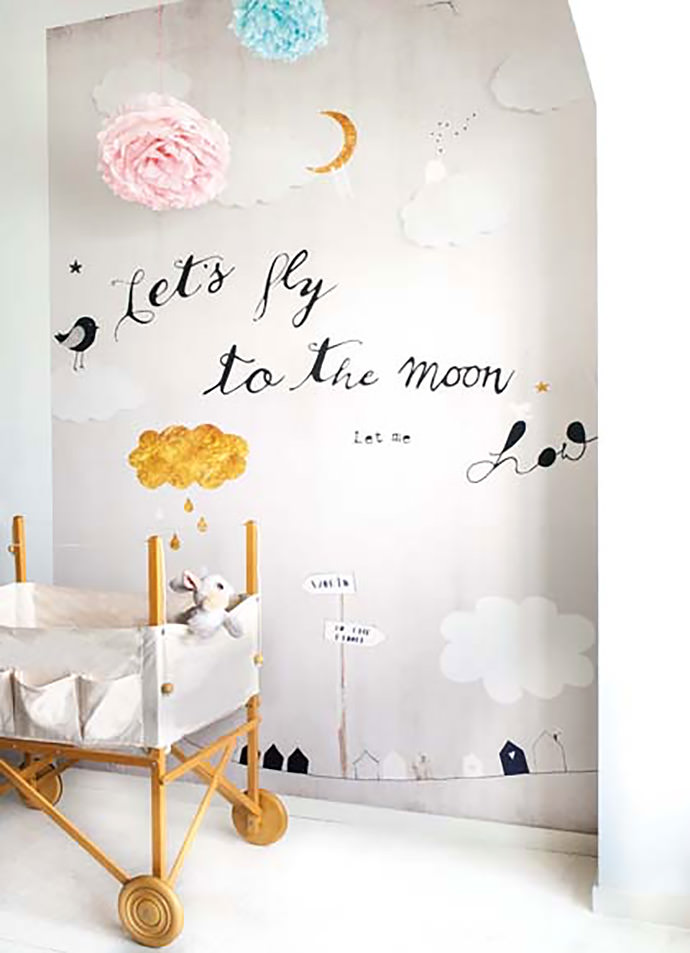 Playful Nursery Wallpaper
by Onszelf
If you want to decorate an entire wall and really like the hand painted look, this pretty new wallpaper from Dutch company Onszelf has a hand drawn feel and would be perfect for creating a feature wall in a nursery ( see website for your nearest stockist)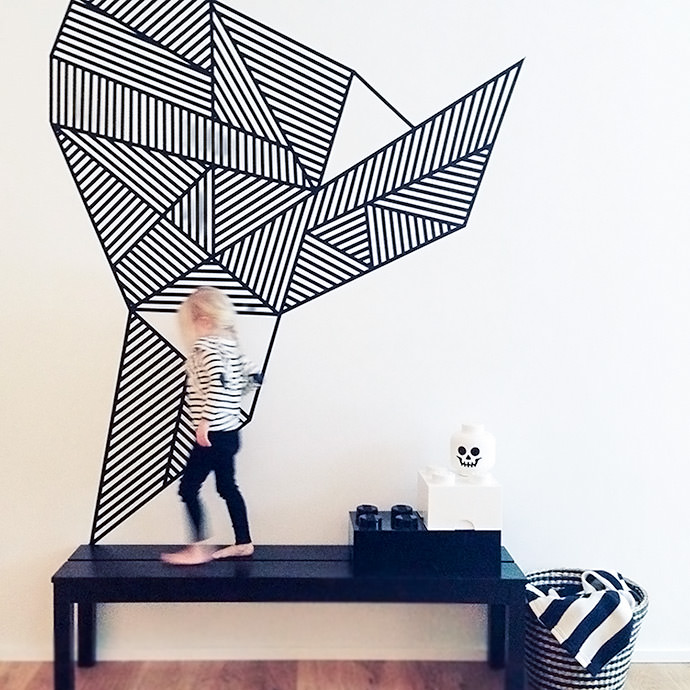 DIY Masking Tape Wall Mural
by Land of Nord
Don't forget your masking tape! This easy-to-apply (and remove) craft material comes in a multitude of patterns, colors and sizes nowadays. Why not spend a creative afternoon at home with your kiddos designing a cool wall mural likes this one that I found on the Land of Nord blog? They'll love you for it, I'm sure!
Pictured at the top of this post: Murals can give so much character to a child's room! I love the contrast between the simple white walls, furniture and accessories and the bright whimsical mural in this Melbourne-based home (via The Style Files).